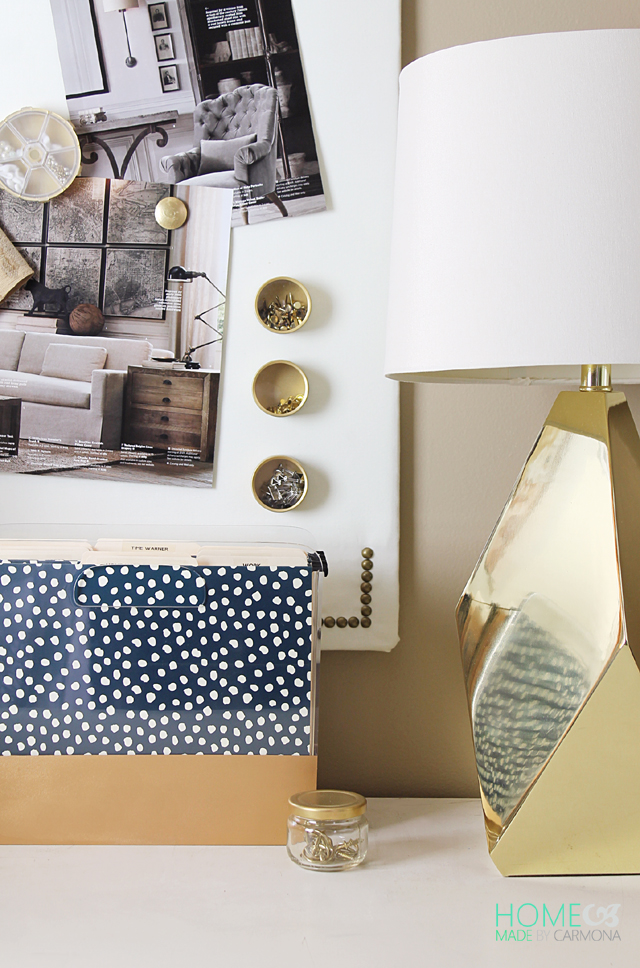 Paper filing was driving me crazy, so finding the perfect solution to simplify that process was vital! But before we talk about organization and keeping up with your paper, let's talk style and creating a lovely file box.
I confess, I love using spray paint! It is a simple solution to bring high style to the plain or outdated. My absolute favorite spray paint of all time (which probably adorns 50% of all DIY decor in my house!) is Krylon metallic gold. Go out and get it…just do it, you'll thank me later. 😀
[left]
I keep saying I should start using my gold leaf, or whip out my rub-n-buff, but nooooo, my lazy little self just loves the fact that spray paint takes all of a few minutes to apply. So here I go again, happily fuming myself out in the name of glamorous accessories.
Gorgeous gold accessories really take any space up a notch, but you can use any color you love, and any metallic will add a lovely shimmer to your space.
[/left]
[right][pullquote width="250″ float="left"]I confess, I love using spray paint! It is a simple solution to bring high style to the plain or outdated.[/pullquote] [/right]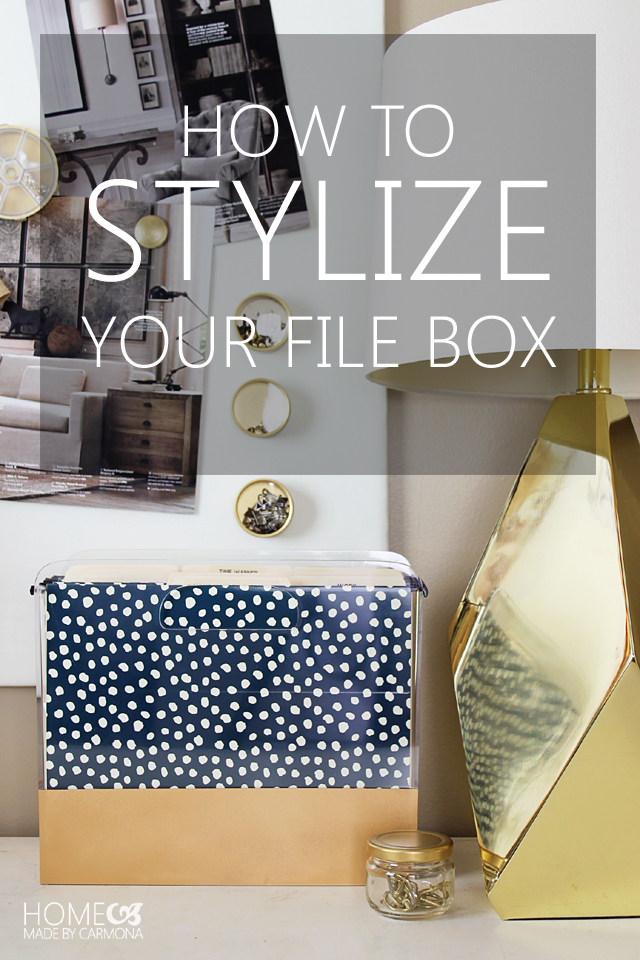 What can I say? I believe an office space should be as pretty as it is practical (and vice versa!). So my latest unsuspecting victim? A pretty little acrylic file holder from Target.
I've tried having filing cabinets, but that doesn't seem to work well for me. We never file properly, and I get overwhelmed with the disorder of the cabinet and rarely bother opening it. So I've decided not to bite off more than I can chew and simplify…I'll explain more after I show you how I brought high style to this little box.
How To Bring High Style To A Simple File Box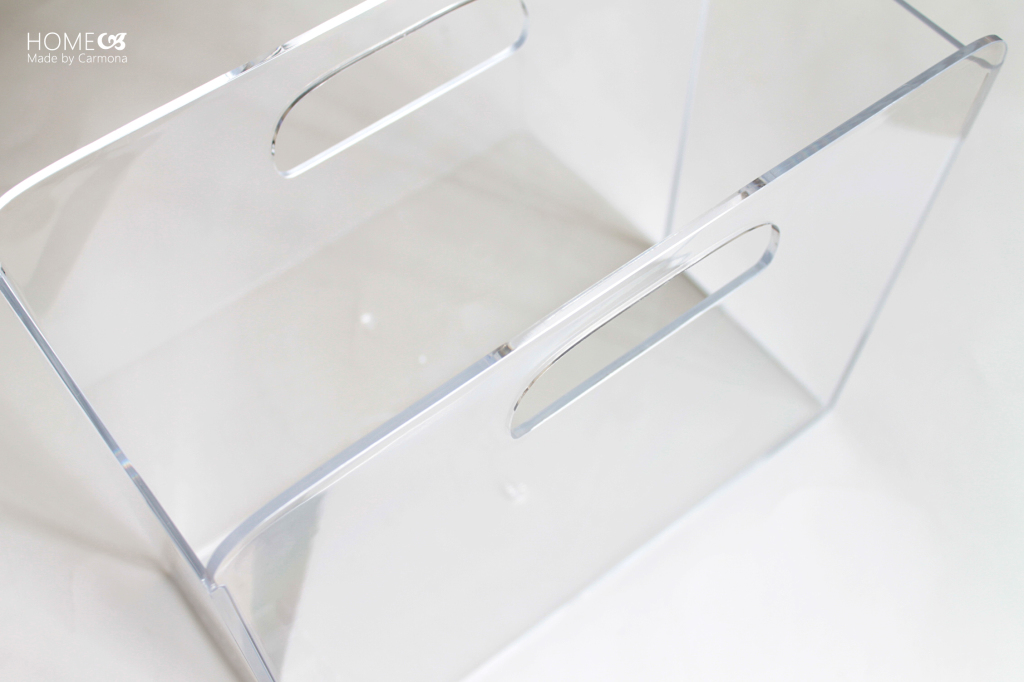 Don't you love this little guy? And YAY, it's cheaper than all the other admittedly gorgeous file boxes I've found at $7 from Target. Now to tape him off, and give a little spray paint make-over. I use Frog Tape to get clean lines…seriously, it is the best all-purpose and painters tape I've found!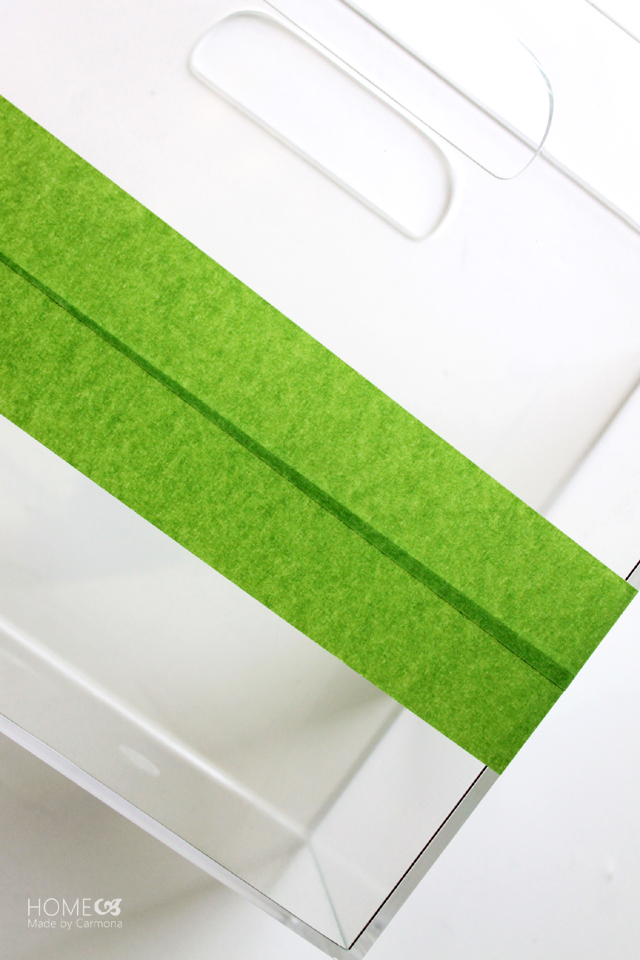 After you tape off the entire top portion it is time to give it a paint-over.
[tooltip text="To save tape, only tape off the first line, then tape on newspaper to cover the top half."]TIP[/tooltip]
I'm using Krylon gold, which is still so much more coppery than gold I think. Don't forget to finish with a clear protective coat, and remove the tape immediately to prevent pooling.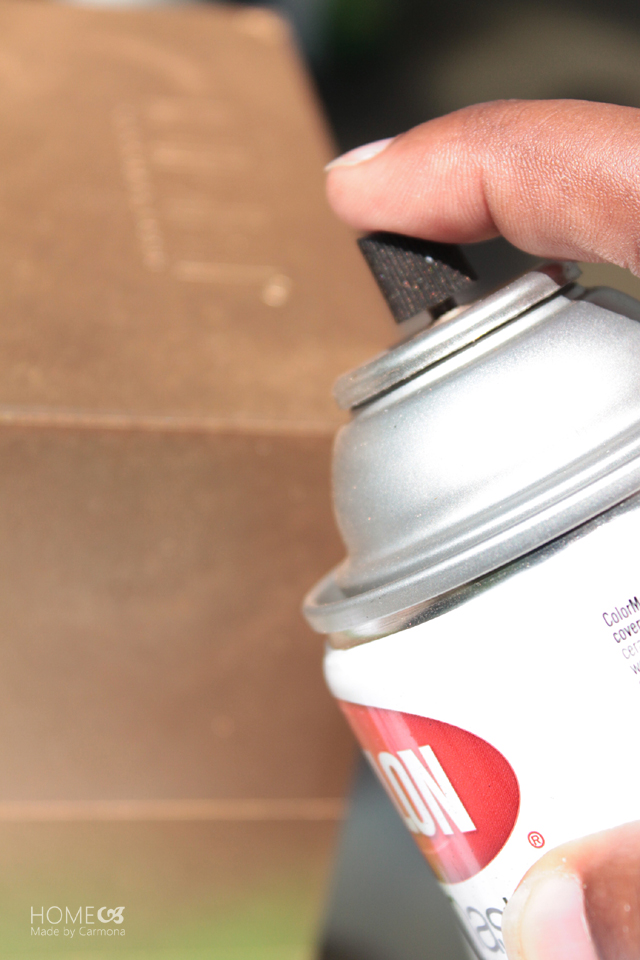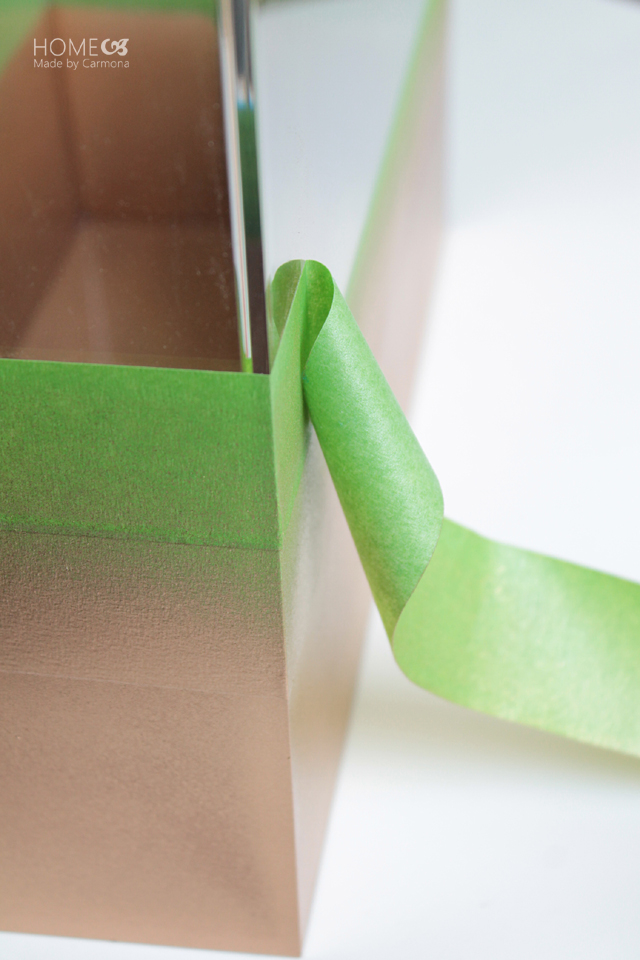 Man, I'm loving Target today! I am all about the spots on these hanging file folders! I could use more spots in my life. 😉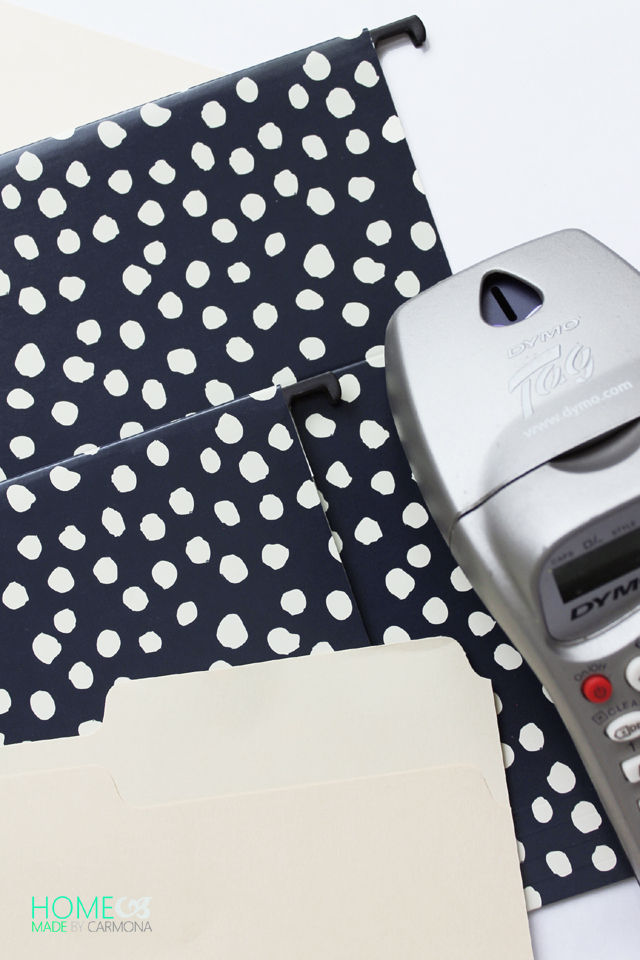 Let's Talk Un-tamable Piles of Paper To Be Filed
I got sick of trying to maintain an entire drawer of papers to be filed. No matter what good intentions I entertained, the papers never seemed to get filed. I think maybe it was just too much to sort through too often. So I came up with a new plan and a new system…when a bill is paid I needed to be able to immediately tuck it where it belongs, and I needed a simplified file holder and storage system.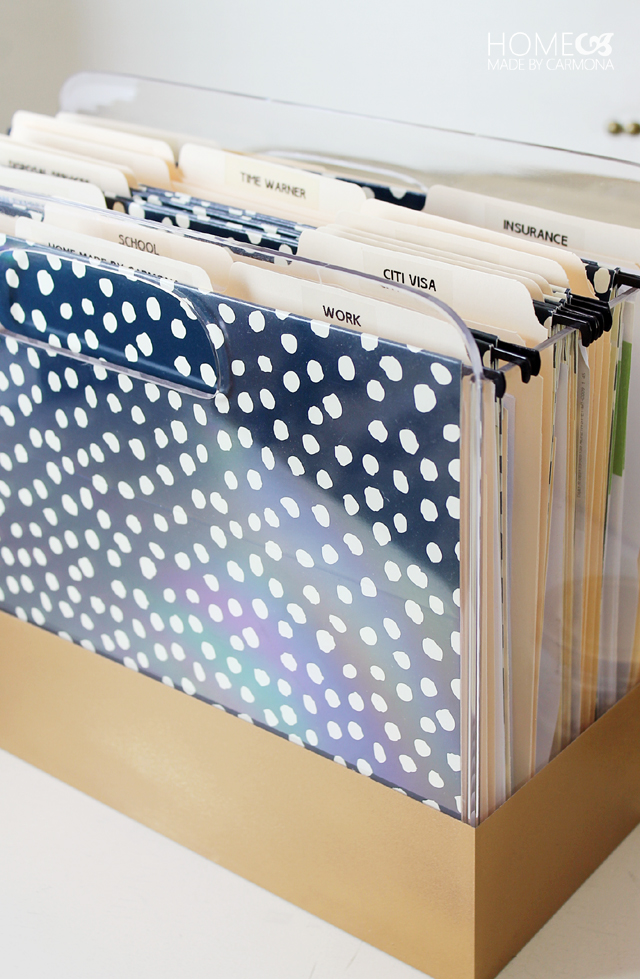 [left]
This seems to work well for me. In truth I think it's partially mental…I needed something simple and streamlined. So rather than detailed filing, I'm keeping it as basic as possible, and when this file holder is full (which I believe will take a year), I'll move the files to the file box in my basement.
Everything seems to have an electronic trail, so the likely hood that you will need to access papers over a year old is pretty slim, but keeping track of bills, pay stubs, and more for 5 years has been recommended. Even with streamlined categories you want to be able to find what you need in the case of an emergency.
I have big plans for the file boxes in my basement, but I'll share that with you when I finally tackle them.
[/left][right]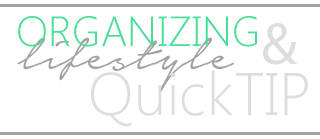 [pullquote width="280″ float="left"]Having difficulty keeping up with the filing? Try a smaller file box like this one, and keep it easily accessible desktop. Simplify categories to be less specific. [/pullquote][/right]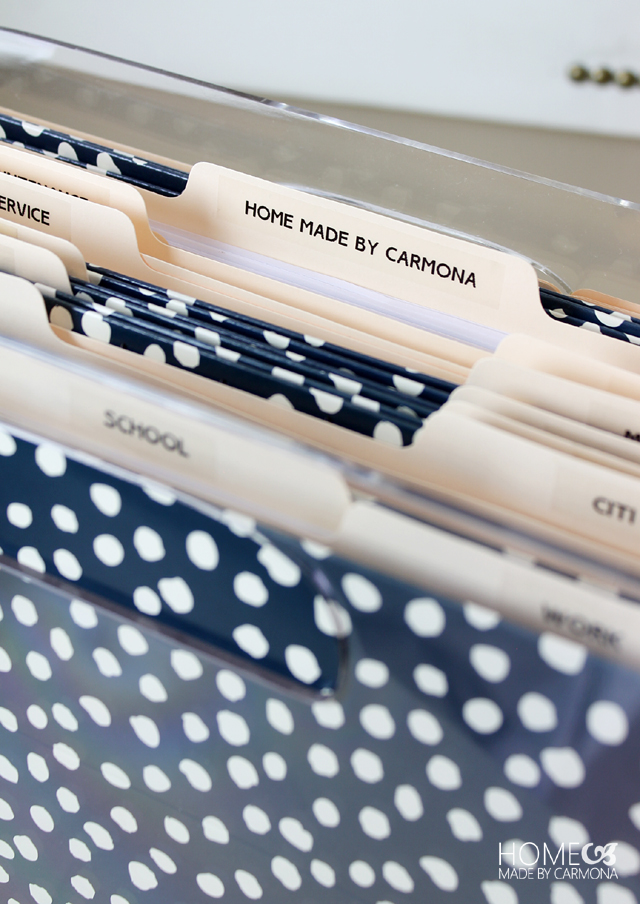 I don't know if it is how stylish it looks (maybe I just don't want to mess with how gorgeous it all is!), or how doable keeping this little file box in line appears, but it seems to be working! Woot! Of course, ask me again in a year. 😉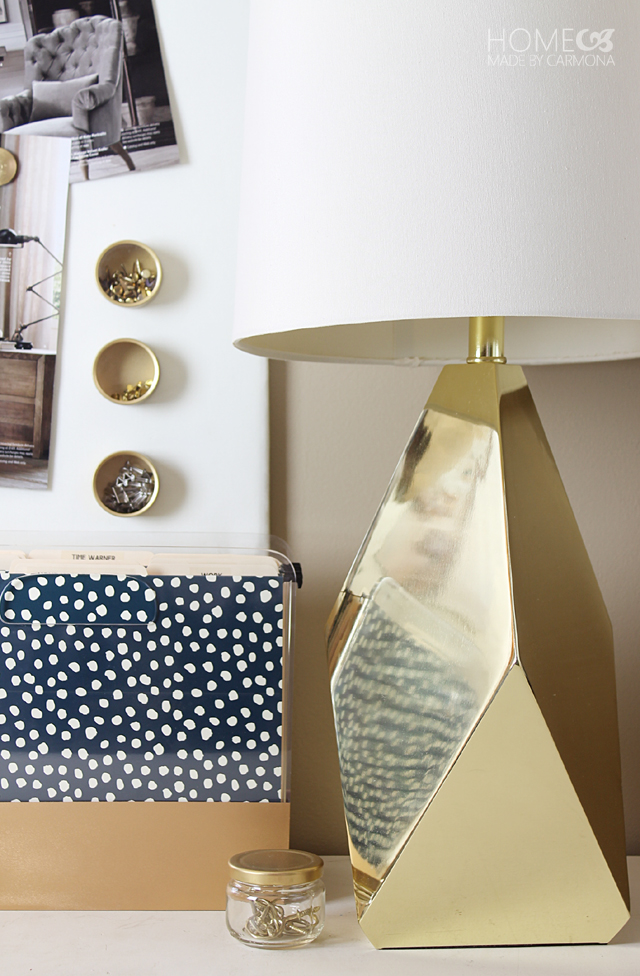 You can find my exact file box and folders at Target, but if you couldn't find it at your local Target and are looking for another beautiful alternative (something you can order online), here is another gorgeous solution!
[col1]
[/col3]


[left]
Learn how to make these gorgeous gold DIY magnetic tins here: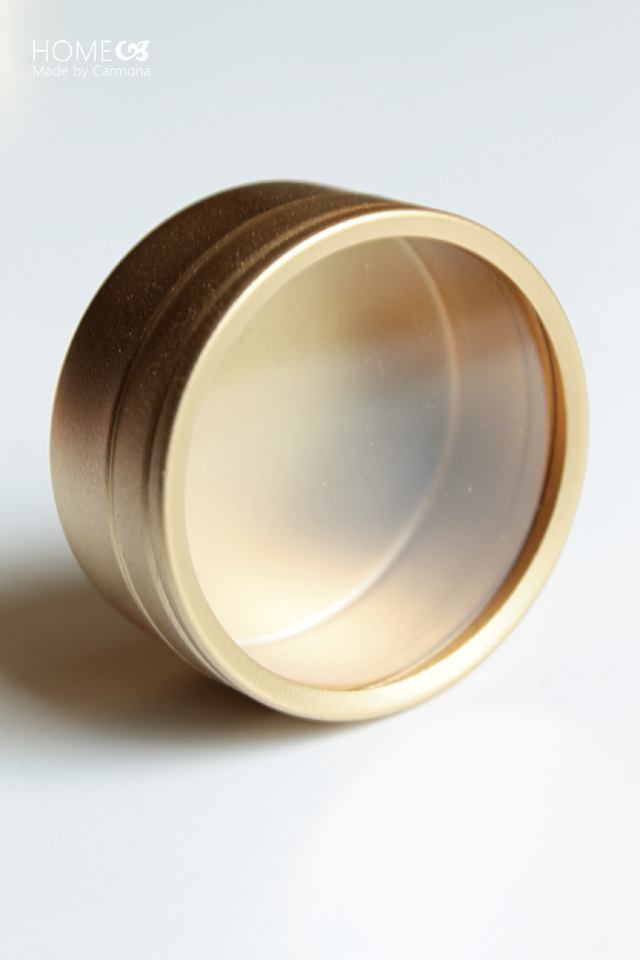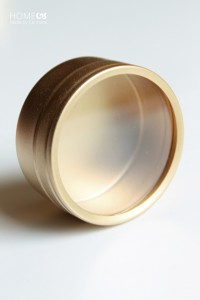 [/left]
[right]
Learn how to glamorize your existing office accessories with paint here.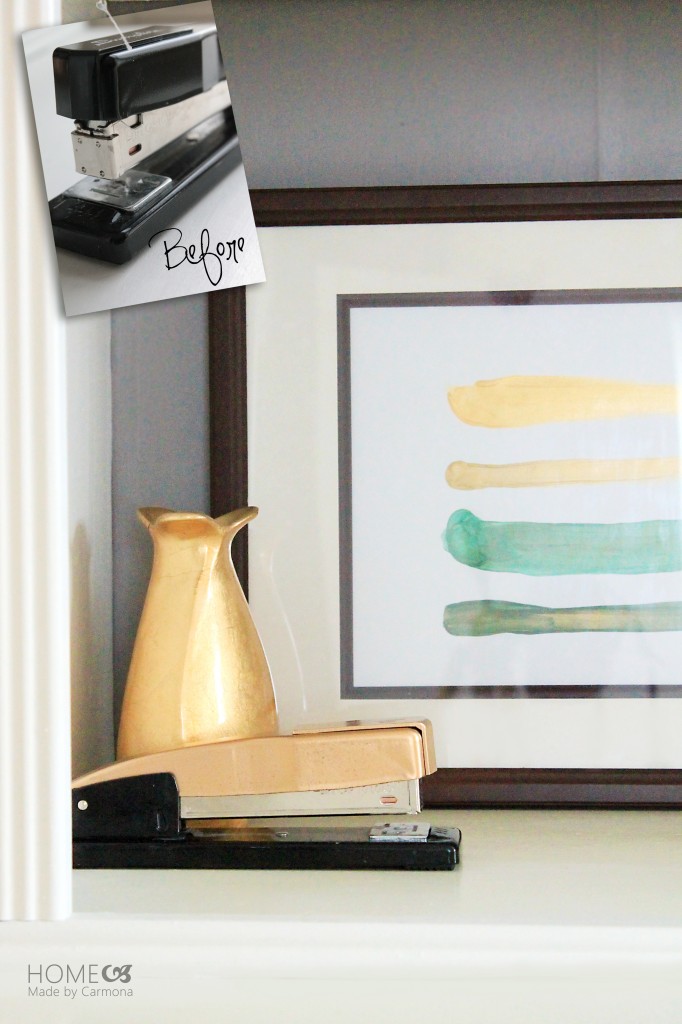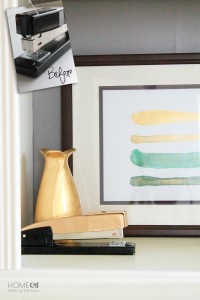 [/right]
 [accordion title="Linking Up @"]
[/accordion]
[line]
See More Great Decor Here
[line]
[go_portfolio id="decorate_landing_page"]