*Sponsorship info

Thank you to BHG at Walmart for sponsoring this post. Projects and posts always display my original and creative ideas.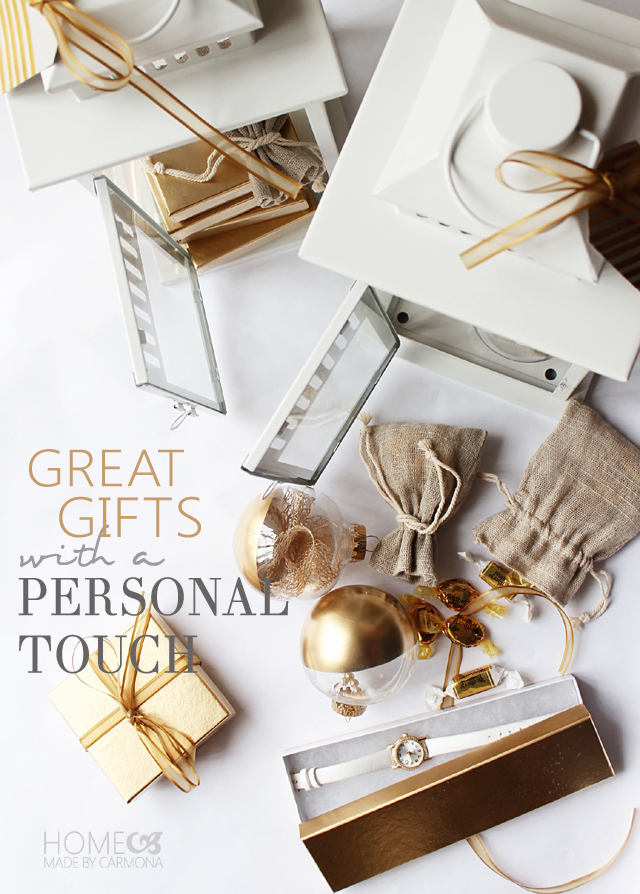 Are you a big gift giver? For many of you that is the most exciting part of the holidays… the thought filled shopping, the pretty wrapping, and watching the excited faces of the recipients on Christmas morning. I admit my family is a bit of an anomaly in that our holidays usually consist of good food, lots of board games, and not much else! Hahaha! However I love that my three gift giving girls always take the time to craft some special little thing for us. Whether it is a drawing, or a book they made, or a creative craft project (usually out of paper towel rolls!), they put thought, effort and love into what they give us. For all the gift givers out there that is the key to a great gift worth giving!
Today I'm sharing 3 great gift ideas that won't break the bank, and have that extra special personalized touch! I started with a few beautiful BHG at Walmart products, and with a little creativity and thoughtfulness made gifts anyone would love!

GIFT & GOODY FILLED LANTERN
Start with a beautiful lantern and fill it with small gifts, goodie sacks, and personalized DIY ornaments! Nothing says "you light up my life" like a gift filled with little tokens of love!
This is the perfect gift for when you are meeting up with the extended family a little later and want each member to have something special but are on a budget. Include something bought (individual gifts for each person), something made (for the tree), and something sweet in little goody sacks!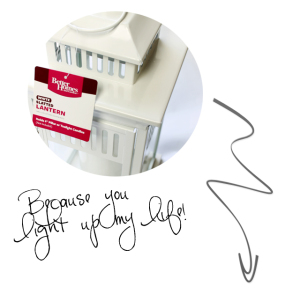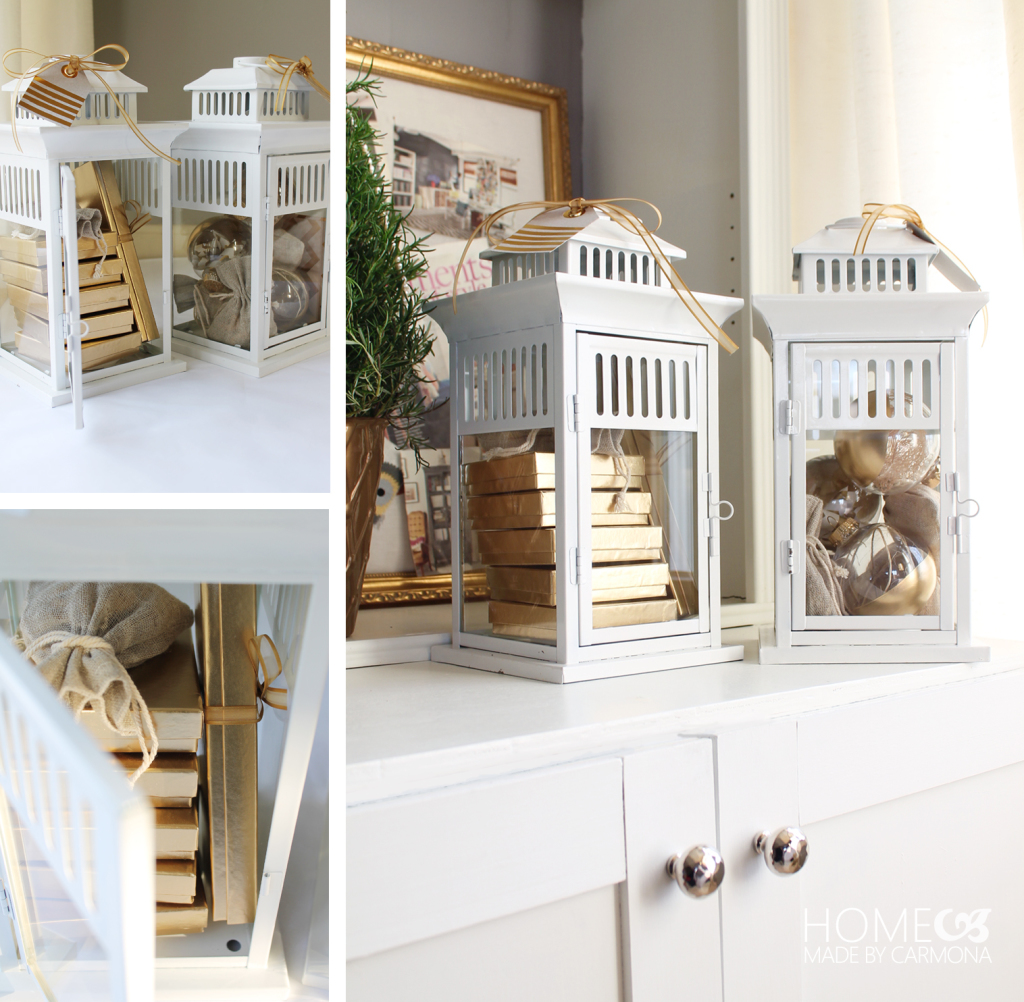 The family will have lots of fun diving into the goodies contained in these gorgeous lanterns…it will be like having a second Christmas morning! The great thing about the lanterns are that they are perfect year round!! Come to think of it, I'm not too sure I'm giving these babies up. 😀 You'll probably see them on my deck come summer. Haha!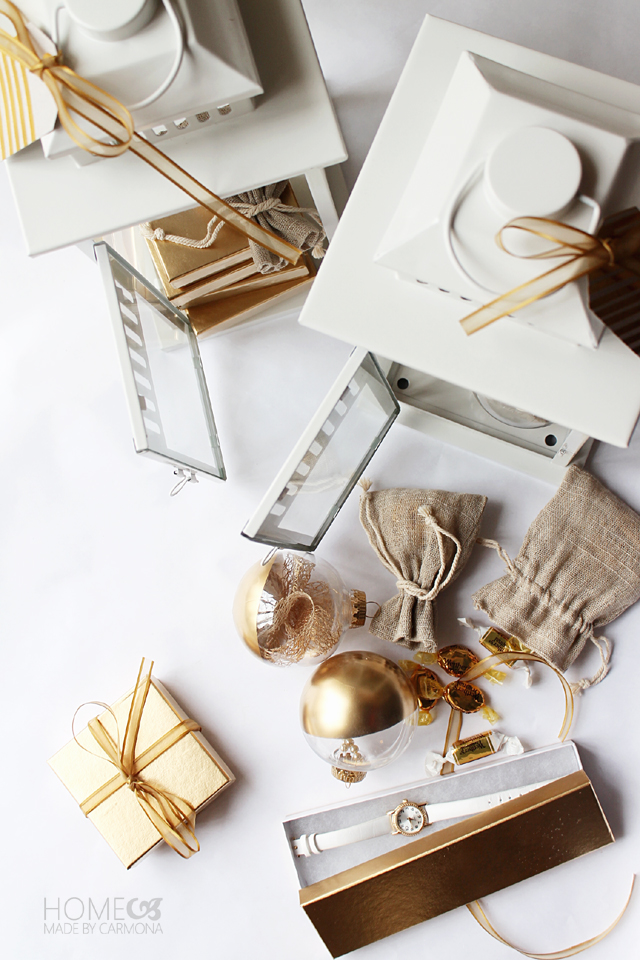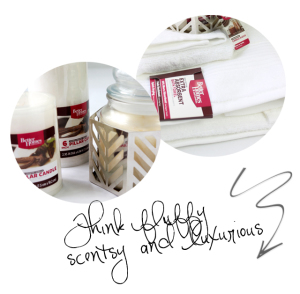 RELAXATION IN A BASKET
I love this gift idea…and not just because I want it myself. Hahaha! I think I love it simply because no one knows exhausted-trying-to-be-super mom-and-superb-woman challenges better than we do. 😉 We all have a superb woman in our lives that needs those mini-spa moments to feel refreshed and ready to go out and give of herself again. Why not be the one to let them know they deserve a moment of relaxation, and that we appreciate their hard work and self-less effort?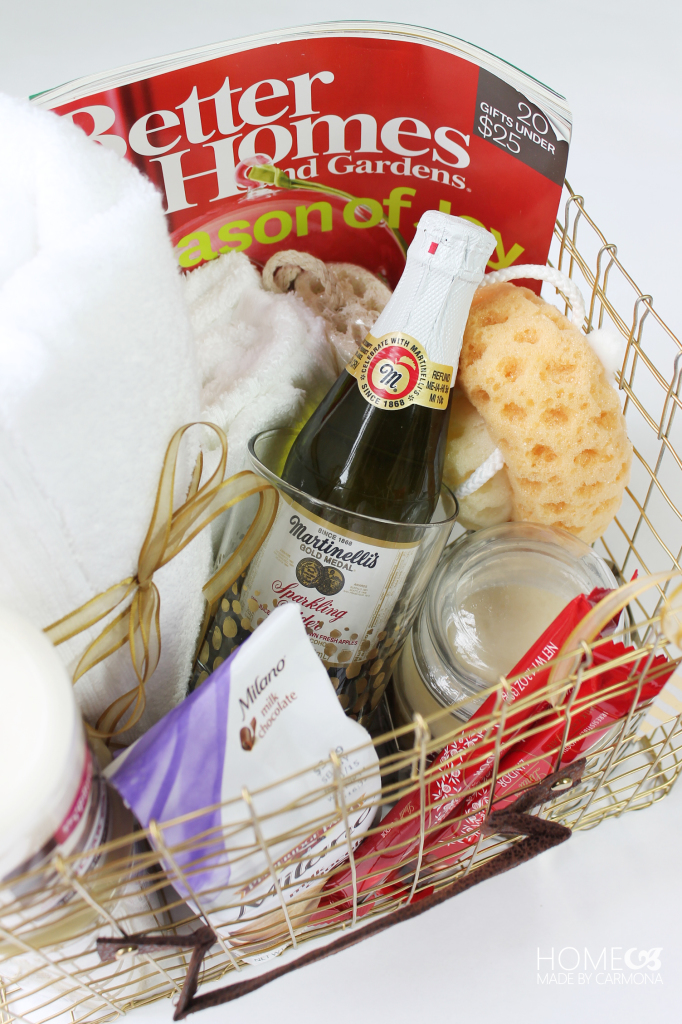 I think the nicest gift you can give that woman (whether friend, wife, mother, daughter, or lover) is a little personalized spa kit. Just a little something for those moments she can't run out to a real spa but is in dire need of a 60 minute break.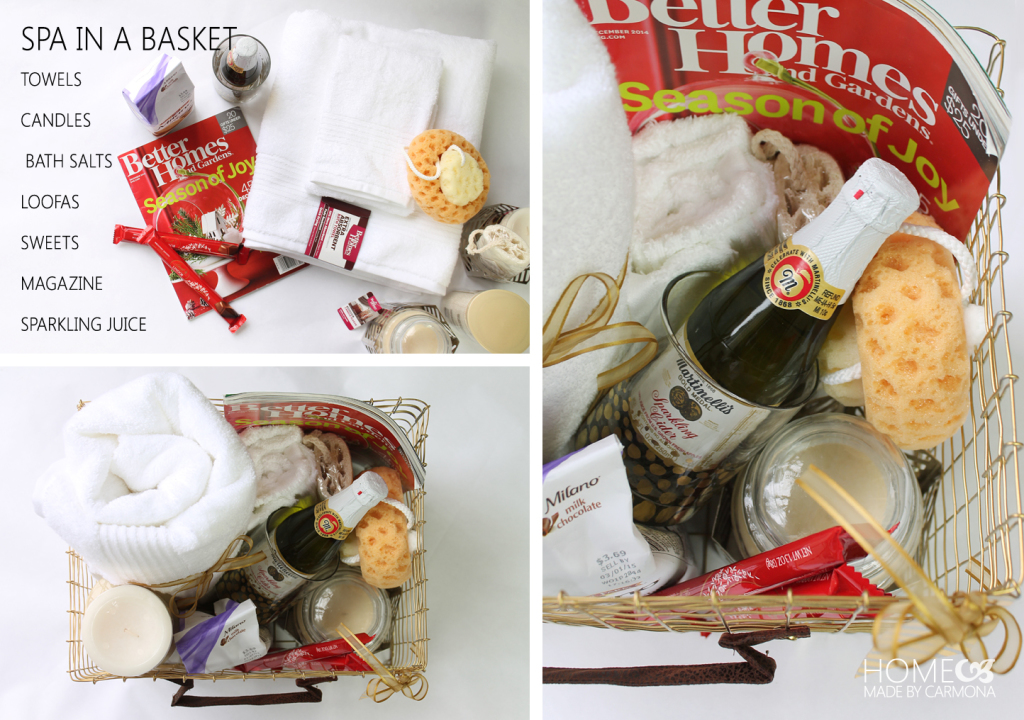 I've packed some goodies into a DIY wire basket I made myself using hardware cloth. Then I added a french country vanilla candles held by gorgeous candle sleeves, a fluffy soft white towel set, scrub brushes and loofa, bath salts, of course some chocolates, Milano cookies and sparkling juice (and maybe some cookie dough ice cream waiting in the freezer?), oh and a BHG magazine for relaxing and reading while soaking in an indulgently foamy bath. Wow, that was really specific wasn't it? HINT HINT! (Oh who am I kidding, my husband will probably never read this. Does it count if you gift it to yourself every so often? *chortle* ).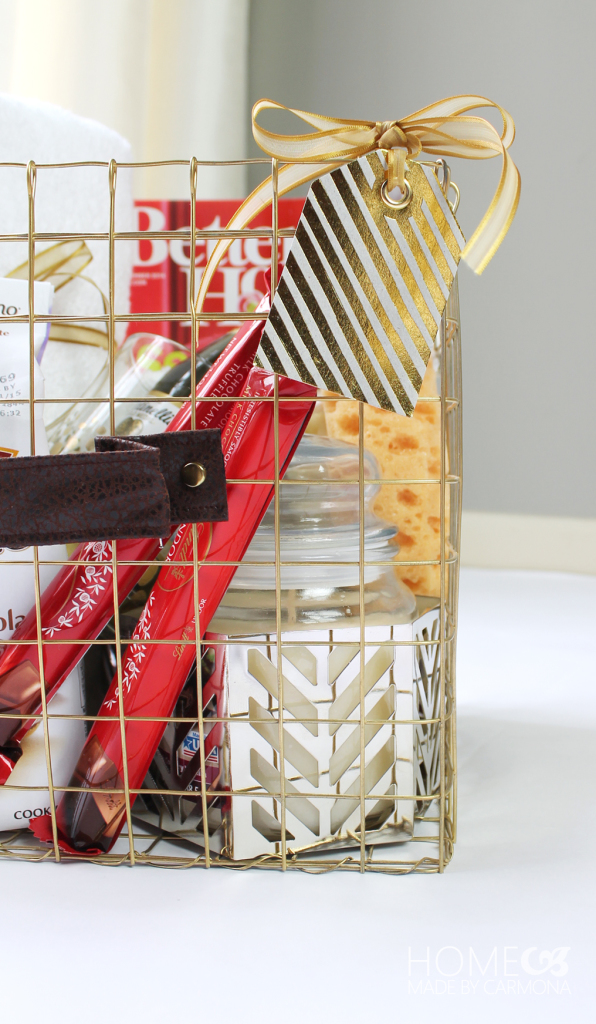 MESSAGE IN A MUG, MAILING GIFT
Looking for something small and sweet to send in the mail to a loved one you won't get to see over the holidays? Let them know they are in your thoughts and in your heart with this sweet little personalized gift.
This lovely ivory Amity mug and the tall porcelain mug are perfect for this gift… but remember to take the time to fill it with sentiment. Fill it with all the sweet little goodies that you know they love, and add a personalized touch using Sharpie's oil-based paint pen.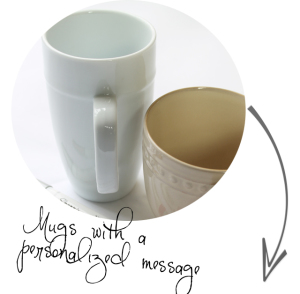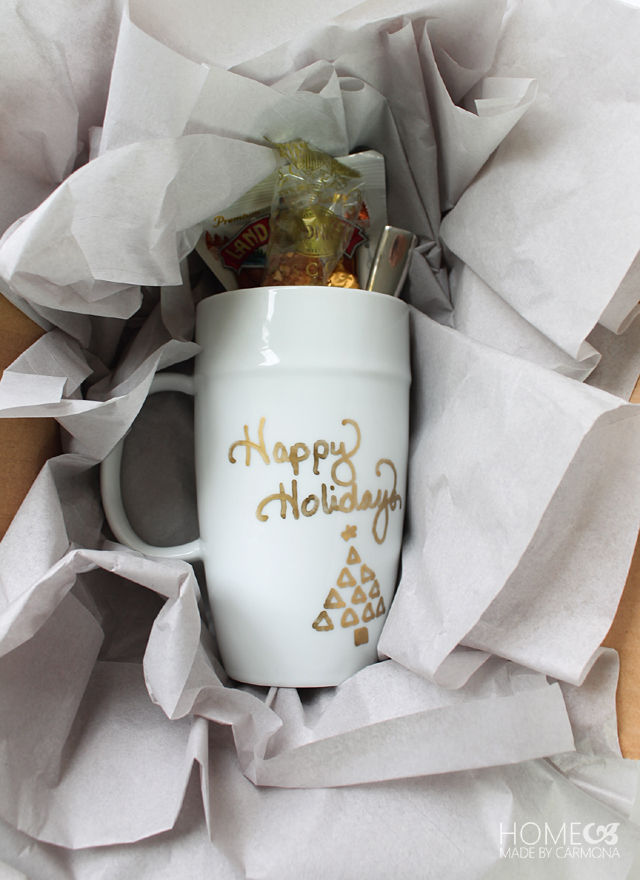 It is the idea behind what you send more than the gift itself. Give with your heart and let them know what you wish for them. Whether you want your gift to say "put your feet up and enjoy a moment" to a busy friend, or maybe you thoughtfully want to say "I hope you all stay well during the holidays", find a way to show that you care.
Whether you want your gift to say "put your feet up and enjoy a moment" to a busy friend, or maybe you thoughtfully want to say "I hope you all stay well during the holidays", find a way to show that you care.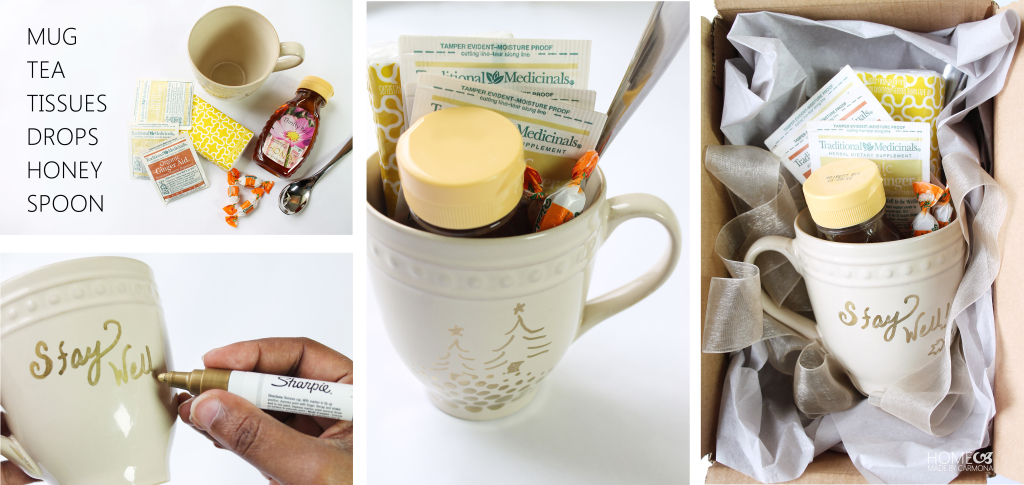 Other great items to add are: Emergency-C immune boost packets, sanitizing wipes, hand sanitizer, etc.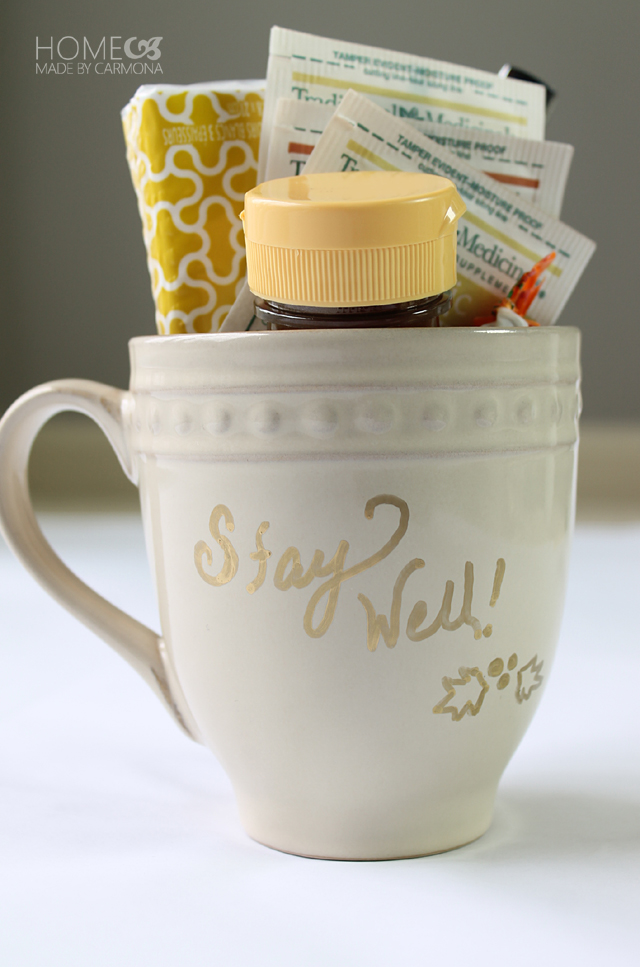 Other relaxing indulgent items to add are: Chocolate truffles (because we all feel indulgent with a rich chocolate in hand! This mug contains biscotti, a variety of caramels, hot chocolate, and a tea spoon.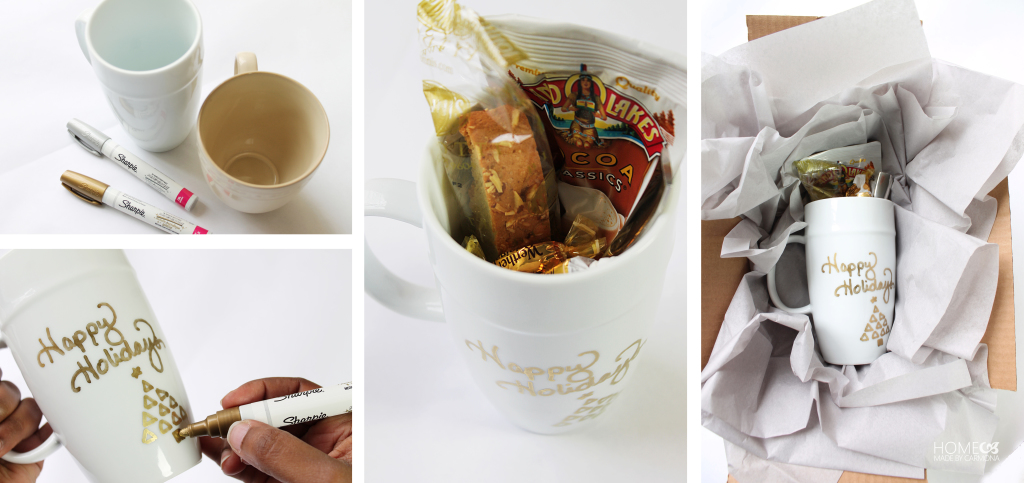 For fun, try a different design on the back of the mug. Don't forget to pack it tight with tissue paper and packing material before mailing it out!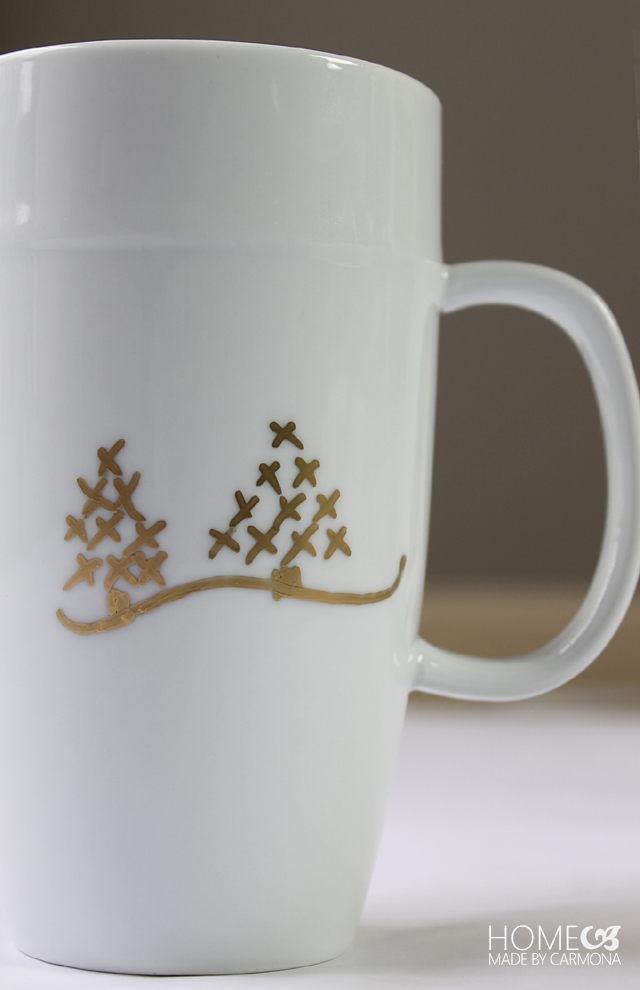 The holidays will be all the more special when you take the time to craft a meaningful gift, and your friends and family will appreciate your heartfelt gifts!
*I am honored (and excited!) to be part of the BHG Live Better network, and to share a few of my favorite things, projects, and my original ideas with you. Thank you to BHG at Walmart for sponsoring this post. Follow BHG on  Facebook, Twitter, Pinterest, and Instagram.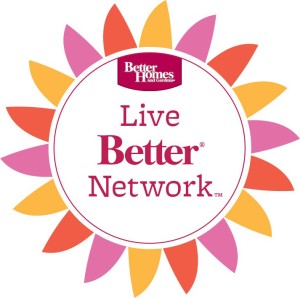 Portfolio with an id of "christmas_projects" is not defined.