Like most of you, I'm a sucker for an inspirational home tour.

While we love to virtually browse through images of gorgeous homes and imagine ourselves enjoying these spaces, nothing is quite like being in the space itself. Experiencing firsthand the flow and beauty of the space, and learning what functions work best for how we live.


Recently I did just that, experiencing firsthand the beautiful Lake County YMCA Dream House located in the quaint town of Willoughby, Ohio

.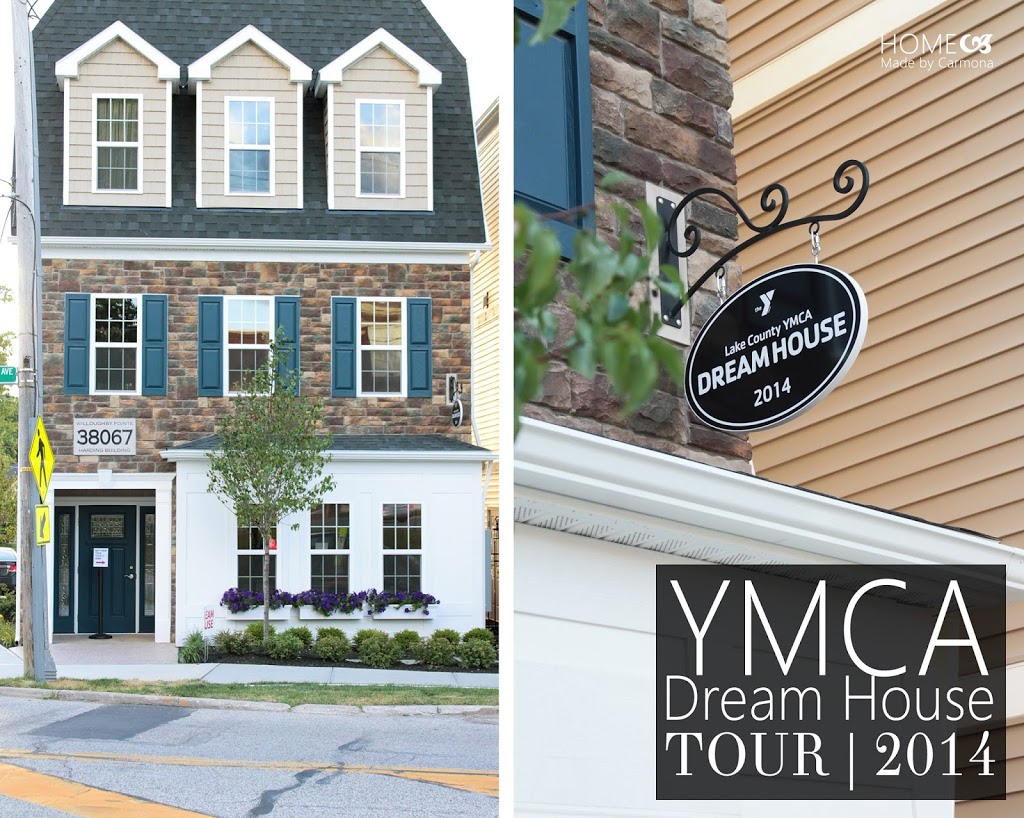 I love this first look right after you enter the space from the hall. Right at the outset you know you want to take a seat, get comfortable, and drink in the beauty.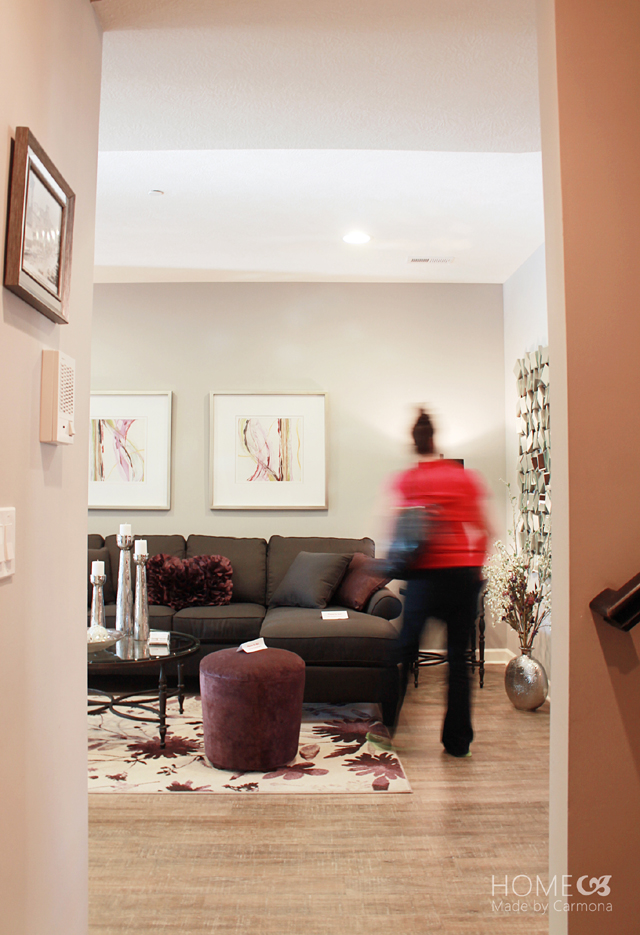 The designers were not afraid to bring in these attractive hues of mauve which I found I really loved! Great inspiration for my daughters room..she has been begging for a purple bedroom since she was 3. Of course the idea of purple initially struck terror in my heart, *grin* now I'm seeing all the possibilities in the lovely mauve and violet throughout this house!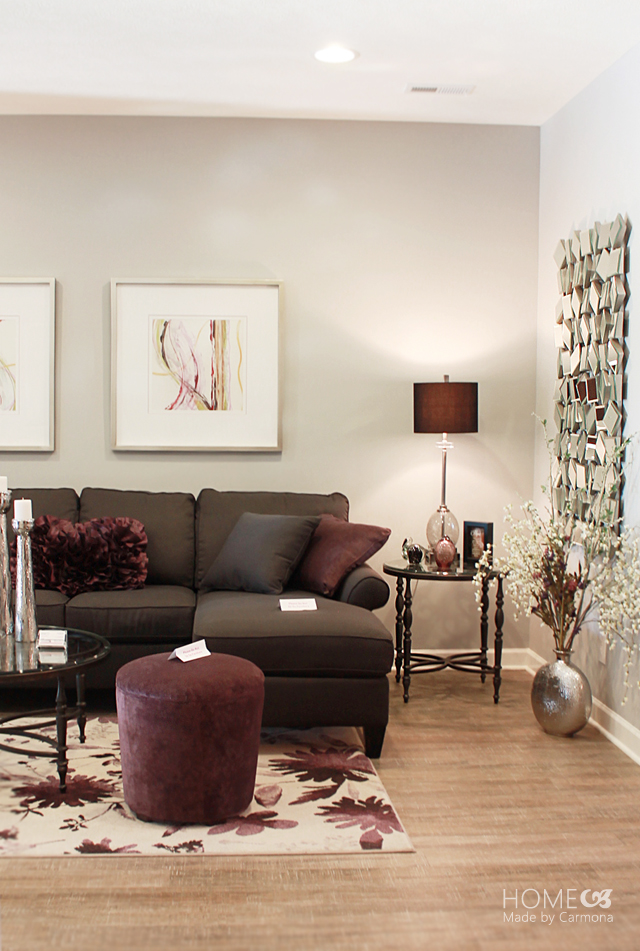 I love the touches of glam without feeling like you are in a feminine space. From the wall décor to the accessories, all have a bit of a metallic qualtiy that reflects off each other and brings some sparkle into the space.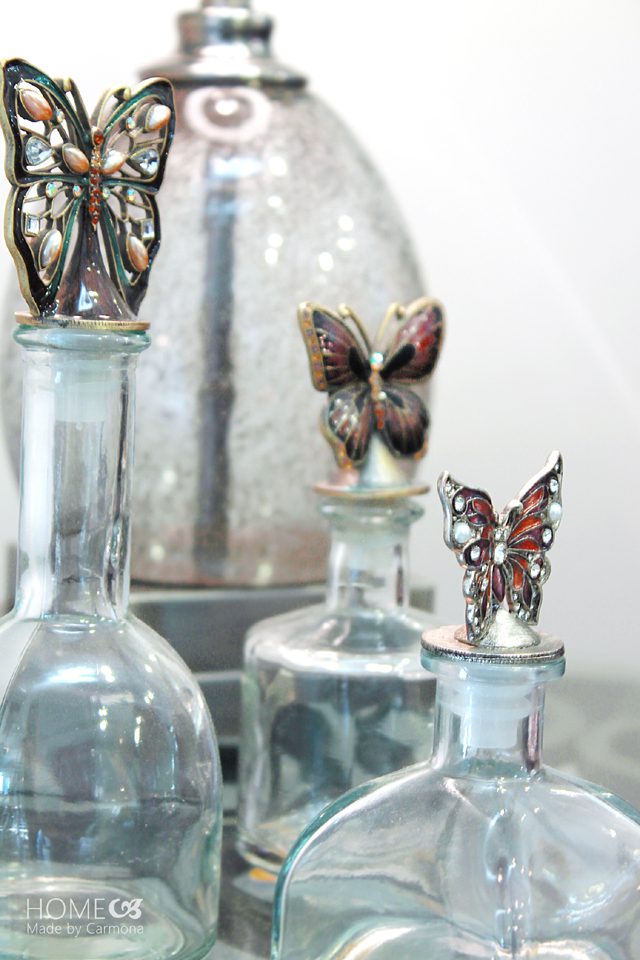 I don't want to give away too much so that you have something to look forward to on your tour, but I'm in love with the open concept of the 2nd floor living area. You can see straight through from the kitchen and dining, to the living room, to the great room.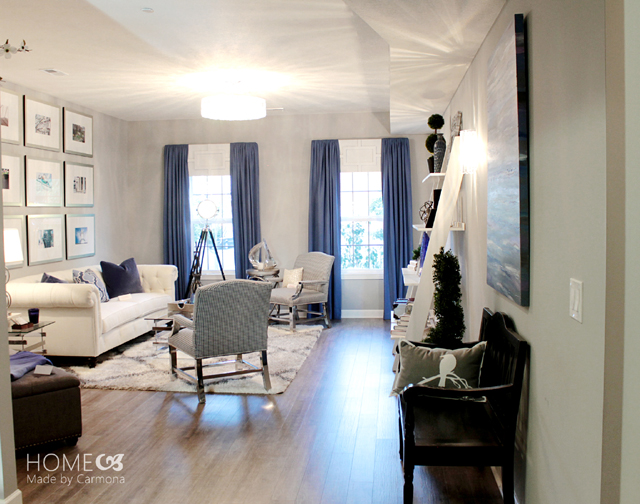 Aahhh, and what a great room it is! The art gallery immediately drew me in…the photographs were taken right there in downtown Willoughby!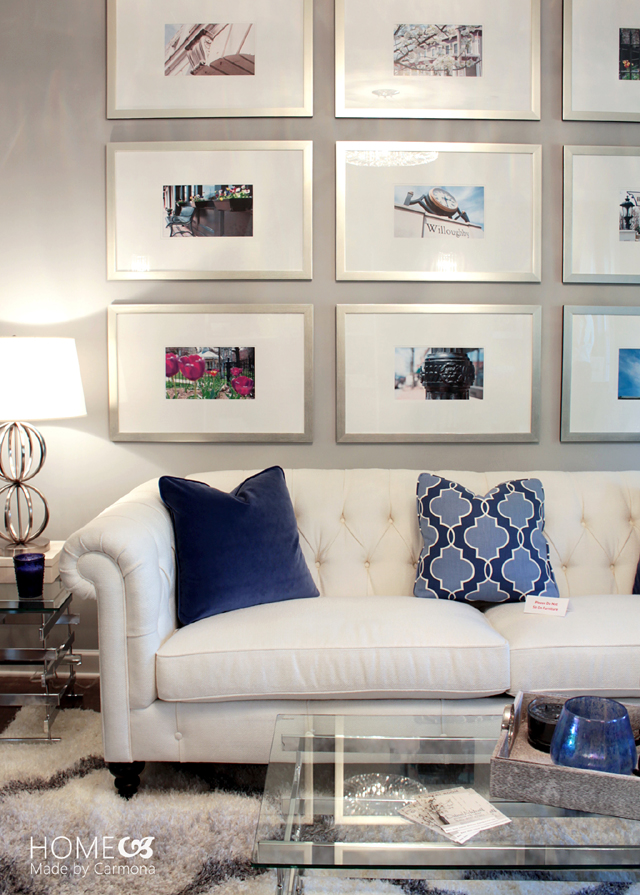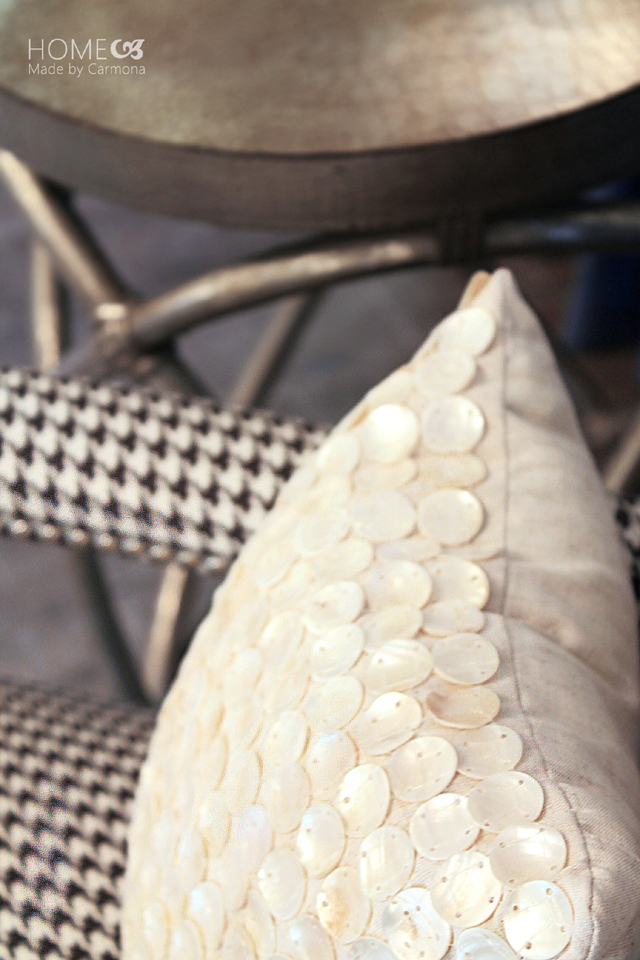 This kitchen has something I've always wanted in my home: charcoal colored cabinets! I'm not sure I could get the husband on board, but maybe this stunning kitchen will convince him to take a chance.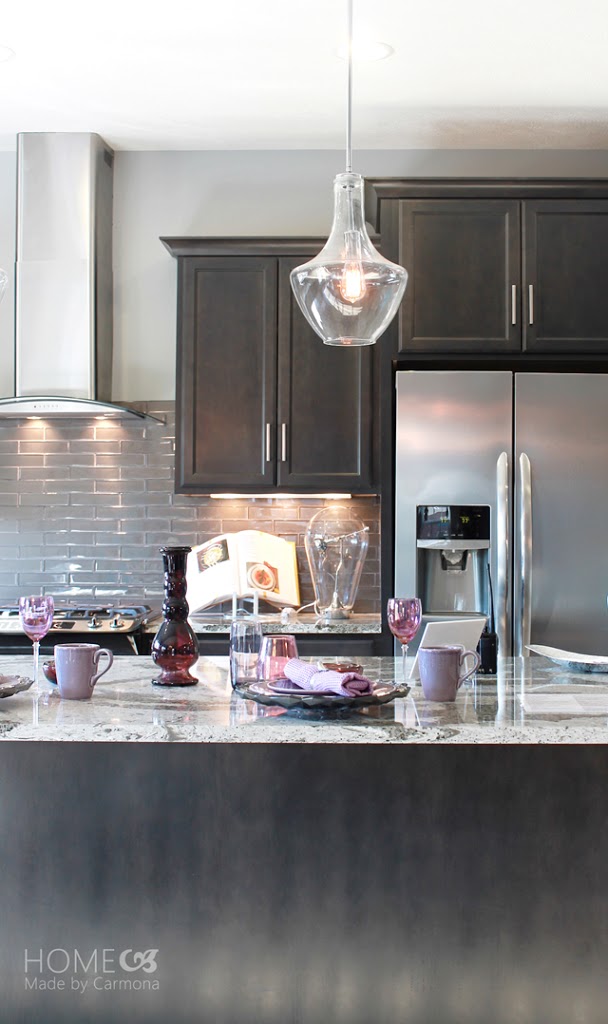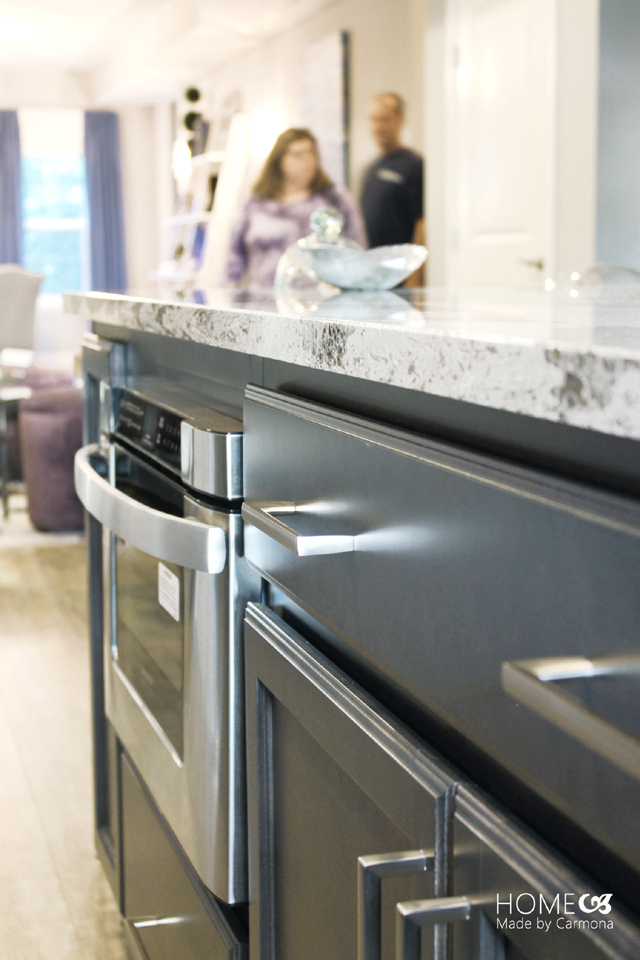 The kitchen also boasts another dream of mine…a fully outfitted pantry space! When I opened those pantry doors I think I let out a little sigh of jealousy. The pantry is in the ideal location, right next to the refrigerator and prep space…wouldn't it be lovely?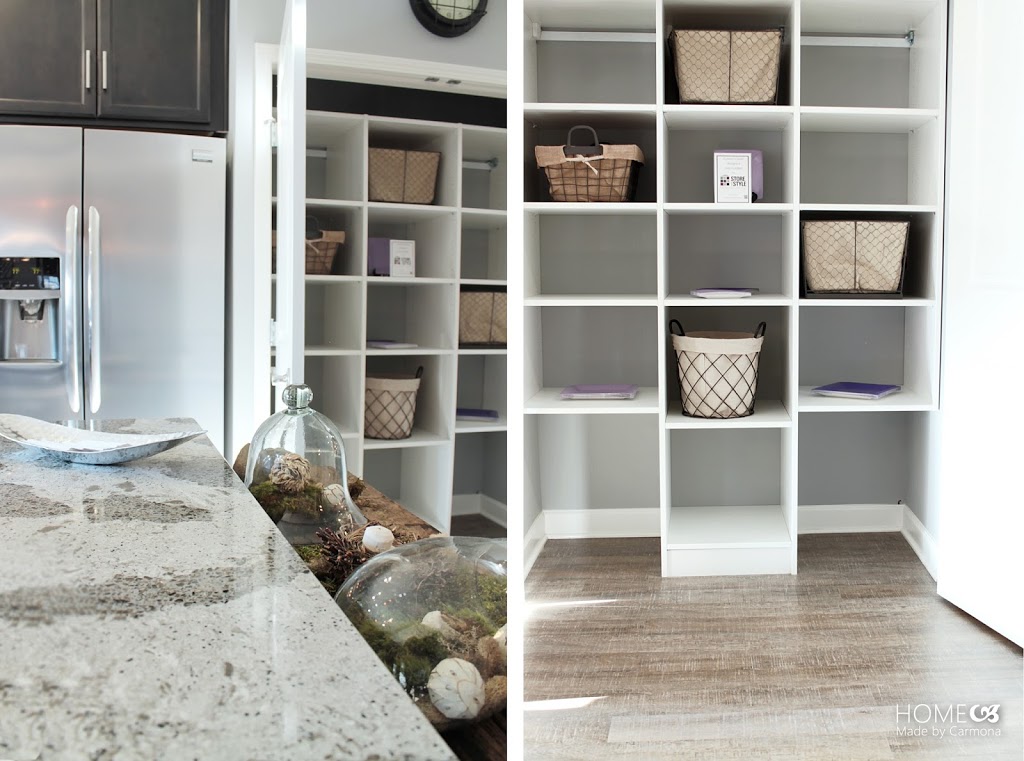 The beautiful thing about a custom space is the continuity of design. When you purchase pre-fab furnishings and window coverings, you often have to be content to mix and match. Not so with the custom touches in this home! From the dining chairs and window coverings, to the kitchen valance, the fabric and design choices were pulled into the adjoining spaces for a cohesive feel.
Perhaps it is because all the light fixtures in my home that need to be updated, but I've certainly got lighting on the brain. I really love this clear glass fixture above the kitchen sink, and the old fashioned bulb that it highlights.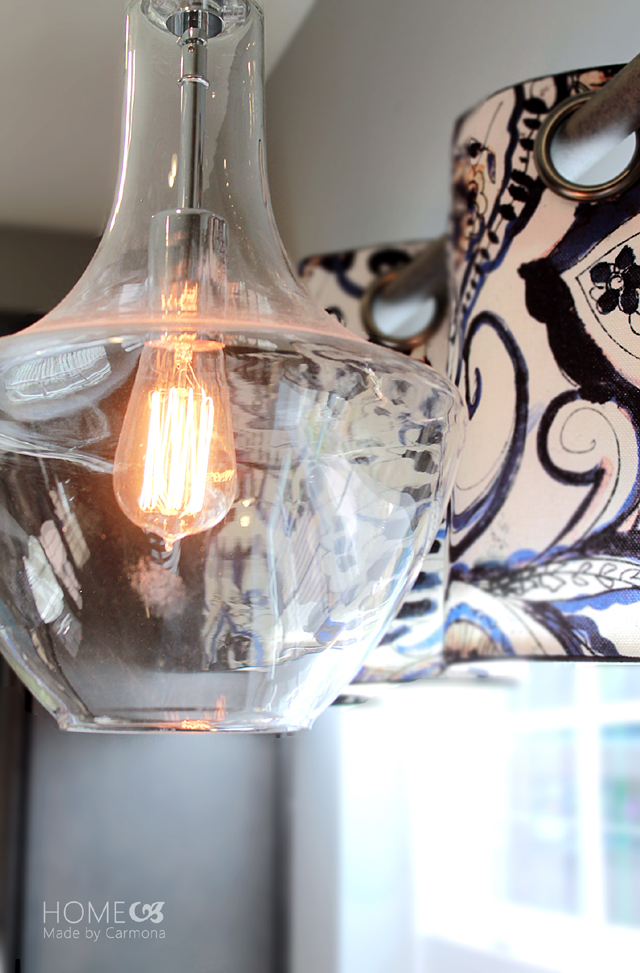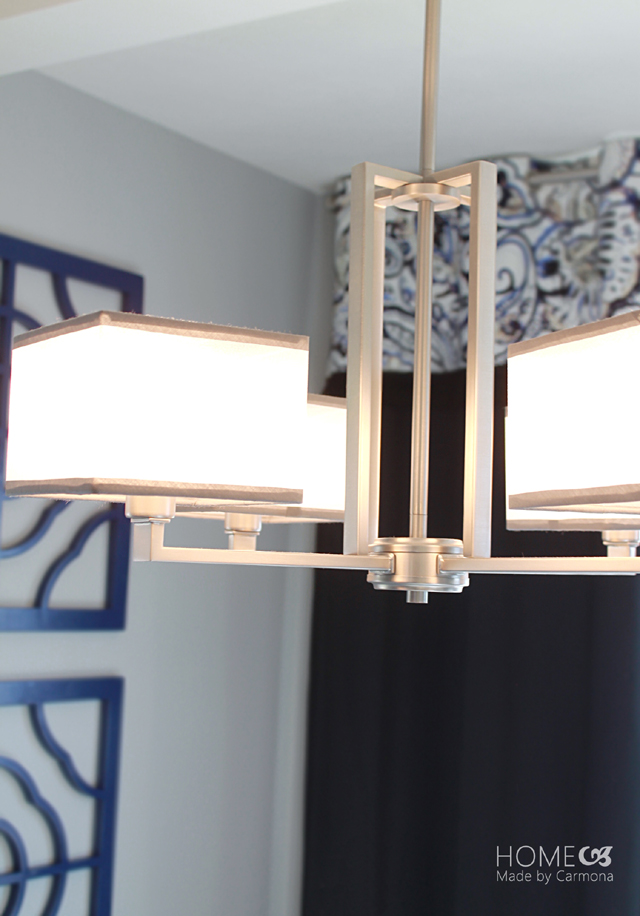 Perhaps the kitchen is the heart of the home, and living spaces the soul… but in my opinion the bedroom is equally heart. It is the private areas in our home where perhaps only our family members may venture, but where our real life begins. I think of it as a space that needs to be restful, happy, and above all else become an escape at the end of a long day.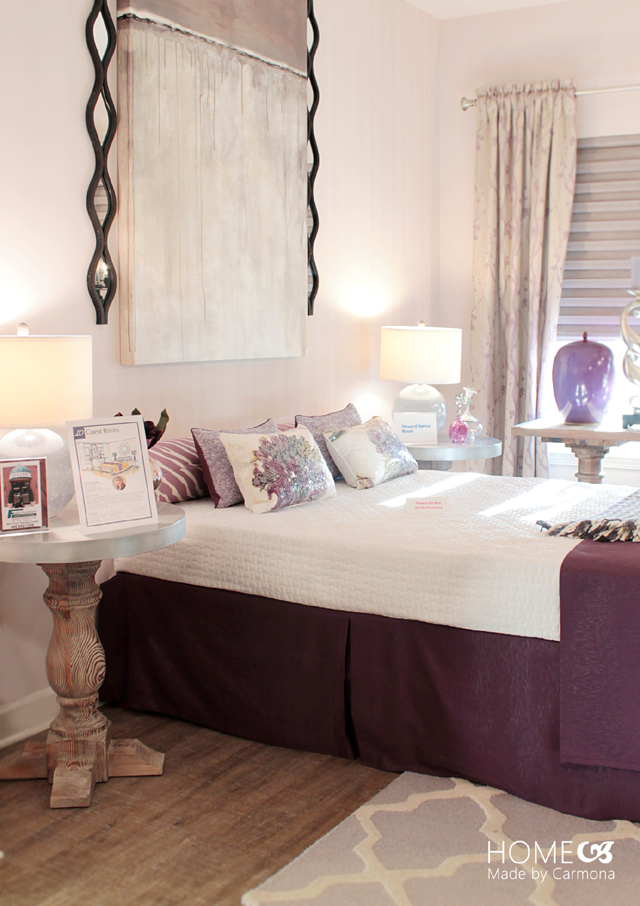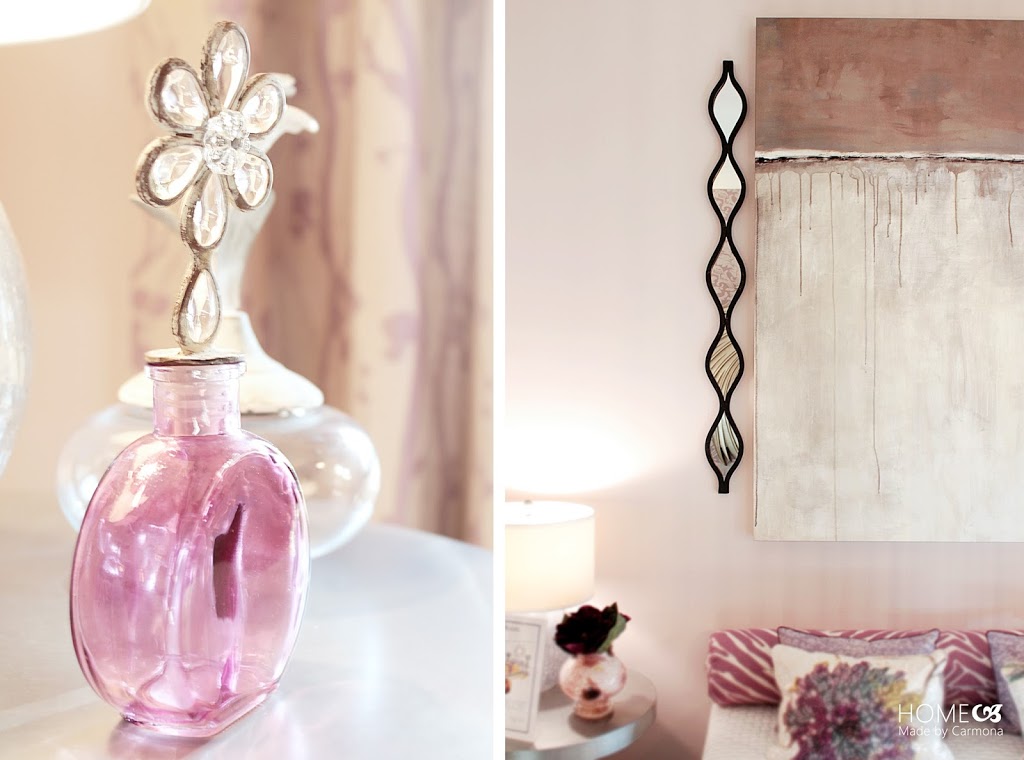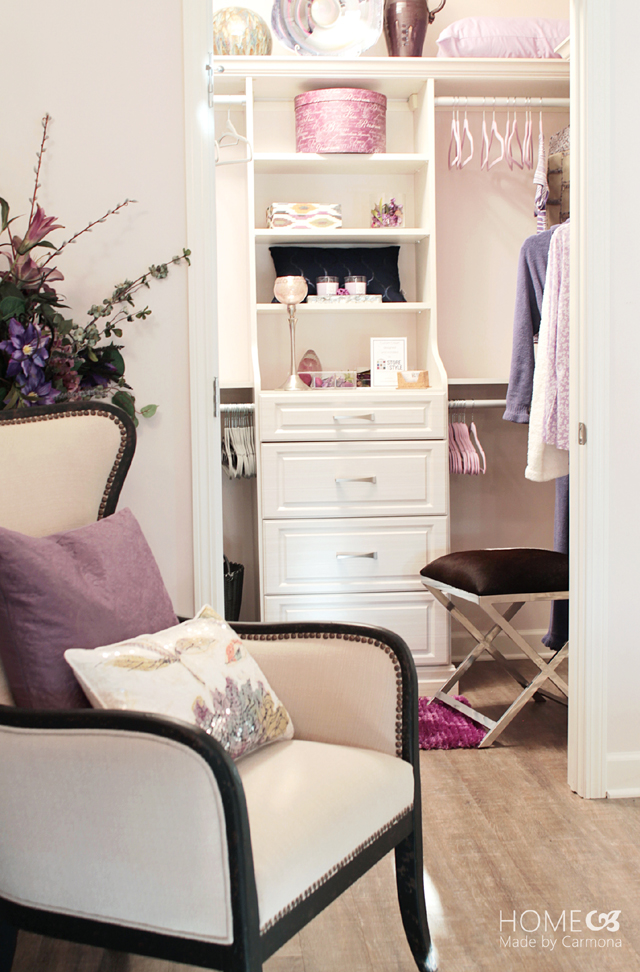 This bedroom has some awesome industrial features. When you visit this home, take a look at the creativity that went into building the bed! (Yes, that was a bit of a teaser…for those able to go on a visit!) 
Finally I enjoyed the mirrored furniture in the master bedroom. Even with the blinds closed and the lights dimmed it created a very glamorous effect.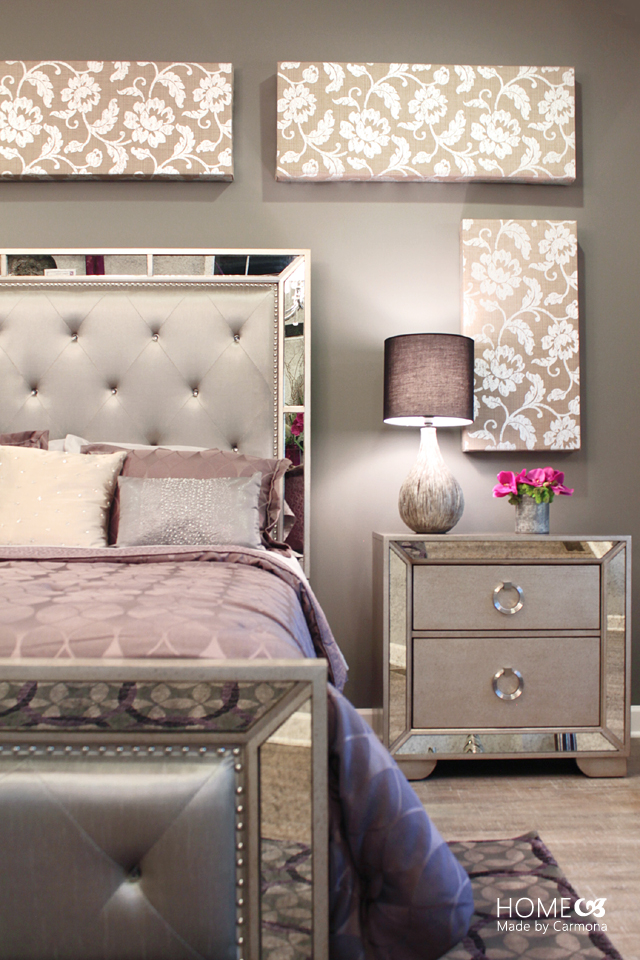 Whoever wins this YMCA Dream House will be located in a lovely town, within walking distance of all its amenities. I am well acquainted with Willoughbysince I drive through downtown on my way to church every week. It seems there is always some exciting event happening in Willoughby!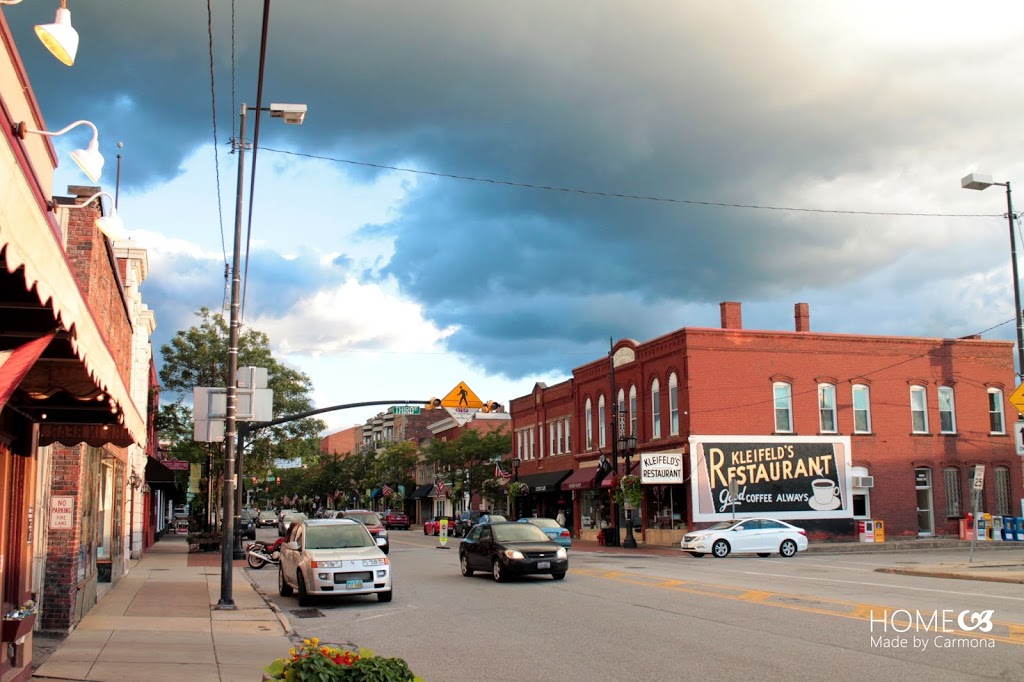 Each week I find myself exclaiming over a banner announcing the latest festivity, or peering into some lovely little shop, or watching the artisans set up for farmers market. I love this little town, so conveniently located to everything one could wish, yet having that quaint small town feel all at once!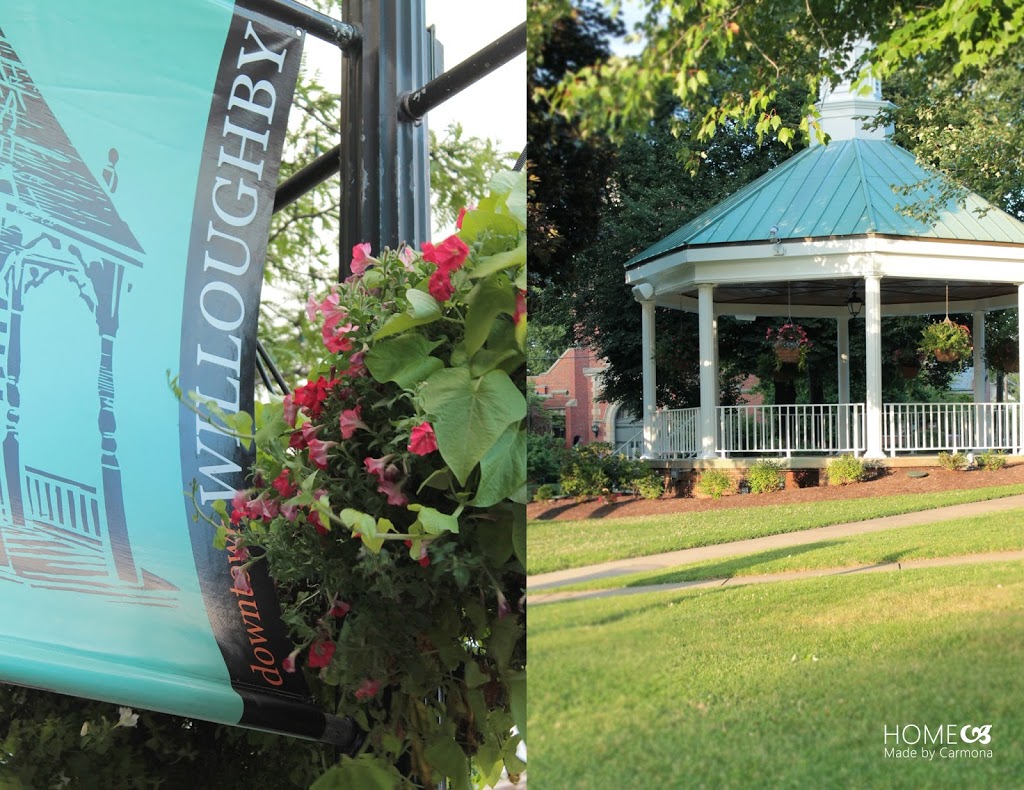 I think the designers and builders did a fantastic job on this year's Dream House…I know I was inspired! The YMCA tour volunteers were also so sweet I just had to give them a special shoutout! They were very helpful as I took pictures and excited to show me all the amazing features of the Dream House.
There were a lot of spaces in the YMCA Dream House I did not share here on the blog, but I hope you enjoyed this sneak peak!