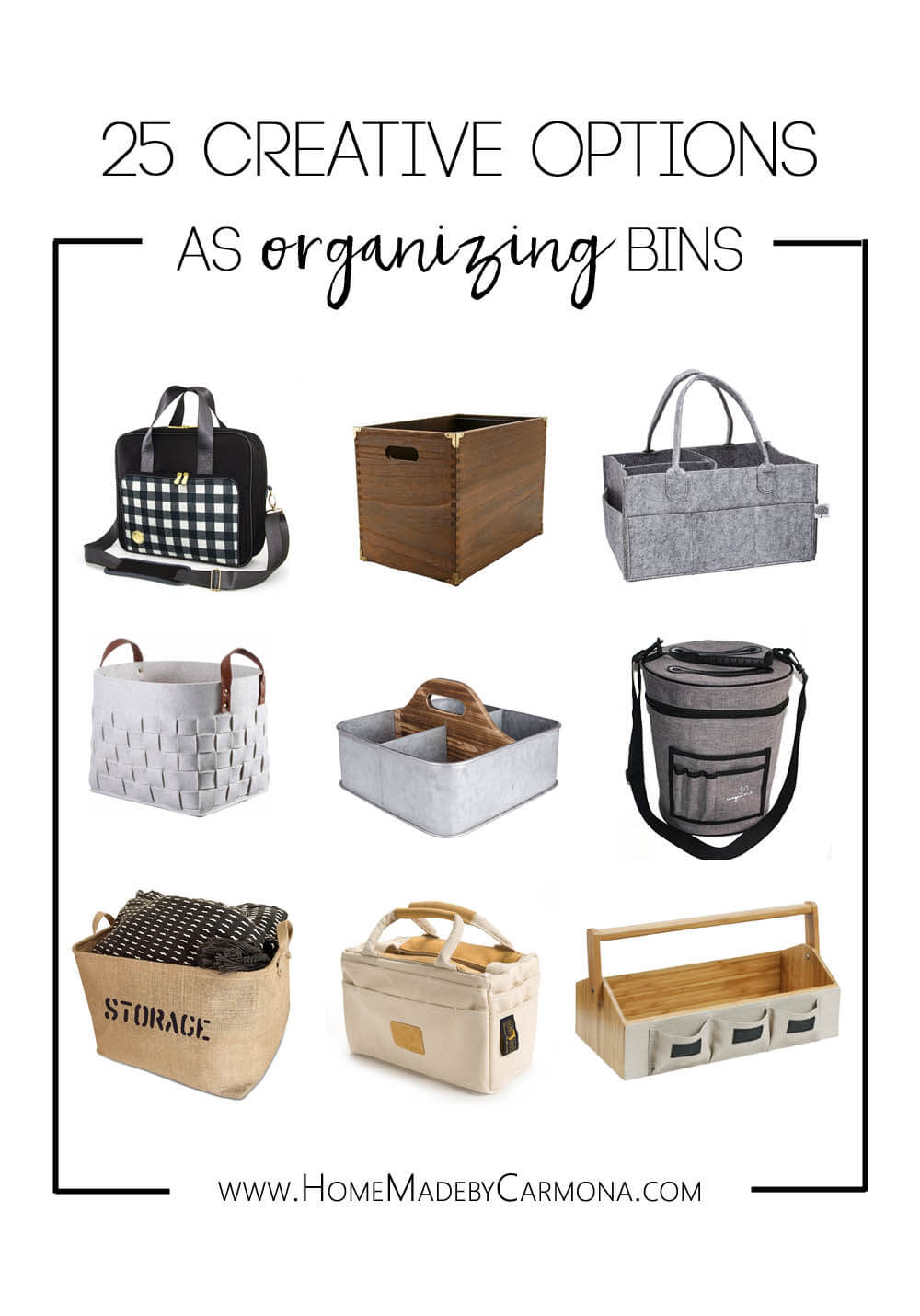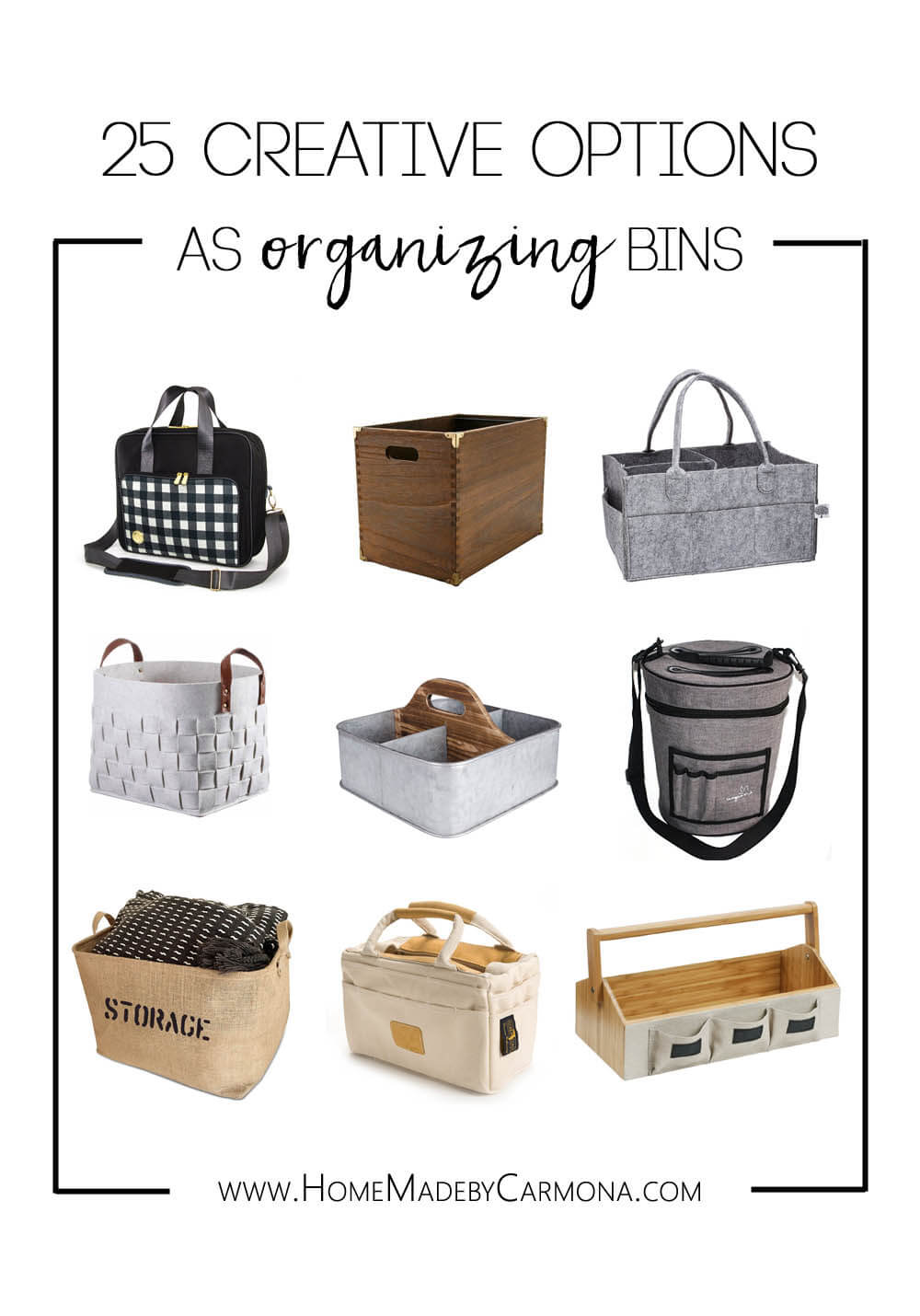 [left][/left]
[right]*This post contains affiliate links[/right]
Organizing is a big job, but with the right set of bins / organizers / totes / caddys you can make a big difference!
Think of the various kits you might need, from tool boxes and craft kits to organizing or cleaning kits and garden totes…
I've rounded up 25 unique and creative storage items you may not have thought of for your organizing task! Now, these aren't the small solutions, dividers, or baglets…these are your bigger solutions; those small creative solutions will come in another article.
For now, think of the various kits you might need, from tool boxes and craft kits to organizing or cleaning kits and garden totes. But think outside the "box" when it comes to your needs, a tote might do, but will a caddy serve your purposes better?


A caddy is the perfect solution when you want to carry a few like items from place to place within your house or on your grounds. It is temporary open storage for current projects.
Organizing Uses: Garden tools & seeds, tool caddy, craft caddy, cleaning caddy, sewing caddy, organizing kit, craft caddy, after school craft caddy, emergency kit, bath caddy (appropriate sizes) etc.
[col3][/col3]


Shoulder and hand bags designed for crafters (or as diaper bags) have better compartments than a regular purse to organize what you need. They are great solutions for on-the-go. Whether that means goods that need to be transported from room-to-room, or actually out of the house.
Organizing uses: Kid travel kits, craft kits, organizing kits, diaper bags ( the larger options), etc.


These are great for many things beside tools! Much like the shoulder bags, they are great for transport, but they are typically found in larger sizes.
Organizing Uses: Tool bag (obviously), organizing kit, sewing kit, craft kit, etc.
[col1]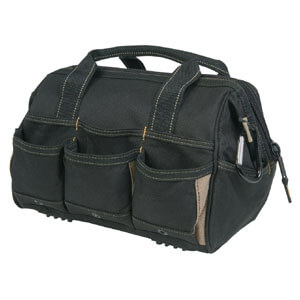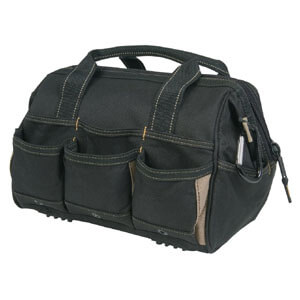 [/col1]


Bucket organizers and round storage bins are just fun! Once in a while it's nice to change things up from the average rectangular or square container, it can stand alone as a decorative bin. You can always find the organizer you place inside a bucket in hardware stores or online, so I thought I'd share a couple other fun "round" options you may not have thought of.
Organizing uses: Knitting organizer, sewing kit, kids entertainment & toy bin, etc.


From bag organizers, to car organizers, to hard cased jewelry (or fish tackle) organizers; these come in a variety of shapes, sizes, materials, and are fantastic because of all their compartments! The downside is that these organizers aren't usually the most attractive solution, they weren't meant to be decorative. Smaller soft organizers are great to use inside a trendy bag, or larger tote to section things off. The one big principle of organizing is "like item with like item"…this achieves that beautifully.
Organizing Uses: Purse organizers, car organizers, tool bags, craft organizers, organizing kits, etc.
[col3][/col3]


Canvas totes and bins are fantastic when you need something collapsable and versatile. If you have kids or animals, these totes tend to be easier to keep clean. If you go for a square canvas bin, you place a bunch of them in an organizing cube, and voila, you have hidden storage!
Organizing Uses: Toy storage, reusable shopping bags, linen storage, kits, book storage, etc.


Of course baskets and boxes are a beautiful way to store things in plain sight! File holders, crates, and milk carton carriers are attractive and can store big things or be used in collaboration with small organizing containers to hold a variety of small items. Baskets are both decorative and useful in any space!
Organizing Uses: Paper filing, toy storage, book and magazine storage, linen storage, organizing kit, etc.
I hope this helps get you in a "store, organize and conquer" state of mind! Go ahead, tame your clutter with these awesome and creative organizing bin options!
---
Oh, and in case you are looking for solutions to create the perfect organizing kit, you might like this post I wrote about assembling mine! It is a bit unique, I went with a file box instead of the typical caddy, and it suits my purposes perfectly!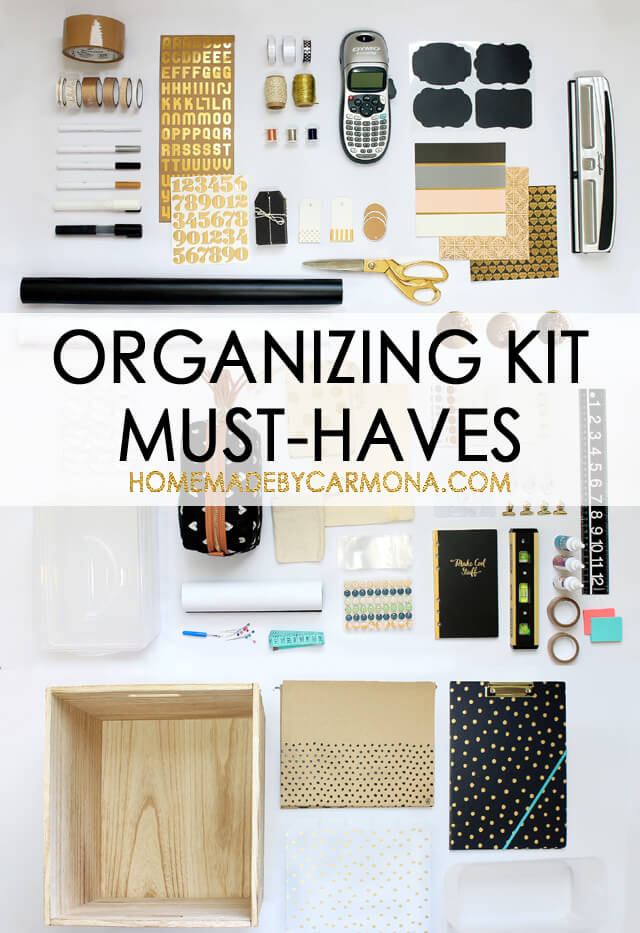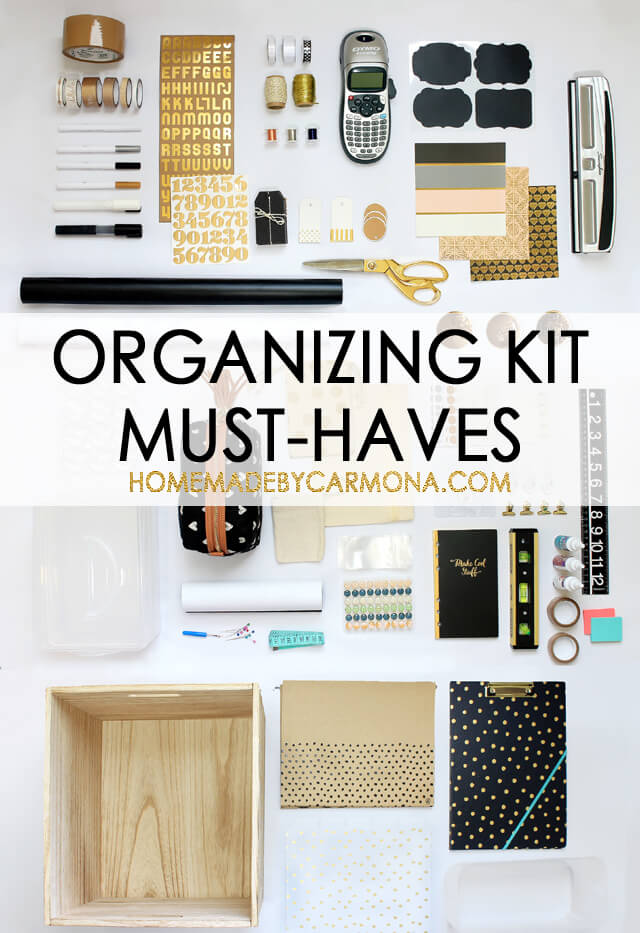 In other news, we launched a private Facebook group for readers! You can participate in organizing challenges, DIY challenges, learn to build, and show off your best work! Click here to request to join the HMC Makers group. Our January organizing challenge is to assemble an organizing kit, and we'll all post a picture of it in our HMC Makers FB group!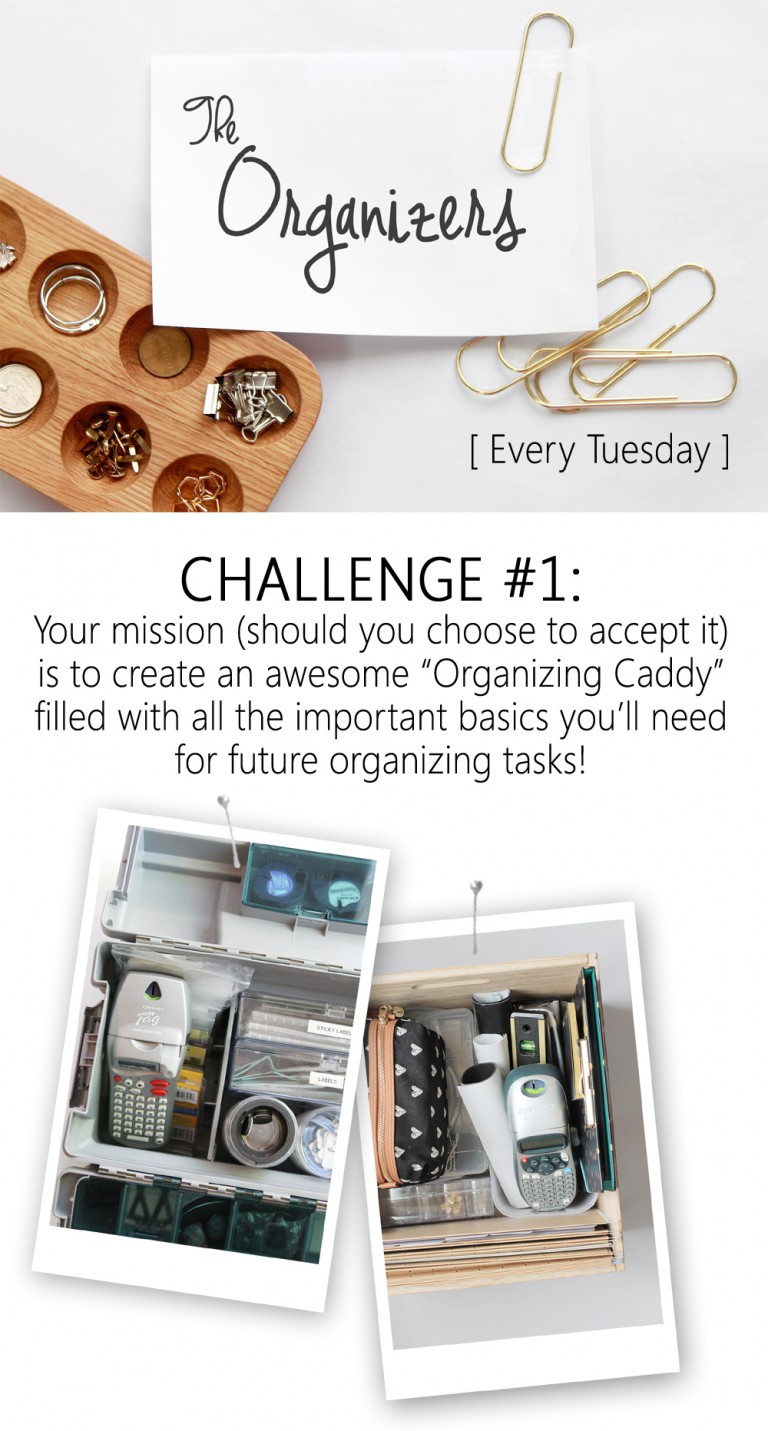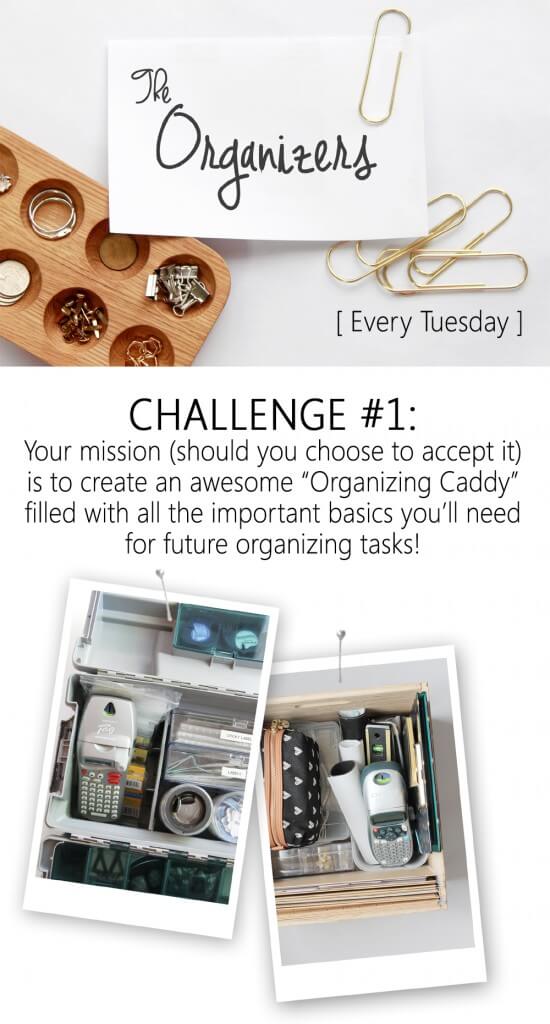 [go_portfolio id="organize_landing_page"]