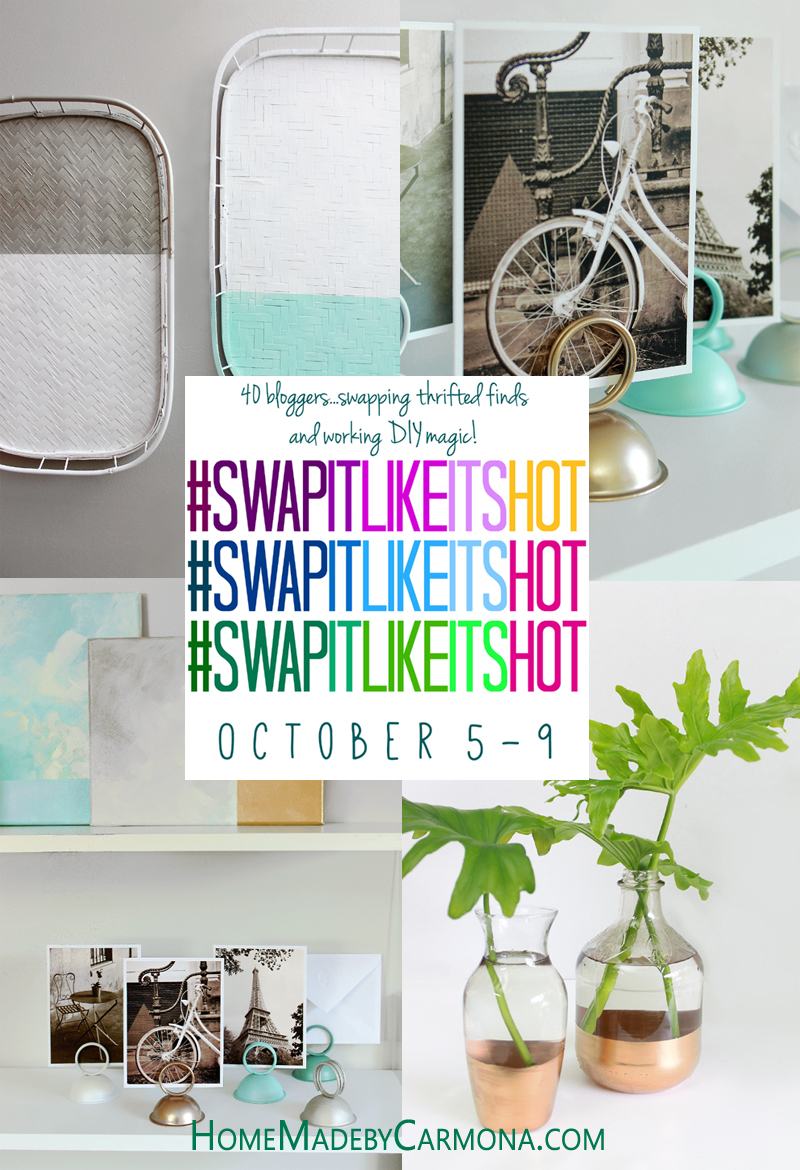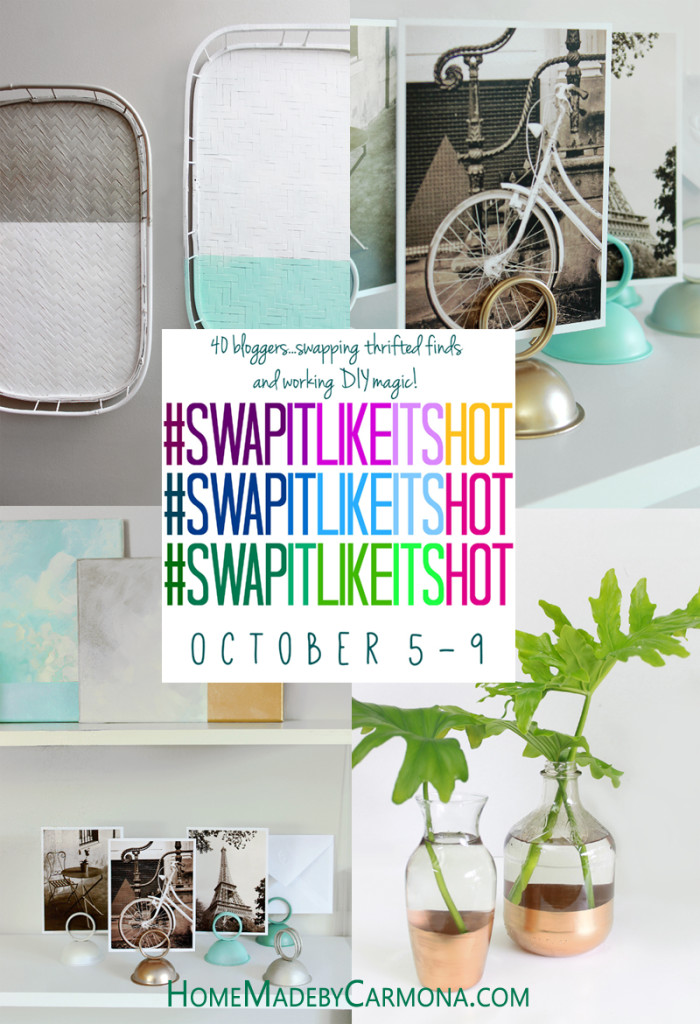 Boy have we got some fun for you today! It's that time of year, when my girl Charlotte from Ciburbanity hosts her annual Swap It Like Its Hot series! Let me tell you, it is a hoot!
40 bloggers swapping thrifted finds to makeover…well it could be DIY magic, or an epic disaster.
40 bloggers swapping thrifted finds to makeover…well it could be DIY magic, or an epic disaster. I mean, look at the kind of things you can find in my local thrift shop.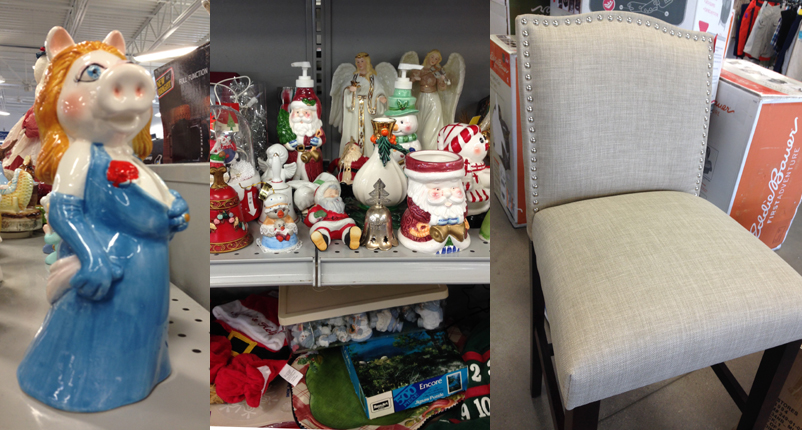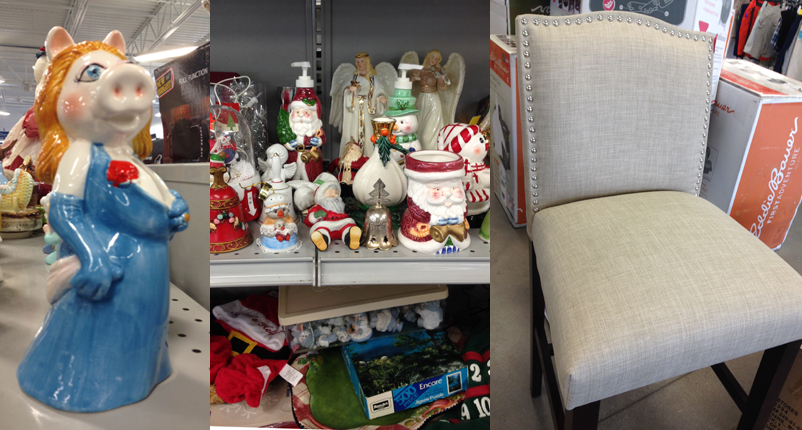 See what I mean? These are the finds I spied while deciding what to send to fellow thrift swapper, Jaime from That's My Letter. It could be crazy awesome, crazy huge, or just plain crazy. No worries, I couldn't be so cruel as to send her that weird miss Piggy…besides, I found a few fun items that I'd love to see what a great builder like Jaime could do with.
My thrift swap sender, Jessica from Decor Adventures was super sweet not to send me anything completely coo-coo (like a weird miss Piggy figurine). Well almost…I had one item I could not figure out for the life of me. But I'll tell you more about that later. Here's what Jessica sent me: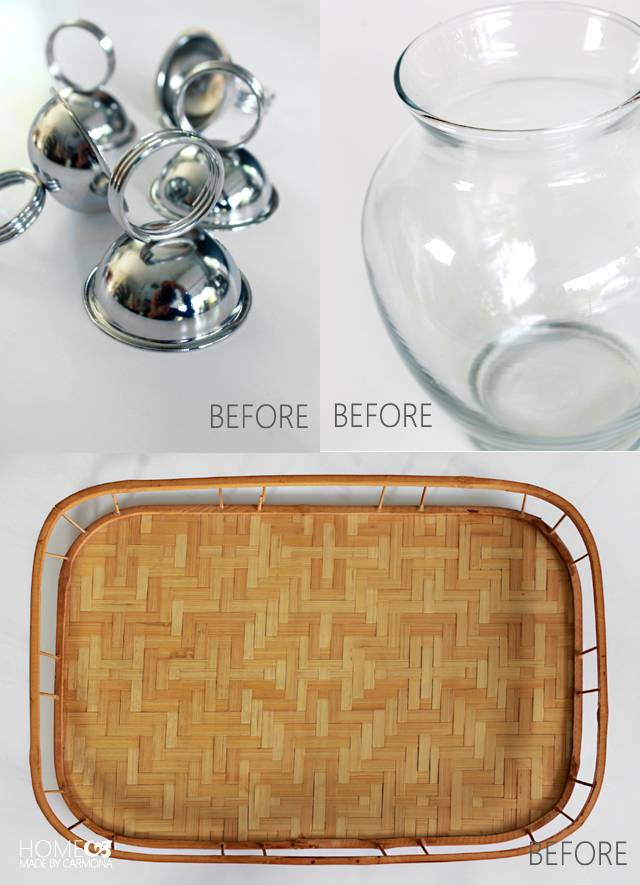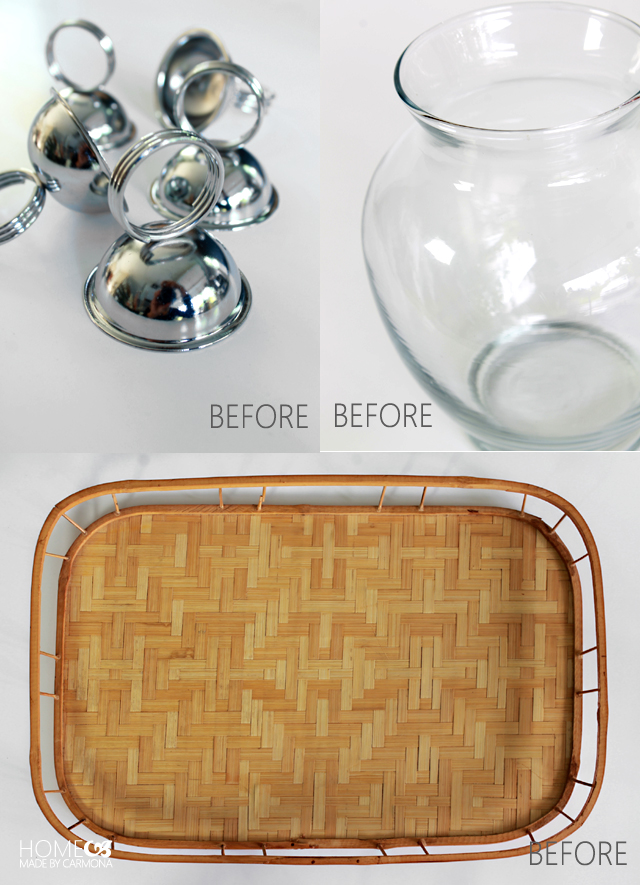 Very cool items right? I knew what I wanted to do the moment I saw them!
To the bat cave!…er workshop!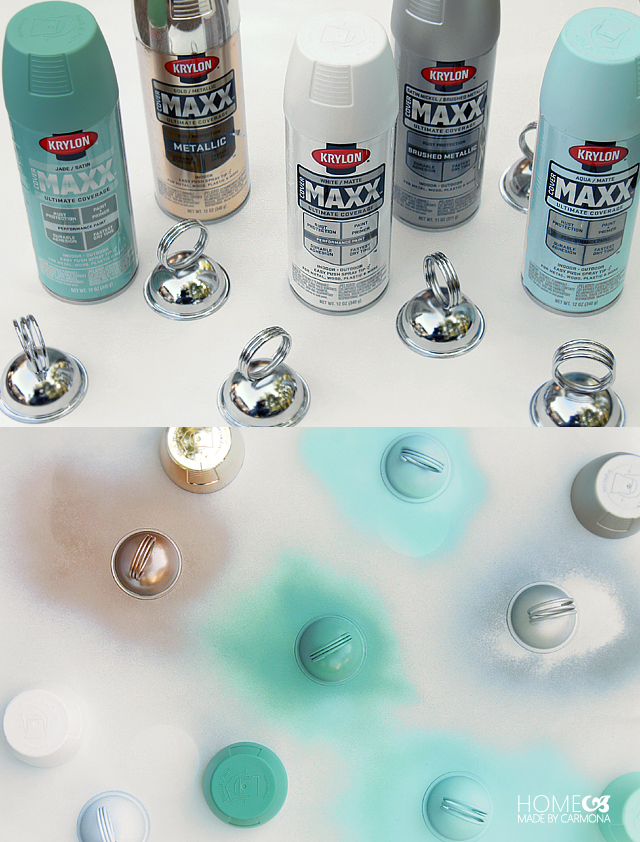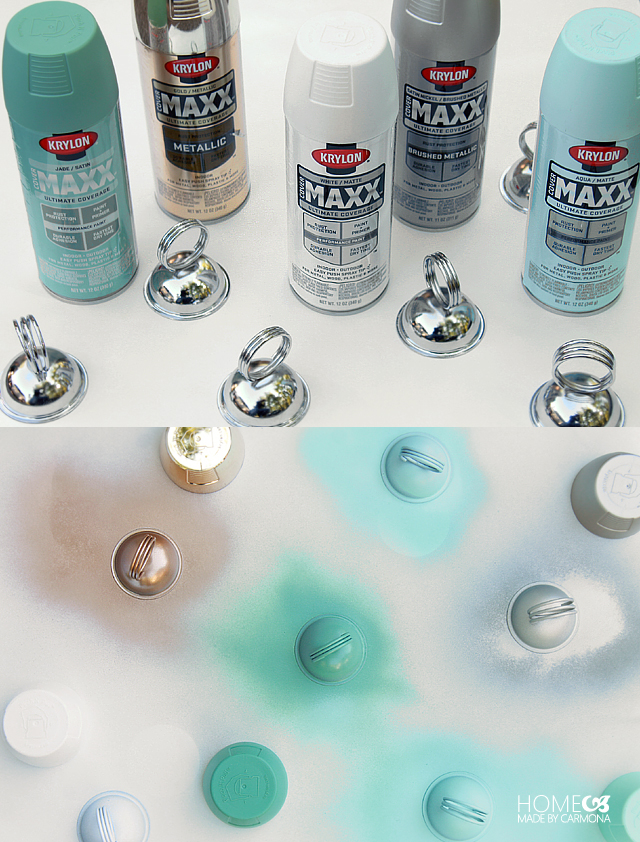 Oh man, I LOVE picture card holders! I'm totally assuming that's what these are…wouldn't it be weird if that's not what they are at all? Anyway, it's all I see when I look at them (that or car lights for a fun toy car for kids).
A few of my favorite Krylon spray paint colors, and now my daughter has a fantastic way to keepsake postcards and letters from her pen pal (which is her Grandma and Grandpa, isn't that sweet?).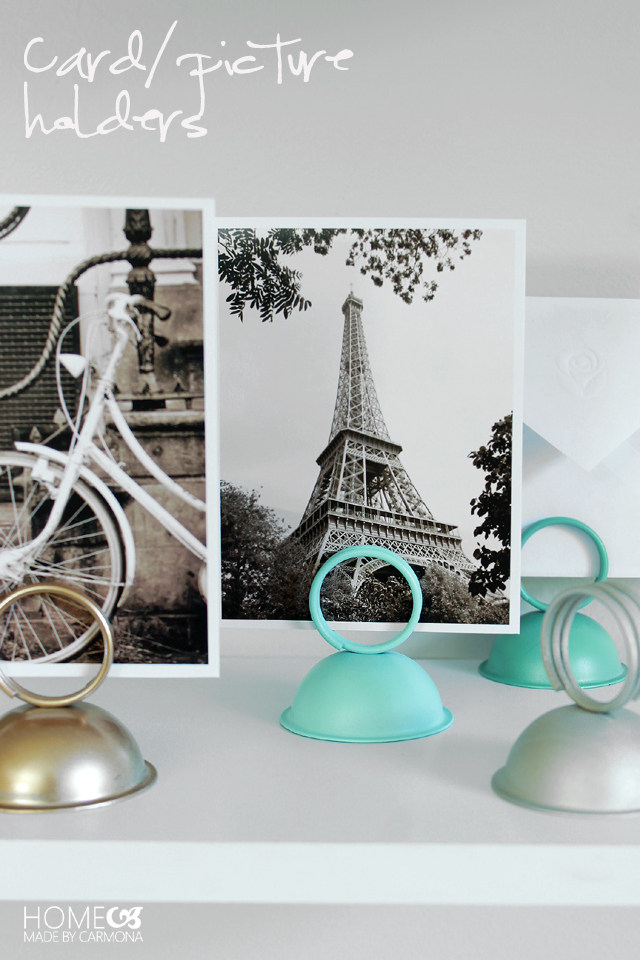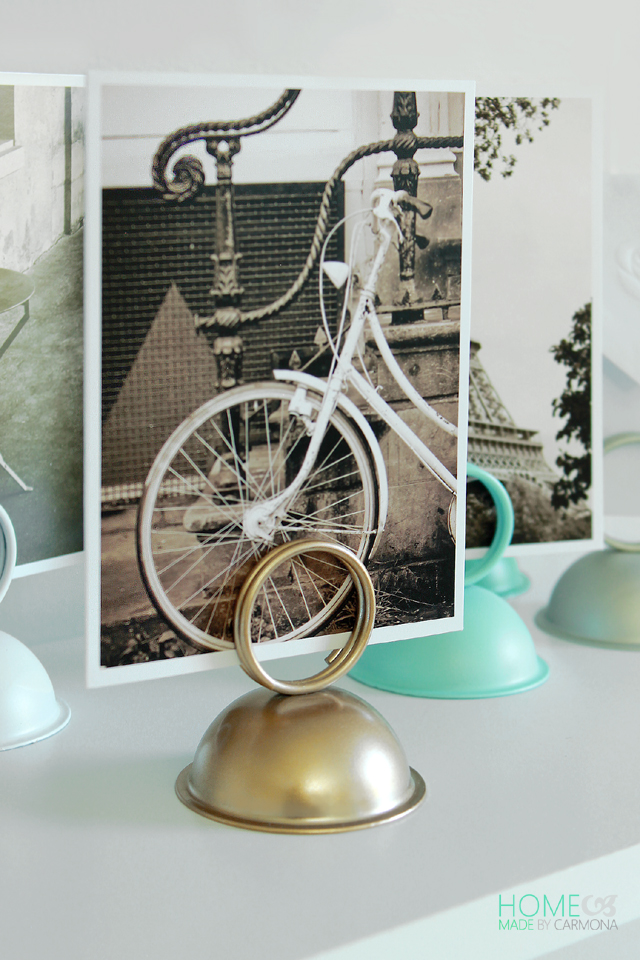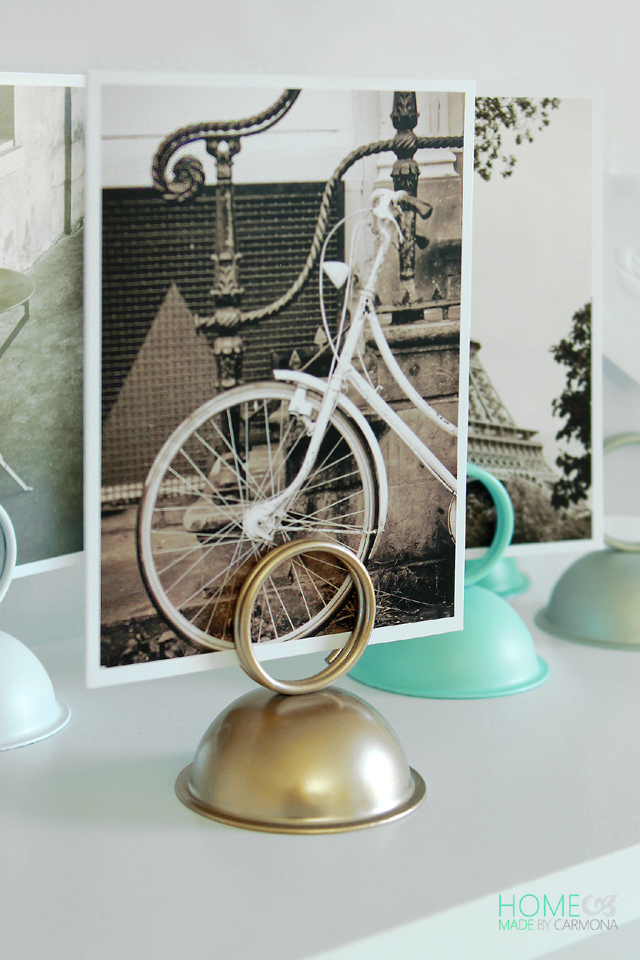 They make for such a pretty collection don't you think? Plus they match perfectly with the DIY canvas art I made!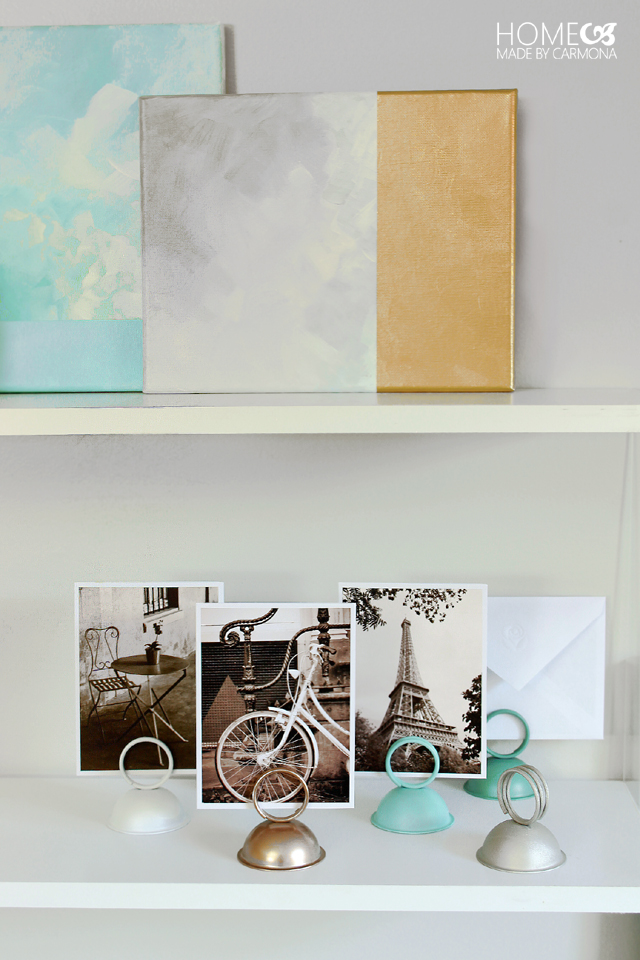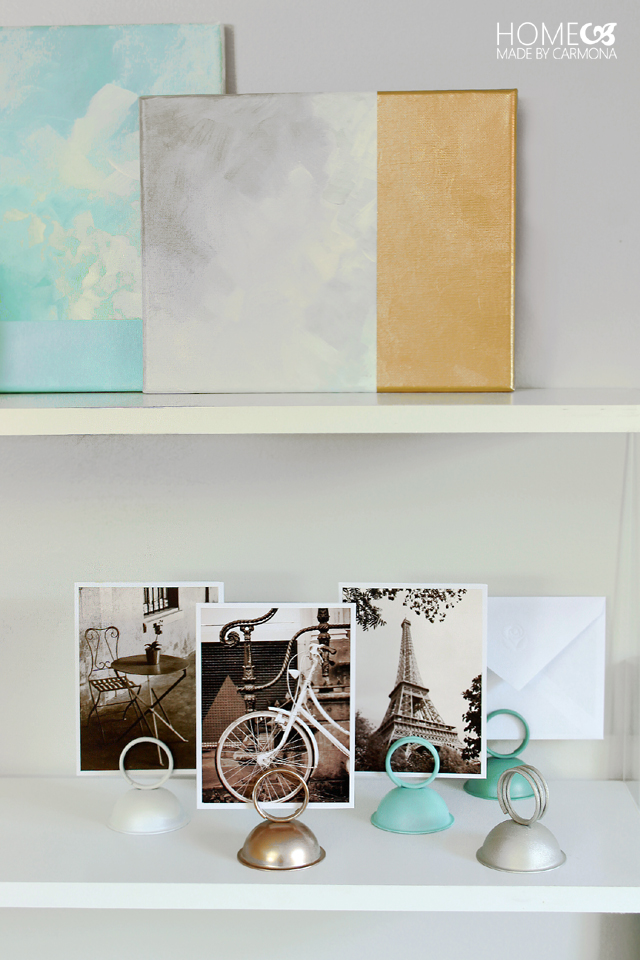 Ok, they say great minds think alike…sometimes crazy minds do too… but anyway, Jessica sent me a tray that looks almost exactly like the one I picked up for myself from the thrift store several months ago! WHAT? Awesome, now I have a pair.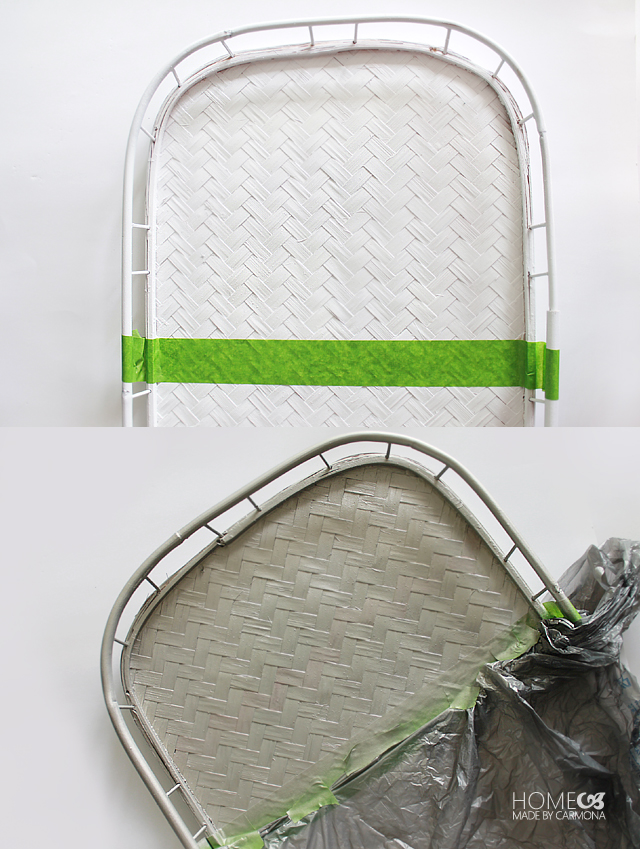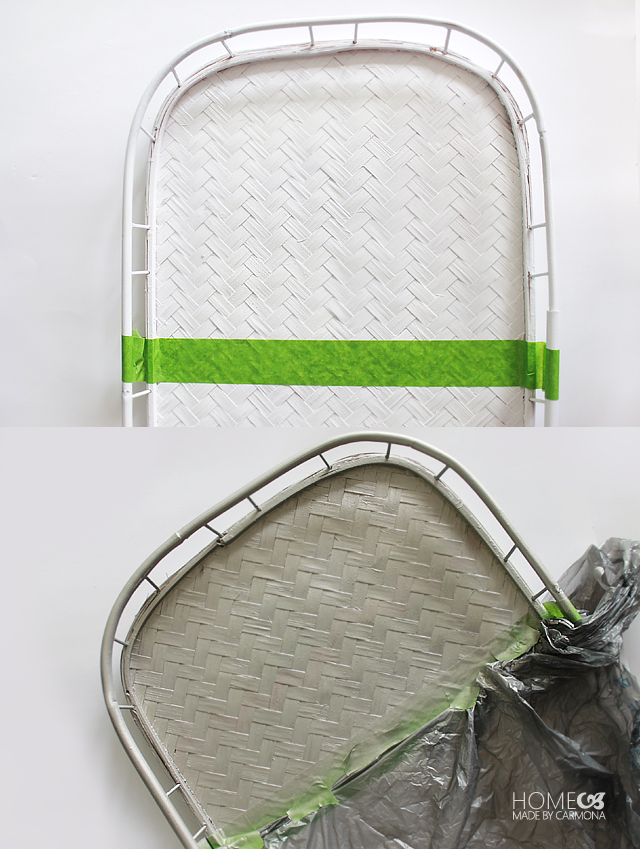 I originally wanted to stain it different hues to highlight the awesome woven design, but after sanding a little edge of it, I realized that this bamboo wasn't going to stain so easily, so I ditched that idea and chose to spray paint it in a color blocking style.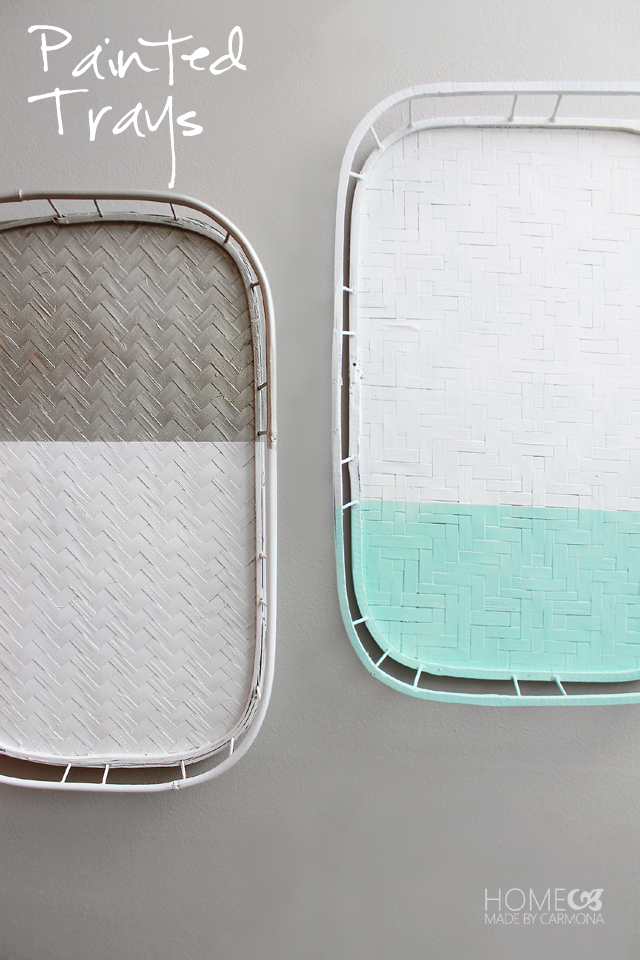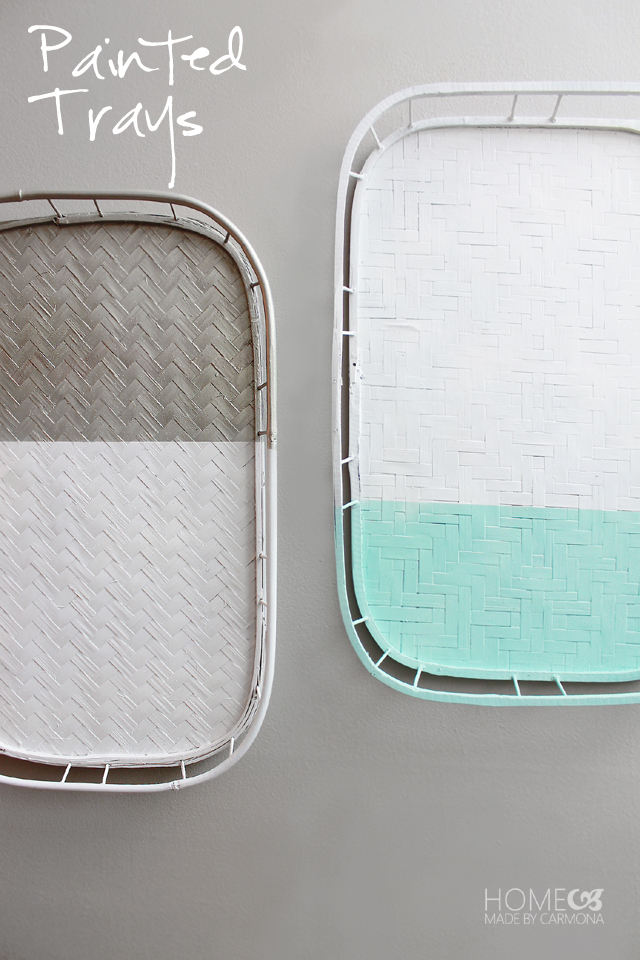 With two trays (mine was a little beat up), I decided it would be fun to use it as wall art instead of actual trays! A couple 3M Command strips, and they look great up on the wall together! Updated, more contemporary…actually they would be really cool either as art OR for actual tray use.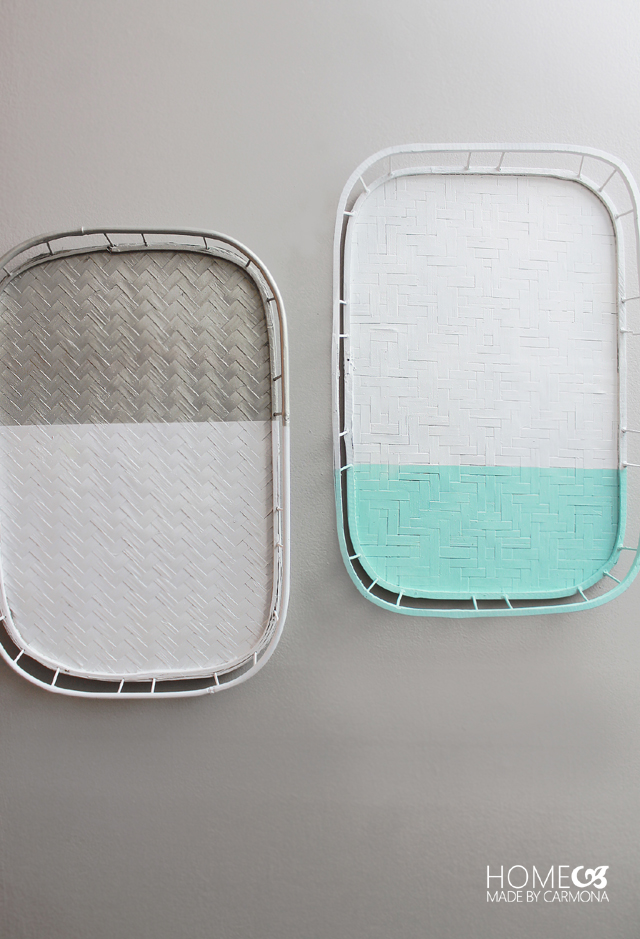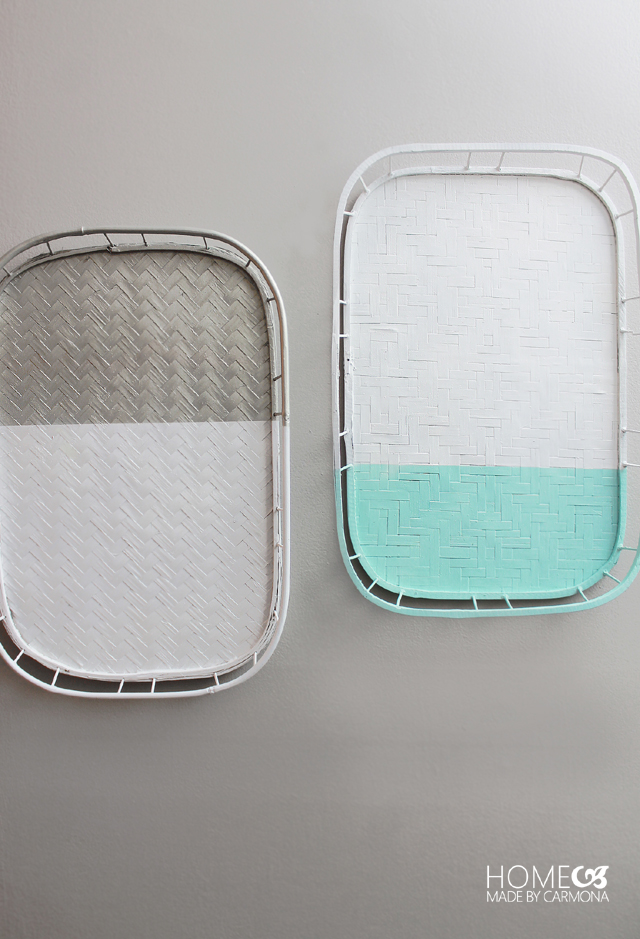 Last, but not least, a simple glass vase. I love glass, and I love gold, and boy aren't they just a match made in heaven? I decided to bring out a few other glass jars and vases I had lying around and make another little collection.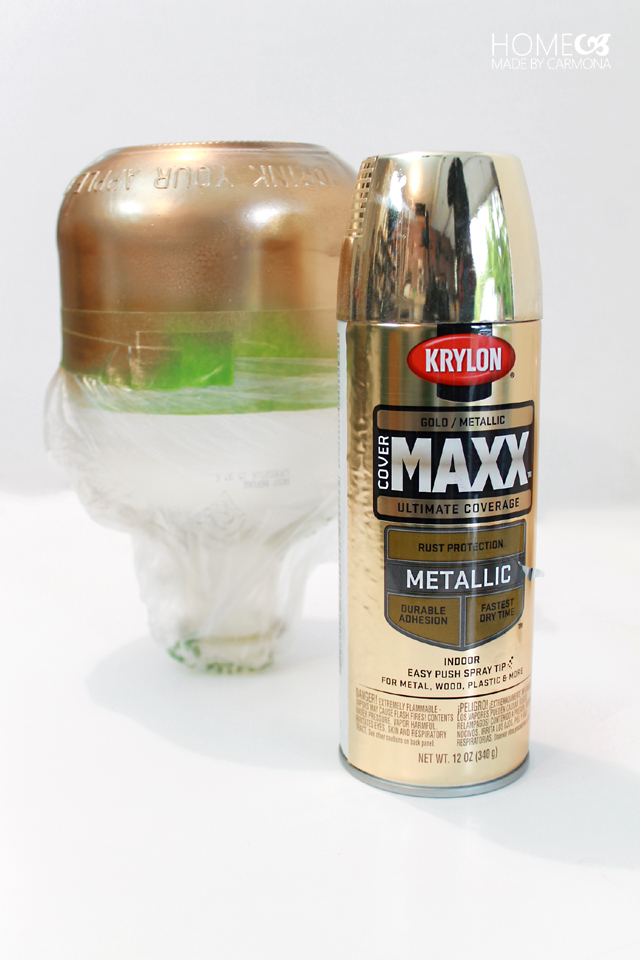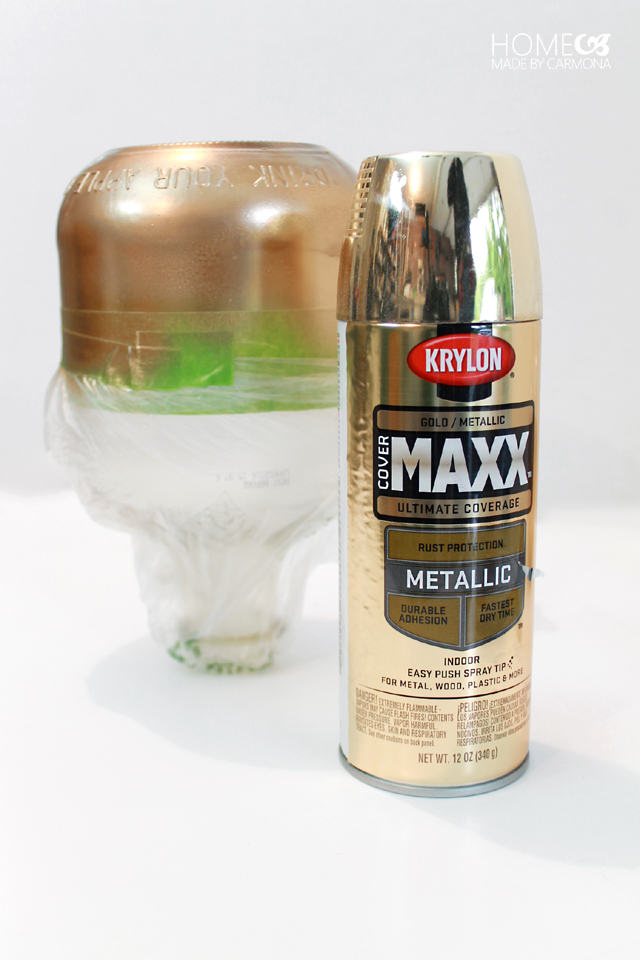 I started by taping off and spray painting the bottom portion of each of my glass jars. Use the Krylon metallic gold Maxx…it is the perfect color match to the next step.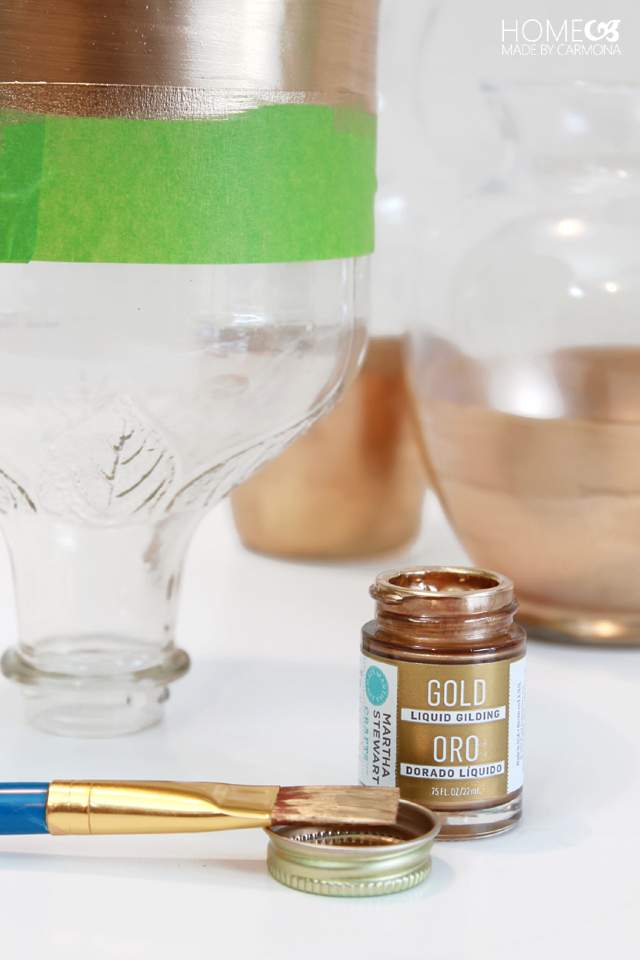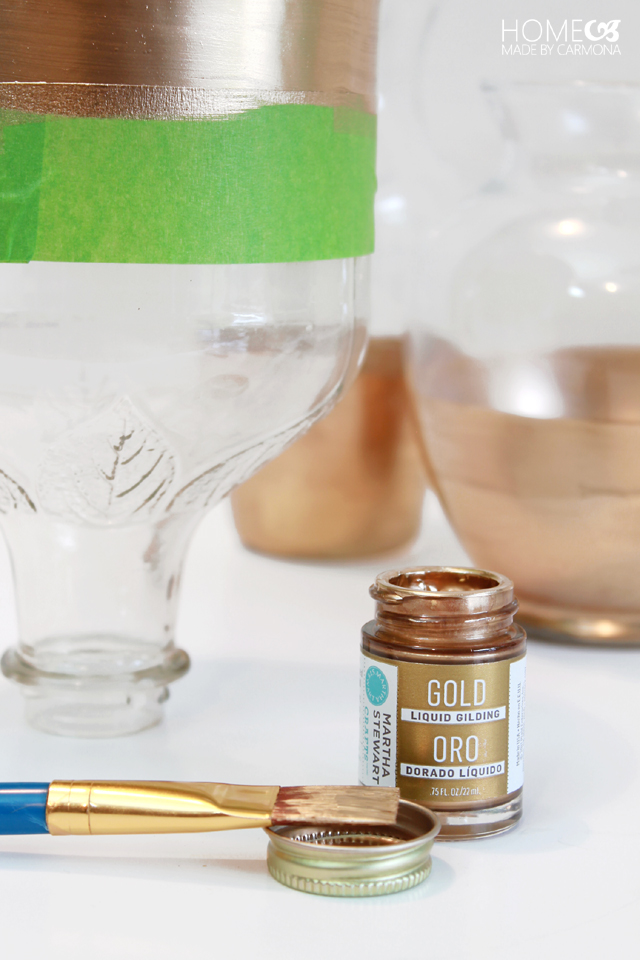 When you want a super reflective shimmer to your gold, use the Martha Stewart gold liquid gilding! It is AH-mazing! You'll paint that on with a soft bristle brush right on top of the spray painted area. This will ensure that you don't have to use more than one coat of that valuable liquid gold, and that it doesn't appear too streaky.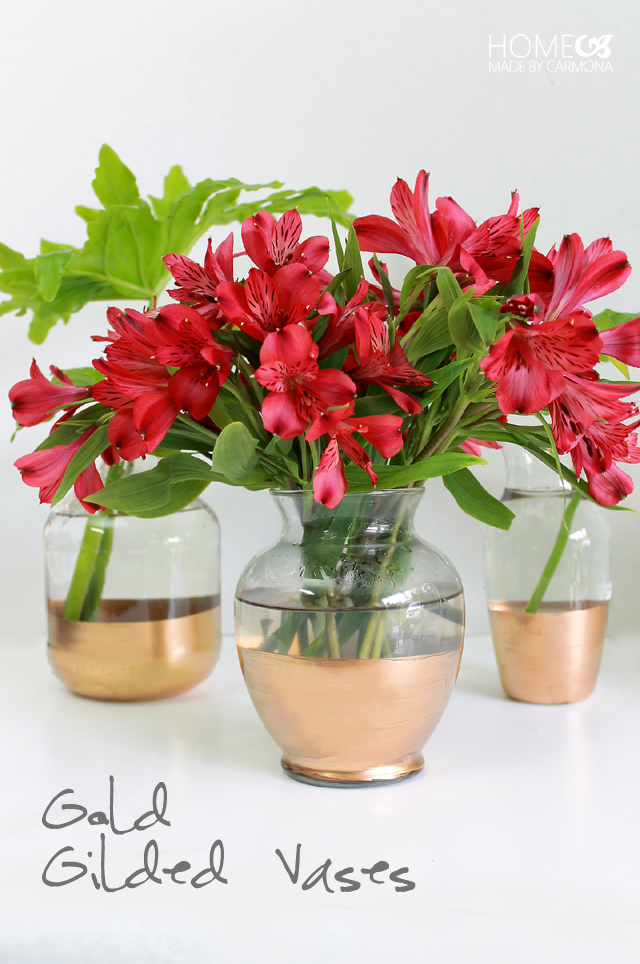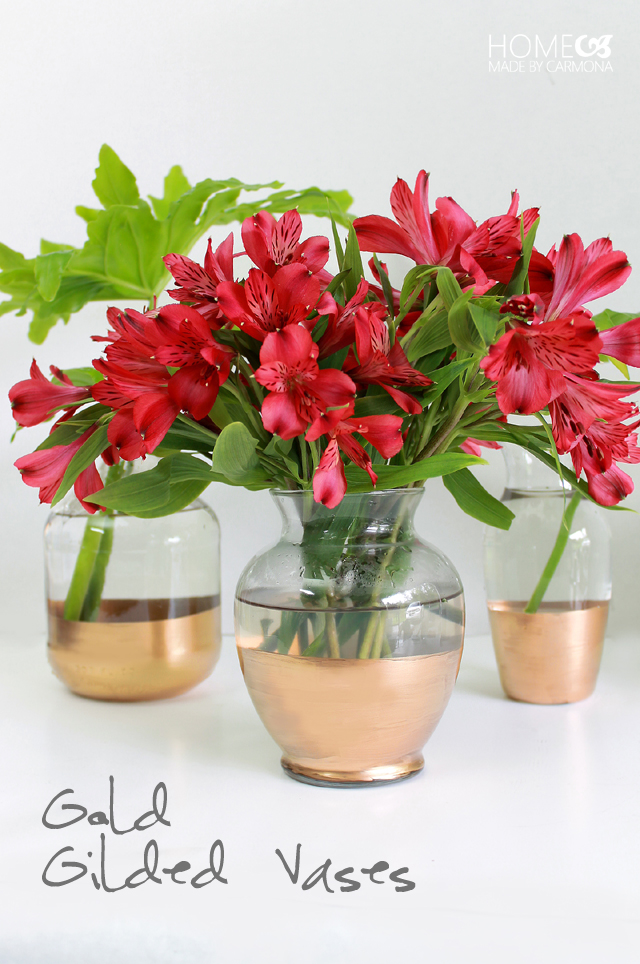 It is just SO pretty! I feel like Midas, but without the negative side affects. 😀 Hmmm, what else can I goldify?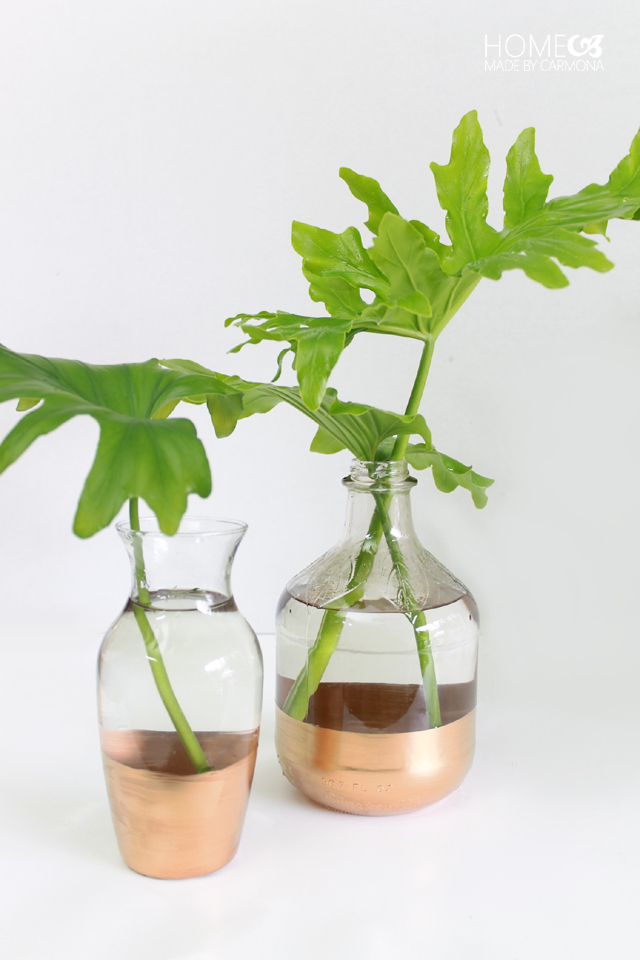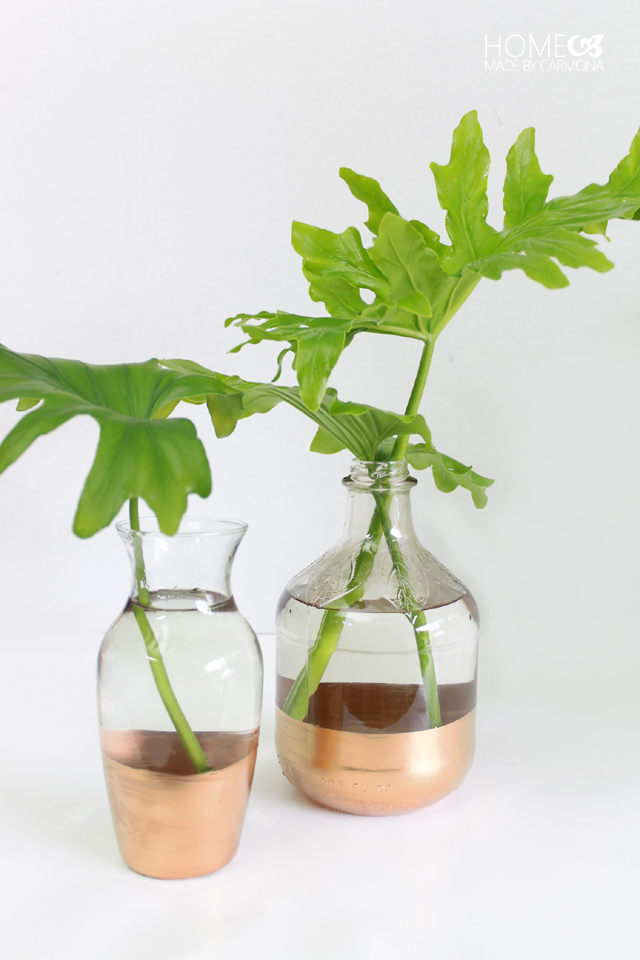 I had such a great time giving these items my own personal style and twist. But there was one item Jessica sent that stumped me. Not because I don't know what to do with sued material, but rather because I'm really weirded out by thrifted materials I can't wash or scrub down.
You guys are crazy creative…so I want to know, what would YOU make with this guy? Hm, and how could you clean them before use (they aren't washable)? Let me know!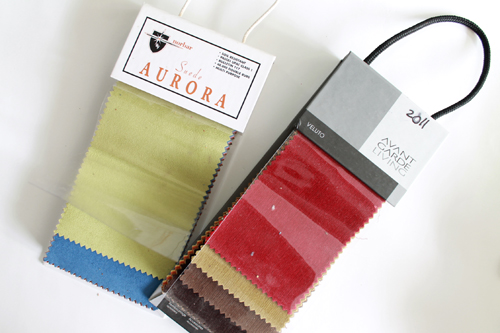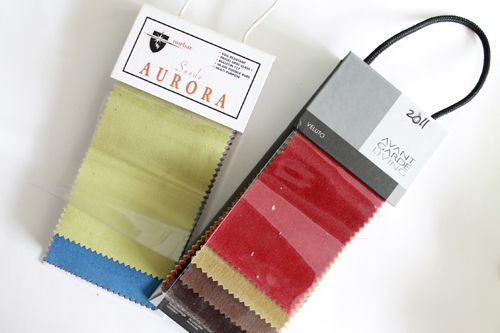 Be sure to pop over to Jaime from That's My Letter and see what fun trinkets I sent her, and to Jessica of Decor Adventures to see what she made as well!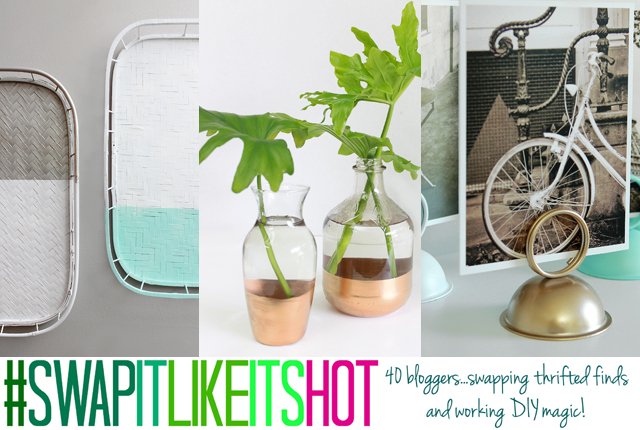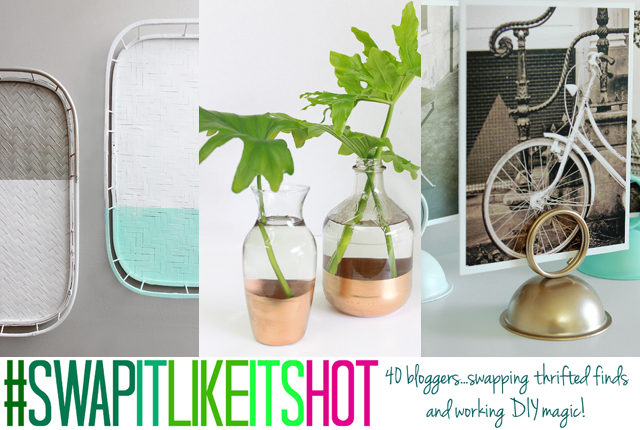 Tune in all week to see the crazy items this talented group of bloggers has been making over! Search the hashtag #swapitlikeitshot on social media to follow along with all the fun or check out our Pinterest Board.
MONDAY
That's My Letter / DIY On the Cheap / Run To Radiance / The Gathered Home
Two Thirty Five Designs / Chaotically Creative / Decor Adventures / Homemade By Carmona
TUESDAY
Thoughts From Alice / Reinvented / Confessions Of A Serial Do-It-Yourselfer / Restoration Redoux
Always Never Done / I Am a Homemaker / Black and White Obsession / Windgate Lane
WEDNESDAY
Town and Country Living / brepurposed / The Charming Farmer / 58 Water Street
Designer Trapped In A Lawyer's Body / Year of Serendipity / White House Black Shutters / Desert Domicile
THURSDAY
Two Purple Couches / Like A Saturday / Finding Silver Pennies / Artsy Chicks Rule
Something to Be Found / Shades of Blue Interiors / Simple Designing / Our Southern Home
FRIDAY
Evey's Creations / Dragonfly and Lilypads / Weekend Craft / Ciburbanity
A Designer At Home / Polished Habitat / Blue i Style / Addicted 2 DIY


 [go_portfolio id="diy_gallery"]