You know that when the pretty things arrive for the One Room Challenge that's when the excitement REALLY starts!
Hey guys! I'm Ursula, and I'm turning this messy old shed into a stunning garden house!

This will be both a beautiful potting shed, plus artists studio, with an attached greenhouse and outdoor deck area. All located off a charming potager garden.

Catch up: Week 1 | Week 2 | Week 3 | Week 4 | Week 5 | Week 6 | Week 7 | Week 8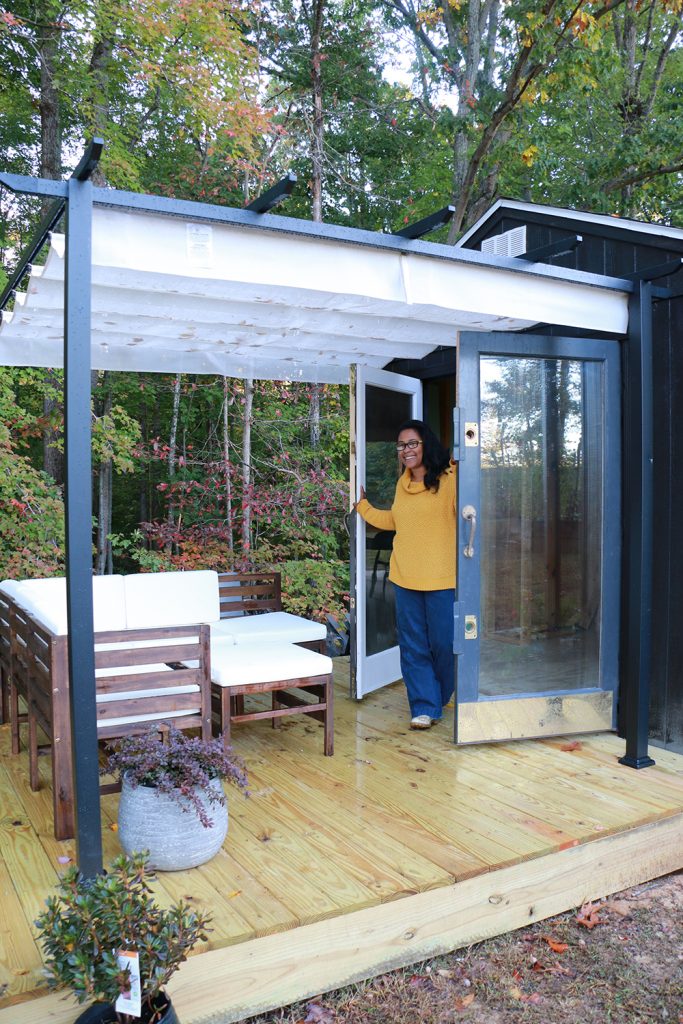 This week I'm excited to share a few of the gorgeous pieces that arrived from my sponsor Kirkland's! Including that stunning outdoor sectional you see above.
But first let's take a look at the shed's progress…which feels pretty good after everything went so slowly for the first 4 weeks.
We Have French Doors!!
I am SO excited to have French doors installed in place of that tiny little window! A friend graciously came to help me, and the two of us got these salvaged doors installed. Admittedly it took us 6 hours to figure out because there was no door frame to make it easy. Haha, we didn't exactly know what we were doing. Eh, but we learned a lot!
Look at the difference this set of doors made in comparison to that tiny window. It's so much more light and airy feeling!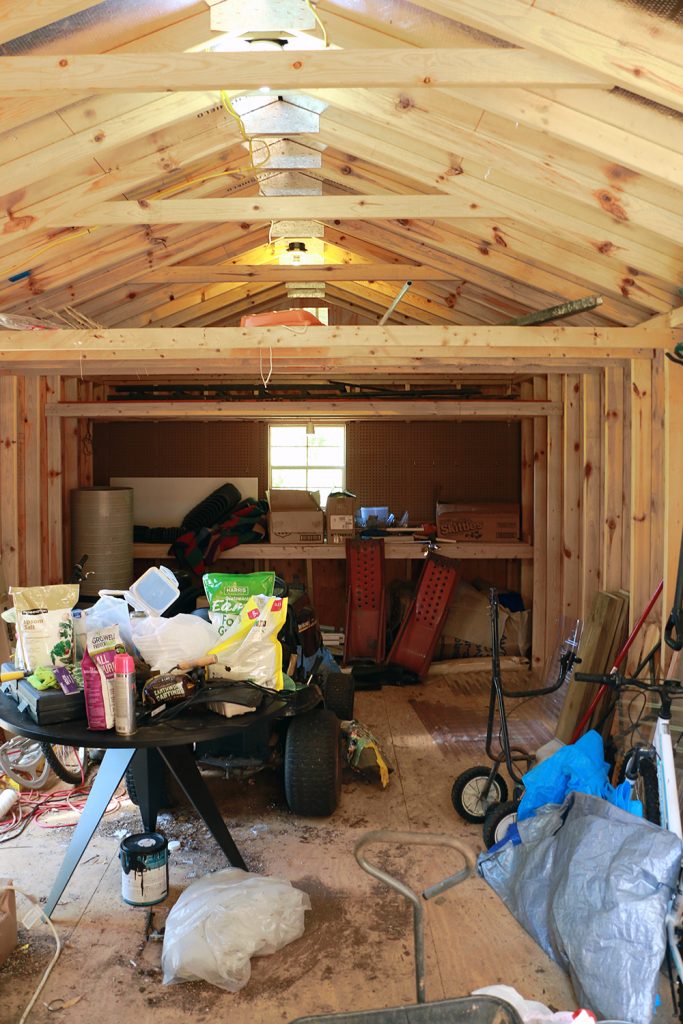 Did you notice the overhead storage and work bench in the back are also gone? I used those materials to start building storage closets and shelves.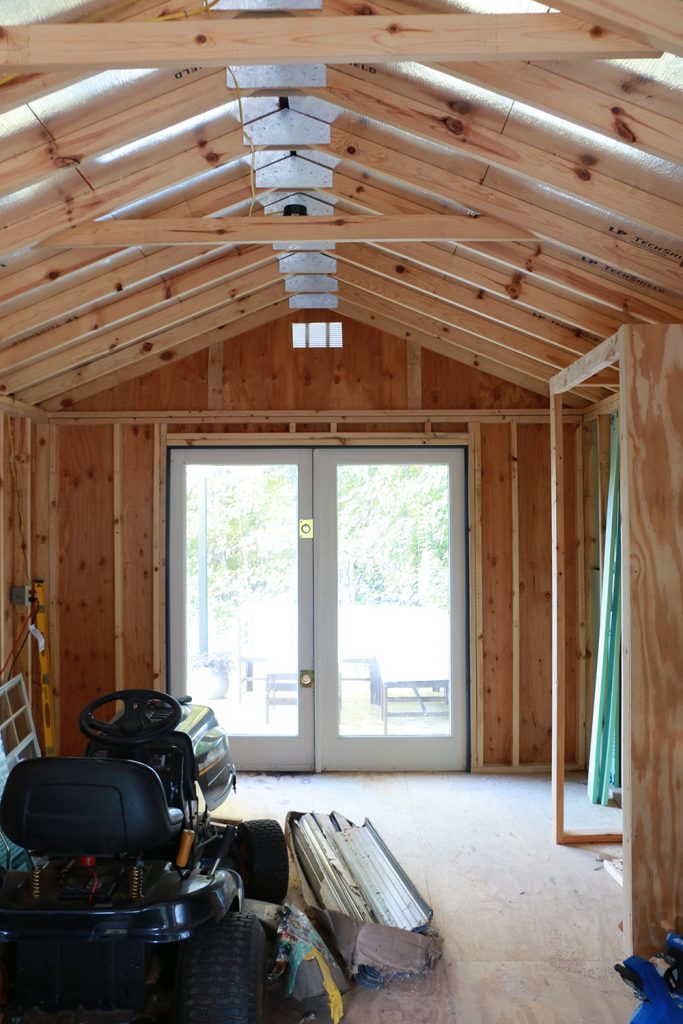 After poking around a bit online, I quickly discovered that French doors are NOT cheap, especially the ones where both doors open. There was no possible way I was paying for any type of French doors at full price for a SHED.
So I popped over to the Habitat for Humanity ReStore, which is my secret weapon for inexpensive salvaged house parts and building materials. That's where I found these amazing storefront French doors for just $40 each!!
Adding A Pergola
Ready to see those doors from the other side? They may be rough around the edges, but I think they look amazing, and I even love the look of them both swung wide open.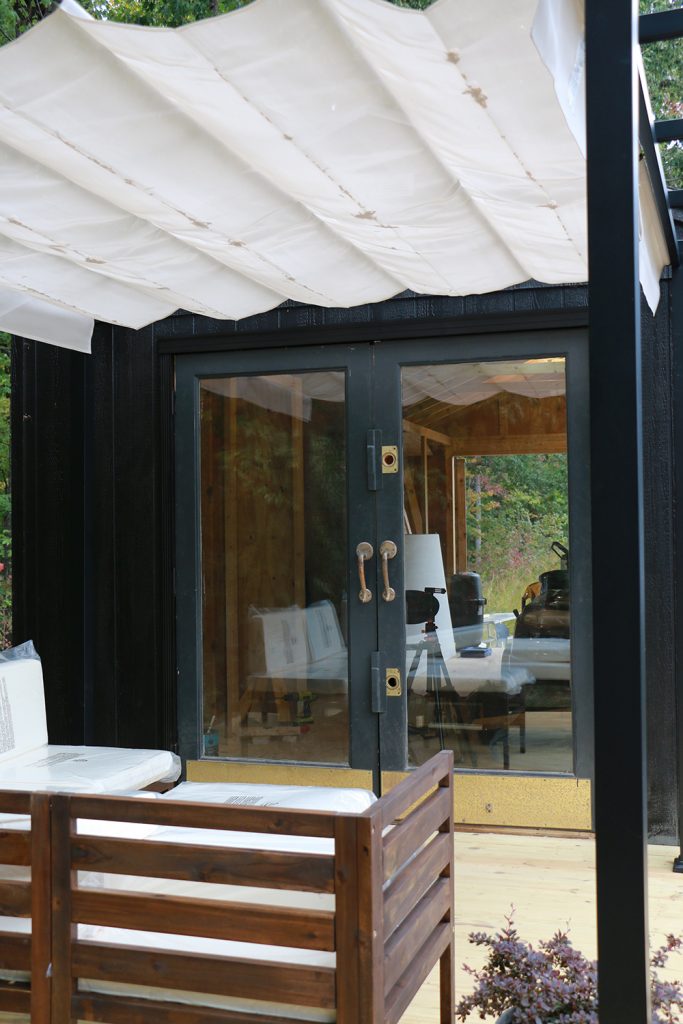 On week 2 I asked everyone what their thoughts were about adding an aluminum pergola. 95% of you said yes to the pergola, so I went for it! That extra bit of shade on the deck makes it worthwhile.
Because wood is so expensive right now, I felt it wasn't the time to build one, so this $300 aluminum pergola would have to do for now. Perhaps one day I'll build a custom pergola that reaches to the end of the deck and move this one to another area of the yard.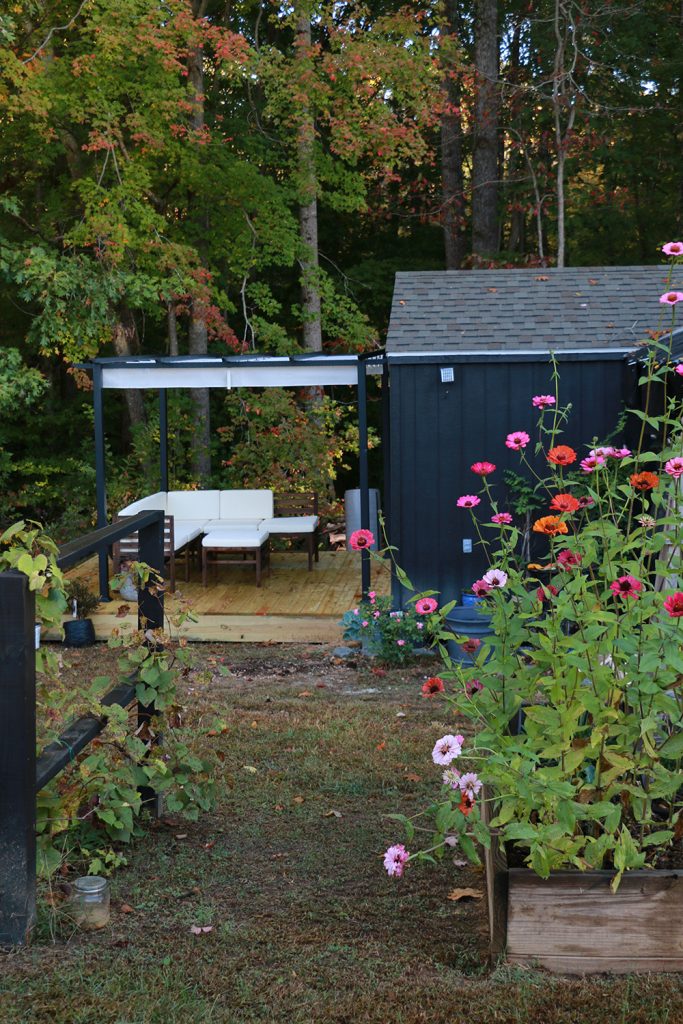 Okay, ready for a look at those beautiful "pretty things" I've been talking about that arrived for my One Room Challenge from Kirkland's?
Weekly Product *Sneak Peek*
If you haven't been in a Kirkland's store, you should take a little trip, because they always have exciting new pieces at an affordable price point.
It is always an experience for me…from the moment you walk in, you can count on decorative eye candy everywhere, and the wonderful scents of candles and aromatic décor wafting over you!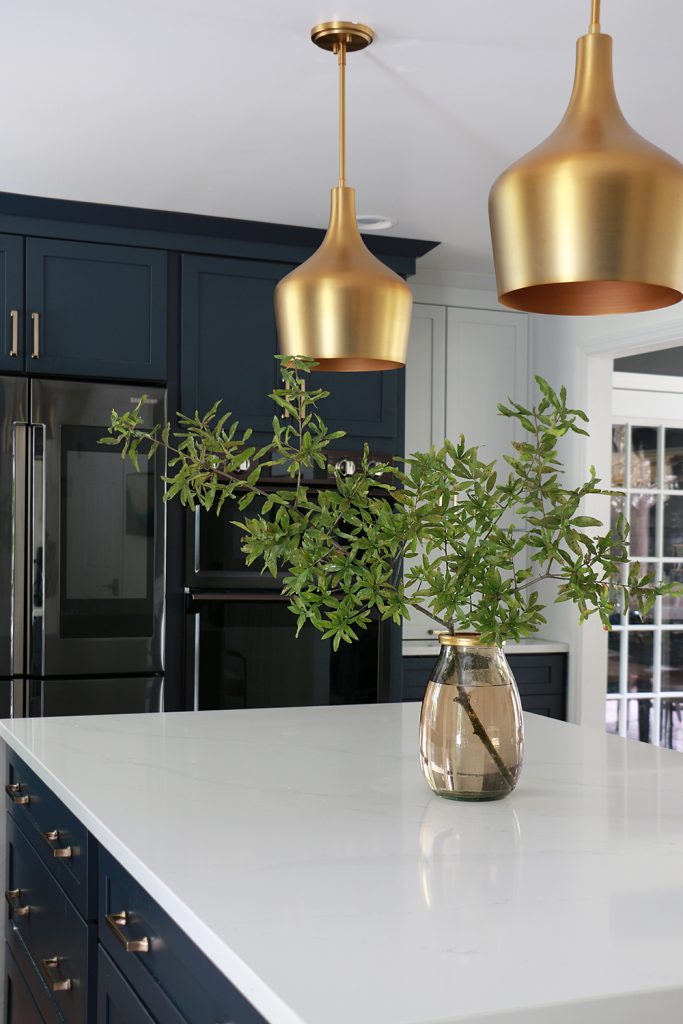 You can also order pieces from Kirkland's online if you aren't quite ready to leave the house.
I have temporarily staged each of these pieces in my house, and I have a feeling it's going to be hard to move them to the garden house when the time comes. They look so good in the main house!
Look at that stunning Amber Glass Vase in my kitchen, and this Cocktail Table and Log Holder in my living room… tell me they don't just up the wow factor?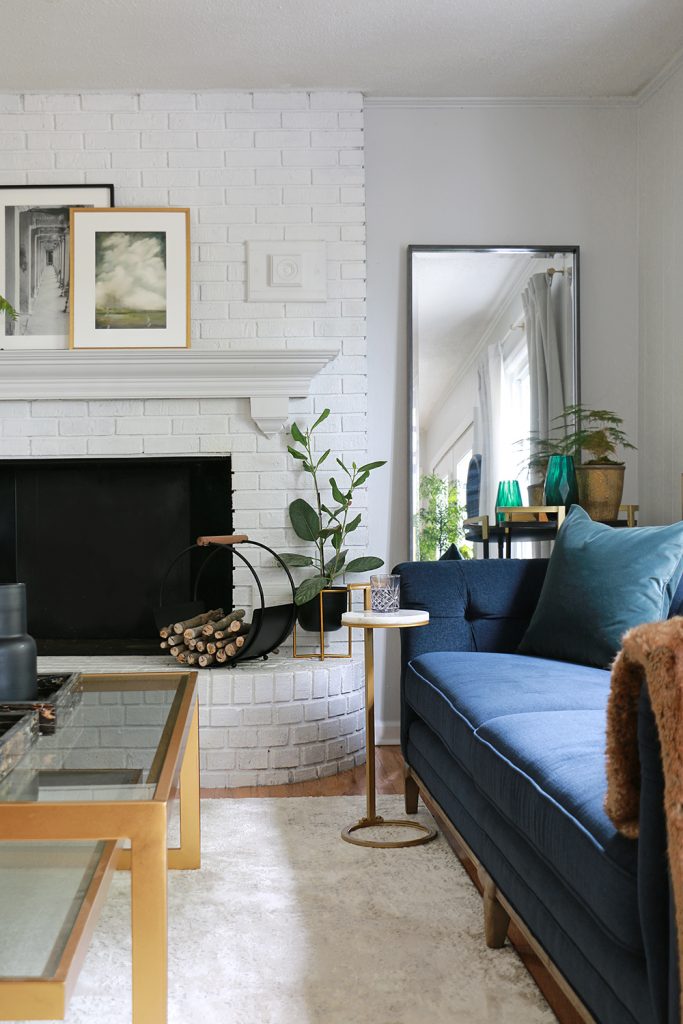 I've always wanted cocktail tables, and these are as practical as they are pretty!
These Clear Ribbed Lanterns are an amazing size, which makes them incredibly versatile. You could place candles in them, or use it as a floral vase. I'm imagining these beauties hanging from hooks in my garden house, but we'll see.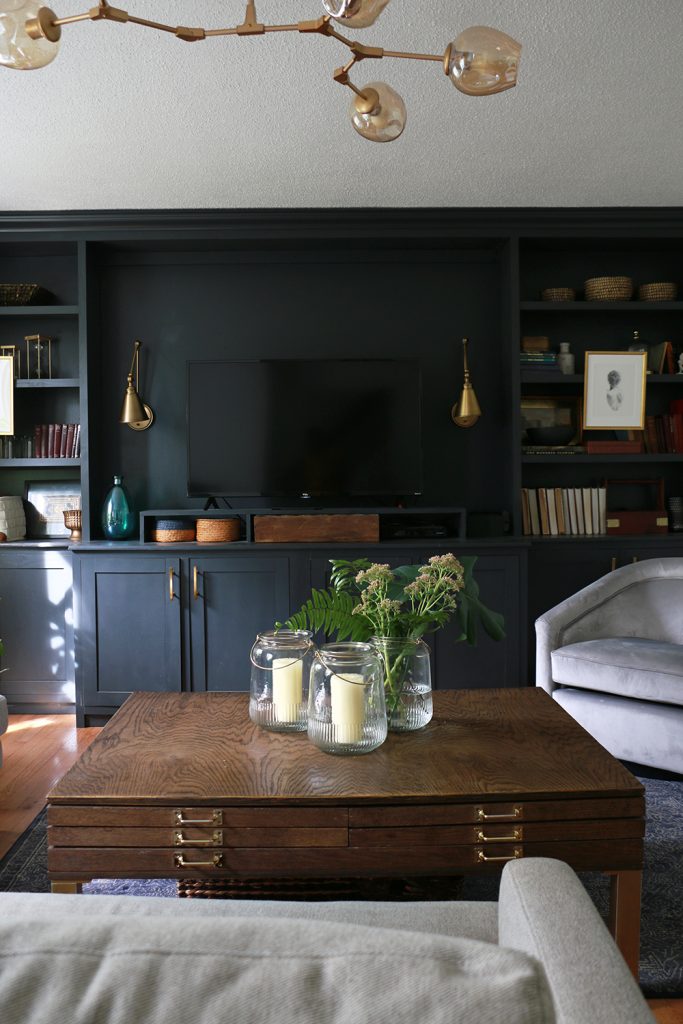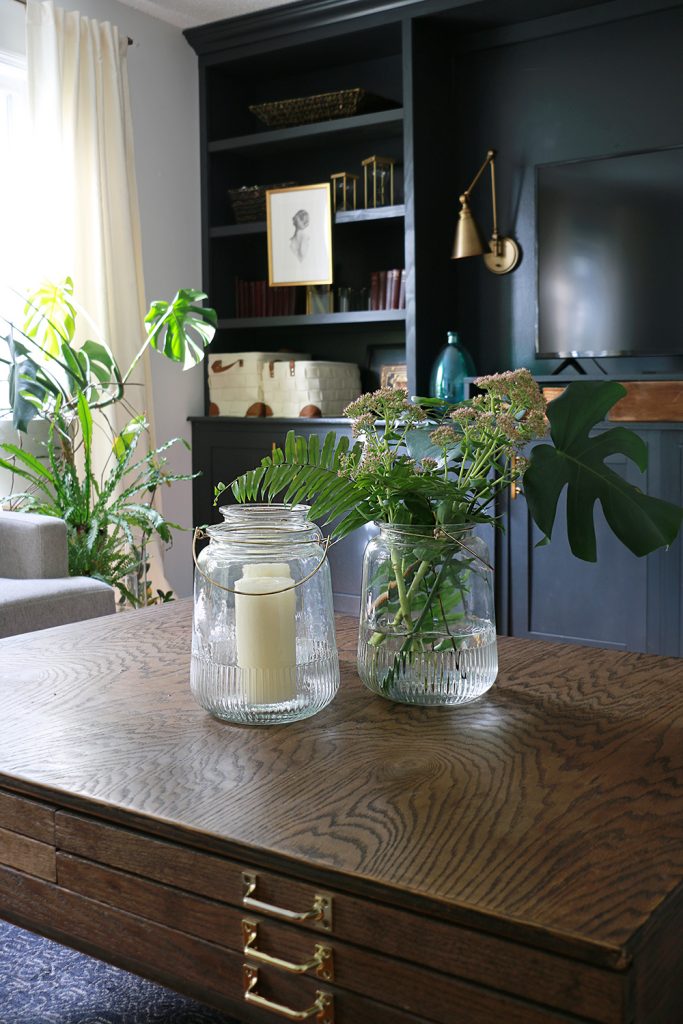 There is electricity running to my shed, so these Brass Cone Table Lamps will add a little task lighting, and stellar style.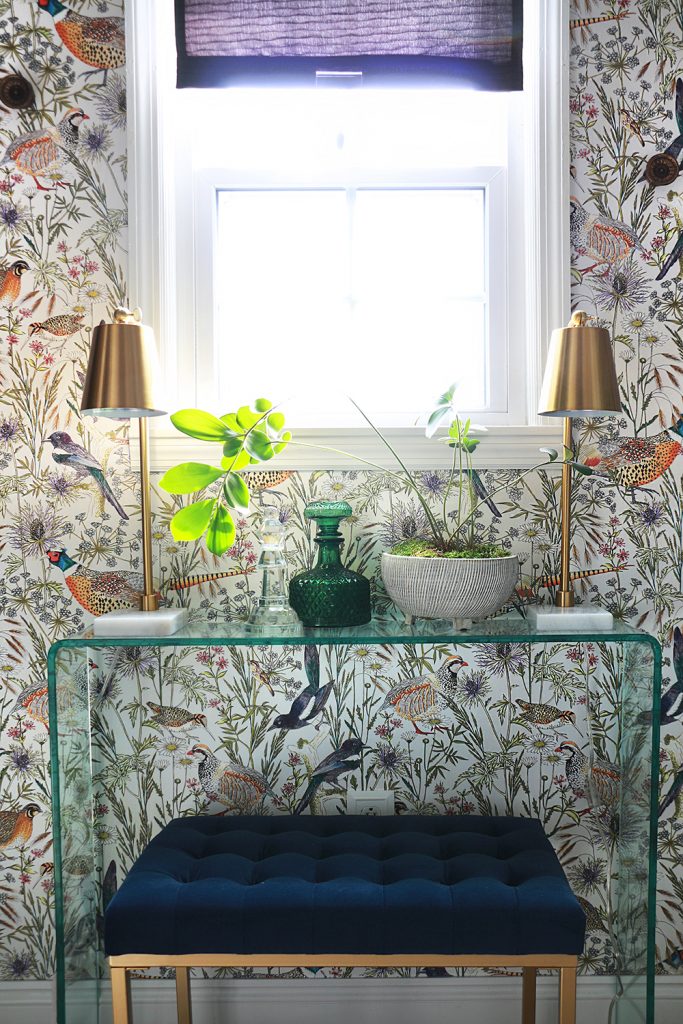 A Lot To Do, But The Reveal Is Right Around The Corner…
Well guys, I'm going to need every ounce of time I have left, because although things are beginning to pick up speed, I'm nowhere near where I should be by now.
Hopefully this week I can install a couple windows, and some walls so I can start painting. And one of these days I should probably finish the closets, and install the light fixtures too. Eeek! Am I going to make it by week 8?
Shop The Space
Follow All The Talented Featured Designers!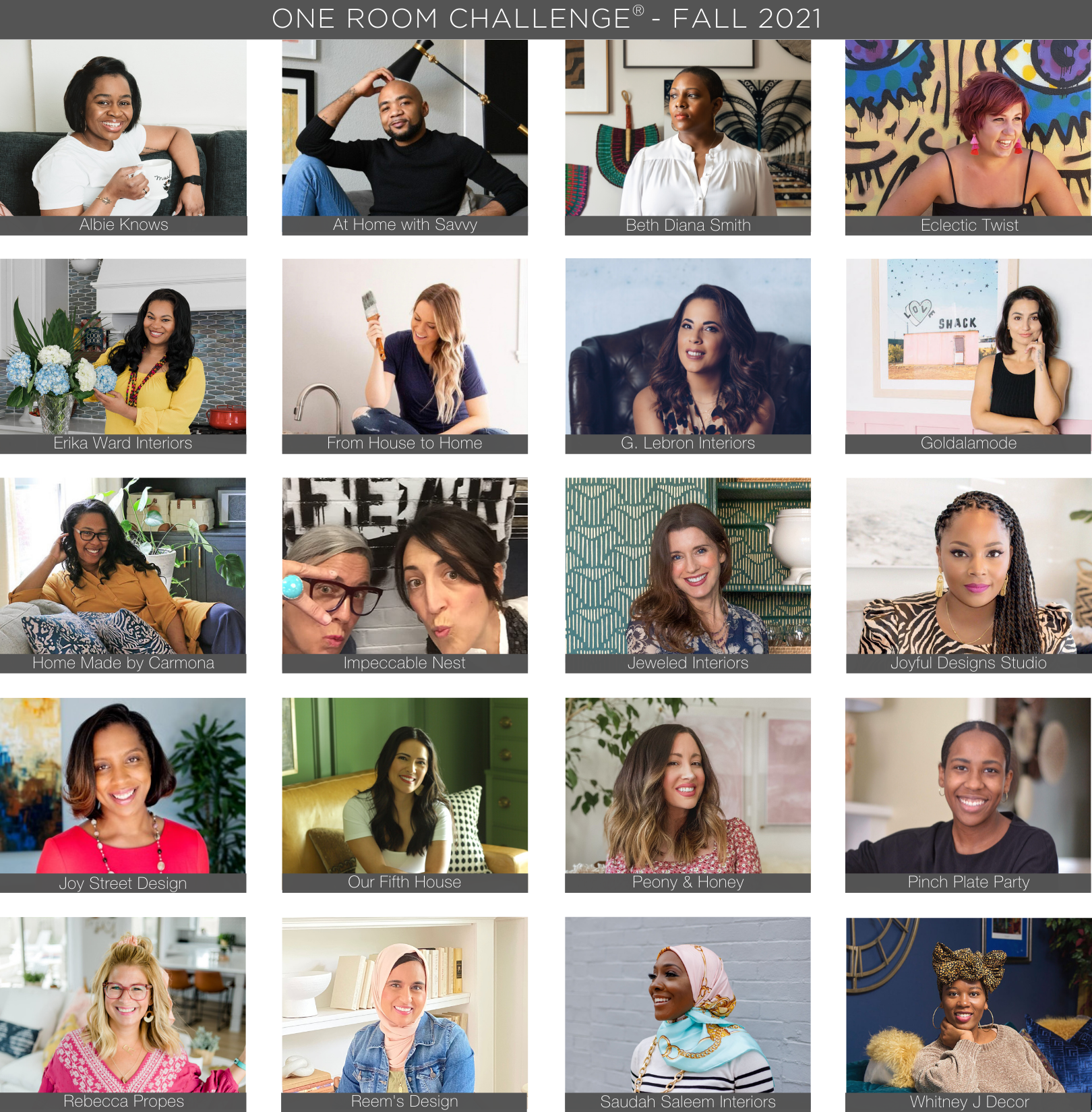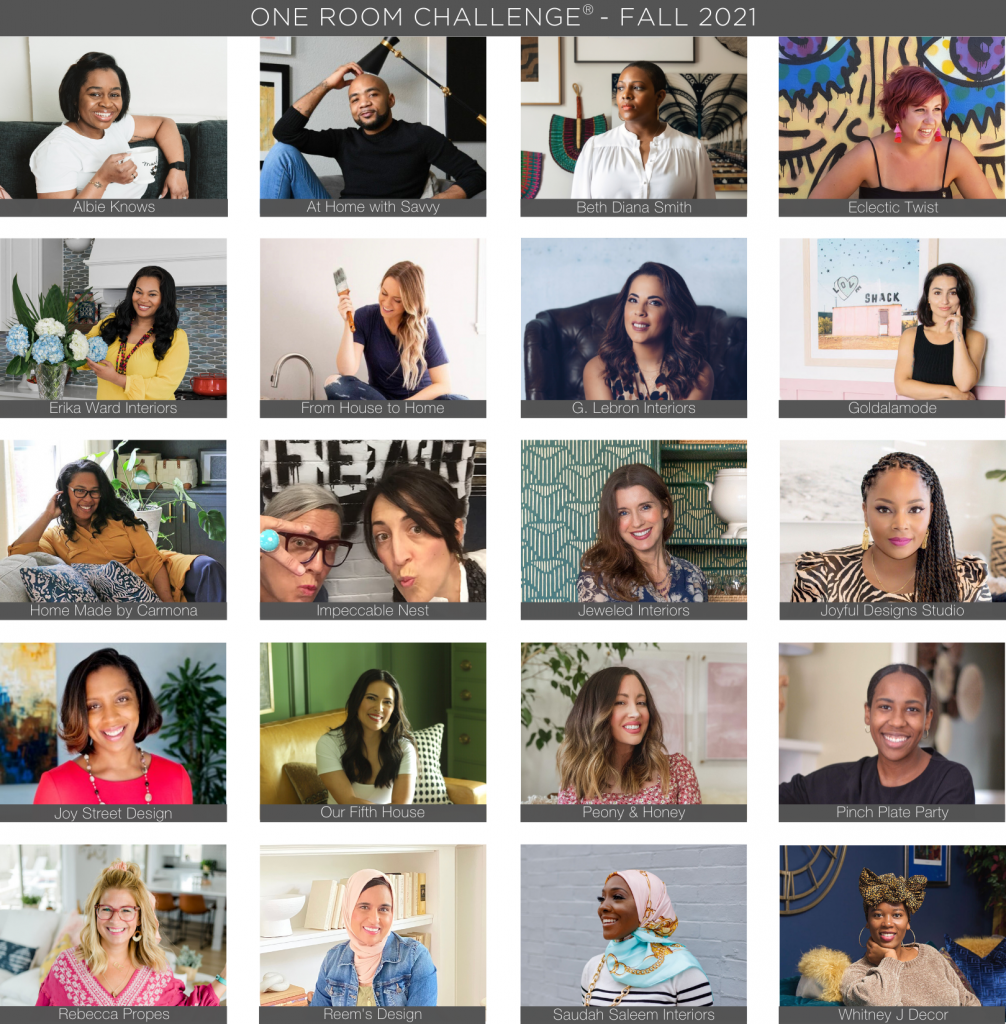 Albie Knows| At Home with Savvy | Beth Diana Smith | Eclectic Twist| Erika Ward InteriorsFrom House to Home| G. Lebron Interiors | Goldalamode | Home Made by Carmona| Impeccable Nest | Jeweled Interiors| Joyful Designs Studio| Joy Street Design | Our Fifth House| Peony & HoneyPinch Plate Party | Rebecca Propes | Reem's Design | Saudah Saleem Interiors | Whitney J Decor Media BH&G | TM ORC
My Awesome One Room Challenge Sponsors
Home Pop | Novo Building Products | RYOBI | Minted | Tempaper | Crystorama | Society Six | Delaney Hardware | SmithHönig| Loloi | Kirklands


Like this? Check out my Vignette Refresh For Less with Kirklands!