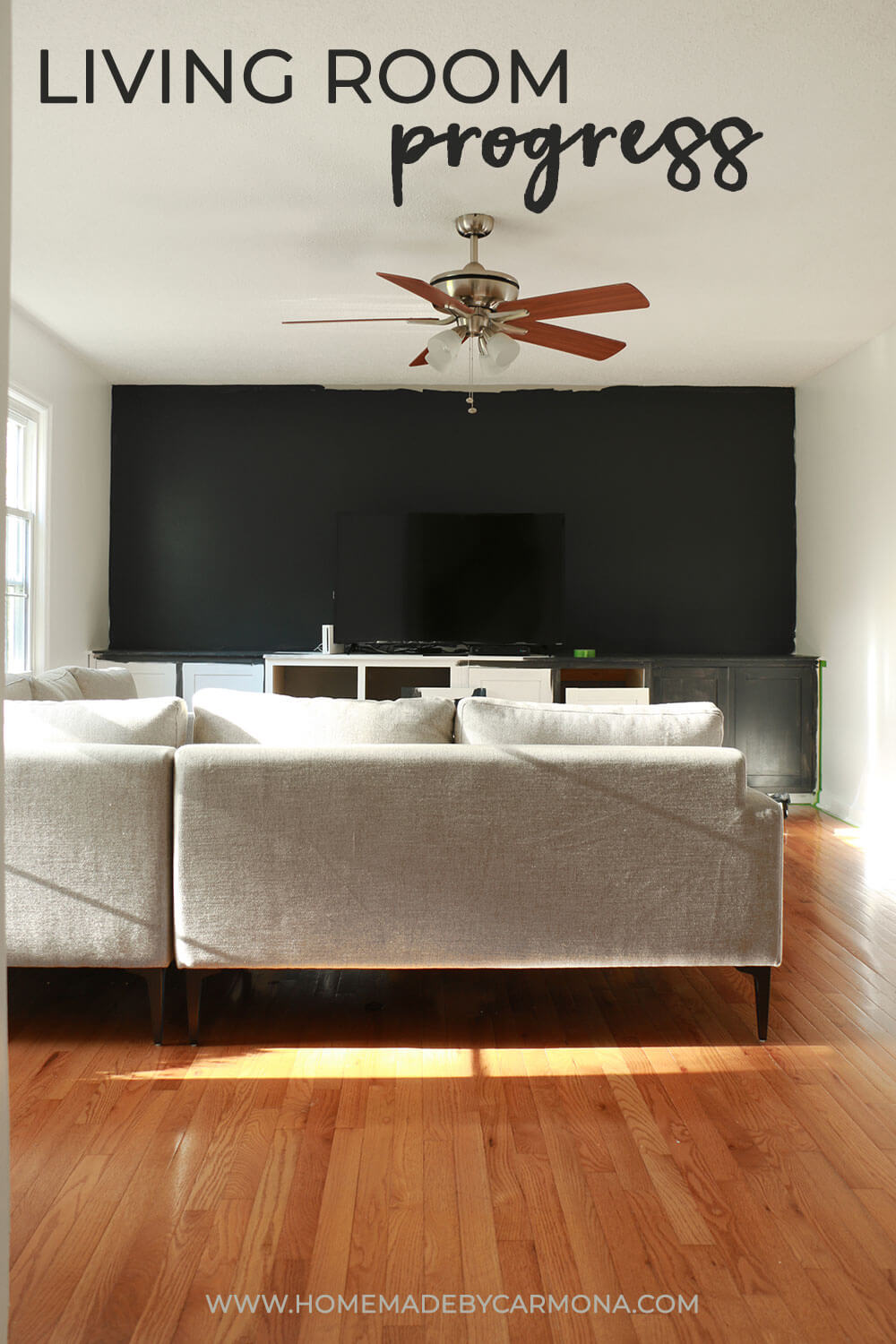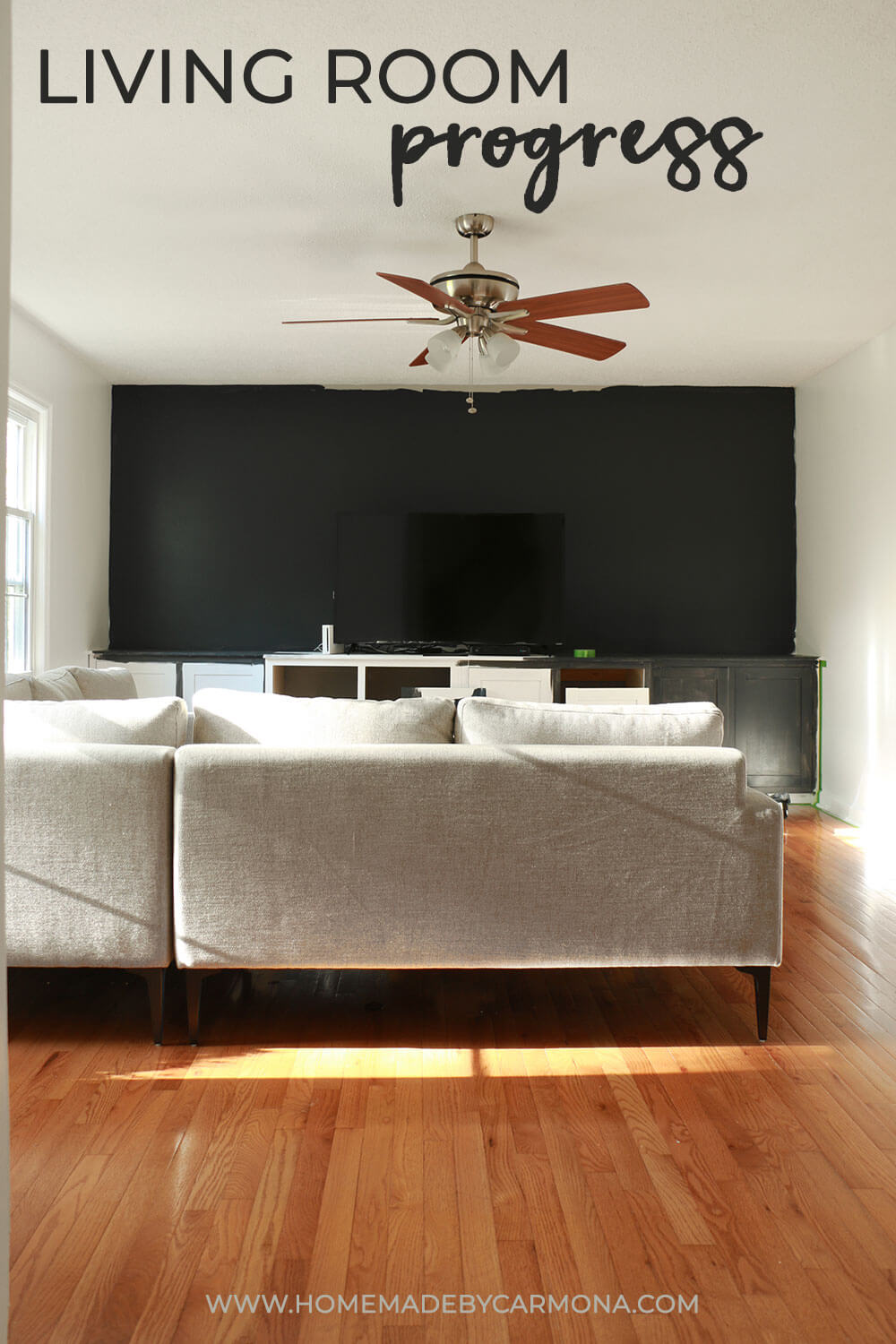 *This post is amazingly powered by FrogTape®! *super awesome*
I'm still pinching myself that FrogTape would choose me among such an amazing group of bloggers to participate in the 2018 Paintover Challenge! In case you didn't hear, I am one of 6 bloggers in this challenge (in which you get to vote for your favorite space). The winner gets a spread in HGTV magazine and $10,000 donated to their charity of choice. I'm "competing" on behalf of ADRA development and relief agency, an amazing organization helping the less fortunate all around the world.
I've taken on my living room space, and boy has it been more of a challenge than I anticipated. If you missed it, you can see the before pictures and the plan here.
I have a ton to do, and this week I'm getting started on all my paint projects using FrogTape® , which most of you know I have used exclusively for a few years now…that's how good it is.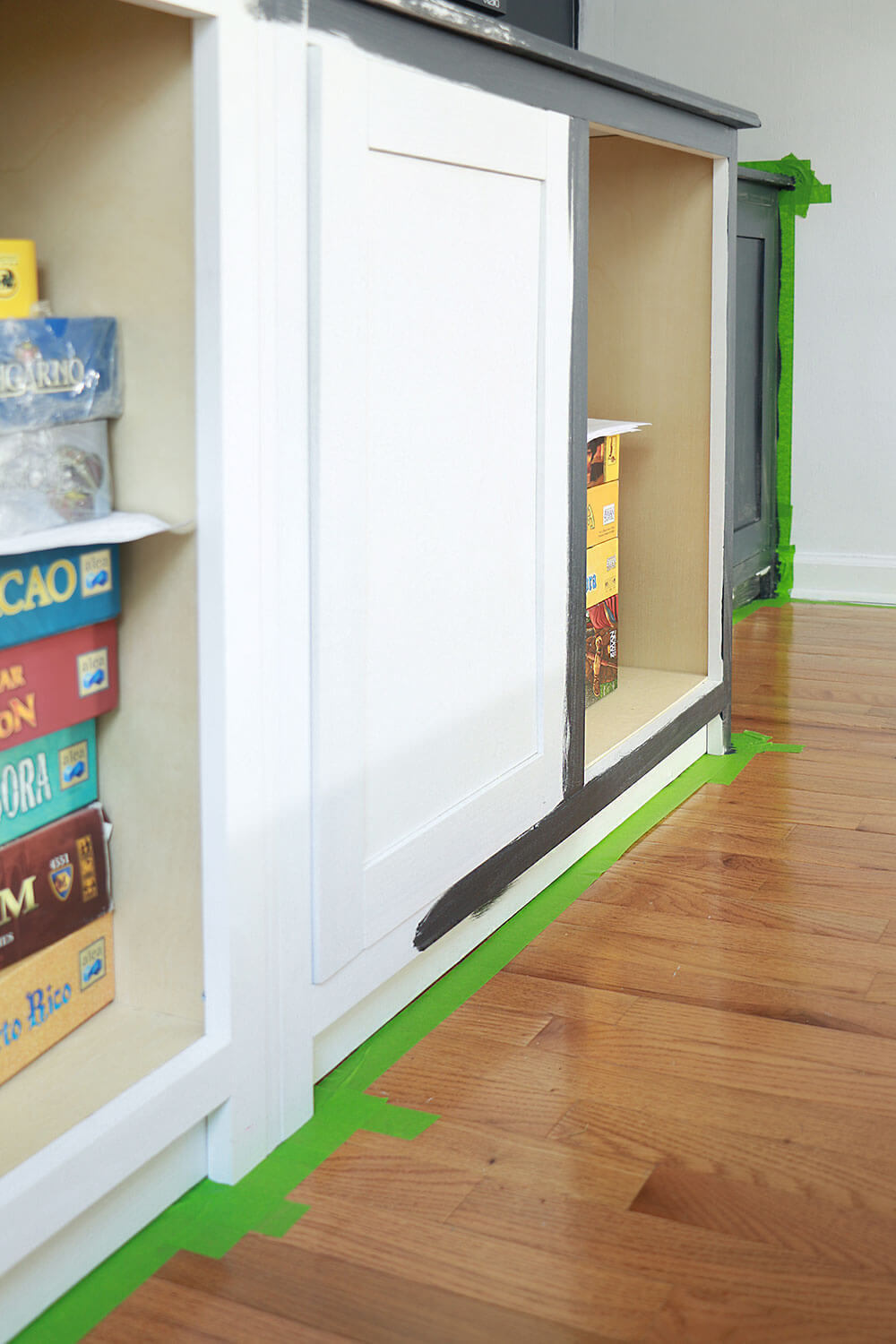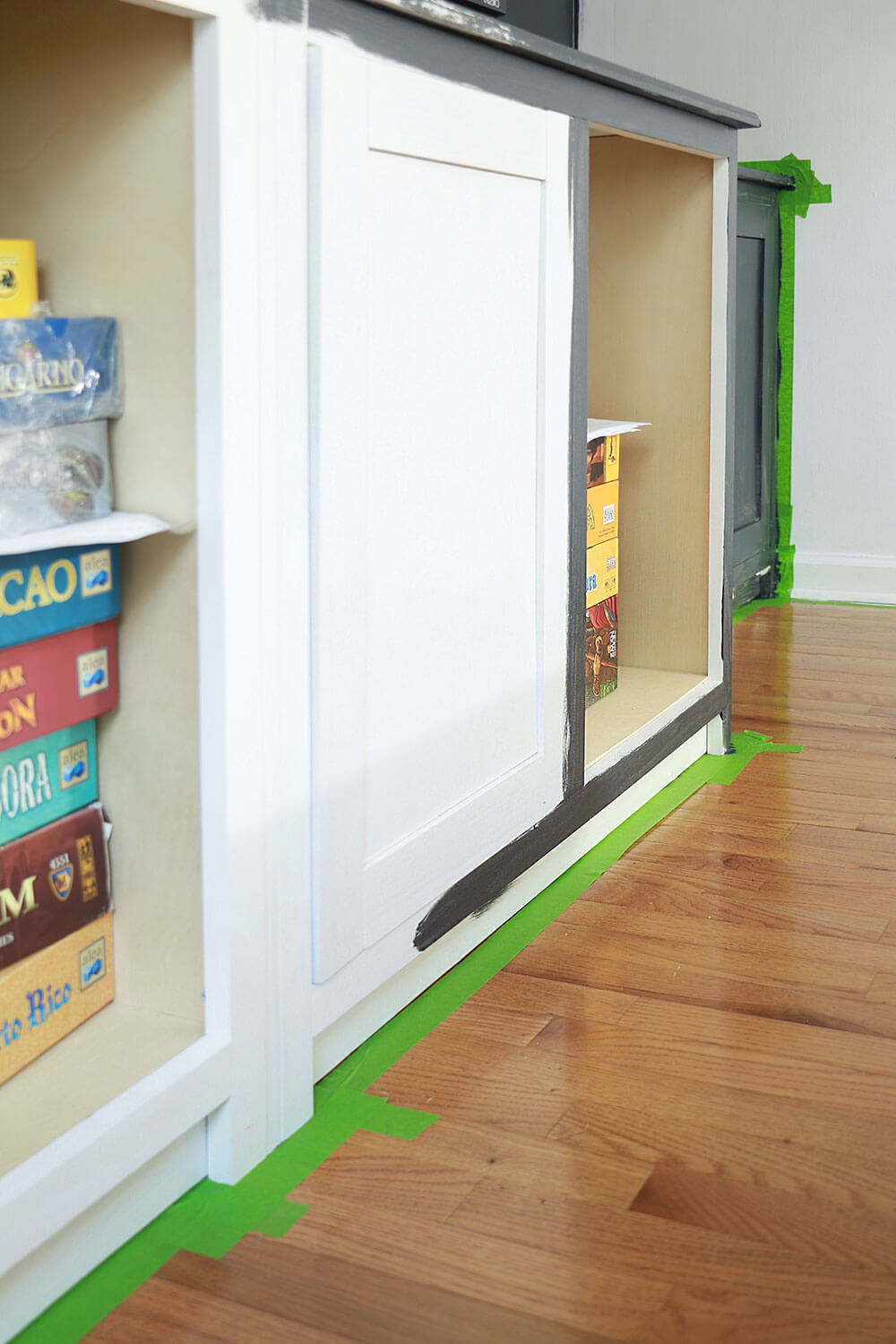 Why am I painting my built-ins now rather than while I was actually building them out in the garage you ask? Because I am so fickle. Haha. I decided I wanted to bravely try something I was too chicken to do before and go with a black (well more like a charcoal color) built-in unit. The color I finally went with is BEHR MARQUEE's Satin Black, and I was totally freaking out with excitement once I got it on the wall and cabinet.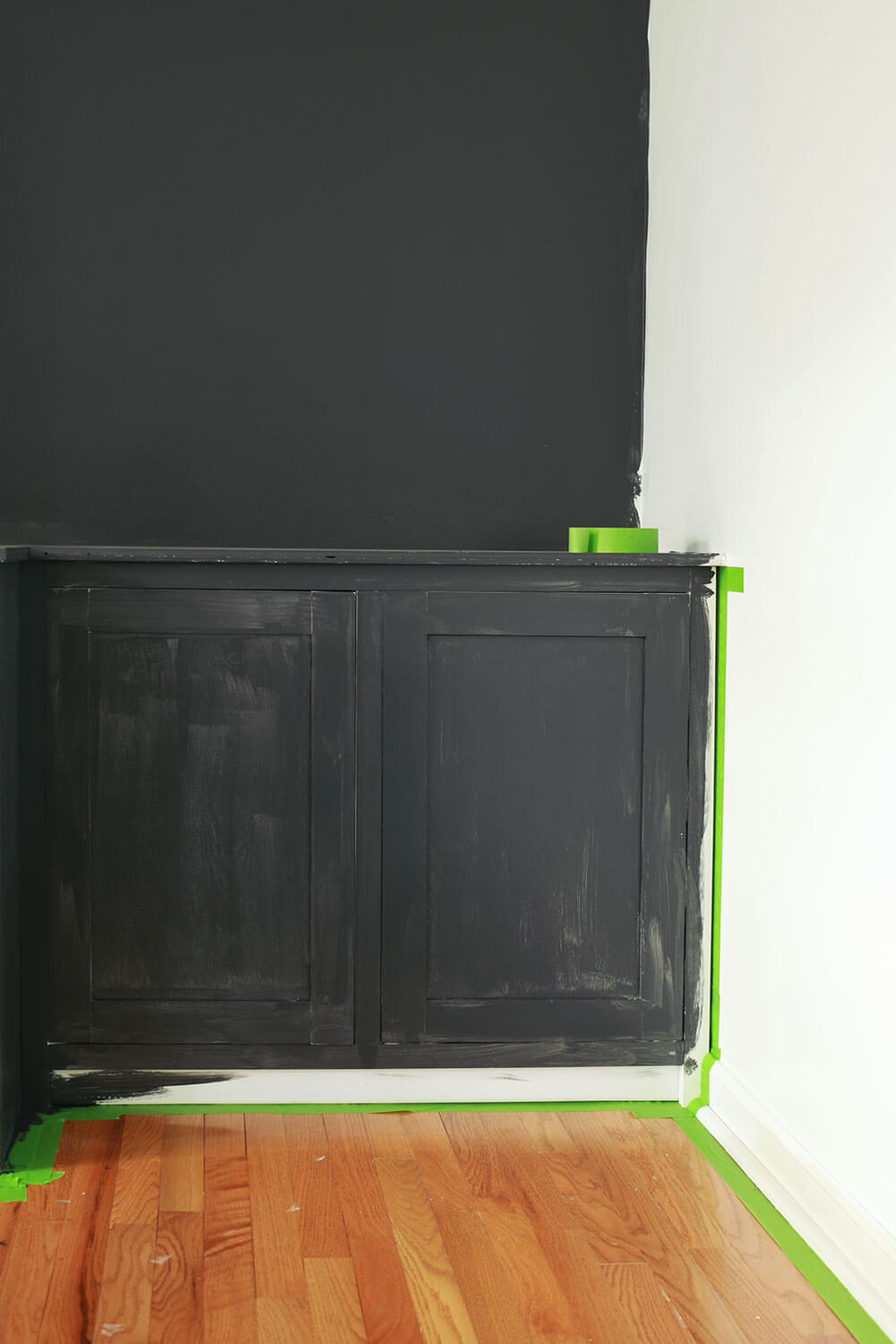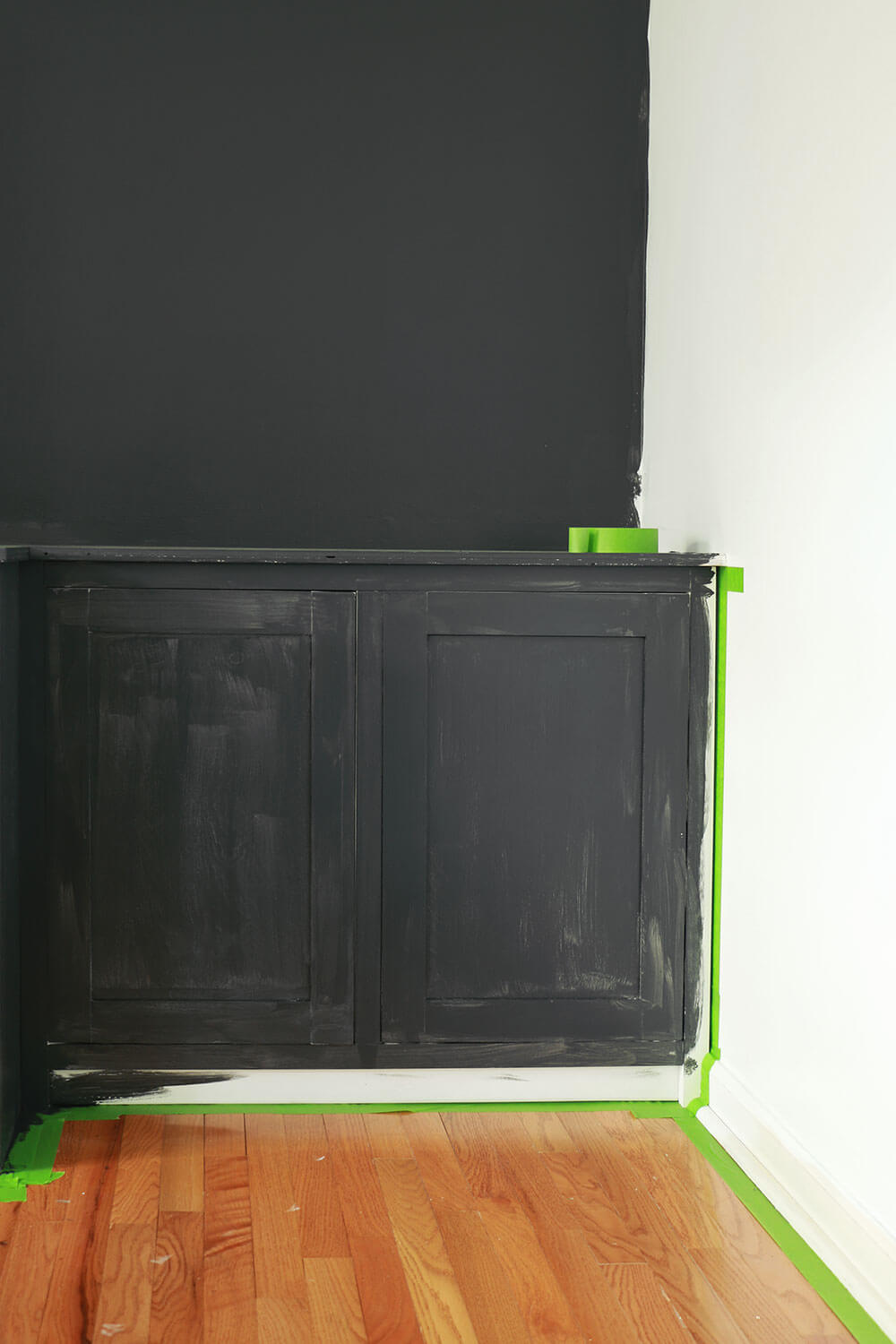 Kind of a bold feature wall while the rest of the room is BEHR MARQUEE in Frost 57, which is a slightly silver/grey white. Good thing I can rely on FrogTape® to save my floors and allow my fickleness to win out this time around.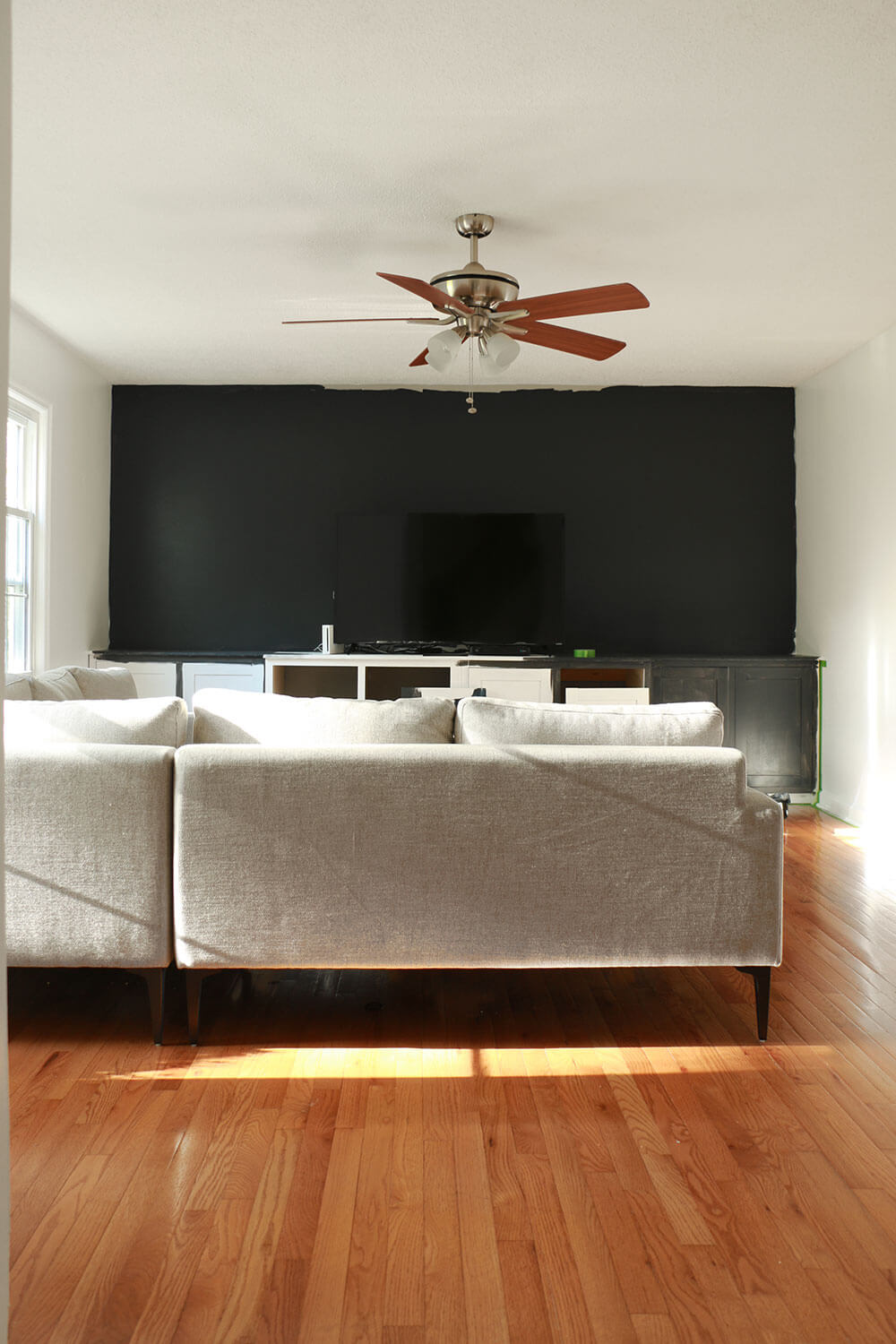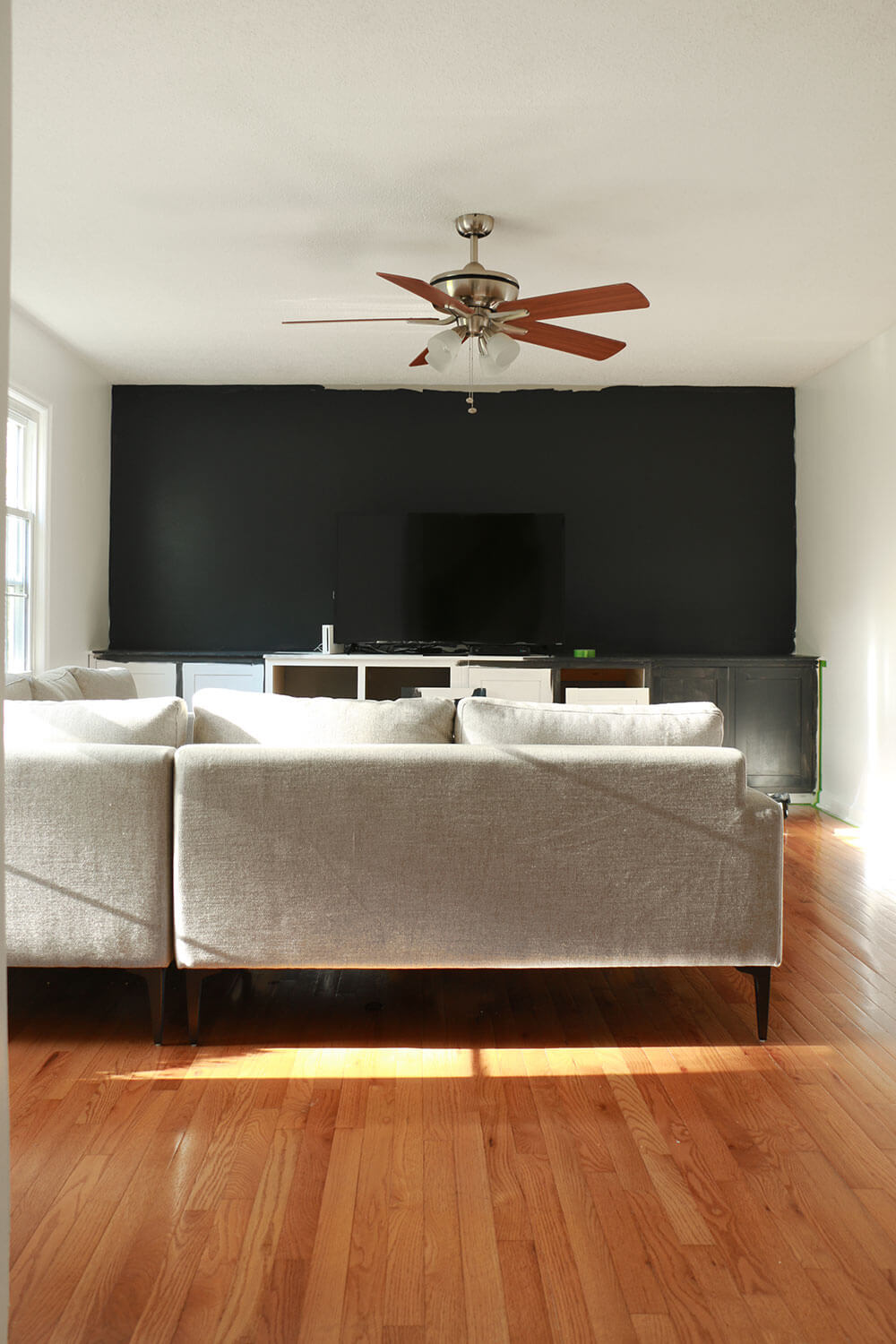 We only have $1,000 to makeover our spaces, so I'm going to have to be very careful and smart about where I spend that money.
For a moment I thought it was a pretty good amount to redesign an entire room. I'm quite frugal and have decorated rooms for less…but over the course of years, awesome free finds that are upcycled, and great sales. When you have less than a month to makeover an entire room and you start surfing online decorating stores, you realize $1,000 doesn't go very far. That means it's time to get my DIY on guys, and do some SERIOUS deal hunting.
To save money I decided to swap out the shaggy old sofa from this room with my newer sectional in my family room (yes I have two living spaces, and yes both are undecorated).
I'm also keeping the gaming coffee table I built for this living room, and of course keeping the cabinet built-ins I created for this room. However I am planning to add to my cabinet base and turn them into the full floor to ceiling built-ins I always imagined for them. This is going to make a gorgeous feature in this room, and building this unit myself from some lumber leftover from past projects will keep me under budget so I can splurge on a few decorative items.
This is as far as I've gotten on the shelves so far…oh boy, I've got a lot to do ya'all. I'm beginning to wonder if I'm going to finish on time.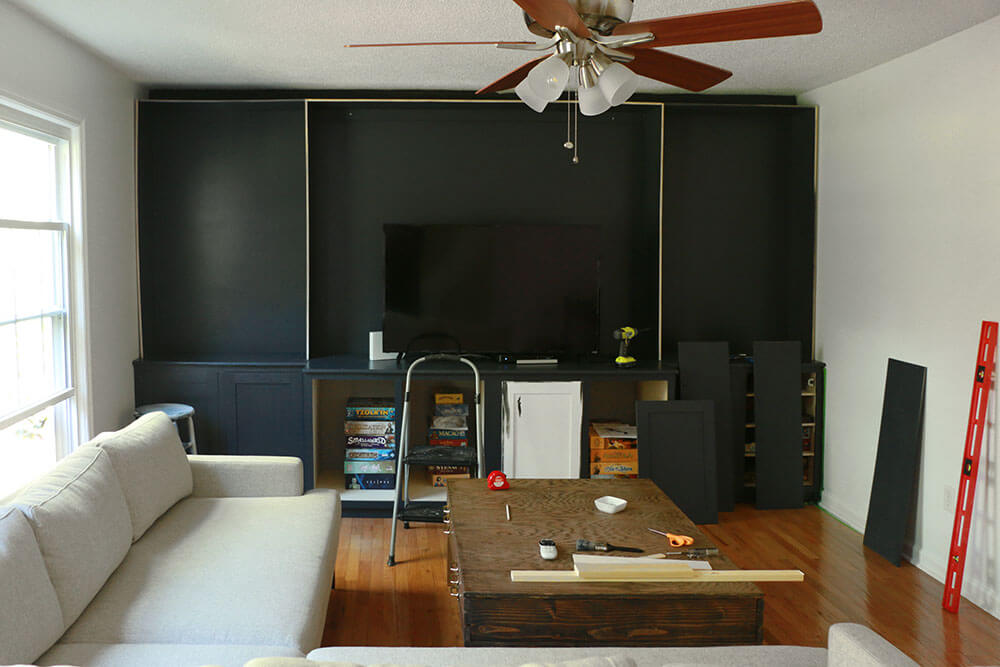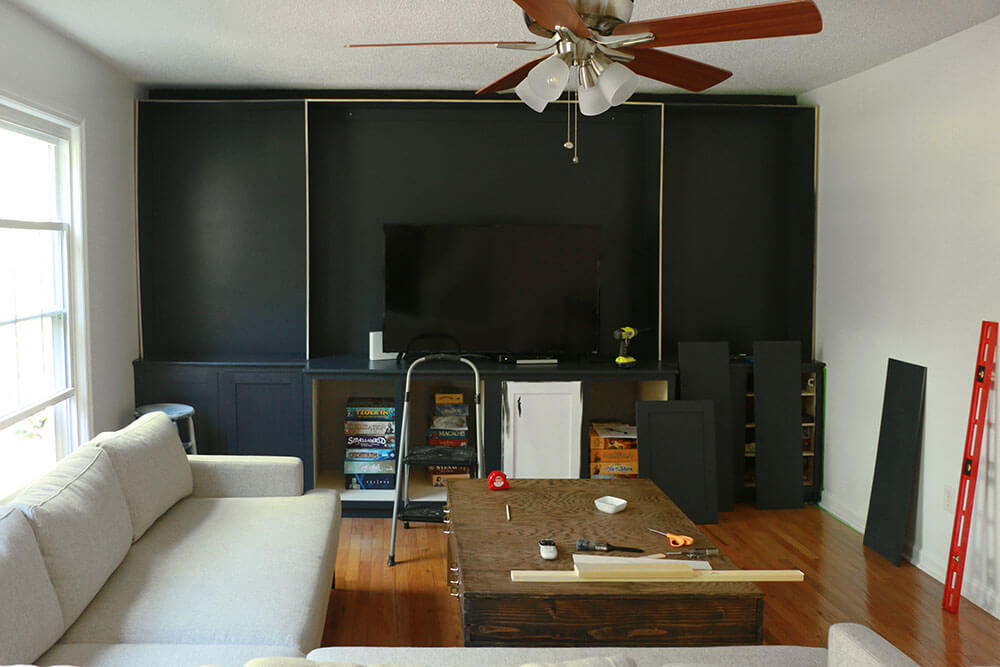 Today I'm also going to work on some cute painted pillows for my space! Creating your own throw pillows is a great way to save a ton of money. There are a few painted pillows I've made before (get the tutorial for this design here) that will go in the space as well.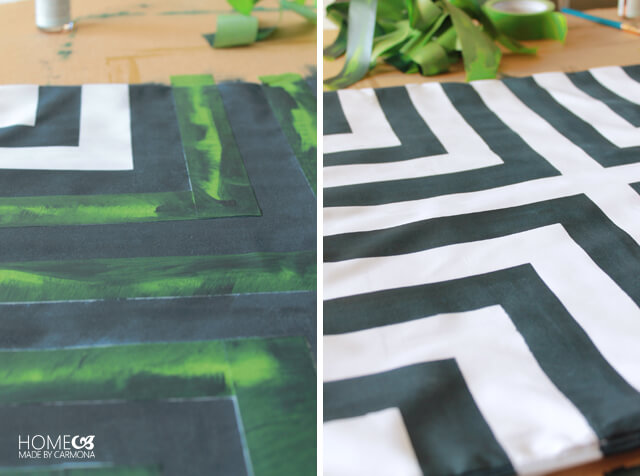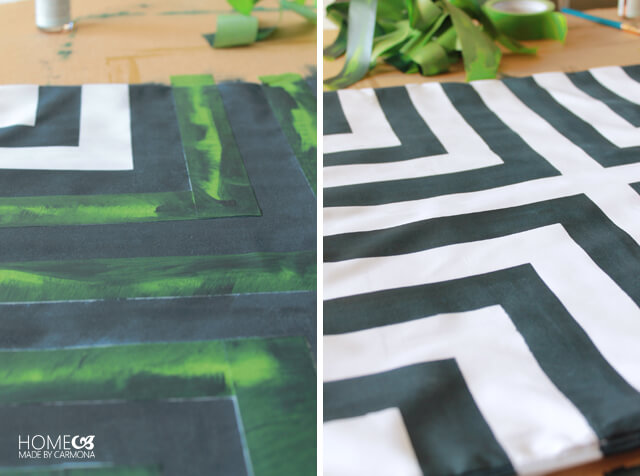 To use FrogTape® for this or any of these projects:
Eyeball where you want your tape to lay, cut to length and press firmly in place
Go over the edges once more to make sure there are no open spaces in the tape
Paint with brush strokes starting on the tape and sweeping onto the fabric (you can also use regular spray paint, even on fabric!)
Be sure to remove the tape immediately after painting the area

Whether you are using it on walls, floors, fabric, or sea grass baskets, the FrogTape® is going to do a tremendous job getting nice crisp lines.
If you are painting on fabric, use all purpose paint or fabric paint, or spray paint. Then to add a little extra glam you can add liquid gold leaf strokes on top of the painted parts of your fabric. But make sure you add it over top the dried paint, not onto the bare pillow case, otherwise you'll get pink leakage from the liquid in the gold leaf.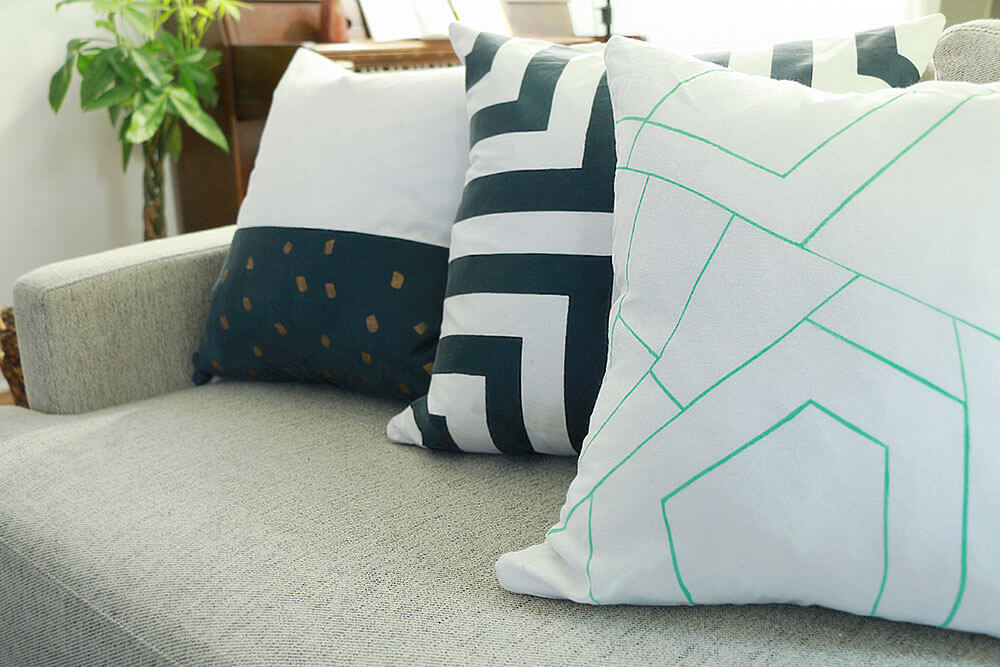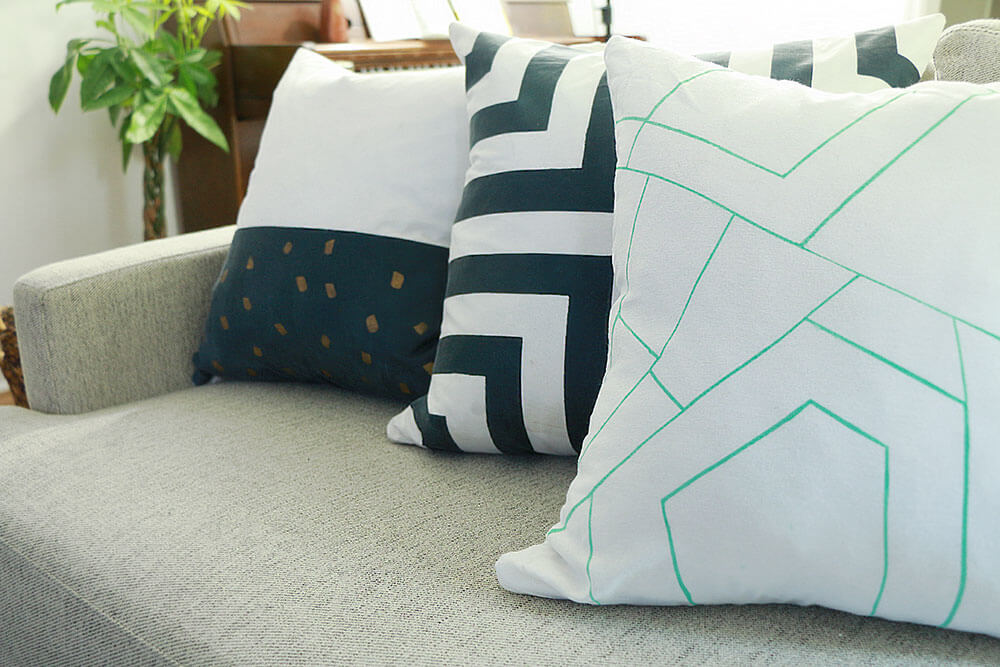 While I've got my paints out, I thought I'd also start working on the artwork that will go in this space. In order to stay in budget I'm going to paint my original artwork rather than buy art. I'm thinking one or two of my art pieces should bring in the pops of color required by the 'Faux Natural' design style.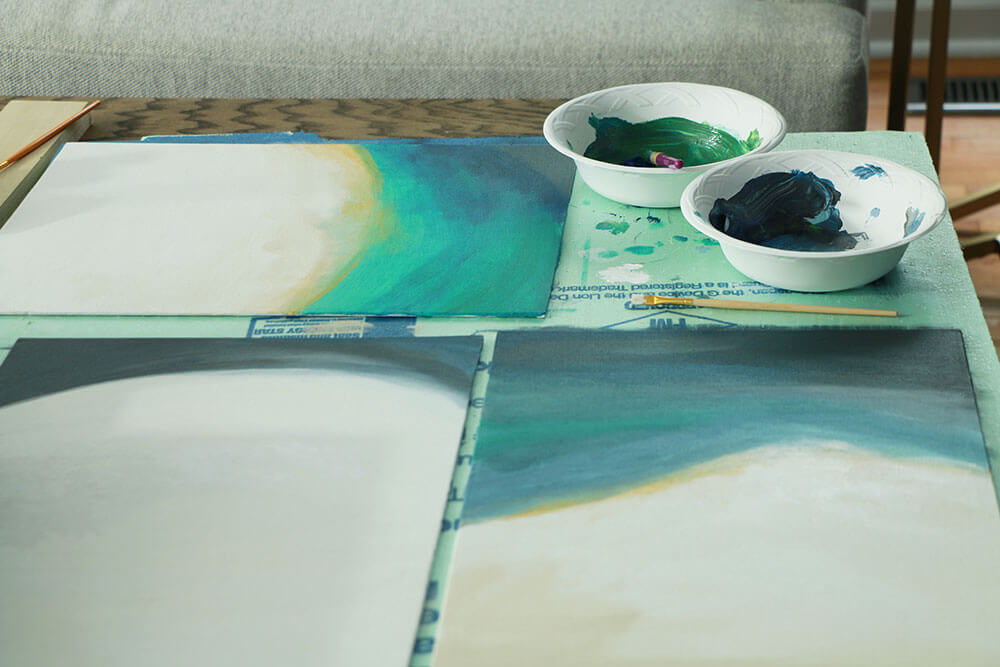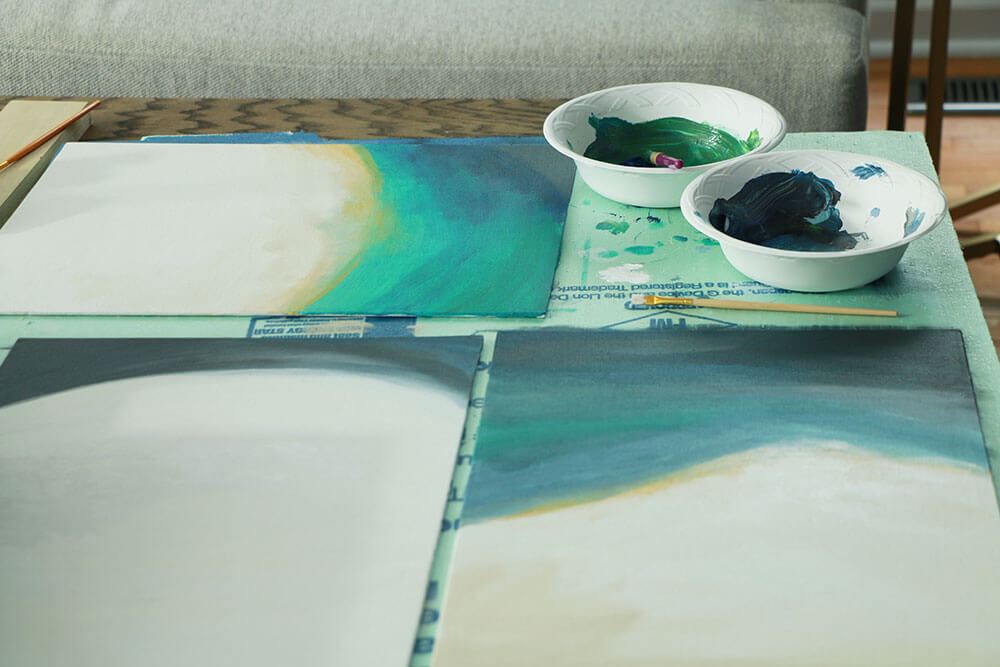 Well, wish me luck guys. I have a lot to get done and only have a week left. Eeeep!
Don't forget to pop back in for the reveal next week! Plus I'll really need your votes when voting opens up, and your moral support because there is some incredibly talented competition here. Eeep!
See you next week!
*Special thanks to FrogTape® for sponsoring this post and inviting me to participate in the Paintover Challenge!


[go_portfolio id="decorate_landing_page"]