Ah the entryway…
The space that greets my guests with that first impression.
The space the mailman, the pizza delivery guy, and the unwanted solicitor I didn't have the heart to turn away, spends moments of their day in. Never to see more of my home than the entryway.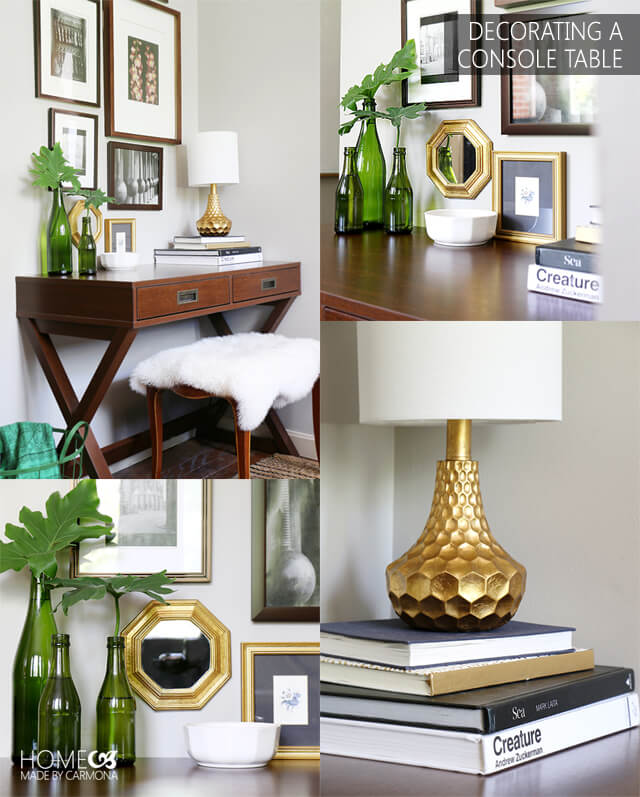 *This post is awesomely sponsored by Better Homes and Gardens at Walmart. Affiliate links below
Why in the world do we often leave spaces like this for last? Or barely pay attention to them at all? Instead they become the dumping grounds at the end of a long day out and about.
Follow my process as I give this little entryway a glow-up and improve it's usefulness.
Every other month I have the great privilege of partnering with the Better Homes and Gardens Live Better network and I find incredible (and inexpensive) Better Homes and Gardens products at Walmart and Walmart.com . It took me about 20 minutes to find, order, and get super excited over the pieces I knew would make this space stunning. I admit, I got a little giddy…I may have done my mom happy dance. My girls just pointed their fingers and laughed at me.
The Before & After
Here is the entryway when we first moved in, before I managed to paint that awful multi-colored walls.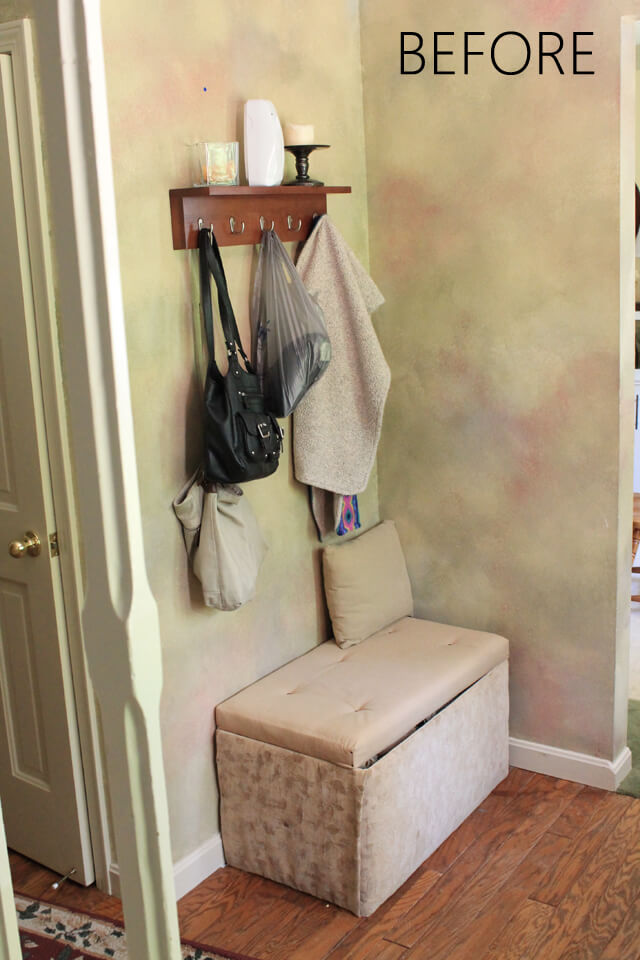 Nooootttt a pretty sight. First I organized my hall coat closet (the door you see to the left) to handle all my purse hanging and storage needs. Next I got to work giving the entryway and hall with a much needed coat of paint. Those awful walls were starting to give me a headache! Ugh.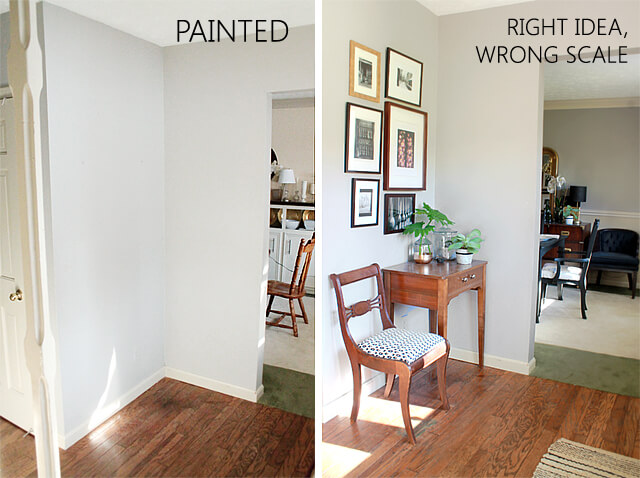 The Right Scale Is Everything
Pretty soon after painting I threw a few pieces into the space, and even arranged a gallery wall I liked. Right idea, wrong scale of furniture. Sometimes we assume that smaller pieces in a small space will keep things easy to navigate and looking roomy. I learned the hard way that this isn't always the case. But we'll talk about this a little more later…
What do you think of the completed Entryway? A huge improvement right?!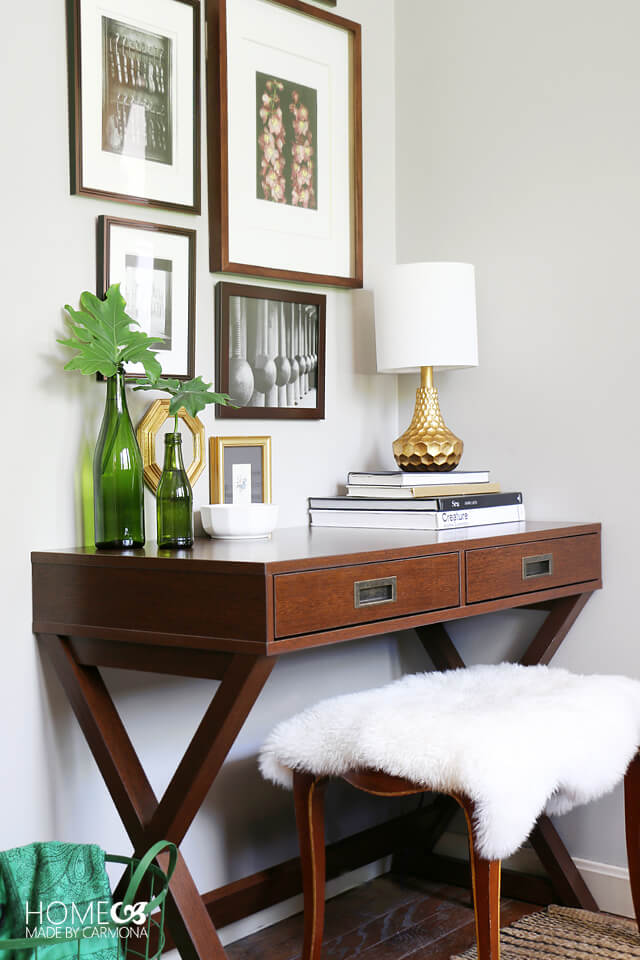 It always amazes me that only a few carefully chosen pieces can make or break a space. And I'm not just talking about beautiful decor, I'm talking about having a practical space that makes life easier. If you look carefully, you'll see that it really is only a handful of items: a desk, wall art, a lamp, a bench, and a few décor items.
Keep some of these elements in mind when planning your entry, and you will have one incredible space the first time around. If your space is small, measure it carefully and think outside the box when seeking products.
For example, the perfect console table turned out to be the Better Homes and Gardens Maddox Crossing Campaign Writing Desk I bought at Walmart. Sometimes you have to look in a different department to find the perfect product. In this case a writing desk made a better console than any of the options I previously considered. It was the exact right size to fill up the space, and definitely the right price!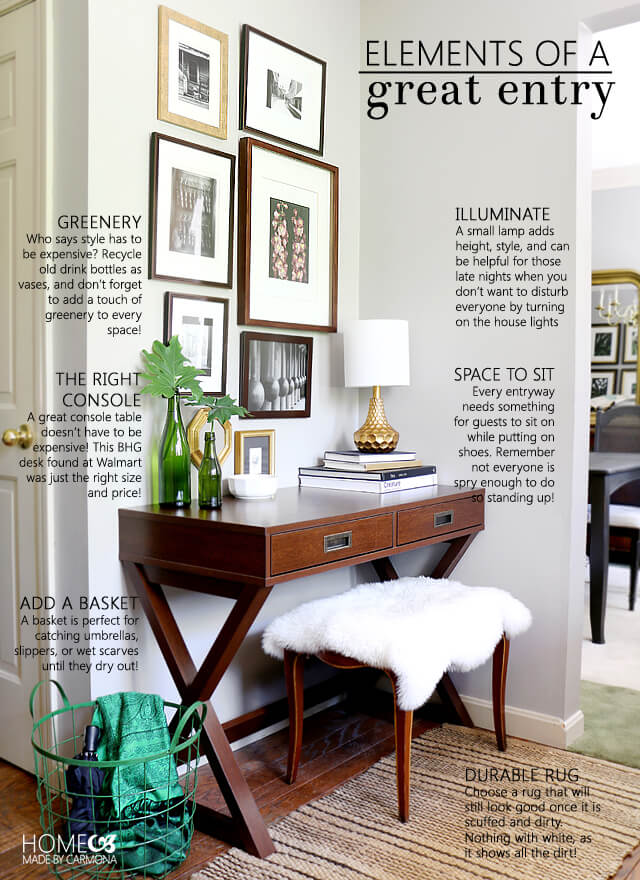 Choose Practical Pieces, But Also Bring The Bling
Just because it is a practical need for the space doesn't mean it can't look amazing! Like this Better Homes and Gardens Gold Faceted Lamp found online at Walmart.com. Doesn't that gold design make your heart go pitter patter?
This lamp is the perfect height, so that it won't obstruct a gallery wall, and cute enough to make a statement. But it adequately lights up a space when coming in at night!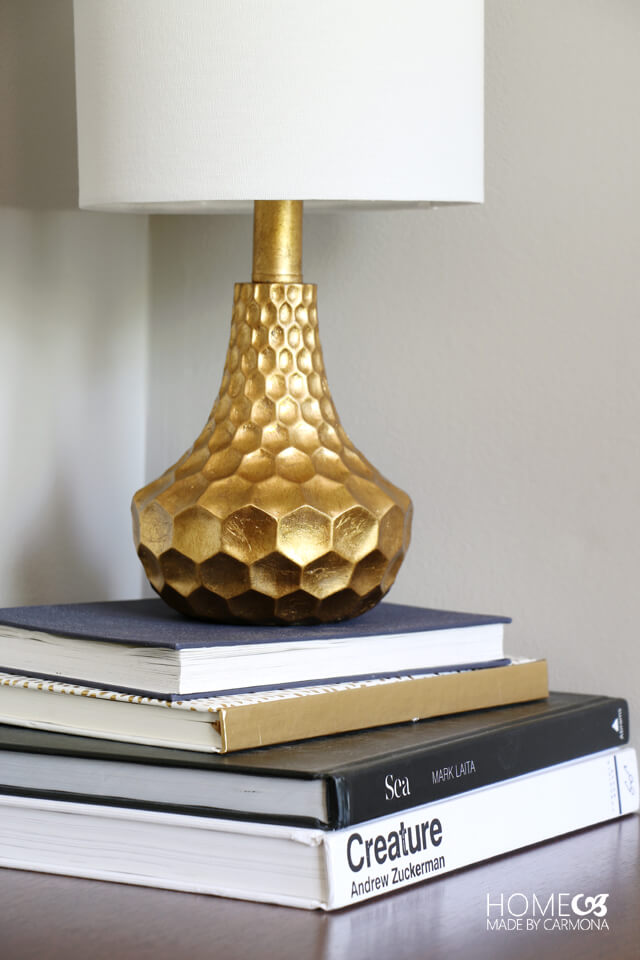 Take Design Vertical (Don't Neglect The Walls)
The gallery wall is a fun match of thrifted frames, and Better Homes and Gardens picture frames in mahogany. If you can't find art you like, BH&G has a smart solution! The photo you see in the frame an actual photo you can use. The front has marketing text on it, but take out the photo and flip it around for ready-made art!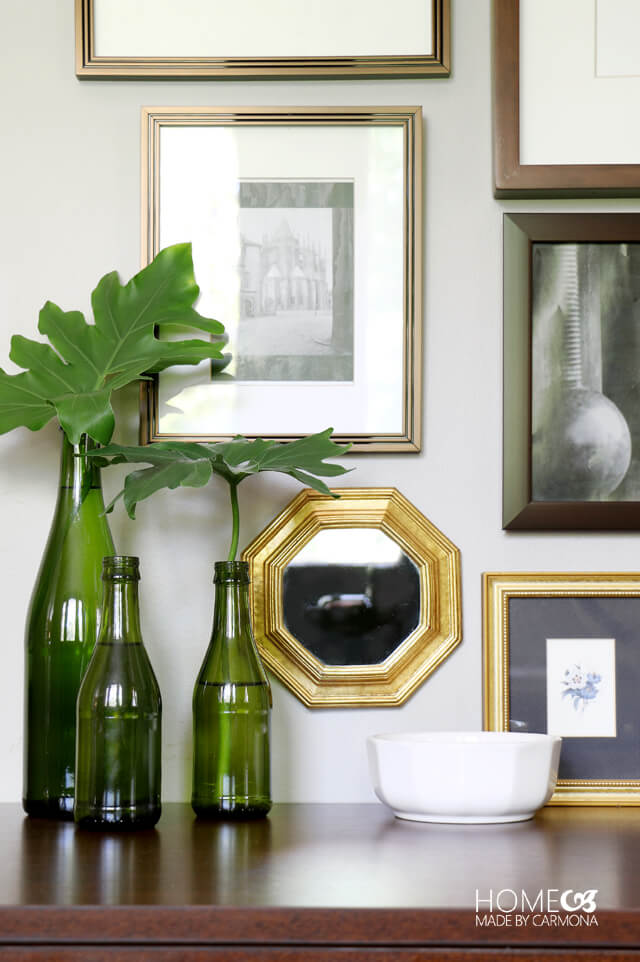 Each of these little thrifted items, from the mirror, to the bowl to hold my keys, and a couple frames were only a dollar each! Between great quality but priced right pieces from BH&G at Walmart, plus some thrifted finds, this makeover was all around a big impact on a small budget!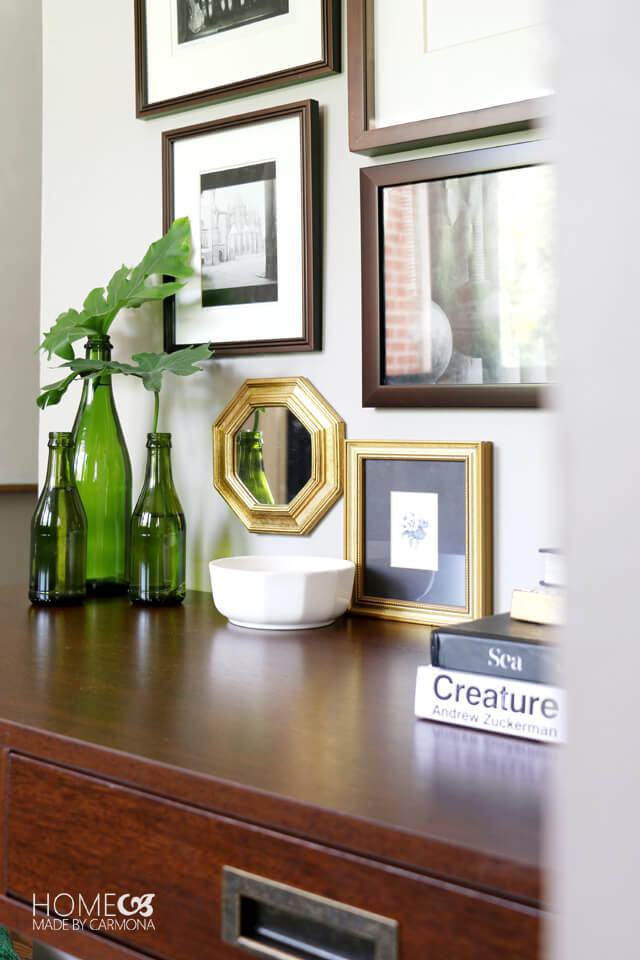 Thrifted/Upcycled Pieces & Greenery
I even put to use some pretty green recycled bottles that use to hold sparkling apple cider. I am a firm believer that every space should have at least a little greenery, and I'm not talking about the bottles either. A plant, florals, or even some cut leaves in water adds a freshness to the space.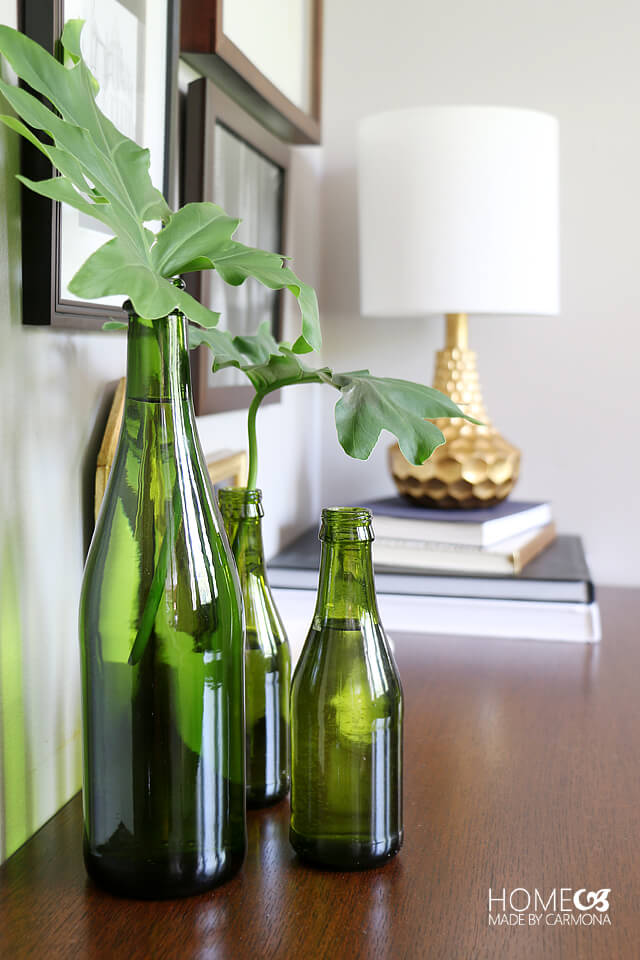 I can't get enough of the space! I think the delivery man, the pizza guy, and our friendly neighborhood solicitors appreciate it too. Heehee.
Have you made over an entryway recently? What elements do you find important to have in or near an entry…hooks, baskets, seating, what? I'd love to see your spaces, so upload a photo over on Facebook and tag me!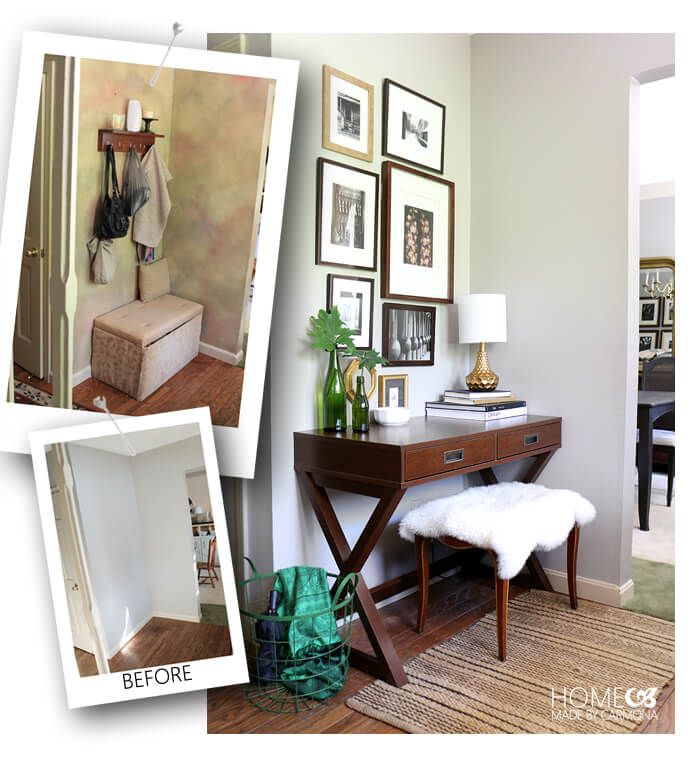 *I am honored (and excited!) to be part of the Better Homes and Gardens Live Better network, and to share a few of my favorite things, projects, opinions, and my own original ideas with you. Thank you to Better Homes and Gardens at Walmart for sponsoring this post. Follow BHG Live Better on Facebook, Twitter, Pinterest, and Instagram.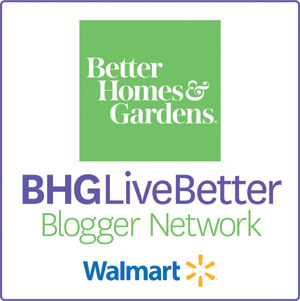 Follow along with other BH&G Live Better blogger articles:


Love these tips? Read here about how to re-create this simple but stunning modern farmhouse entryway!