Woohoo! It's DIY party time ya'all! Me and a whole crew of my blogger gal pals are partnering with The Home Depot for today's virtual party, which you won't want to miss!
So don't! Join in, right now!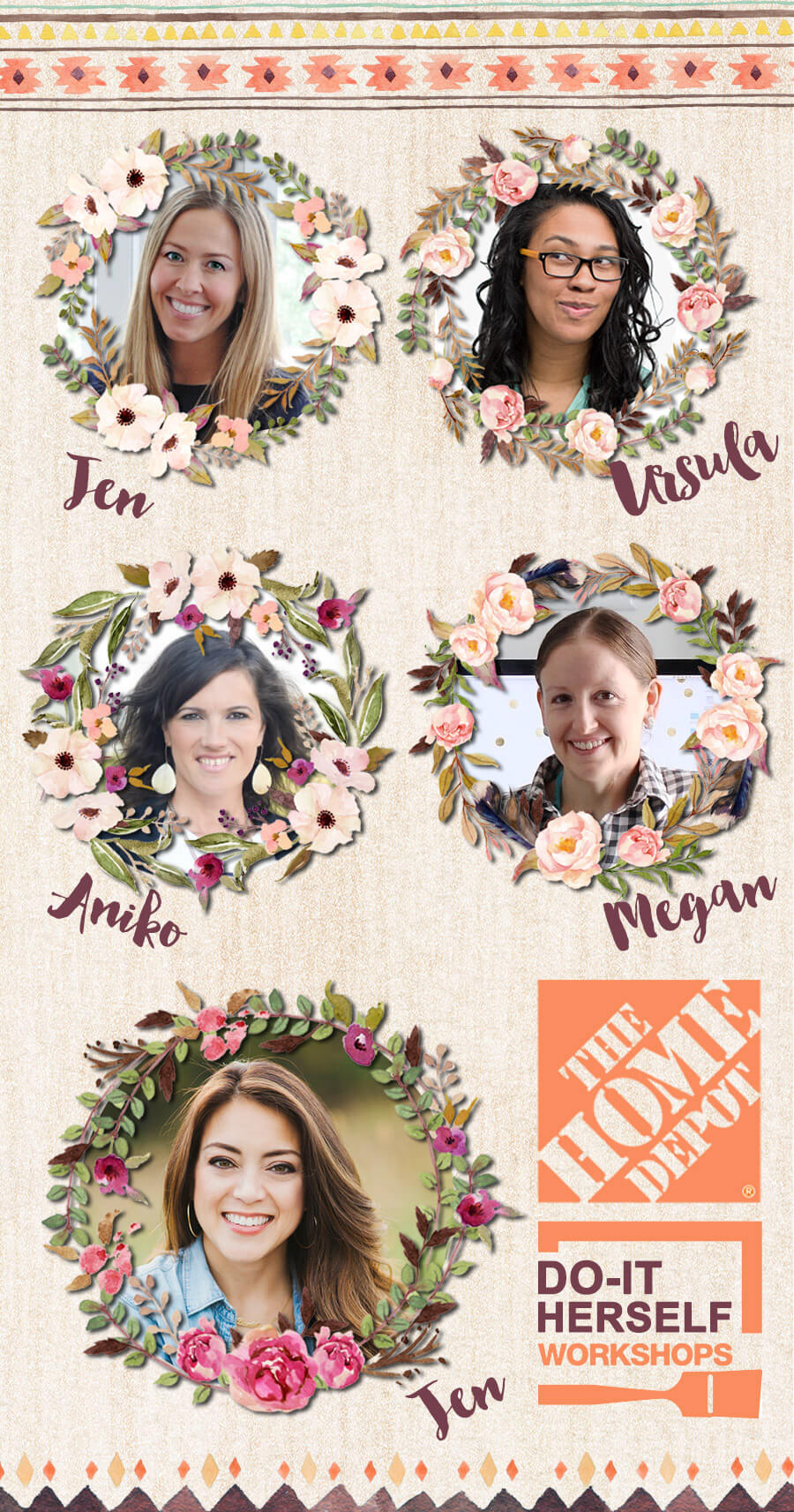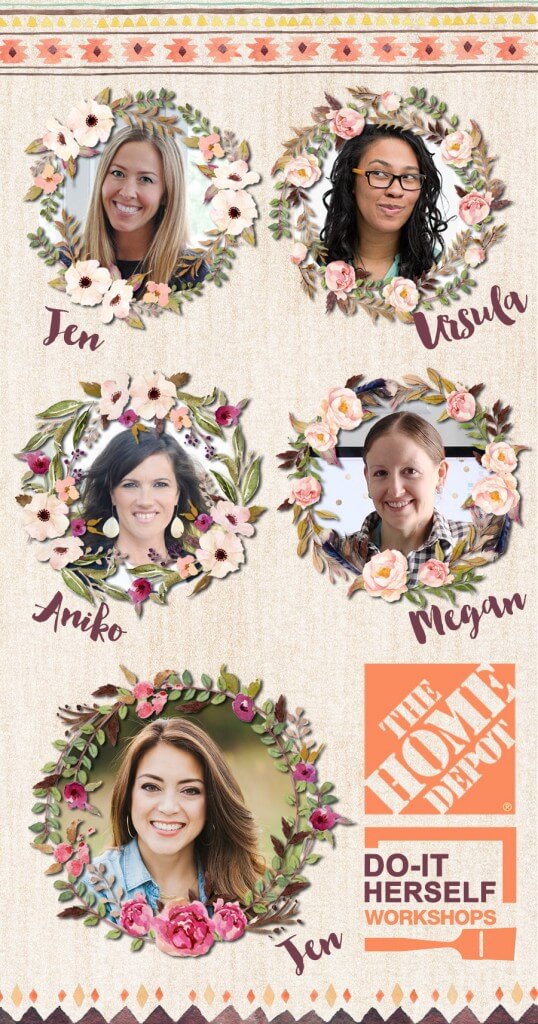 The Home Depot invited us to build the latest fun project from their lineup of fantastic Do-It Herself workshops.
This Thursday you could learn how to build this awesome little Rustic Wheelbarrow, which is the perfect fall decor for any patio, deck, or garden!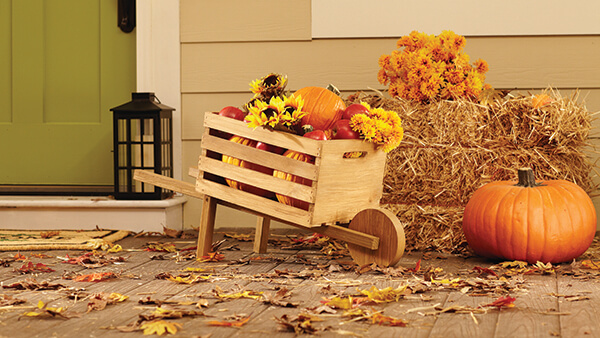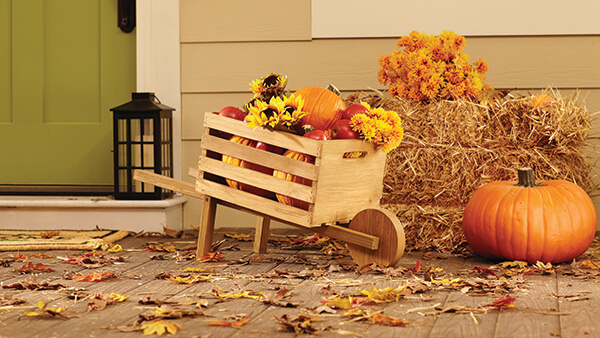 This Thursday you could learn how to build this awesome little Rustic Wheelbarrow, which is the perfect fall decor for any patio, deck, or garden!
You heard me right! YOU can build this bad boy. The Home Depot offers these awesome workshops right there at your local Home Depot! Um, can you say "girl's night out"? 😀 Go ahead, you know you want to don power tools and walk with that can-do swagger. So sign up here, and don't forget to snap pictures (I'm going to want to see):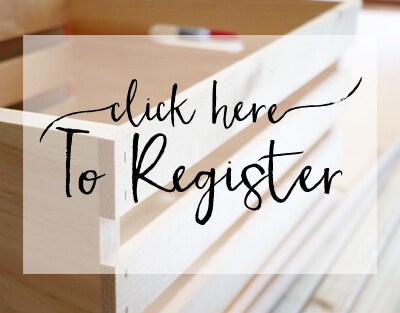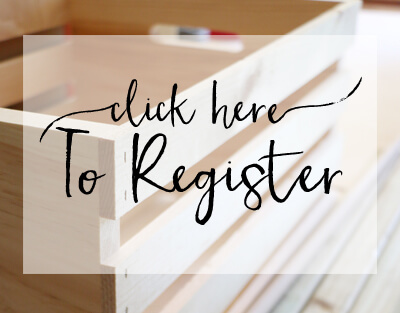 Okay, so I'm always inspired to make things myself, but I wanted to give you a little encouragement and inspiration, so me and my buddies are going to show you how we pimped out our DIY Rustic Wheelbarrows.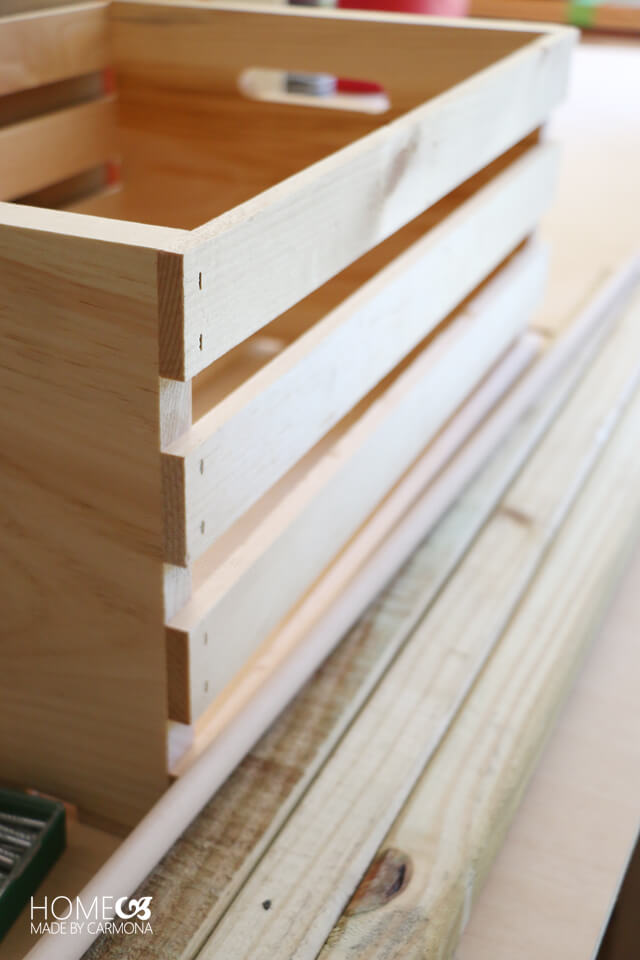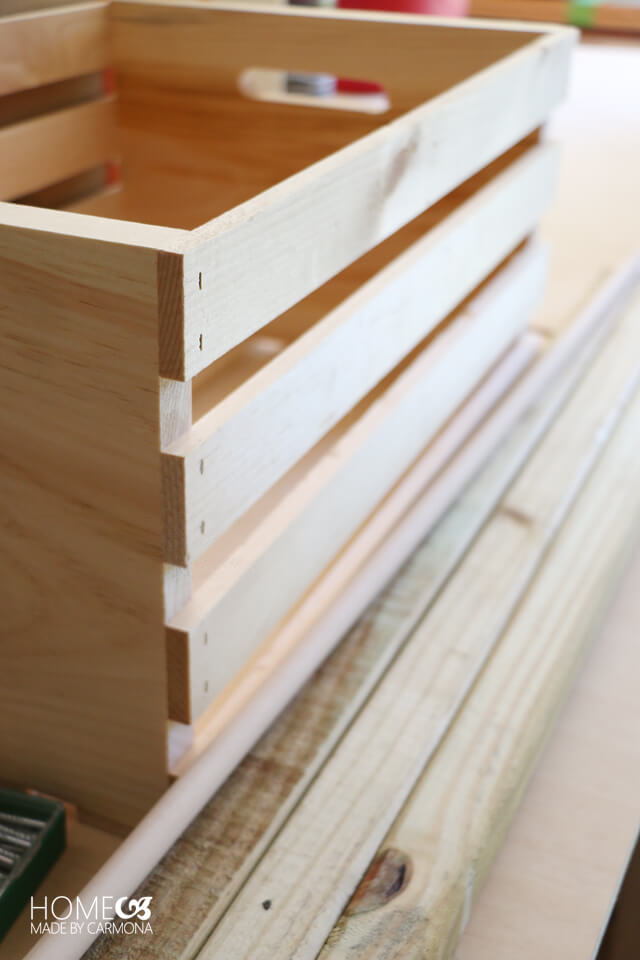 Which, by the way, is an easy build! I love that it starts with a ready made crate…half the work is already done for you! After that it is as simple as adding a couple handles and feet, and a wheel cutout!
If you aren't well versed with tools, don't be scared. The team at The Home Depot has got your back!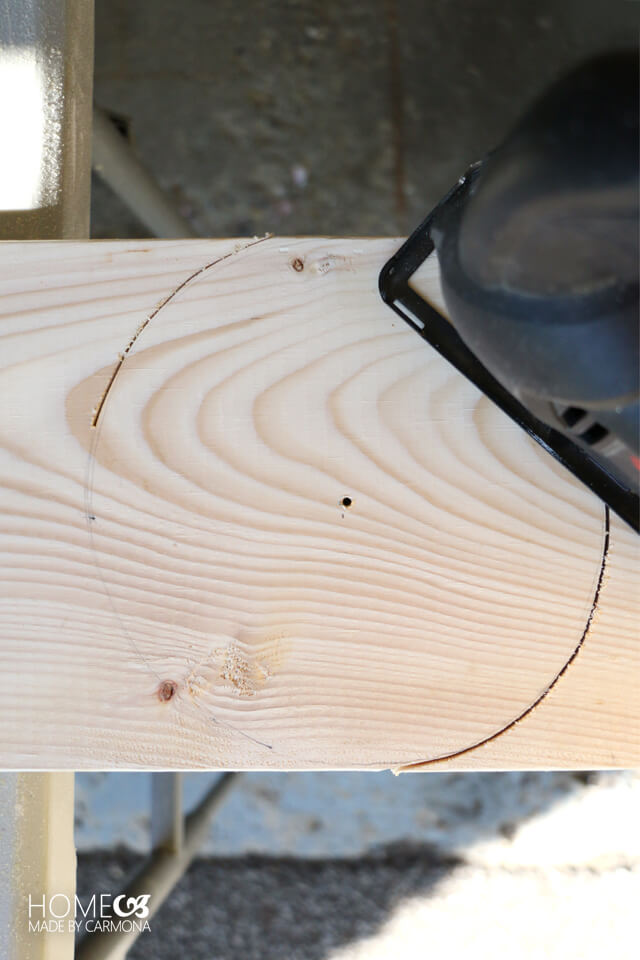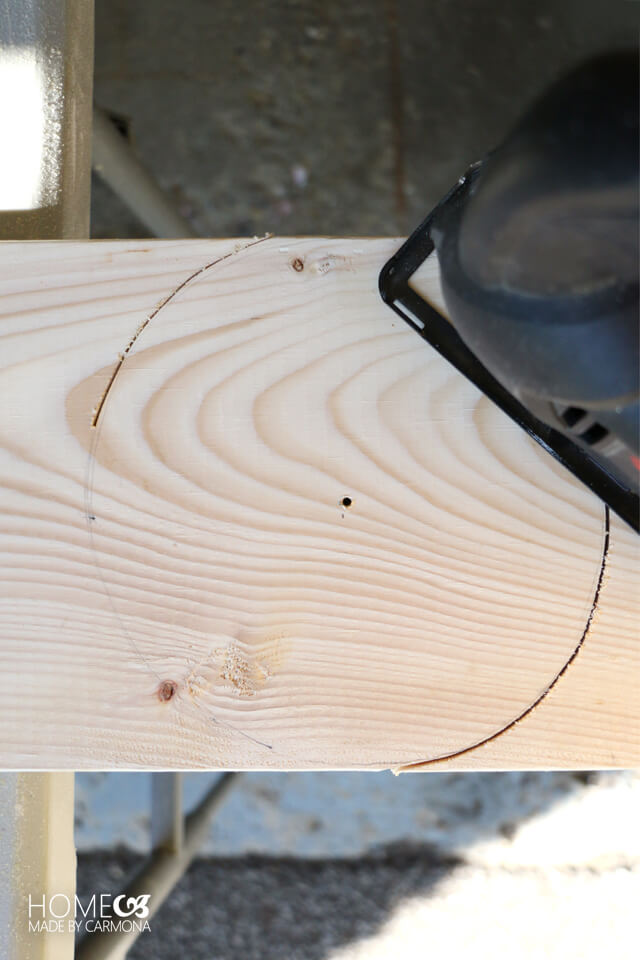 We didn't just build the Rustic Wheelbarrow following the instructions provided to us. THD also asked us to show how we would decorate our Rustic Wheelbarrow and customize it for our own fall yard.
By the way, can you believe it is already fall? Seriously, where did the year go? More importantly, does this mean I'm old if the years seem to go by faster and faster (don't answer that).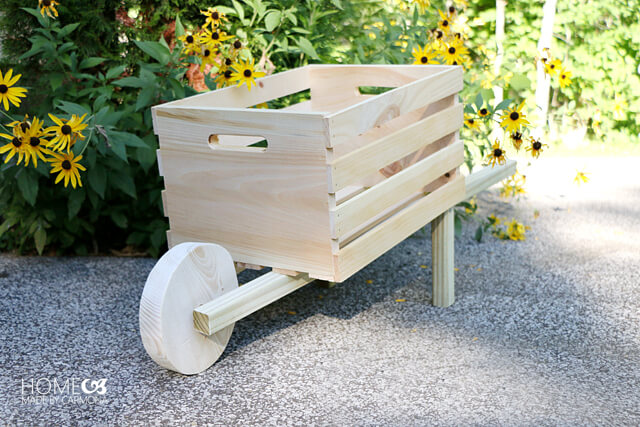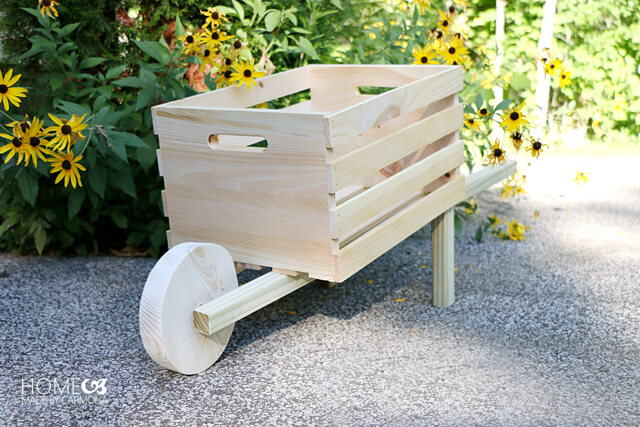 Here is my final build. Is it weird that I'm delighted at the fact that it turned out just like the one on The Home Depot flier? Haha! It was such an easy build, so of course it did.
Back to the decorating and customizing: Lately all things ombré have been on my mind, so I'm embracing it with a white spray paint at the bottom, fading into a champagne gold color sprayed at the top.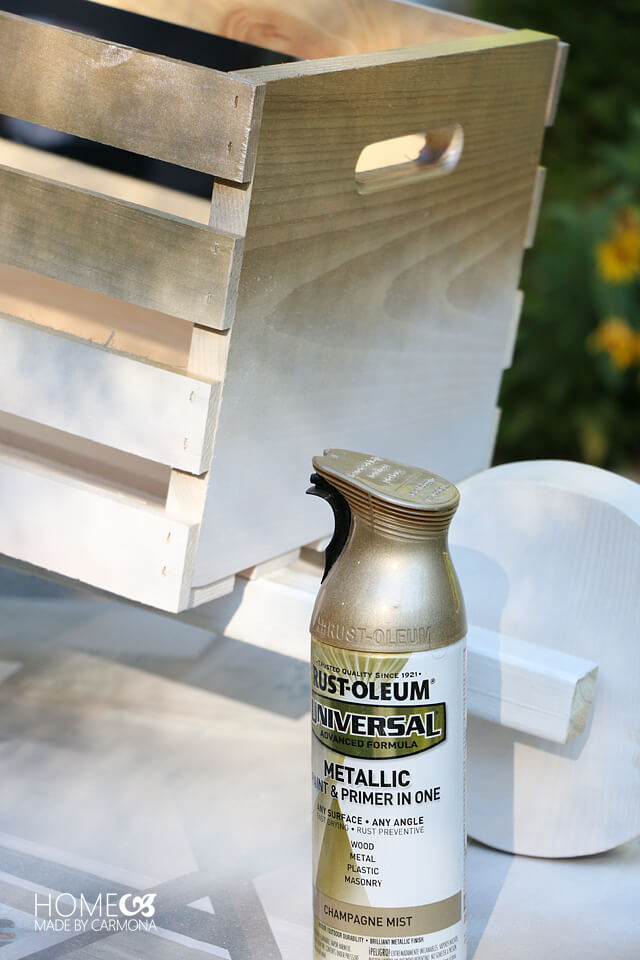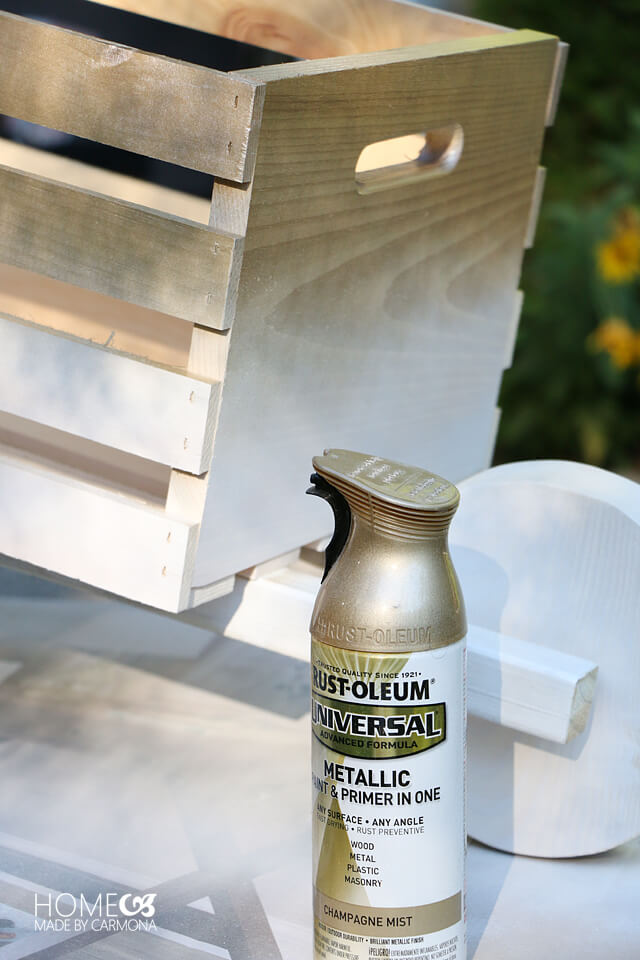 I know, you're thinking it is rather odd to spray paint un-primed raw wood. Well I don't think it is! The champagne mist color is already close to the wood color, so it just gives it an extra metallic sparkle while showing off the wood grain.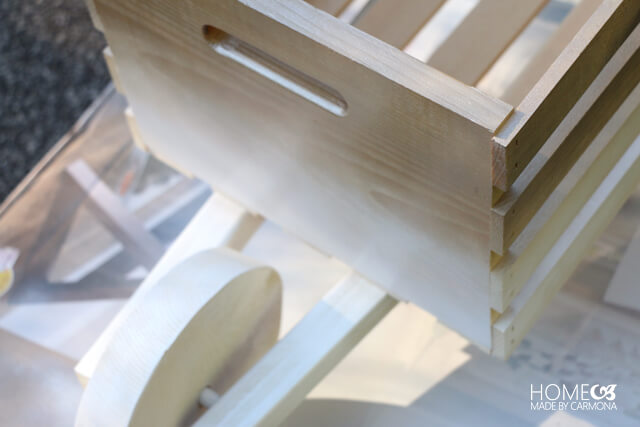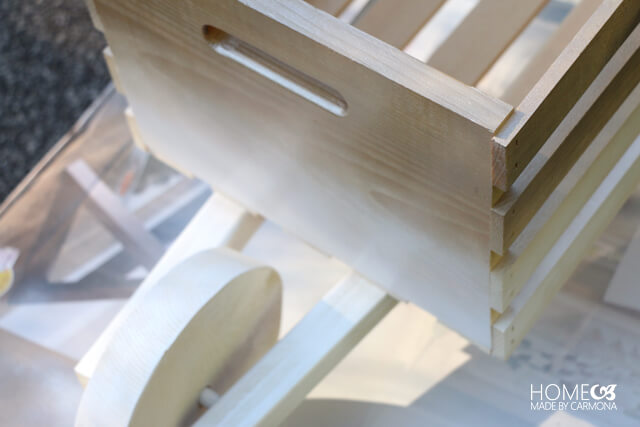 My wheelbarrow will be sitting in my great outdoors, so I finished with a polyurethane spray over the spray paint job.
Next I'm adding some old burlap bags, and some natural elements to fill it. Essentially, raid your yard or maybe the garden center of The Home Depot for some pretty natural elements. I'm using some faux greenery since I seem to have a black thumb these days.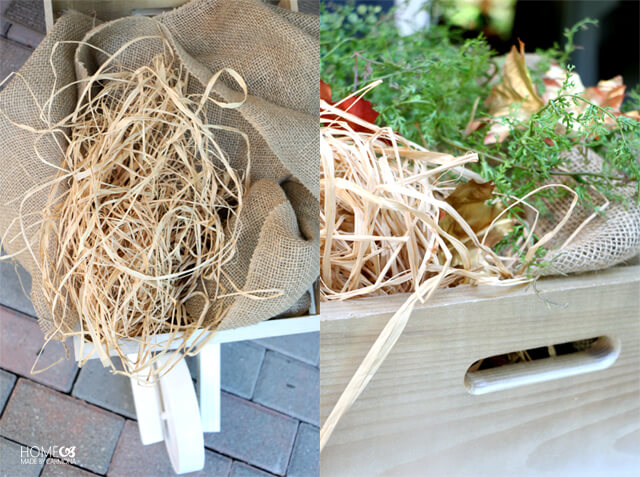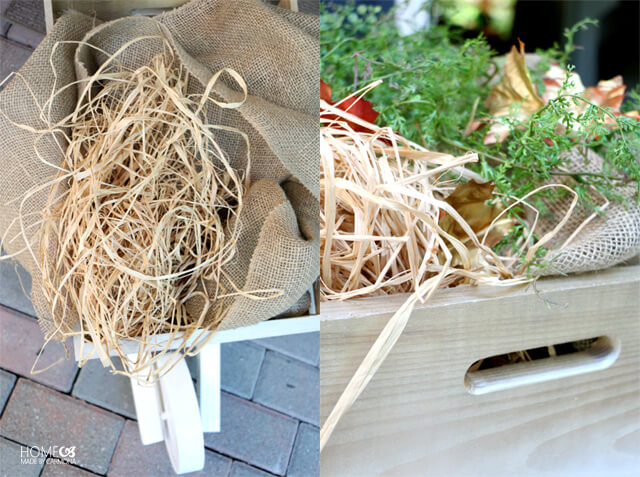 To be honest, it looks great with just some potted plants; however I wanted something that would be particularly gorgeous come evening time, when I would typically have any dinner guests over.
Instead I decided to add some faux greenery and florals, gold spray painted leaves, and battery powered flameless candles. I think that makes it quite elegant, and wow does it shine for dinner party gatherings in our outdoors!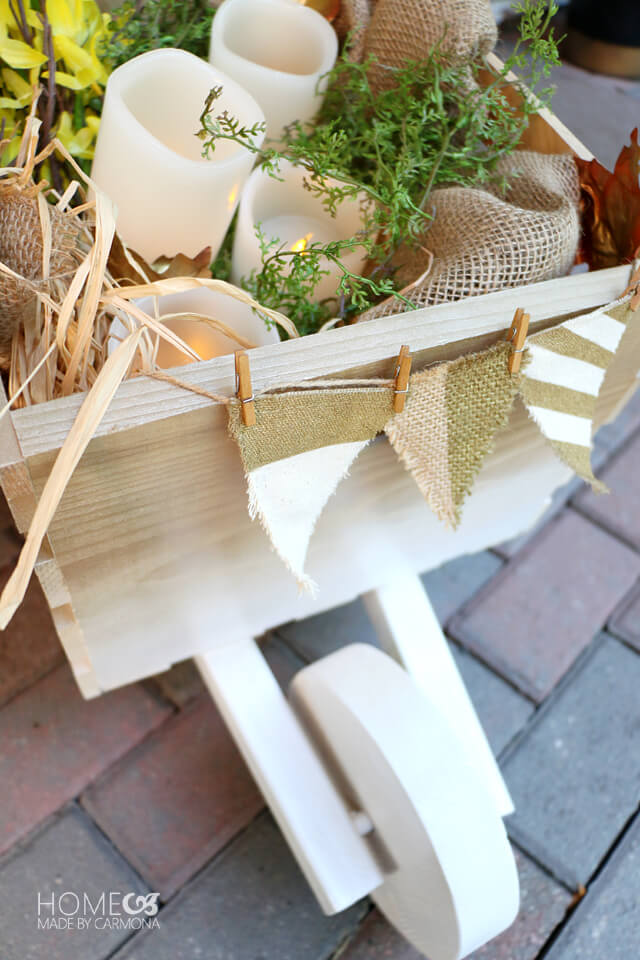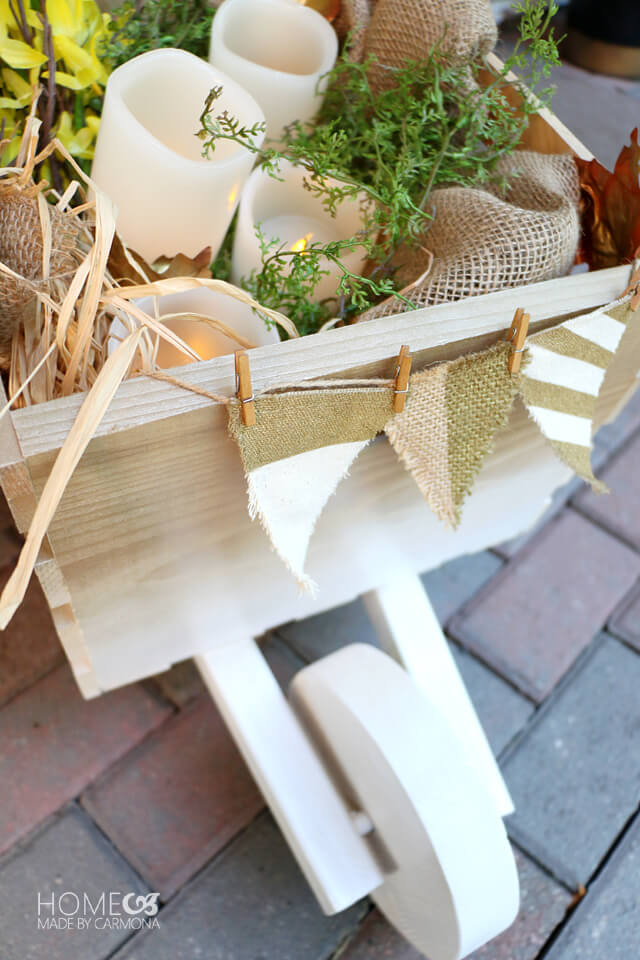 And what do you think of my little burlap and cotton bunting? So cute right? I simply cut little flags out of burlap and scrap cotton, and use some painters tape to create the design of choice. Finally I used the same champagne gold spray paint right on the little bunting flags, and there you go!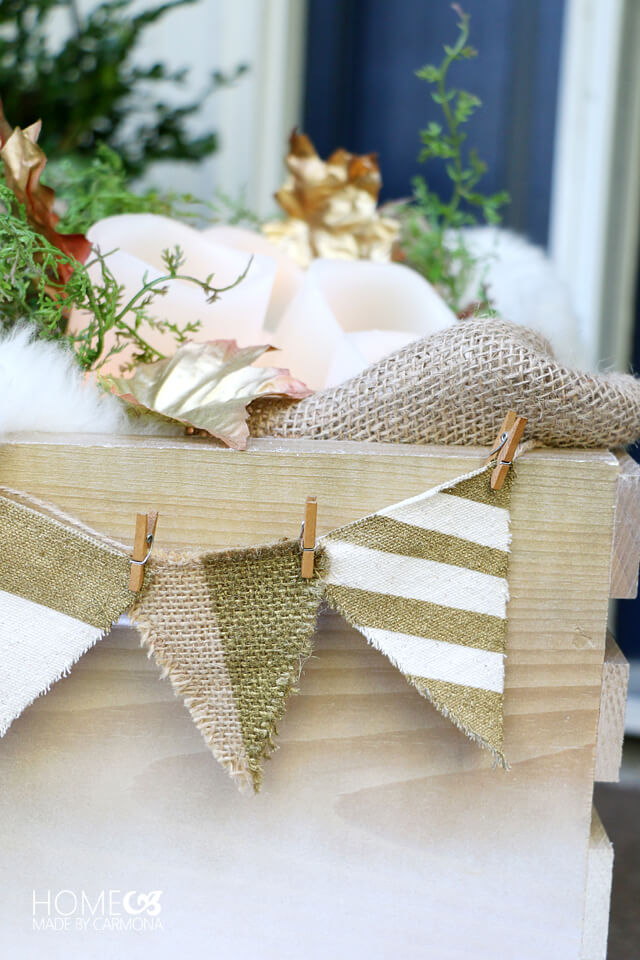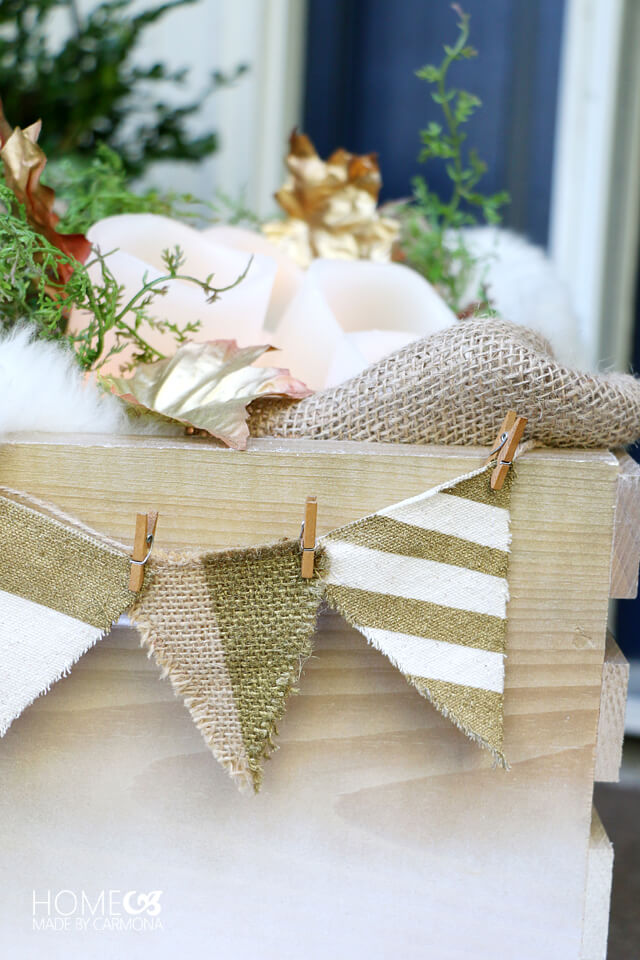 By the way, this isn't just a great fall craft. Once the weather turns cold and Christmas planning begins, add a faux sheep's wool along with the burlap…it will raise your project to a cozy chic winter styled wheelbarrow!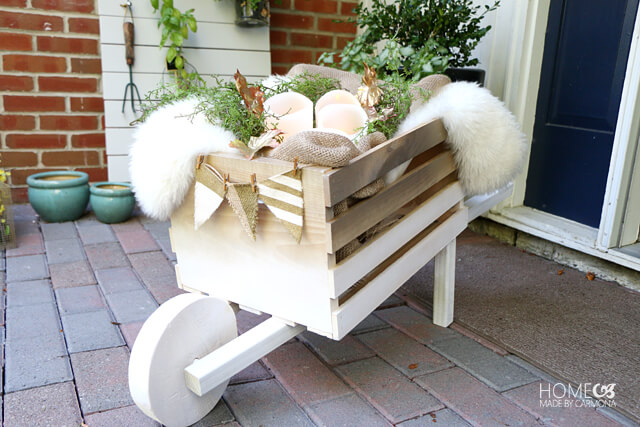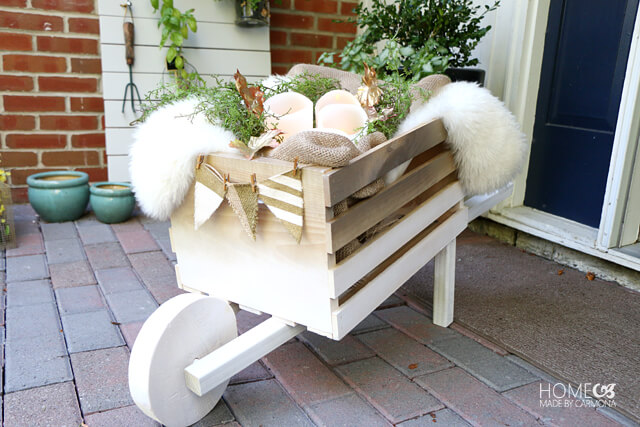 If you attended (or plan to attend) one of the DIH Workshops and learn how to make this (or any other awesome project for that matter), please do share how you decorated it with me on Facebook or Instagram with #DIHWorkshop (don't forget to tag me!!). I know ya'all can rock this DIY, so don't be shy!
For some additional fun, snap a shot of yourself at the DIH Workshop with your best power tool pose…because we all need superhero power tool poses. Just say'in. 😀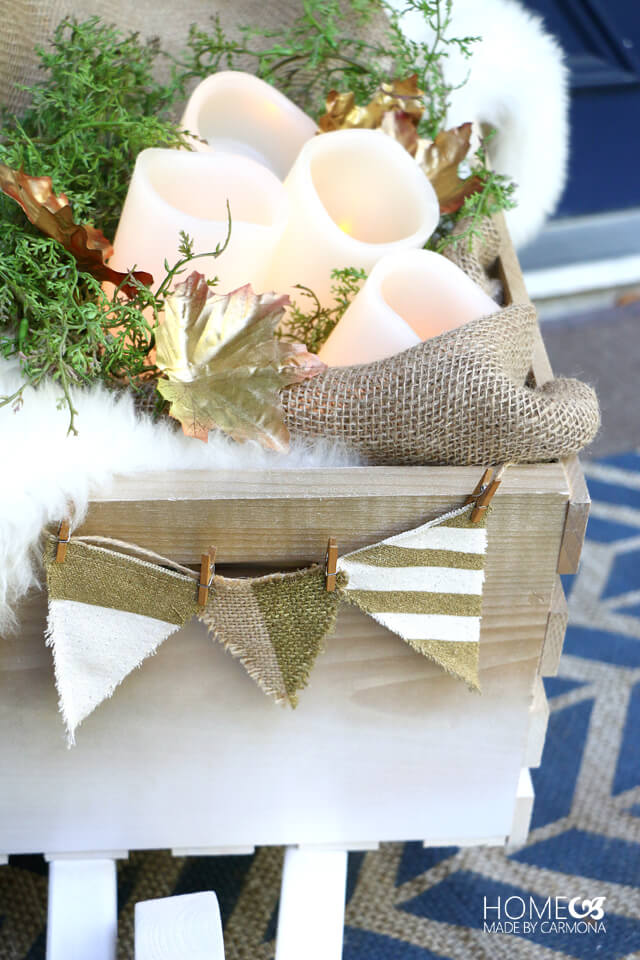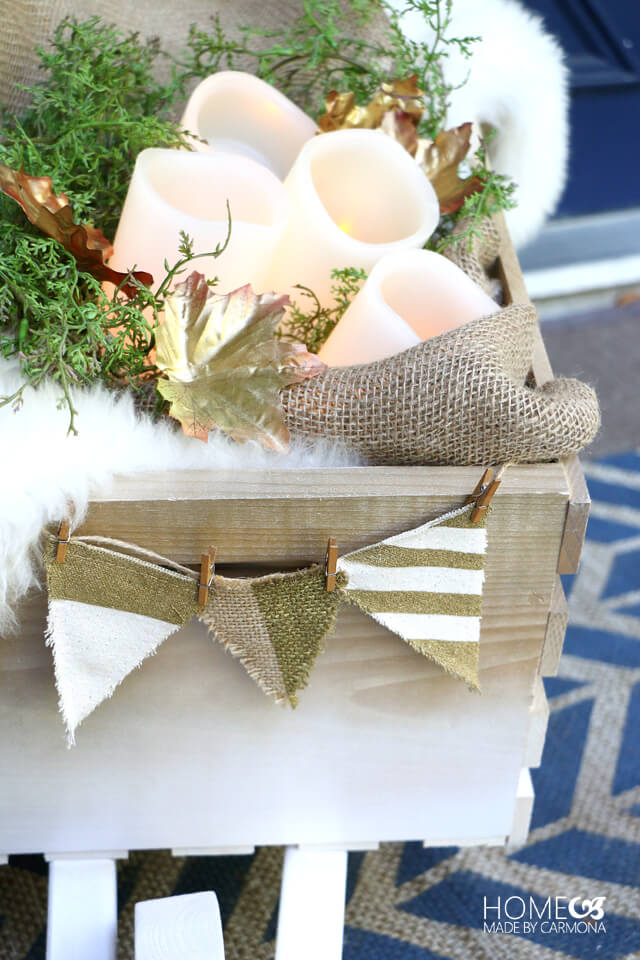 I hope you like how I decorating my Rustic Wheelbarrow ( I know, I know, I kinda took the rustic right out of it…well, got to be true to myself!). Now go check out what my peeps did with theirs!
Happy DIY'ing!
[left]
Place of My Taste
[/left]
[right]
Averie Lane
[/right]
*A special shoutout to my peeps at The Home Depot for sponsoring this post! The Home Depot is my real life one-stop-shop for building and DIY needs, so I'm pretty honored to be a part of this virtual party. I received compensation for this DIY, but all thoughts, opinions, and words are always my own.


[go_portfolio id="diy_gallery"]