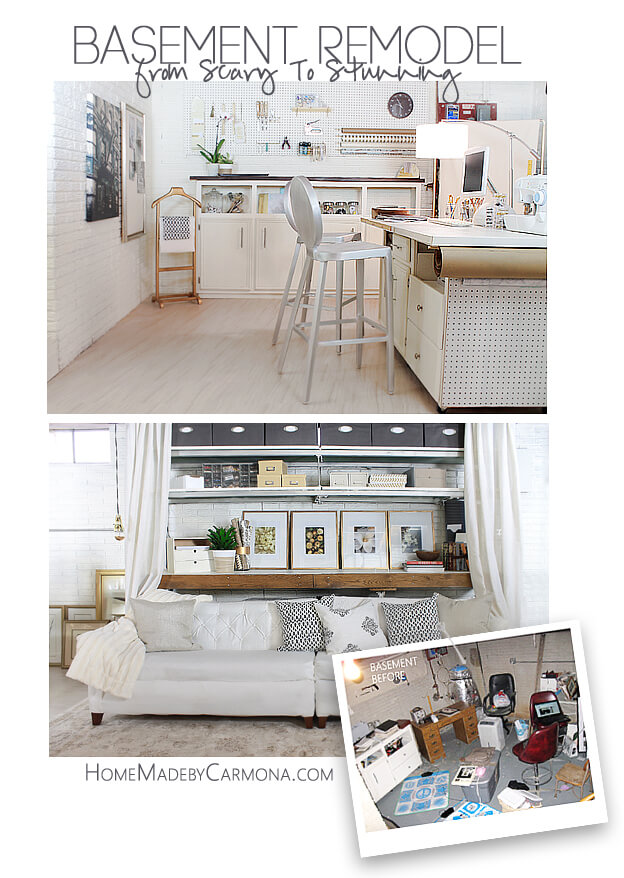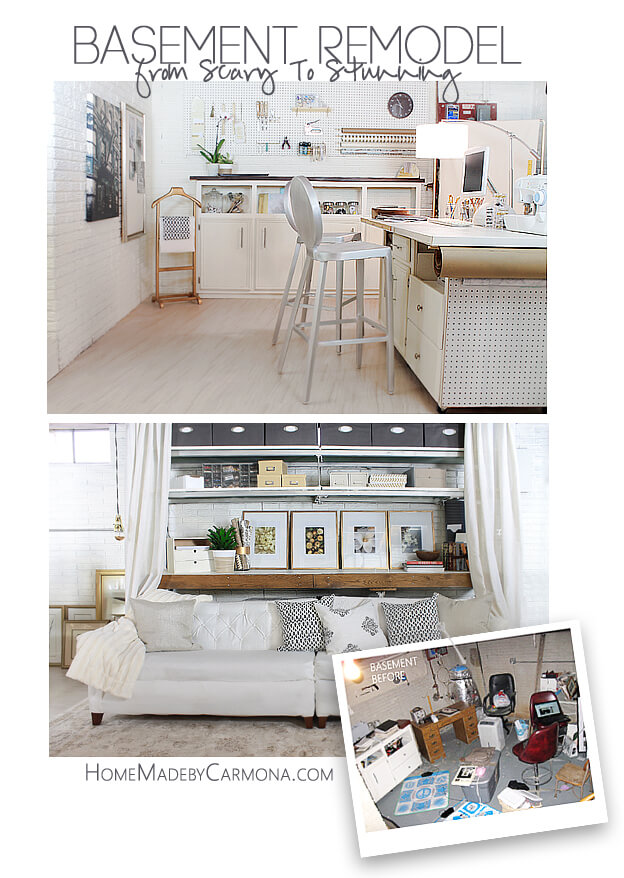 *This post is sponsored by The Home Depot (who I'm convinced is my fairy godmother)
I've never loved the idea of a basement, they are dark, damp, and cold. Plus I'm convinced the boogie monster (aka the mice) have overrun mine. Worst, our basement became kind of the catch-all for miscellaneous items we didn't know where to place…that means it was an excellent breeding ground for who-knows-what. We started stashing things down there when we first move in, it was just a glorified storage room.
One day I went down there (after not having been down there for several months), and lo and behold the floor was totally covered in random junk, not a single bit of floor showed through…it turns out the kids would stand at the top of the step and toss miscellaneous items they didn't know what to do with into the basement then run (grenade!), they were so afraid of the "creepy basement".  It was so hard to keep organized, even I gave up. I wished I could just lite the whole thing on fire and call it a day; sadly it is attached to my house, so that probably isn't a solution.
It turns out the kids would stand at the top of the step and toss miscellaneous items they didn't know what to do with into the basement then run (grenade!), they were so afraid of the creepy basement!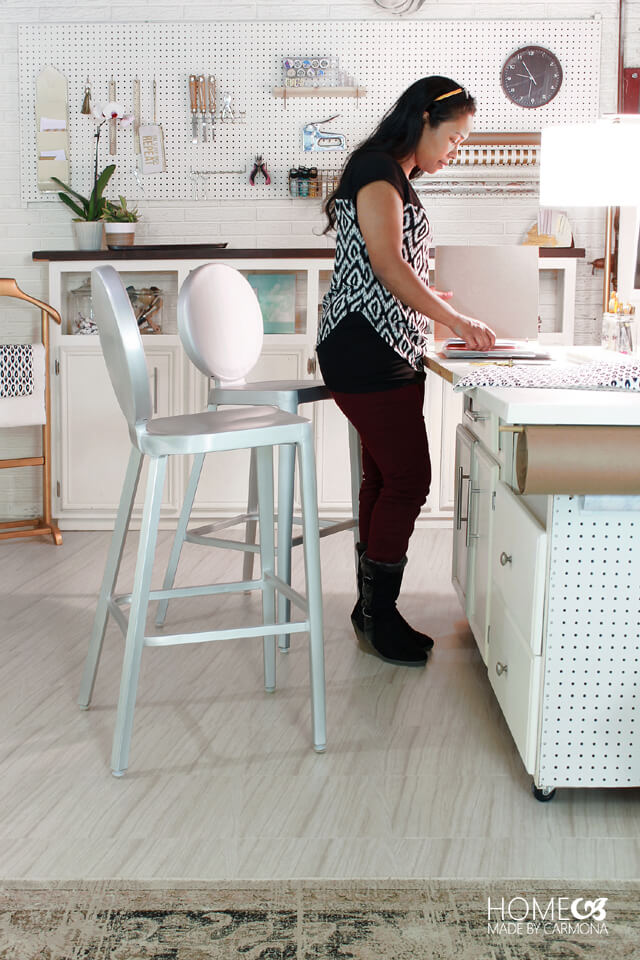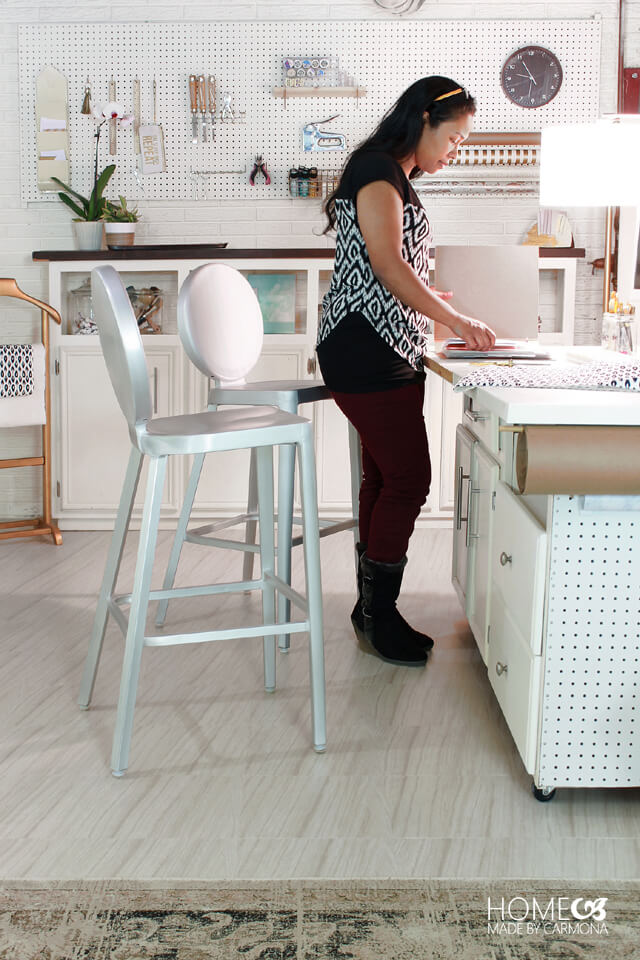 Then one day The Home Depot swooped in and saved the day, orange cape and all! Seriously guys, when they asked how I would like to try out my choice of Vinyl Tile (I chose Limestone Linear), I suddenly a ton of inspiration and motivation. I have lots of experience with vinyl tile from Home Depot, both in my old house and here in my current home. I know the power of great flooring to kick off a makeover. I also know how wonderful it is to have the ability lay the flooring yourself when you are on a tight budget. You can see my how-to on laying vinyl tile flooring here on The Home Depot blog.
But wait, it didn't end there. Not only would they provide my choice of flooring, but whatever I needed from the Home Decorators collection to make my space beautiful. Guys, good news, I think my fairy godmother is The Home Depot. It all makes sense now…I always felt special when I walked into that orange hardware palace…like I was the princess of DIY'ers and anything was possible. 😀 I gave a resounding "um yes please" (trying not to sound desperate), and so in a few short weeks my scary basement has gone from a loathsome space to my absolute favorite space in the house.
Ok, want to see the before pictures? Are you SURE you want to see the before pictures? It's really really really bad. As in. I-have-to-hide-my-face-to-show-you-these, bad.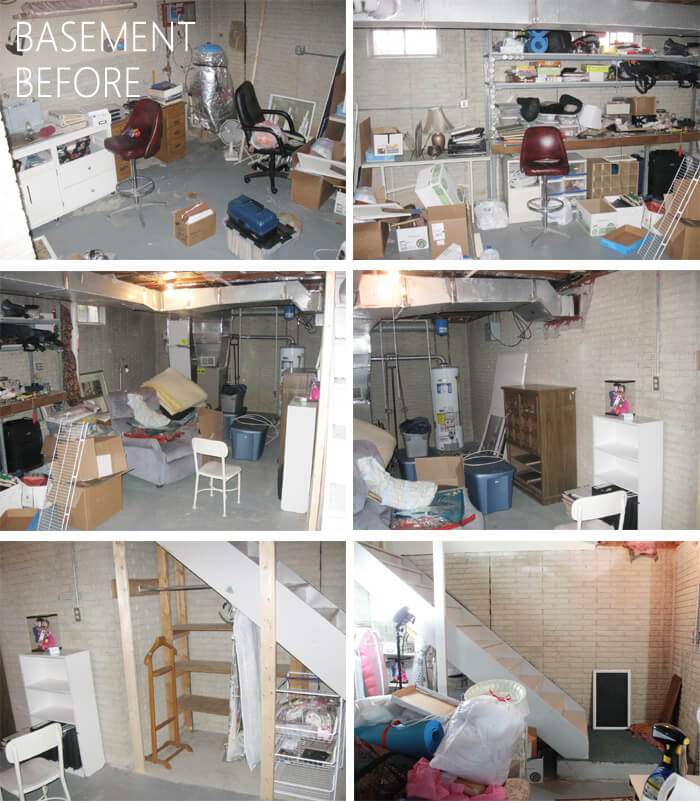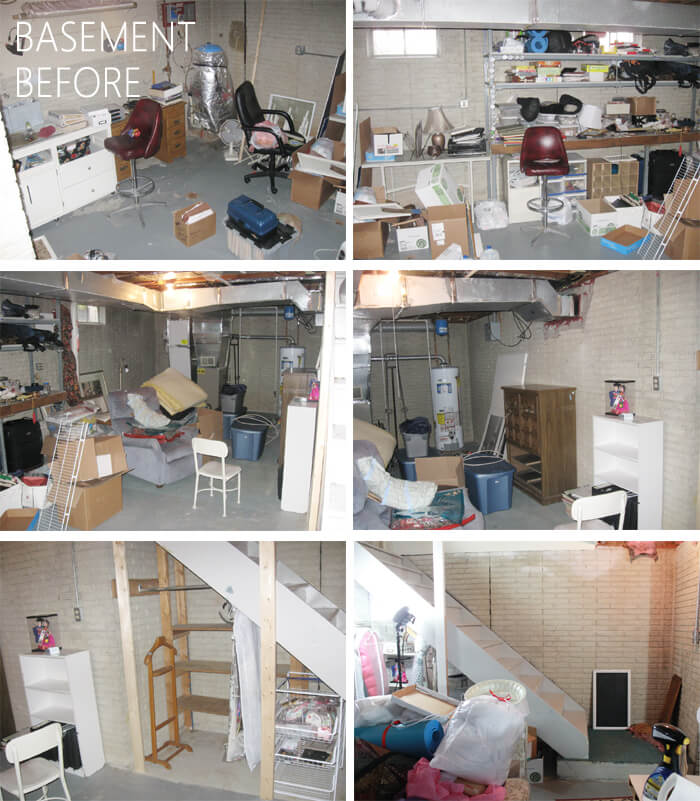 Oh it's a good thing I can't see your face. Are you twitching? I'm twitching. It's really bad right? Now you know why I wished I could just light it on fire and not deal with it right? But it's ok! There is a happy ending to that scary story!
Ready to see the after?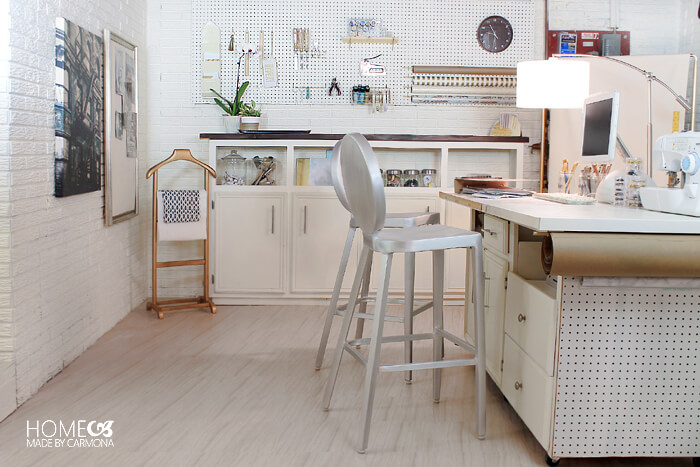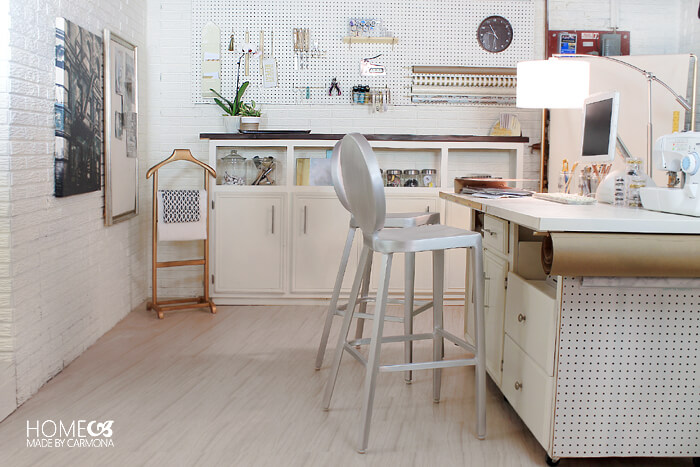 Welcome to my brand new craft room! I made myself a work table and added cabinet storage from a set of old dingy kitchen cabinets someone threw out and I happily dragged down the street to make good use of. They got quite a bit more than just a paint job, but that is an entire post for another time.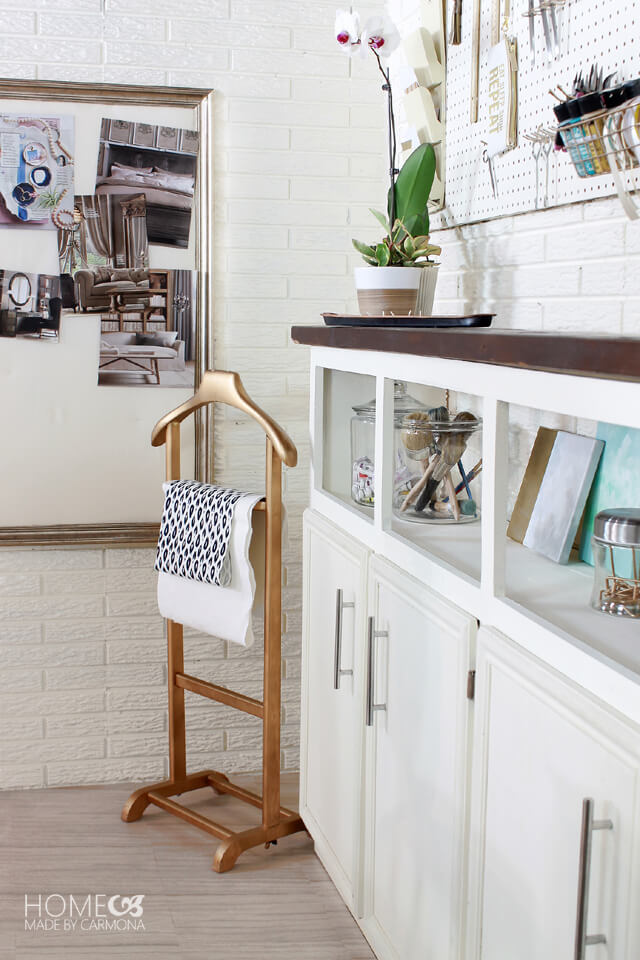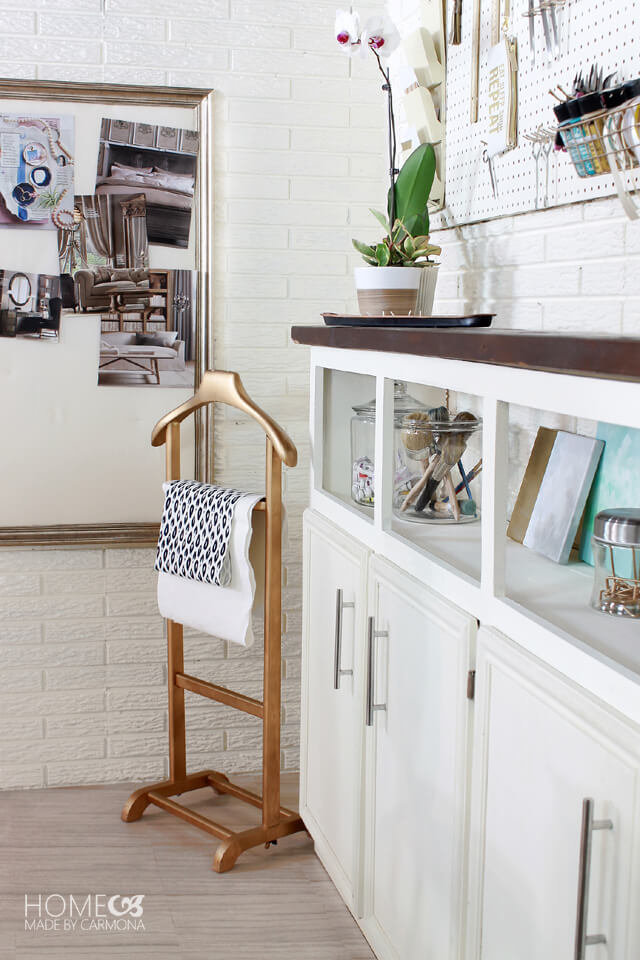 And of course every basement turned craft room requires lots of storage space. I like to make the most of vertical space with DIY pinboards, and pegboards…I had to content myself with one of each since the walls were concrete brick. Otherwise I would cover all four walls in pegboards and cork boards if I could have without drilling permanent holes in the concrete walls.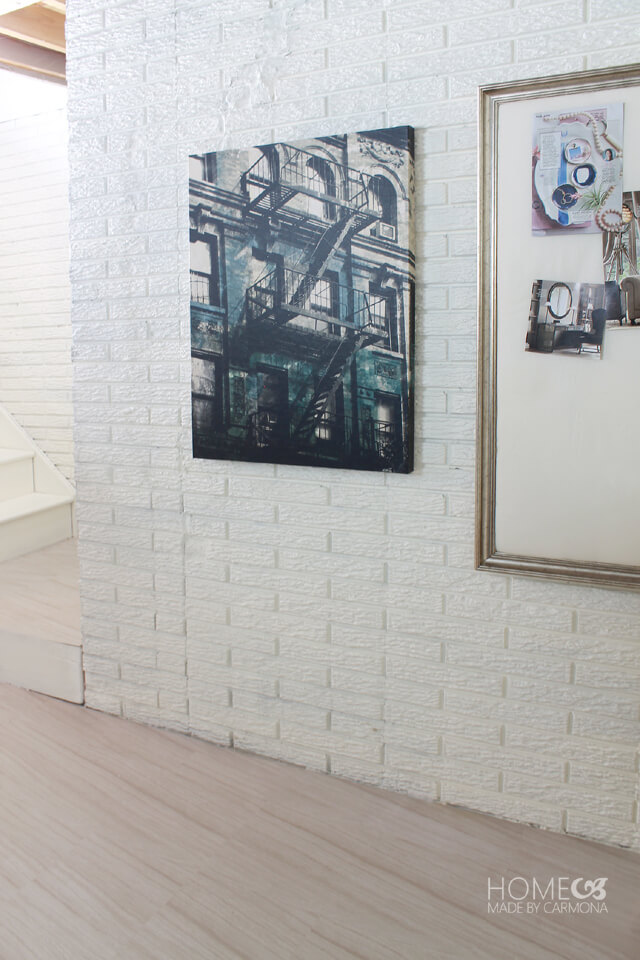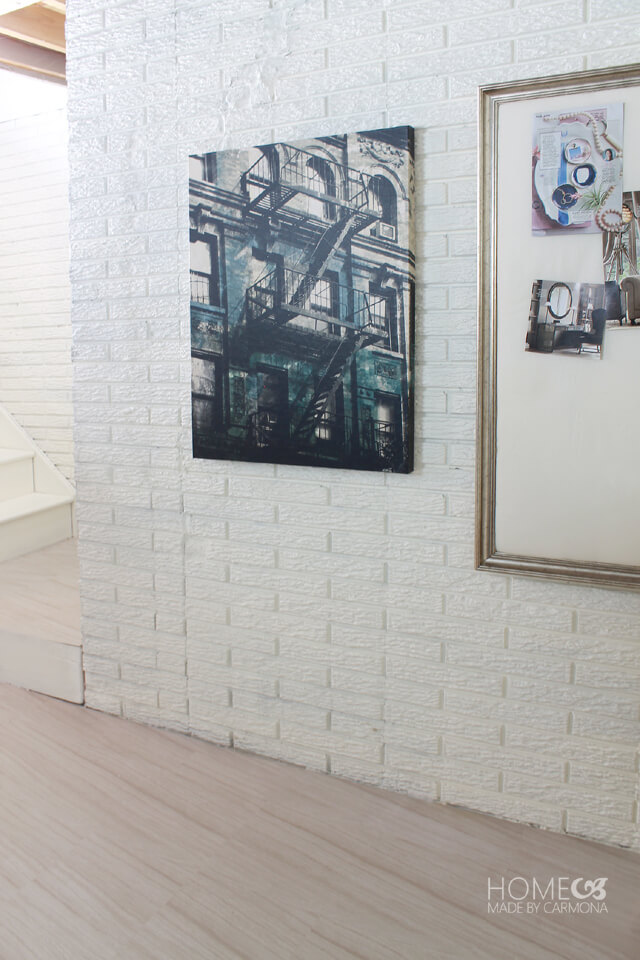 Instead I made one large DIY pin board from a frame to keep all my magazine clippings, fabric swatches, and other plans or inspiration. I couldn't resist adding one more hole for a stunning piece of artwork. You know me and art, I have at least one pretty piece in every room of my house (even closets!).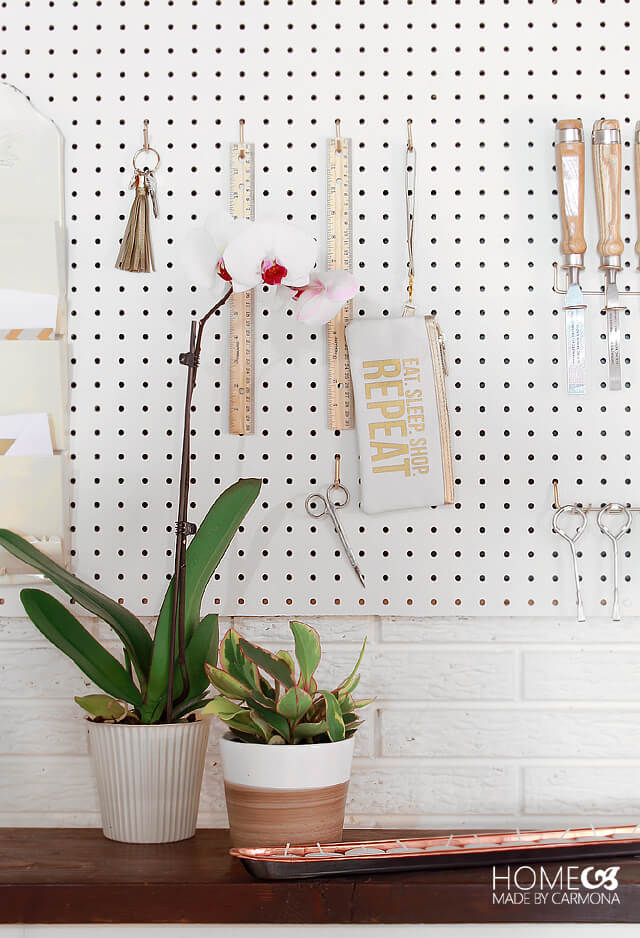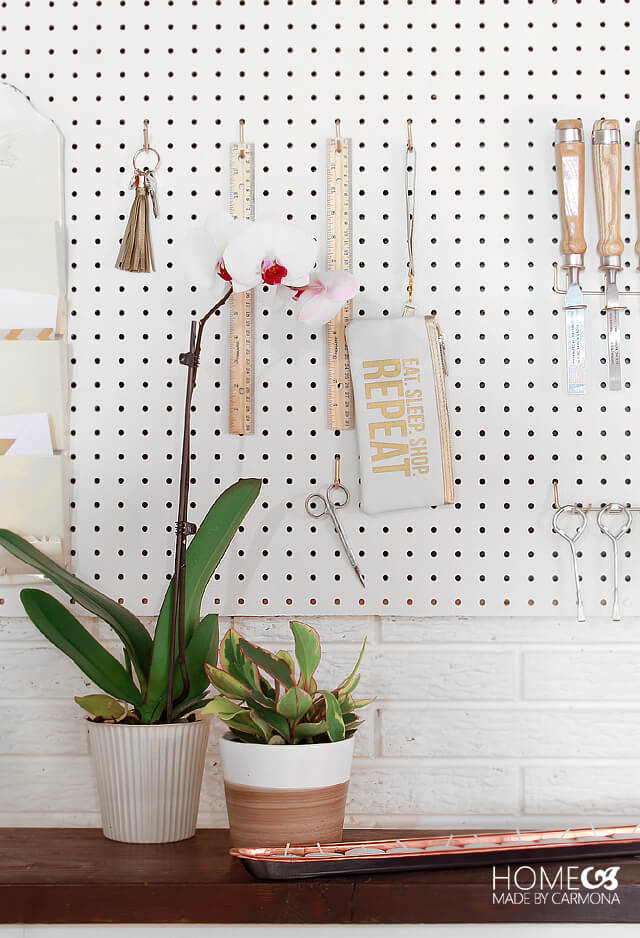 Don't you just love my little coupon holder? I wish there was one that said eat, sleep, diy, repeat.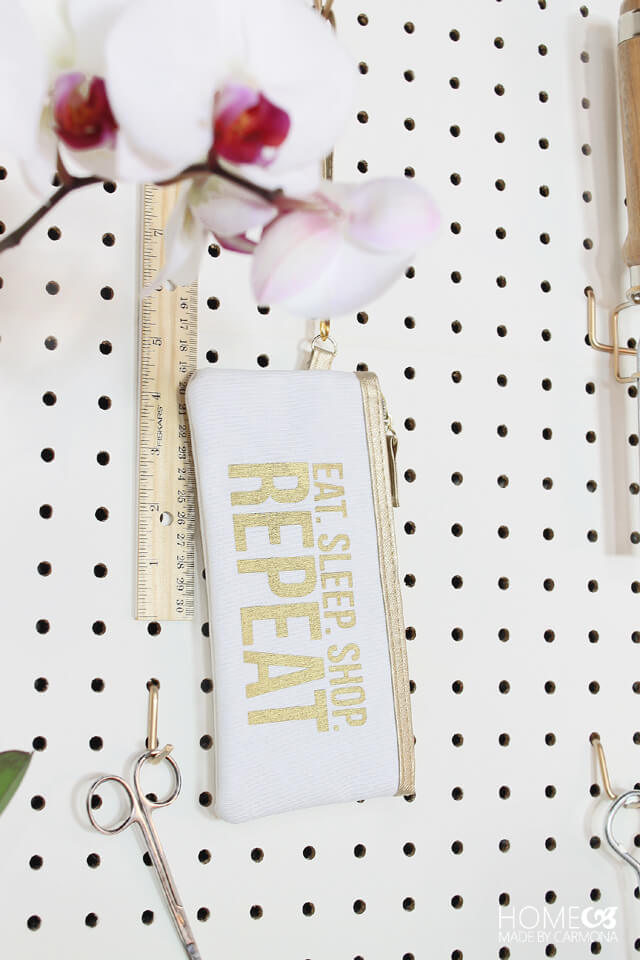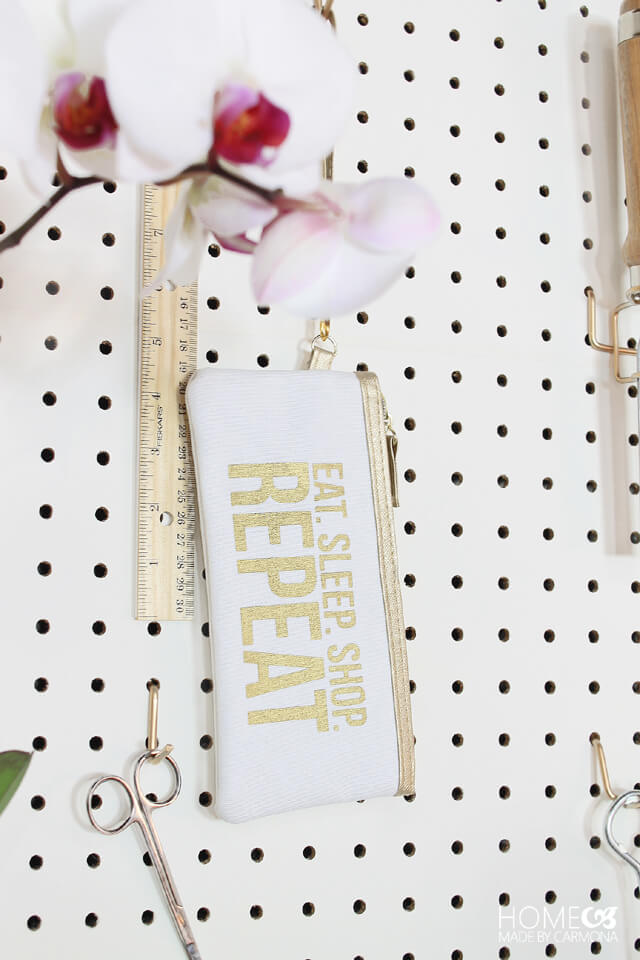 I love stylish open storage, and since a pegboard should look as amazing as it functions, a little gold spray paint job made all the pegs and wire holders a beaut! I'm actually stalking my local thrift shop for more nifty little fifty cent wire baskets.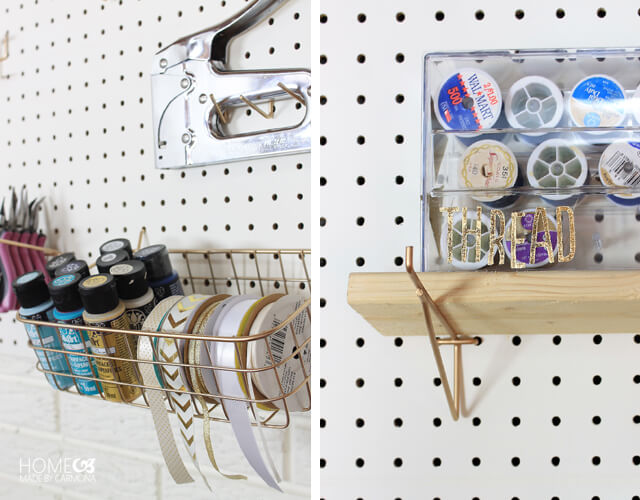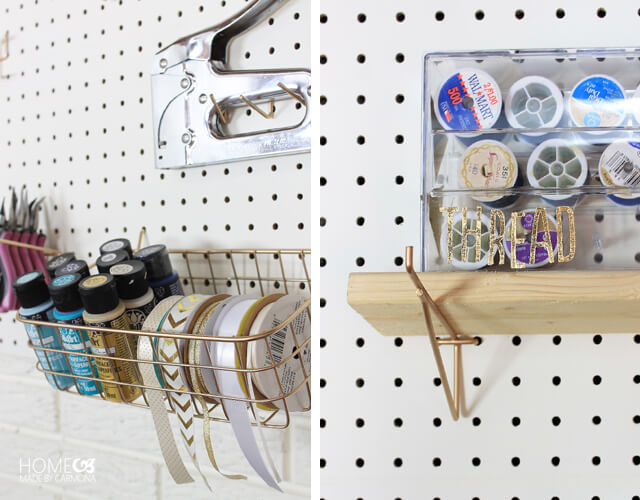 It is always the little details that make a big difference, both when it comes to design and when it comes to storage!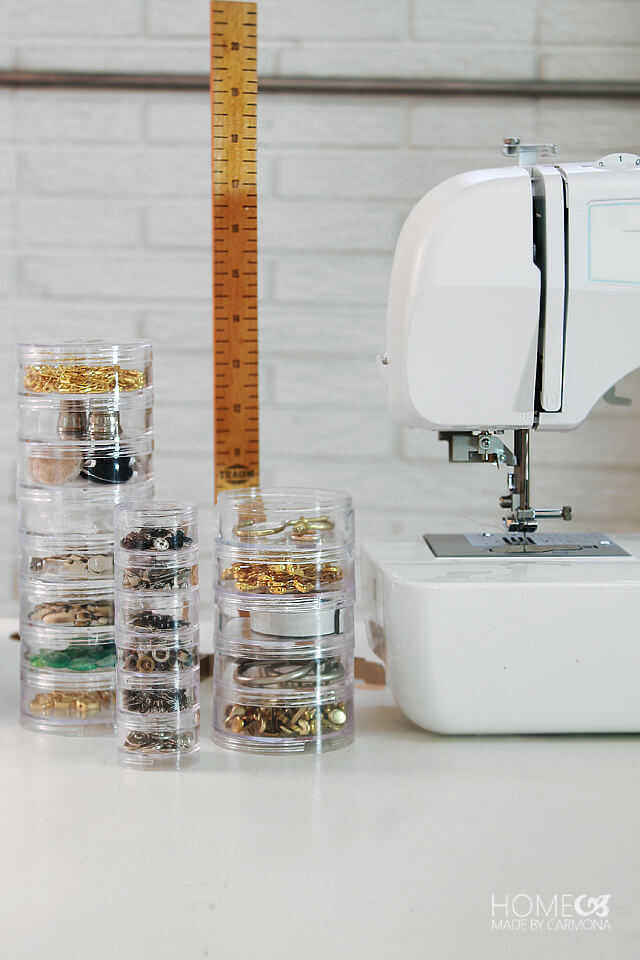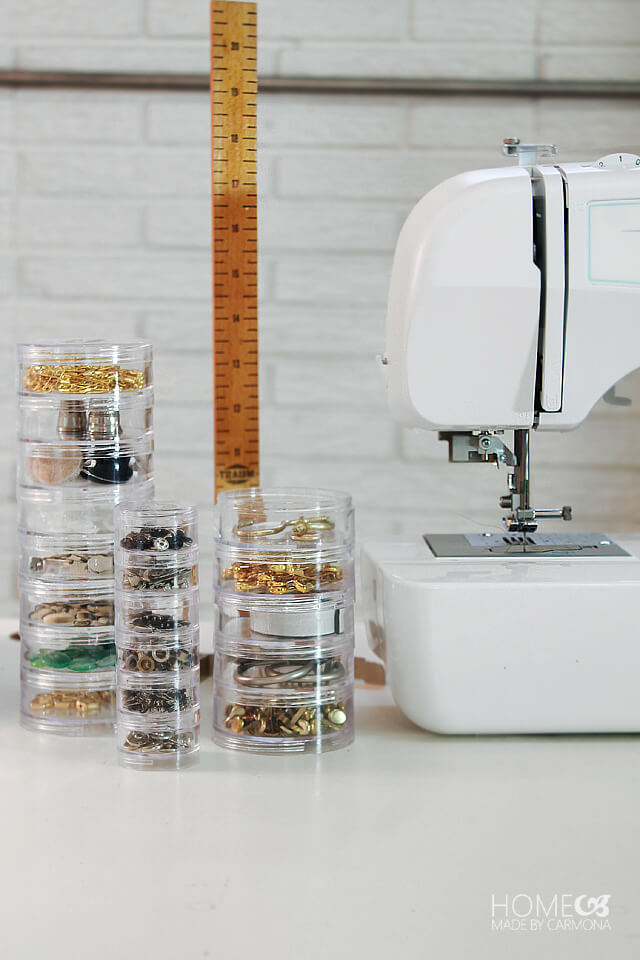 I always like to bring greenery into a space, and a little candlelight never hurt anyone. After all, you never know when this space is going to suddenly turn into a guest room. I often have more guests than my house can handle in one sitting.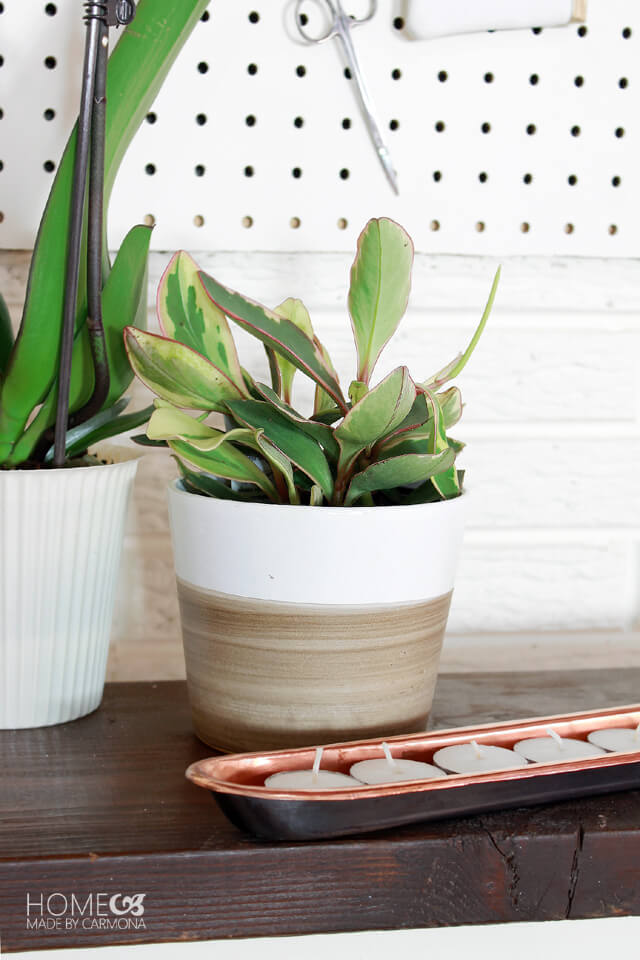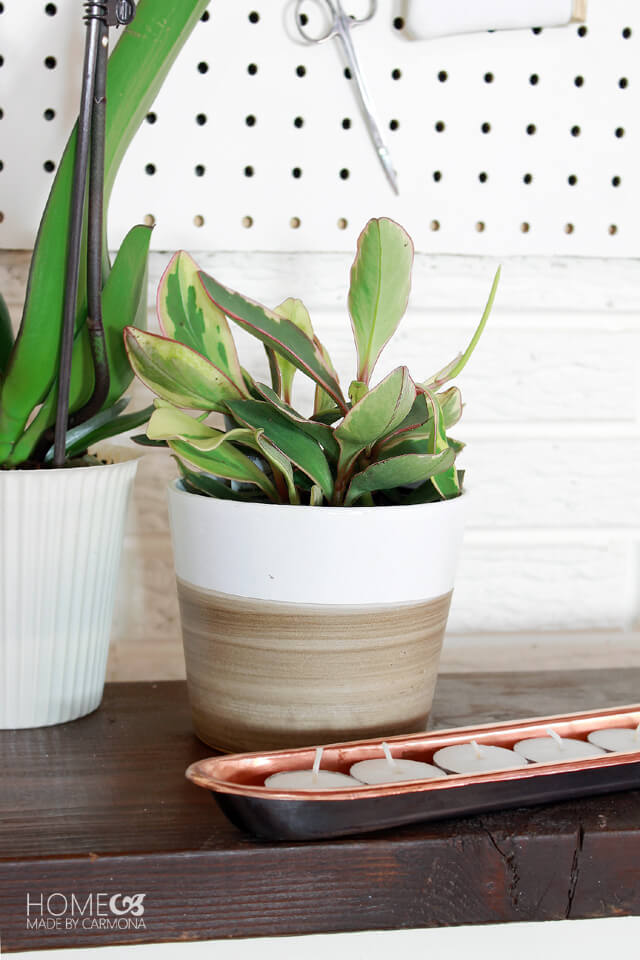 My basement is a fairly decent size and runs long rather than wide. This made it easy to divide the space into zones. You just saw where all our crafting is done, and now welcome to the seating and living area.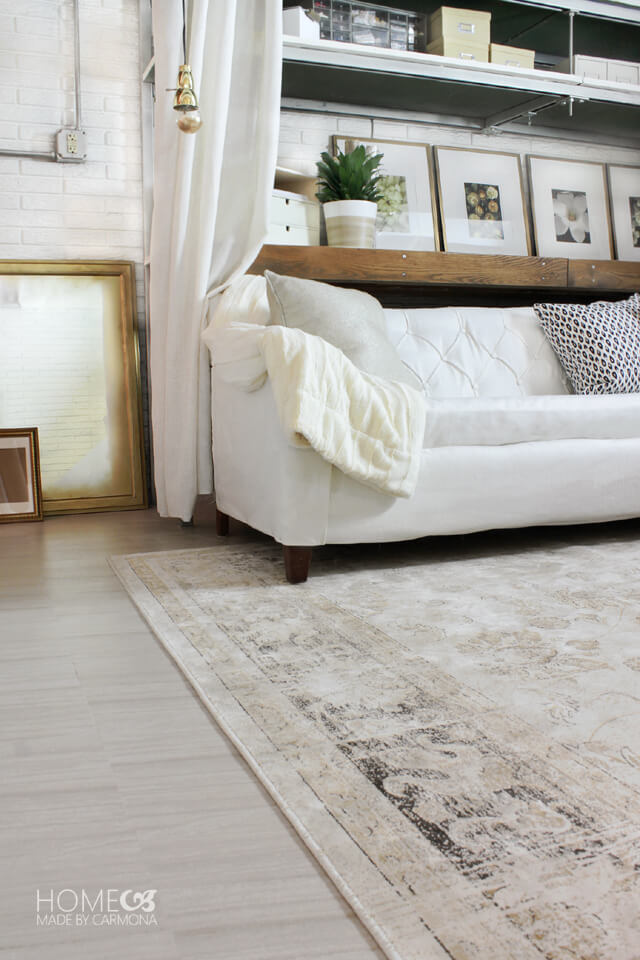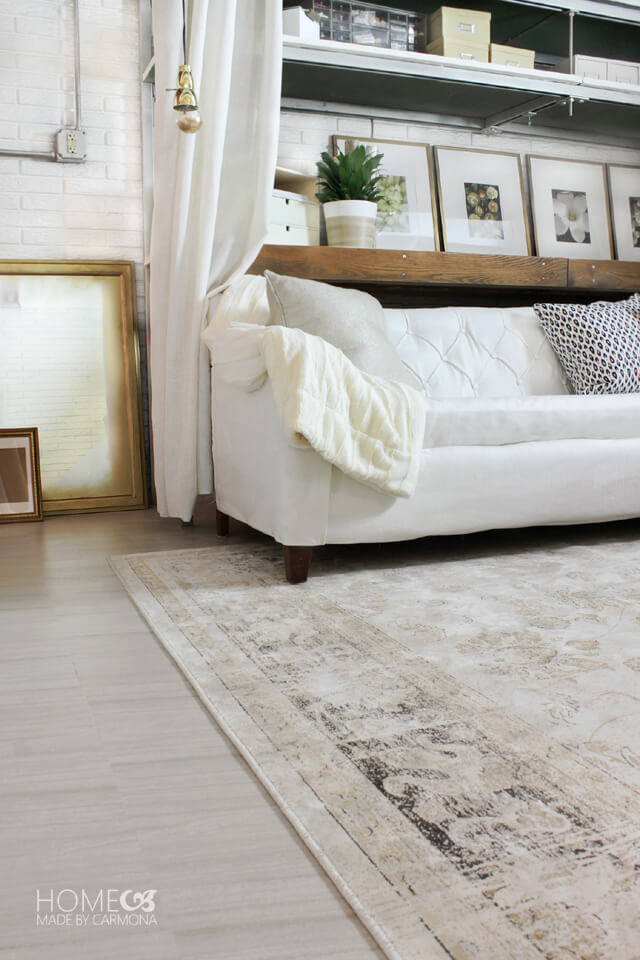 I placed a beautiful area rug to clearly mark the start of the seating area. It has proven a fantastic space to entertain fellow moms while our kids work on crafts nearby. Some evenings it even has become my own special mom cave where I sprawl out on my couch with my laptop and peruse Pinterest. Then should inspiration strike, I jump over to my work table and can get my craft on!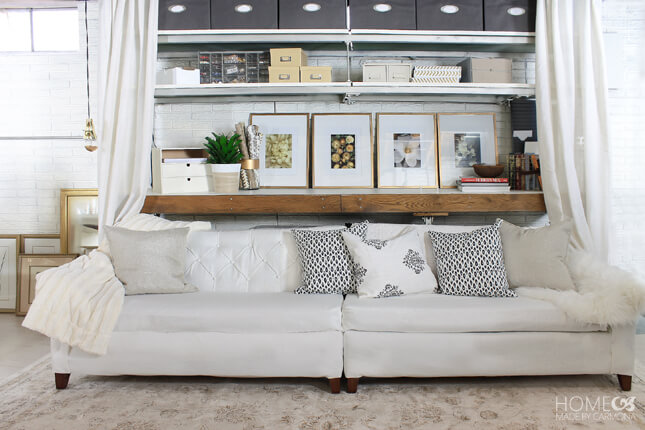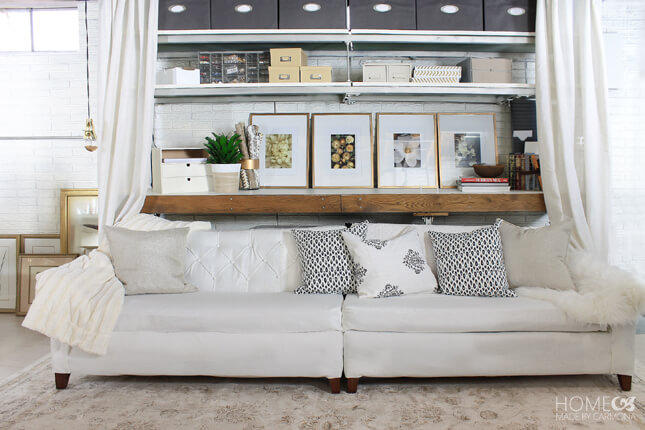 Just because it is an area to read, visit, and lounge doesn't mean it shouldn't have tons of storage as well. I'm lucky that the previous owners had these large floor to ceiling shelving put into the basement. They weren't too attractive before, but with a more true chrome colored spray paint, and white on the shelves, it looked a little more like the attractive industrial style we all love. I'm also in love with those clear zip top Aubrey Bin storage cubes on the top shelves; they keep dust out, and junk well organized.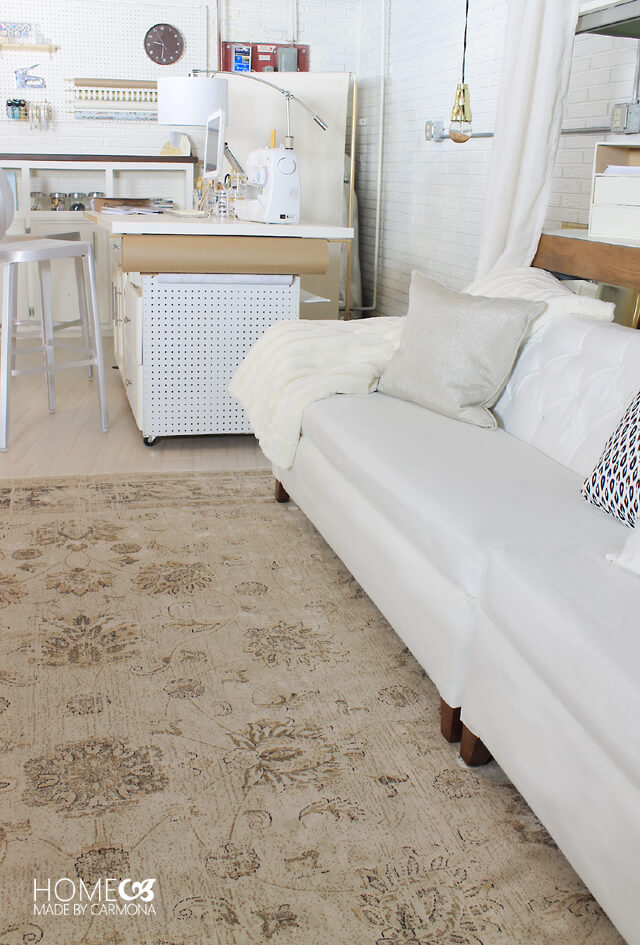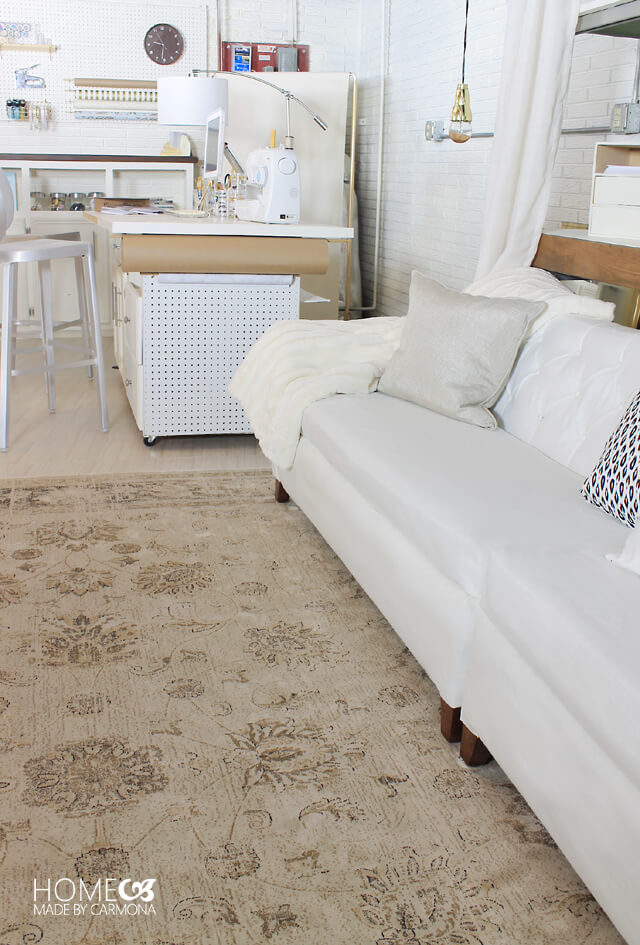 There is yet more storage under the stairs…well you saw how much stuff we have right? 😀 It had to go somewhere…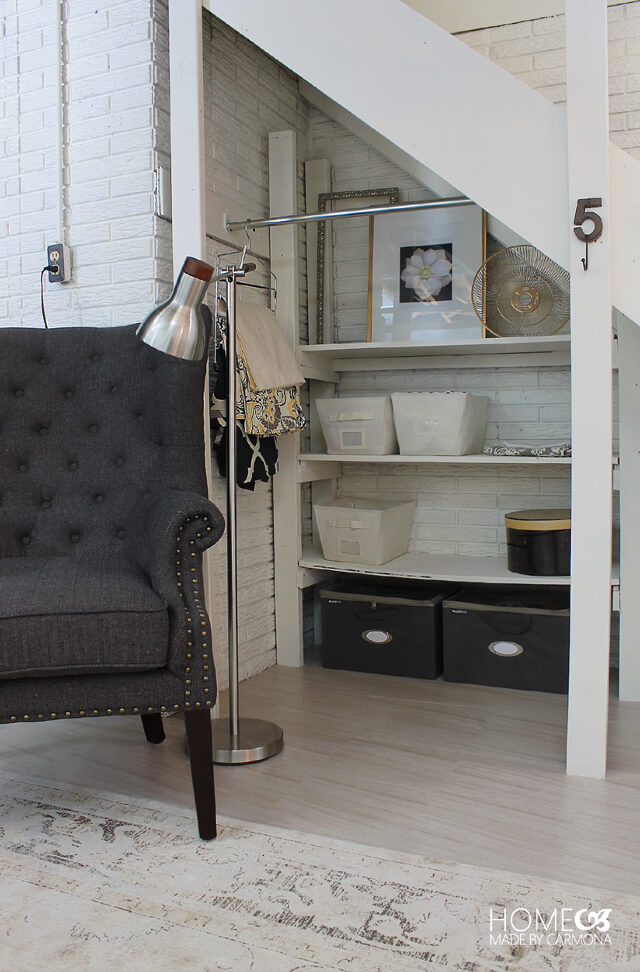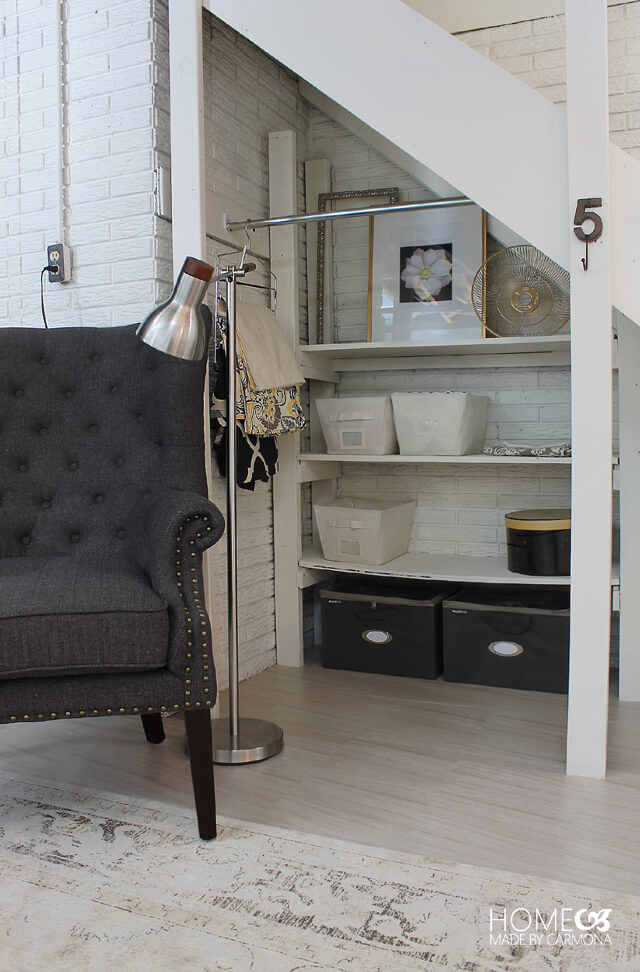 After all these years I finally have the craft room I've always wished I could have, and just in 3 short weeks of hard work. Who knew it was there all along in the unused space of my basement?


In addition to these beautiful items, I also purchased an adjustable arc floor lamp, a few indoor plants, and really cool white bamboo ceramic pots, all from The Home Depot. The flooring is Traffic Master Limestone Linear peel & stick vinyl tiles.
[col1]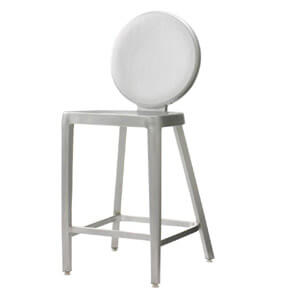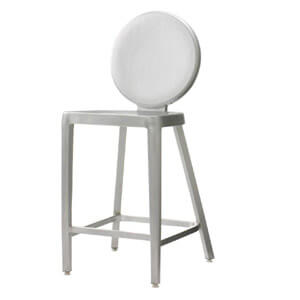 [/col1]
[col2]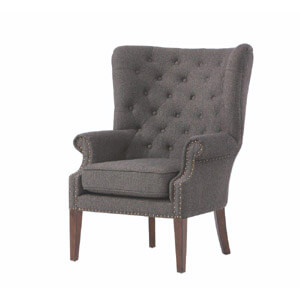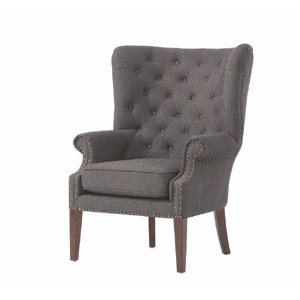 [/col2]
[col3]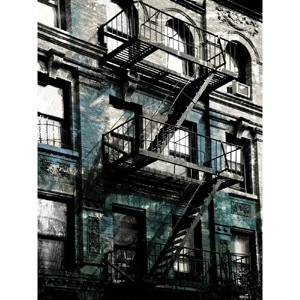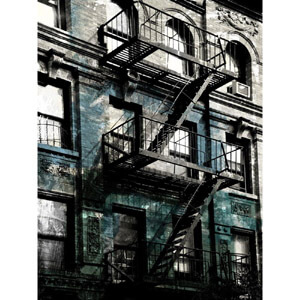 [/col3]
*An extra special thank you to The Home Depot for being my basement fairy godmother and sponsoring this post. 🙂 I acknowledge that The Home Depot is partnering with me to participate in this Vinyl Tile Program. As a part of the Program, I am receiving compensation in the form of products and services, for the purpose of promoting The Home Depot. All expressed opinions and experiences are my own words. My post complies with the Word Of Mouth Marketing Association (WOMMA) Ethics Code and applicable Federal Trade Commission guidelines.


[go_portfolio id="decorate_landing_page"]