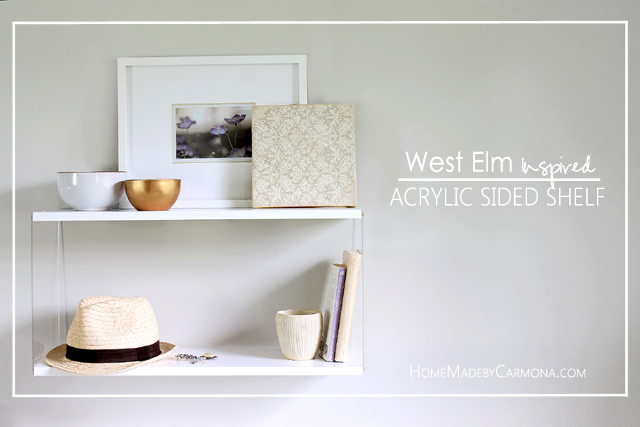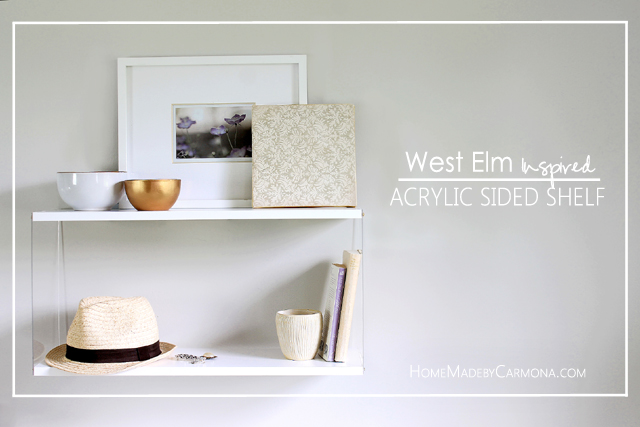 It's time for another installment of the West Elm Knock-off Series! Last time I showed you how to build a West Elm knock-off slab bench (which is an astounding $699) for a mere $15!! Today myself and these 4 amazing and talented gals are excited to share our latest West Elm knock-offs. Who say's you can't have your cake and eat it too? Here is what we're all up to:
TINY SIDEKICK – WEST ELM INSPIRED NOTICE BOARD
PLACE OF MY TASTE – WEST ELM DIY DEEP PICTURE LEDGE
MAKING HOME BASE – WOOD AND PIPE ENTRYWAY STAND
HOUSE OF WOOD –WEST ELM INSPIRED RECLAIMED CUBBY SHELF
HMC – ACRYLIC SIDED SHELF KNOCK OFF >>You're here now!<<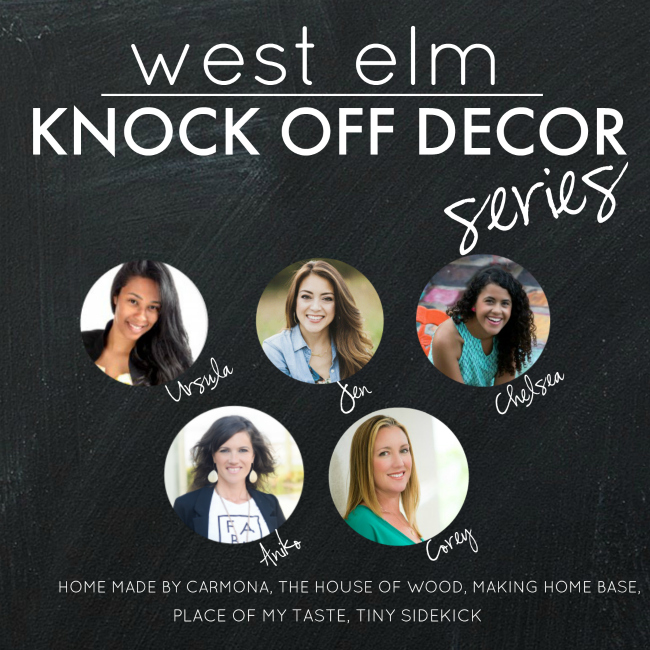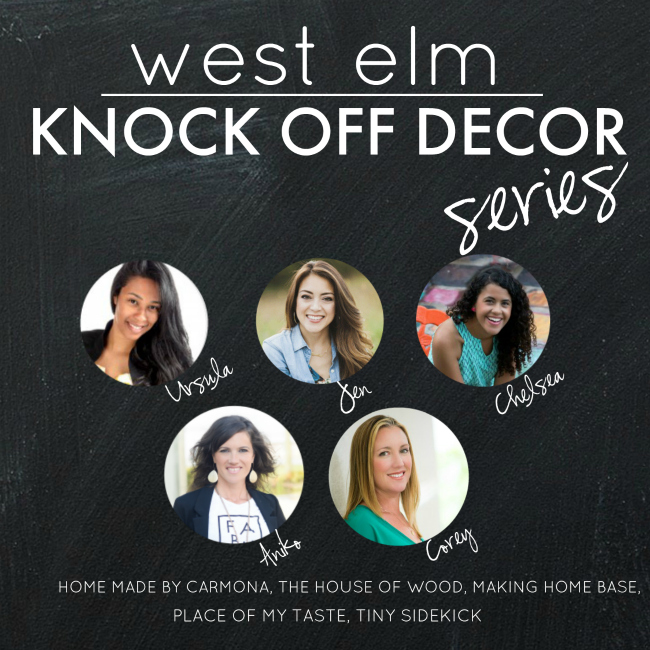 My daughter wanted as much beautiful storage space as I could cram into her room, so using vertical space to store things seemed like a no-brainer. We loved the idea of the West Elm Acrylic Sided Shelf, it is sleek and modern, but makes for attractive storage. Neither me or my daughter relished the idea the spending $189 per shelf, so here is our under $20 knock off!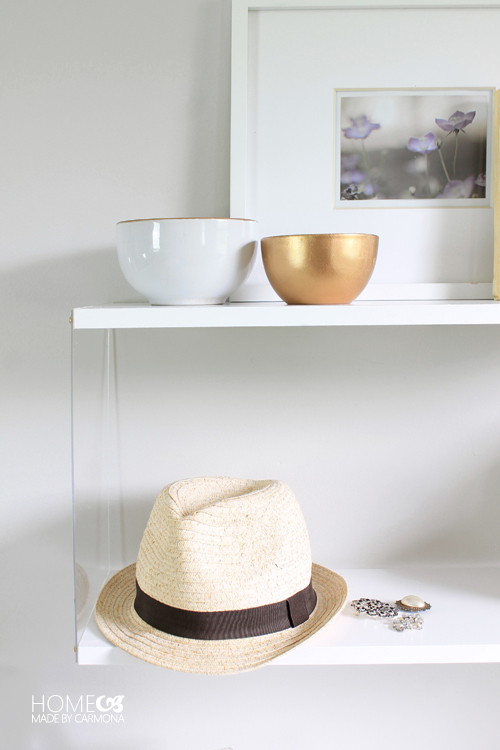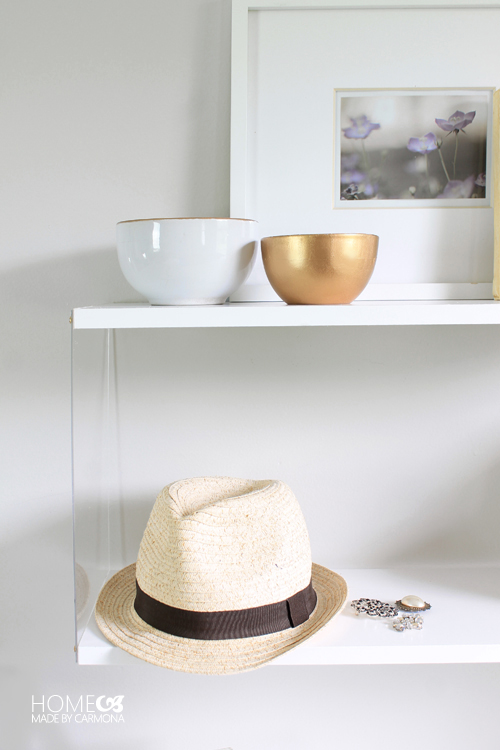 The original West Elm acrylic sided shelf has much thicker acrylic sides…which we could have done, but I'm keeping my costs down and this little knock-off cost me under $20 ($17.37 to be exact) . The thicker the acrylic the more expensive your project will be…just so you know. It will still cost significantly less than the original (by a LOT).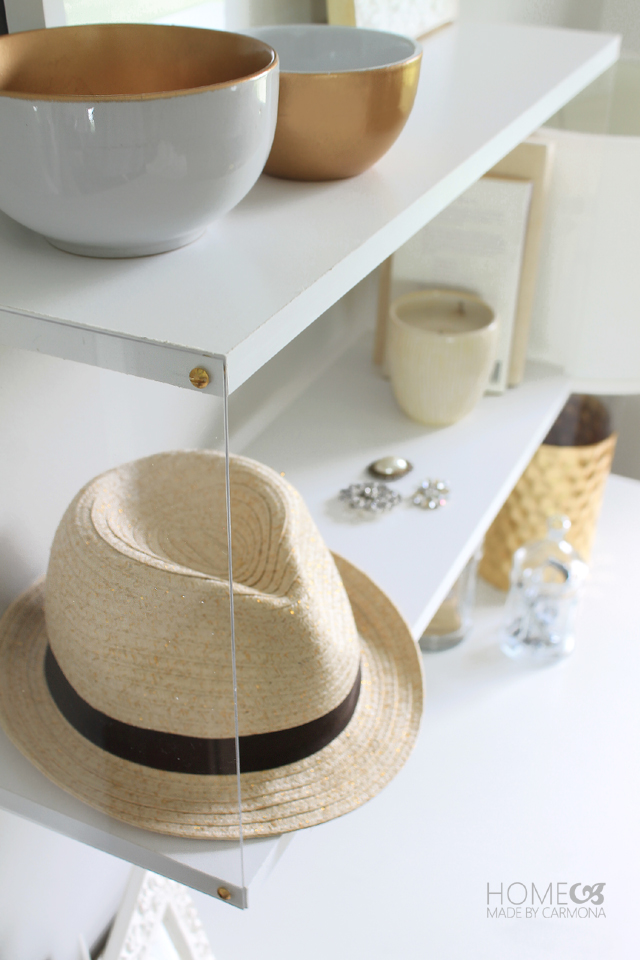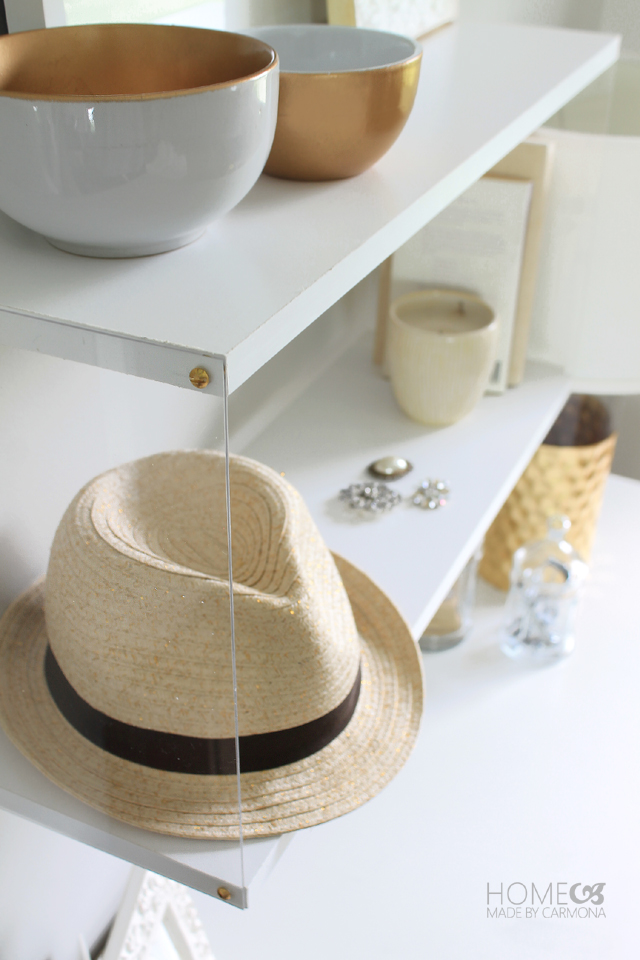 Want to learn how? It is ridiculously easy to make…the most complicated part is attaching it to the wall! 😀 Here's what you'll need.
MATERIALS
[line]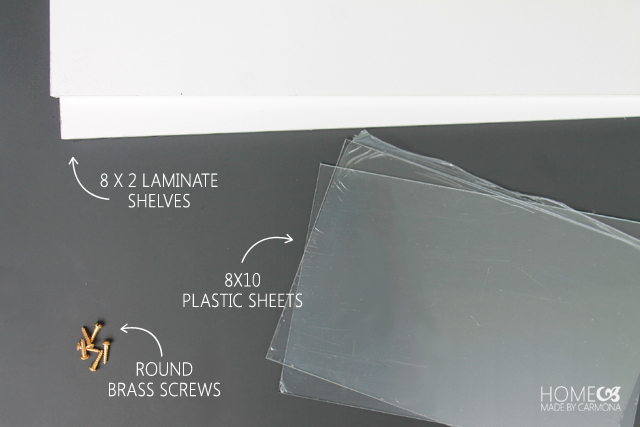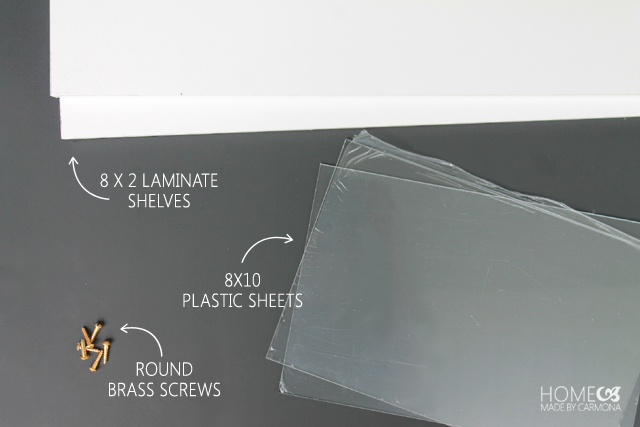 [left]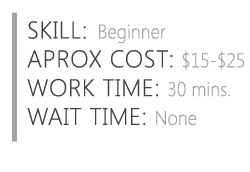 [/left]
[right]
Materials
Laminate Shelves: small size of choice, 8 x 24″ or smaller recommended
Plastic/Acrylic Sheets: Cut to the depth of the laminate shelves. 8 x 10 recommended.
Round Slotted Brass Screws: #8 x 3/4″
Blind shelf supports (must be slim enough to hide behind shelf thickness)
[/right]
LEARN THE STEPS
[line]
If you are wondering where to get your acrylic sheets, you can find them in the glass section of a Lowes or Home Depot. These small acrylic sheets cost $2 and change, and Home Depot cut them to size for me at no extra cost! I love when life is made simple…
Start by drilling holes in all 4 corners of the acrylic. It is like drilling through butter, so be sure you place it on a piece of scrap wood to drill through.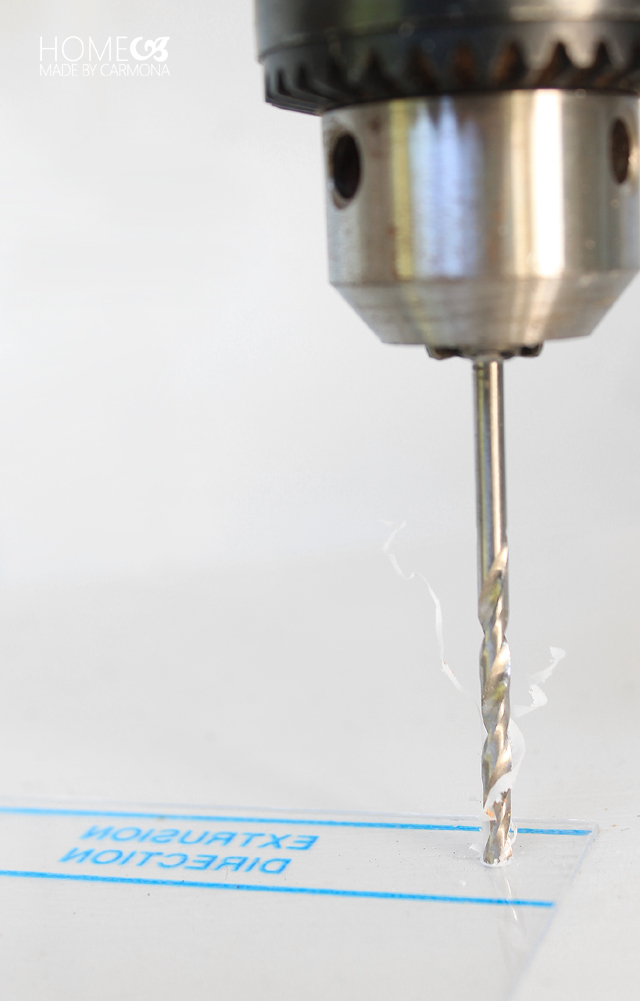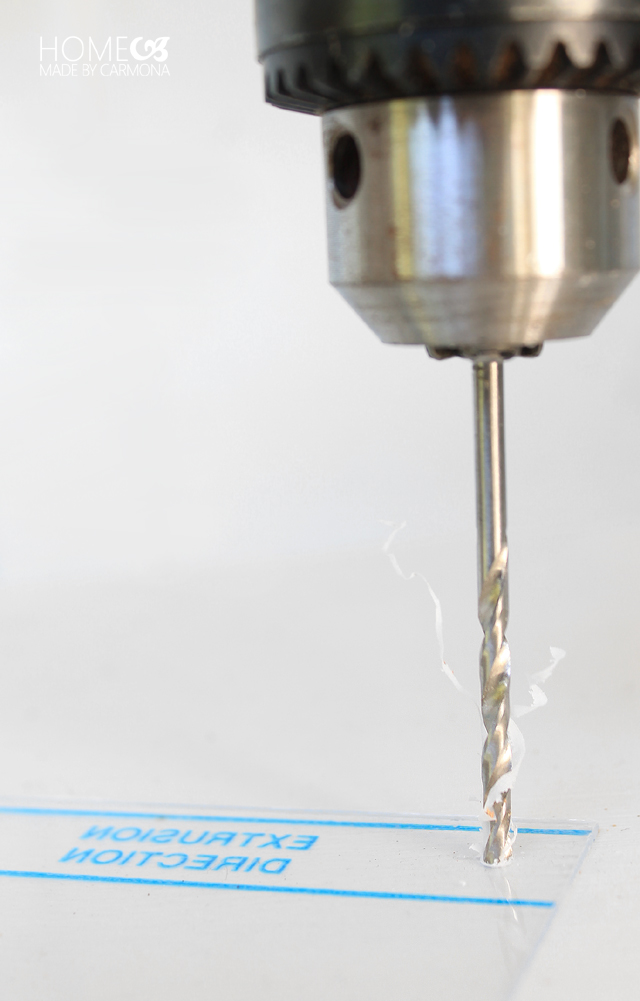 Next lay the acrylic sheets where they will sit against the laminate shelf and mark through the drilled holes. Drill shallow pilot holes into the shelf where you have just marked.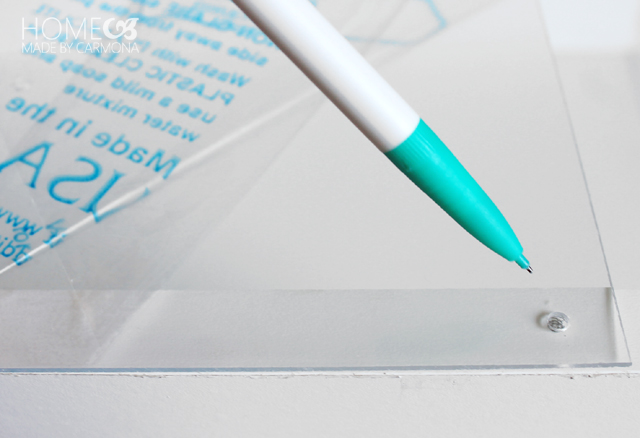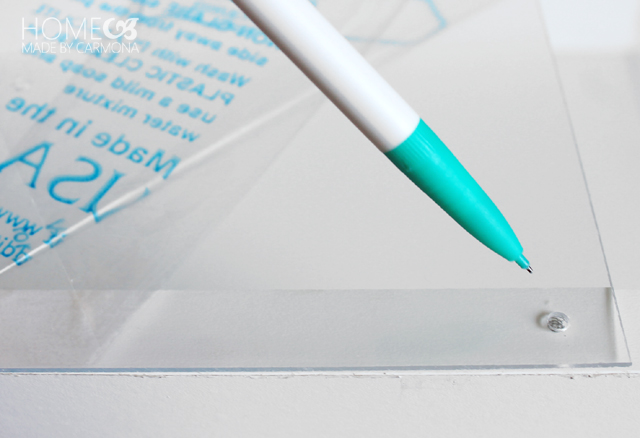 Now you can use your pretty round headed screws to hold the acrylic in place. Don't screw tightly, you don't want to cause stress lines or cracking in your acrylic.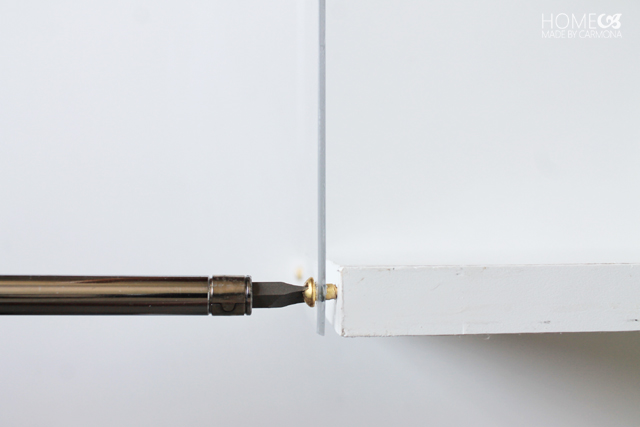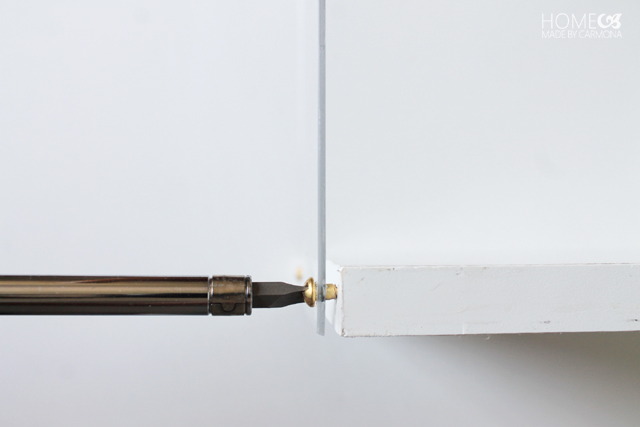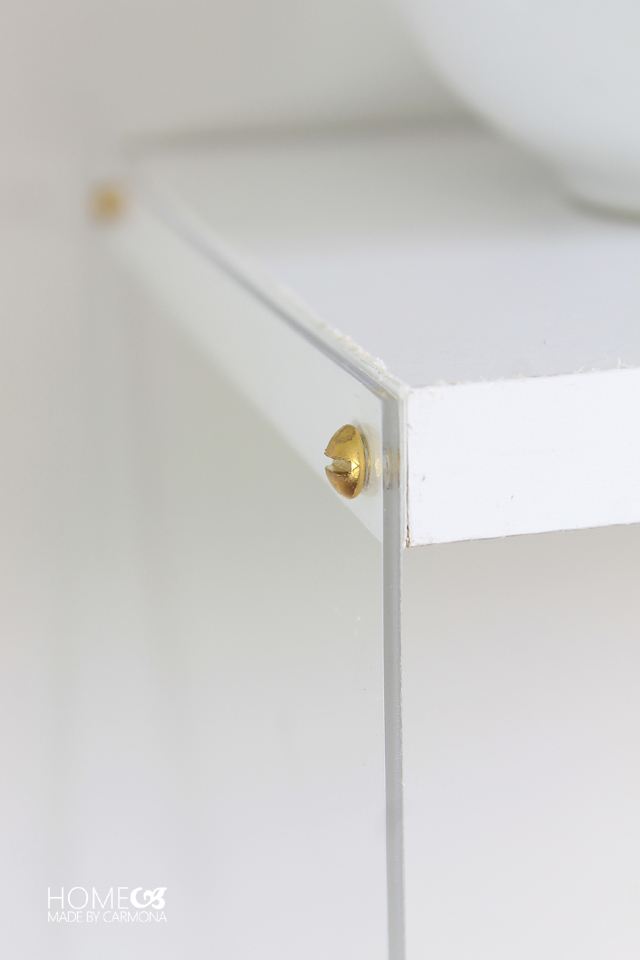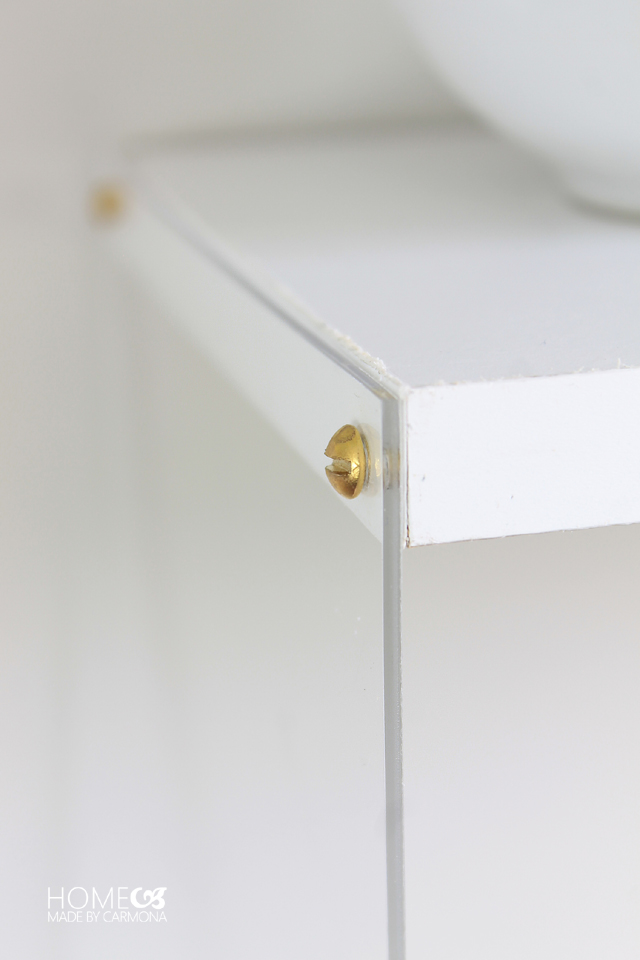 Use a long drill bit to create holes in the shelves for your blind shelf supports.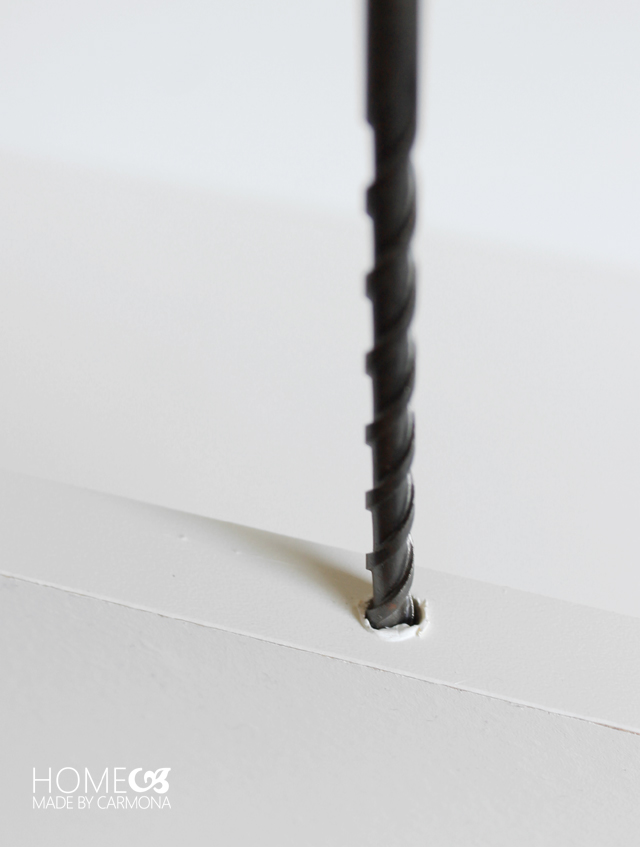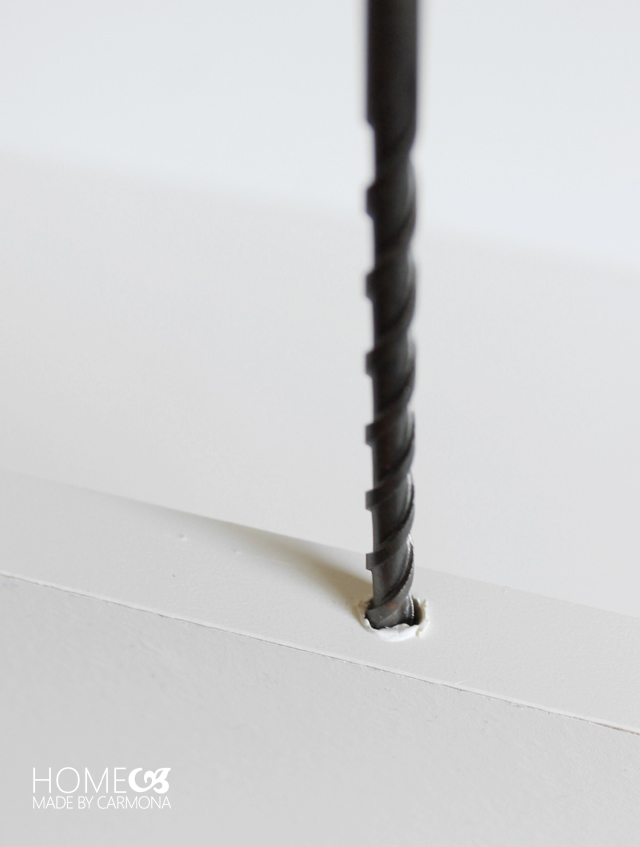 Now install your blind shelf supports, and hang your shelves! If you plan to place heavier items on this shelf (such as a number of books), then use two blind shelf supports on the top shelf AND the bottom shelf. Otherwise just the top shelf will do.


Not sure where to find blind shelf supports? There are a variety to choose from in different sizes around the web, just be sure you purchase some that the back end (that screws into the wall) will match the thickness of the laminate shelf you chose. You don't want it to show…they are blind supports remember? Here are a few choices:
[col1]


[/col1]
[col2]


[/col2]
[col3]


[/col3]
DIY BLIND SHELF SUPPORTS
[line]
OR do what I did and make your own version of blind shelf supports using long threaded rods. Anchor the rods into the shelf with heavy duty anchors, then slide your shelf onto the rods (it should be just a little snug, but still able to slide on with a minor amount of force). It is a much cheaper solution, but requires a bit more effort on your part. This solution works best when lightweight items will go on the shelf (supports up to 10 lbs).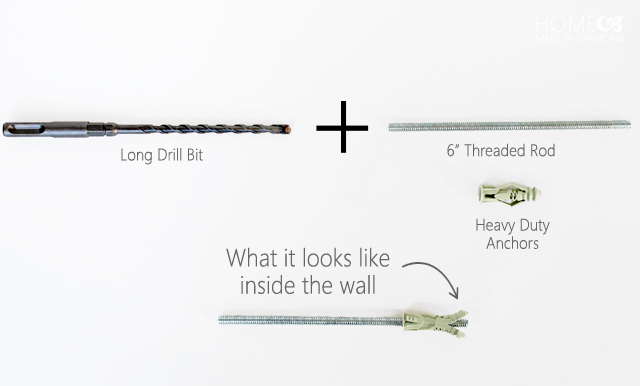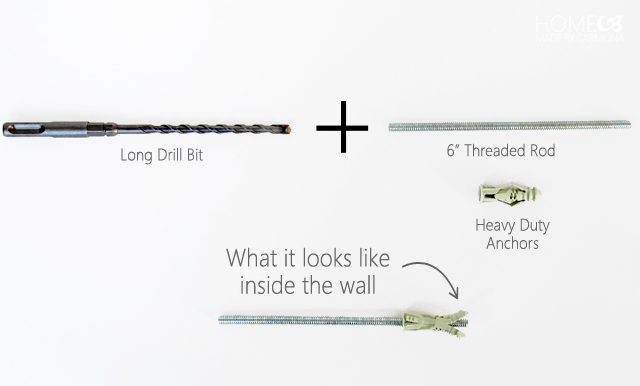 I hope you like my little knock-off project! My daughter plans to fill the bottom shelf with her collection of "gem like treasures", as she calls them.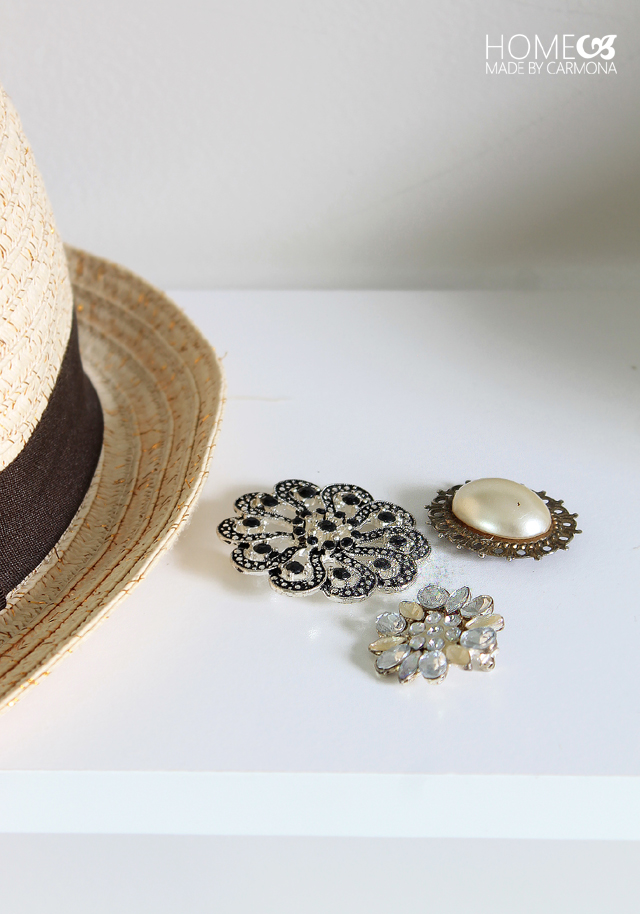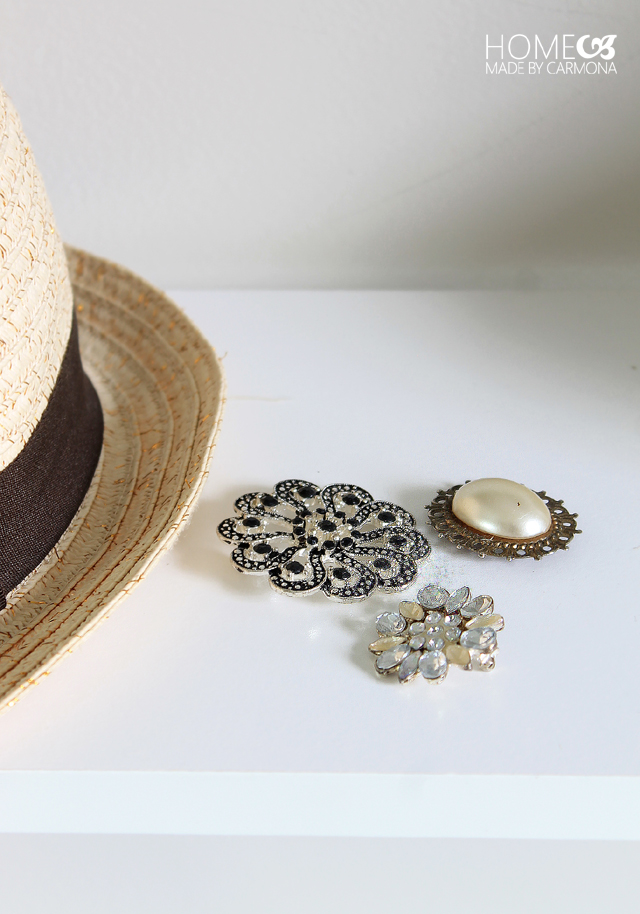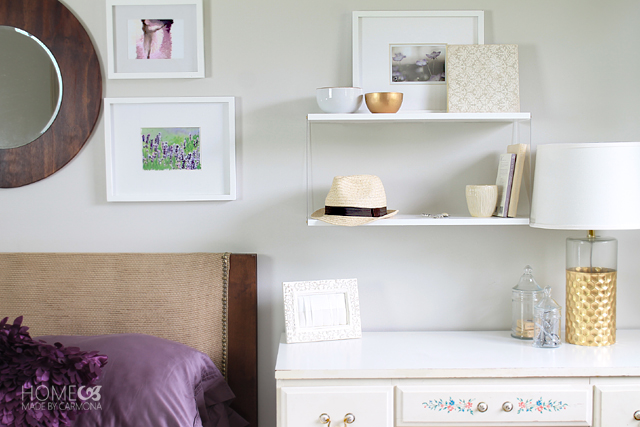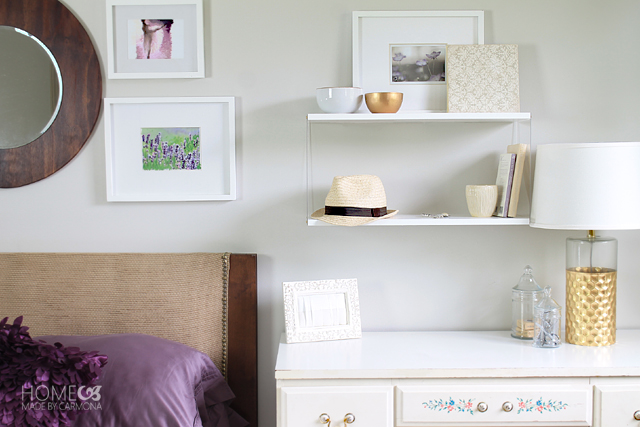 Now be sure to go check out the other 4 amazing West Elm knock-offs in the series!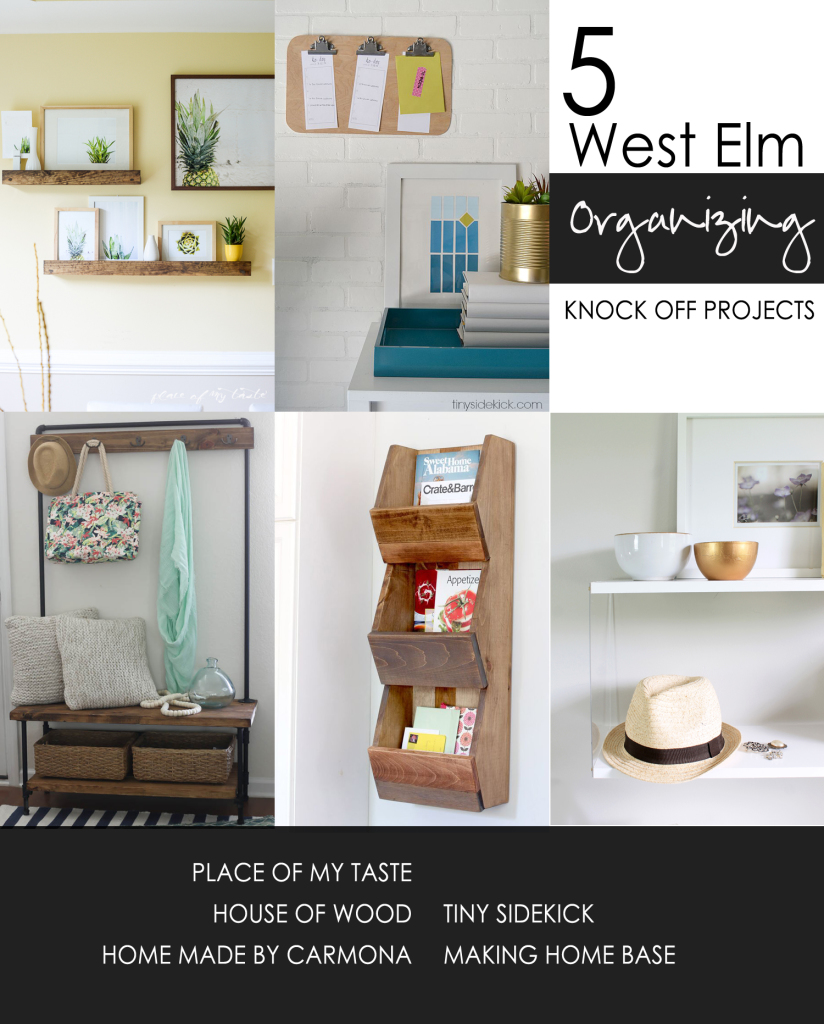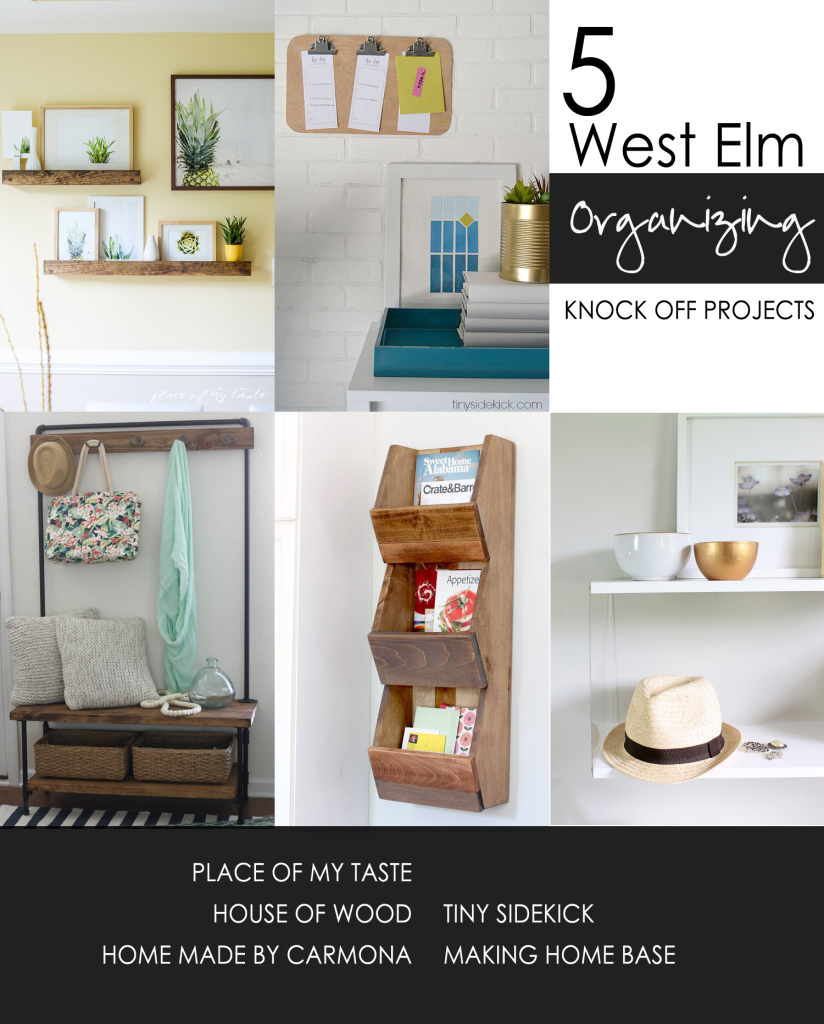 TINY SIDEKICK – WEST ELM INSPIRED NOTICE BOARD
PLACE OF MY TASTE – WEST ELM DIY DEEP PICTURE LEDGE
MAKING HOME BASE – WOOD AND PIPE ENTRYWAY STAND
HOUSE OF WOOD –WEST ELM INSPIRED RECLAIMED CUBBY SHELF
HOME MADE BY CARMONA – ACRYLIC SIDED SHELF KNOCK OFF


[go_portfolio id="diy_gallery"]