*This 'styled entry' post is sponsored by AllModern! Affiliate links contained below.
With fall right around the corner, this is a great time to zhoosh up your entry!
It's always a good idea to get the entryway functioning at peak performance. You know, before the kids start all the comings and goings of school, and the holiday season begins with guests cheerily bursting in the front door.
Today I'm sharing 3 beautiful design plans for the entryway, sure to make a statement! Go ahead, copy these looks for your own home…
Modern Chic Entry Styling
They key to creating a modern chic entry is to keep the design streamlined and sleek.
Every piece should be unique and make a statement, but keep things minimal so it won't overwhelm the room.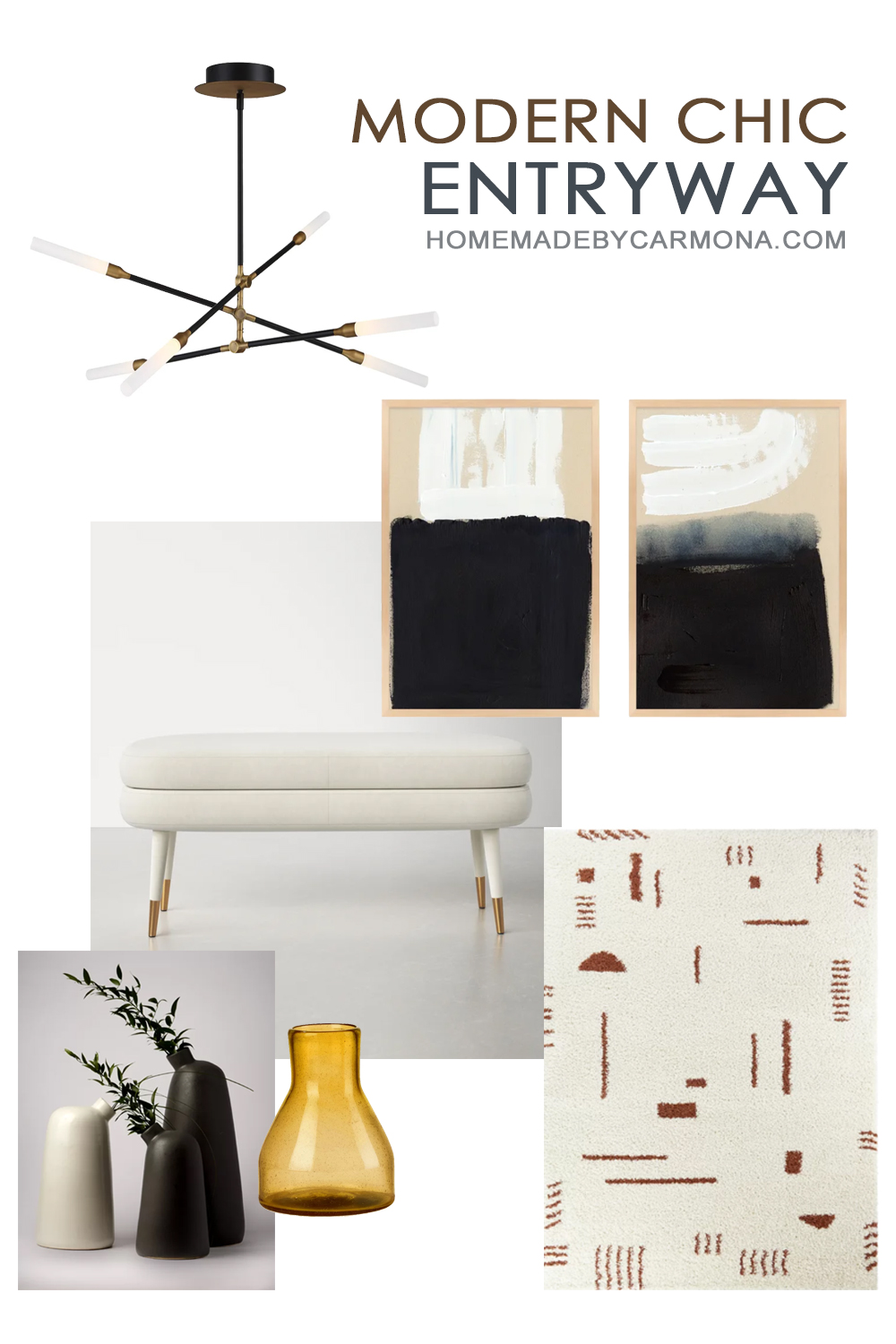 A sputnik styled chandelier will really set the tone for the space, elevating the style of your entry. I prefer to use varying hues of cream and black, then just one extra pop of rich color.
Graphic artwork and geometric shapes keep the room feeling modern, but not void of visual interest. And don't be afraid to really up the ante with loads of textural pieces!
Shop The Moodboard:

DESIGN TIP: Let's talk about lighting for a moment. Your entry is a good place to make an immediate statement, and lighting is the jewelry of the room. Don't go bland or boob with your lighting, even if it is flush mount, go for edgy style! It will set the tone for your whole house.
Shop More Lighting Options Here>>
Earthy Glam Entry Styling
Most people don't think of Earthy and Glam as compatible styles, but it's perfect when you want that relaxed 'lived-in' glam that no one feels uncomfortable with.
Warm tones and soft textures keep it feeling earthy, and pops of gold help bring the glam! This mix should include some transitional furniture, modern light fixtures and art, and several hits of black to ground the room.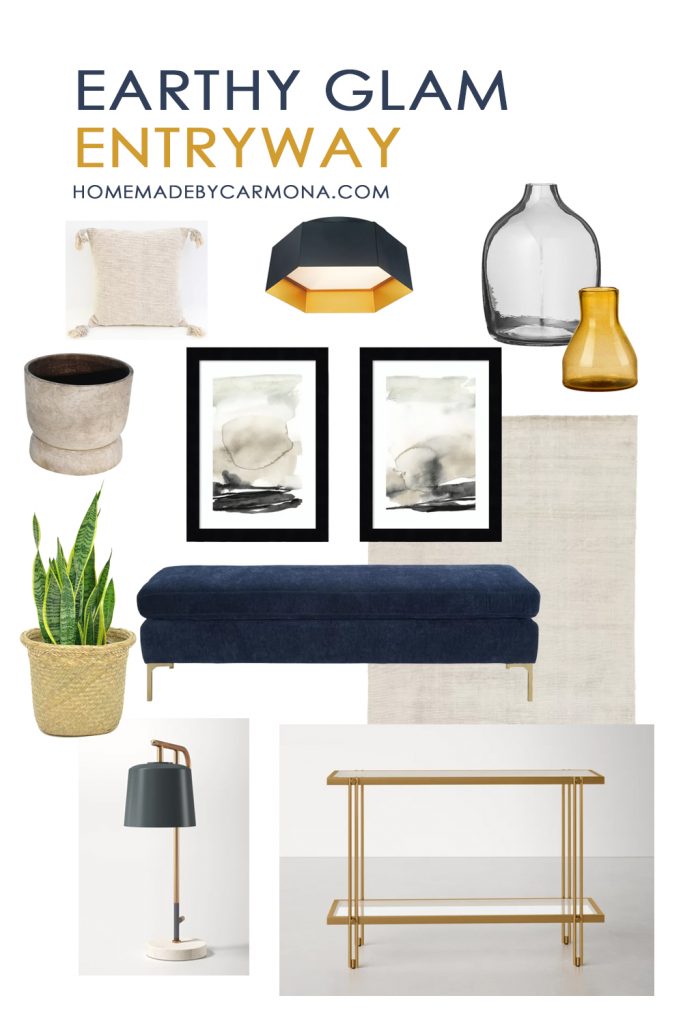 In this space you want a good mix of materials: Metal, stone, jute, velvet, glass, and maybe even a hint of concrete. They balance each other out for a well-collected lived in look.
Shop The Moodboard:

DESIGN TIP: Go big with your artwork! Often people choose pieces that are too small for the space. Make sure the artwork placed on the wall extends almost to the edge of the furniture that sits below it.
Shop Modern Wall Art Here>>
New Traditional Entry Style
This contemporary take on a traditional style will look amazing for years to come! Mix transitional furniture, modern fixtures and accessories, and add in a few antiques to finish the old-meets-new style.
My favorite feature of this style is the practical function of many of the pieces. The look lends itself well to furniture that has lots of storage, and comfort as a primary goal.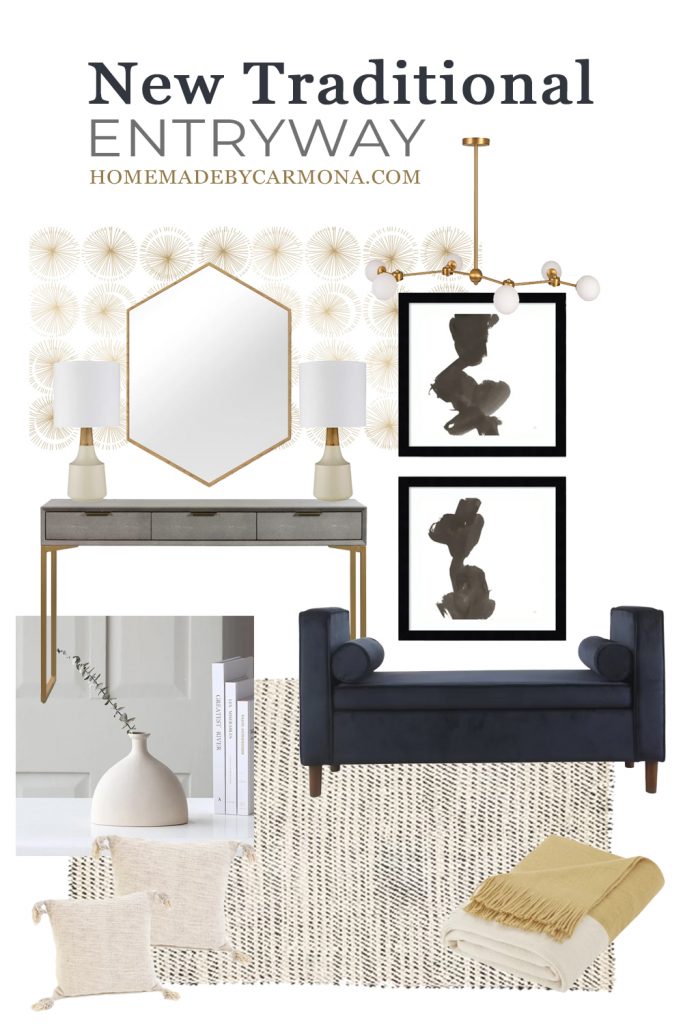 Shop The Moodboard:

DESIGN TIP: A bench in the entryway is a natural fit! Not only is it a place to sit and remove shoes, but it acts as a primary fixture to design around. If you have more than one wall, a console table to catch keys (etc.) on one wall, and a bench directly across from it is ideal. If you don't have space for both, go for a smaller bench that can slide right under your console table!
Make It as Useful As It Is Stylish…

Looking for other ways to make a stylish modern statement in your entryway? Explore AllModern's latest arrivals in modern lighting, mid-century modern benches, geometric bookcases, sputnik chandeliers, modern wall art sets, modern rugs, and geometric wallpaper. They also share some great tips of their own with their 9 Streamlined Small Entryway Ideas!


Like this? You'll love my tips for fall decorating!