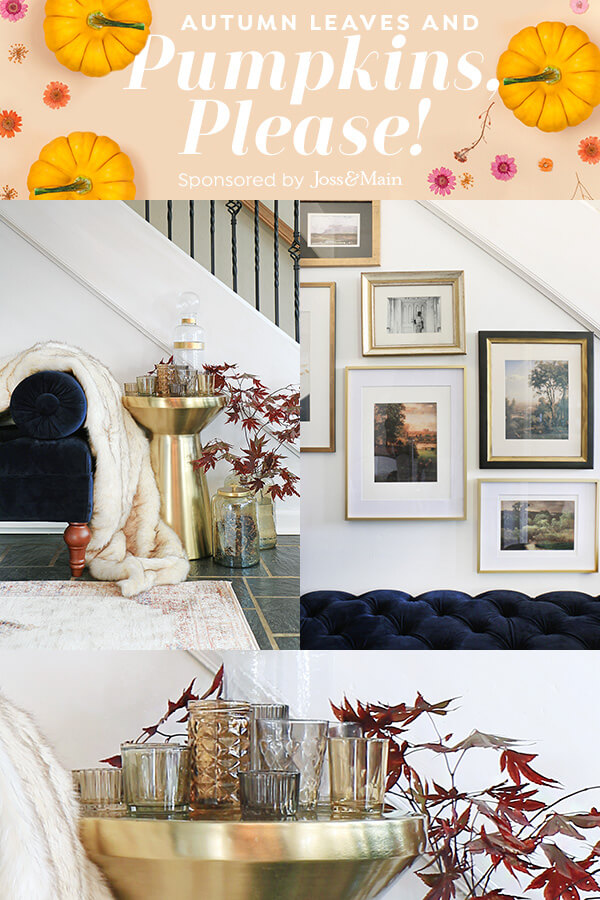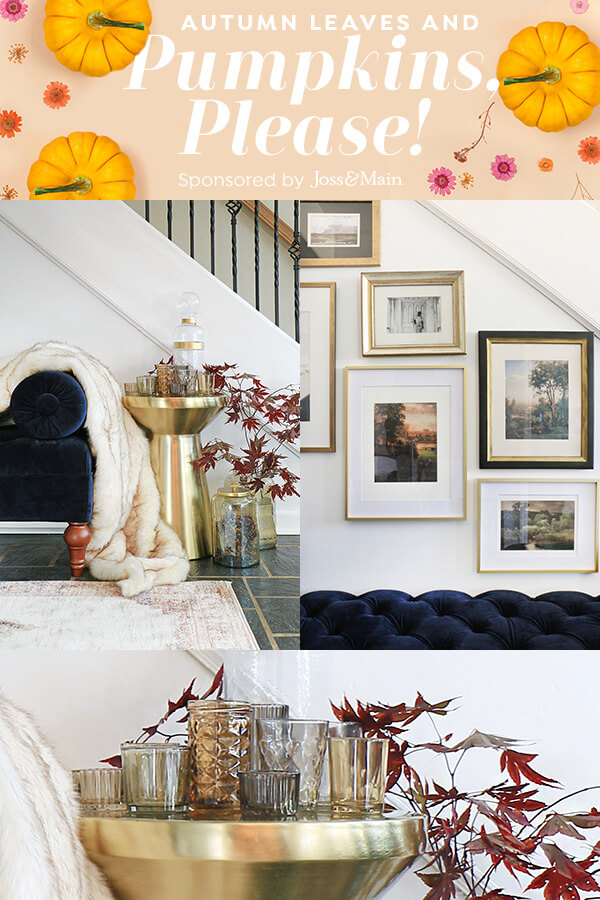 Fall is here and while the leaves and weather is changing outside, it's time to adjust our interiors for the season!
Decorating for the season doesn't have to be an expensive endeavor…
Learn how to purchase items you'll love and use year round, but can easily be transformed into the perfect seasonal fall decor with a few simple tricks.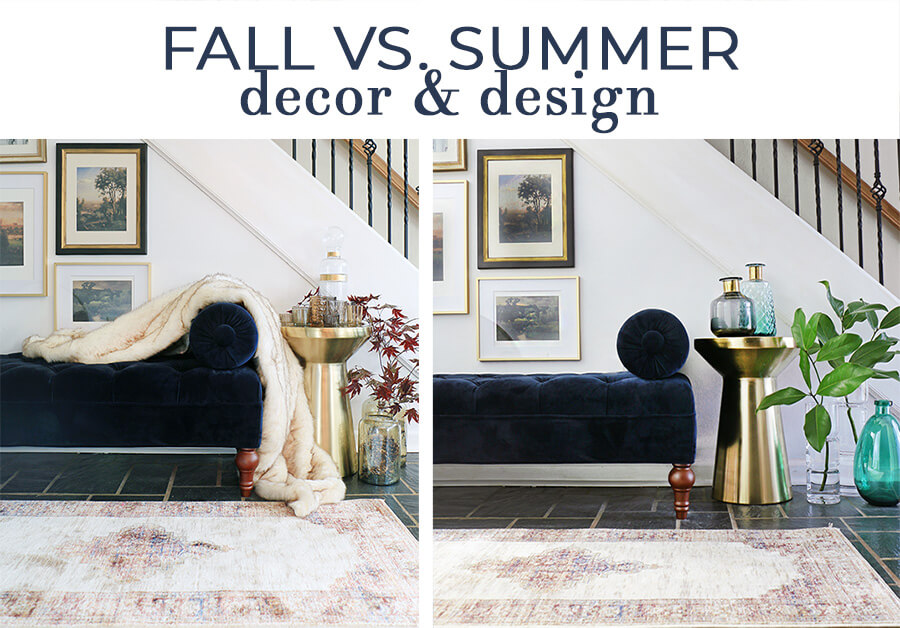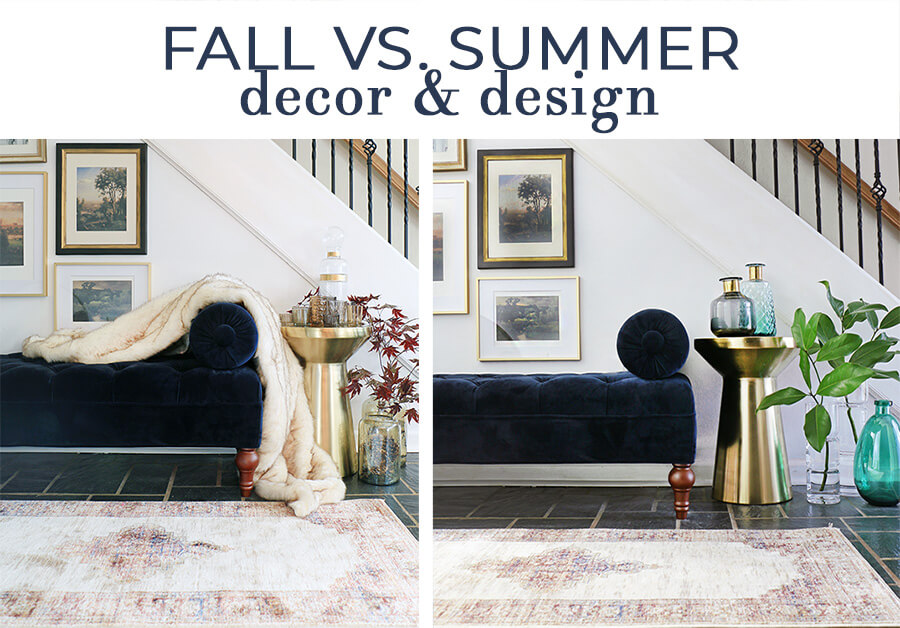 *This post is sponsored by our friends at Joss & Main. Woop woop!
Here are 10 great ways to add fall flair on a budget
We can add fall decor for the sake of style, but even more importantly the lifestyle change that comes with the season. Everything from the way we warm up after coming in from a blistery day, to the way we spend our shortened evenings can be improved with a few simple changes.
Decorating for the season doesn't have to be an expensive endeavor…
1. Fill-able Glass
This is one we love as year-round décor! Fill your glass jar with pinecones and faux leaves in the fall, Christmas ornaments in the winter, flowers in the spring and summer. It is inexpensive, and changeable! It's a win win.
If you really want to add some fall flair, go for tinted glass like these stunning ones I got from Joss & Main. FYI, don't just search under "vase" this cute set was found under "kitchen accessories" and is technically a glass kitchen canister.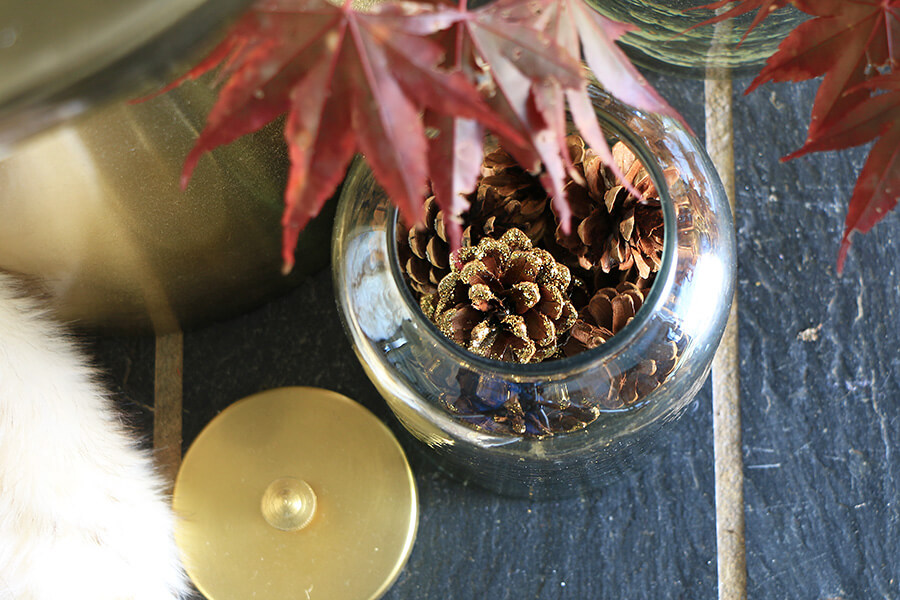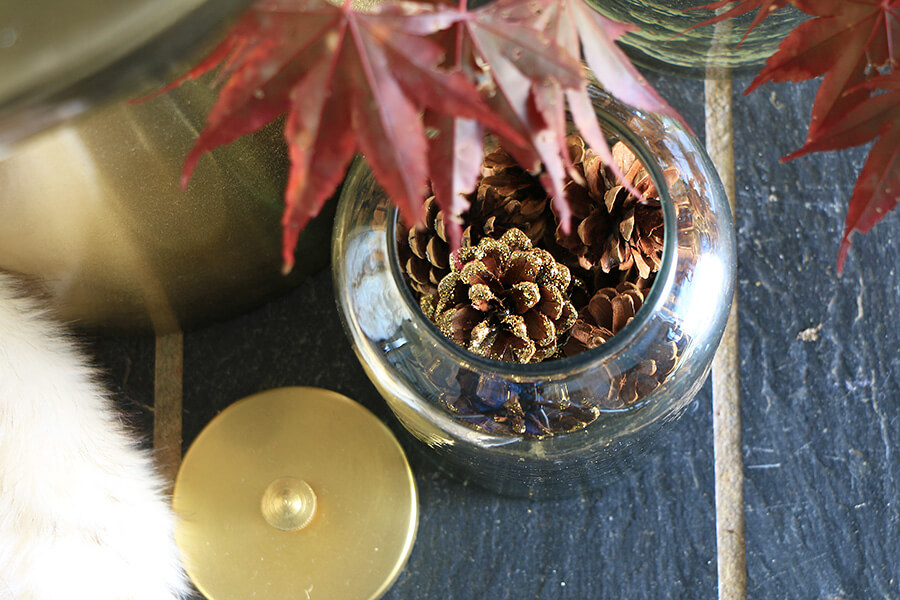 2. Throws & Blankets
Providing warm throws around your house is a good idea in the cooler seasons. Guests and family members that run cold will consider it a thoughtful touch. Throws also act as as a great way to bring in pops of color for the season, or add texture to your decor. Helpful, and an inexpensive way to add style.
3. All Things Velvet
From furniture pieces to pillows, consider adding a hint of something velvet. Much like fur it evokes a sense of warmth and coziness. Plus it's classy year-round, like my Tito upholstered bench.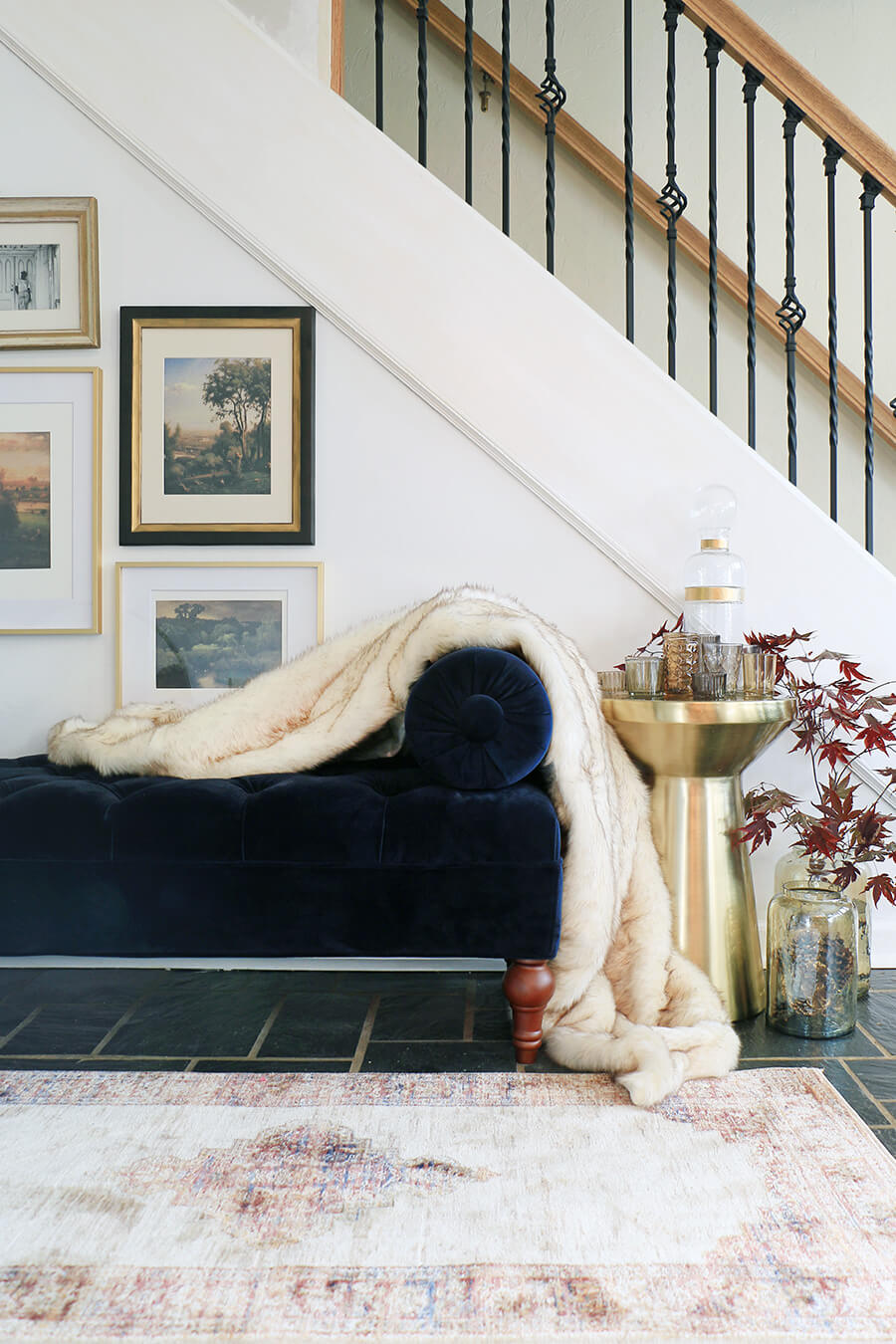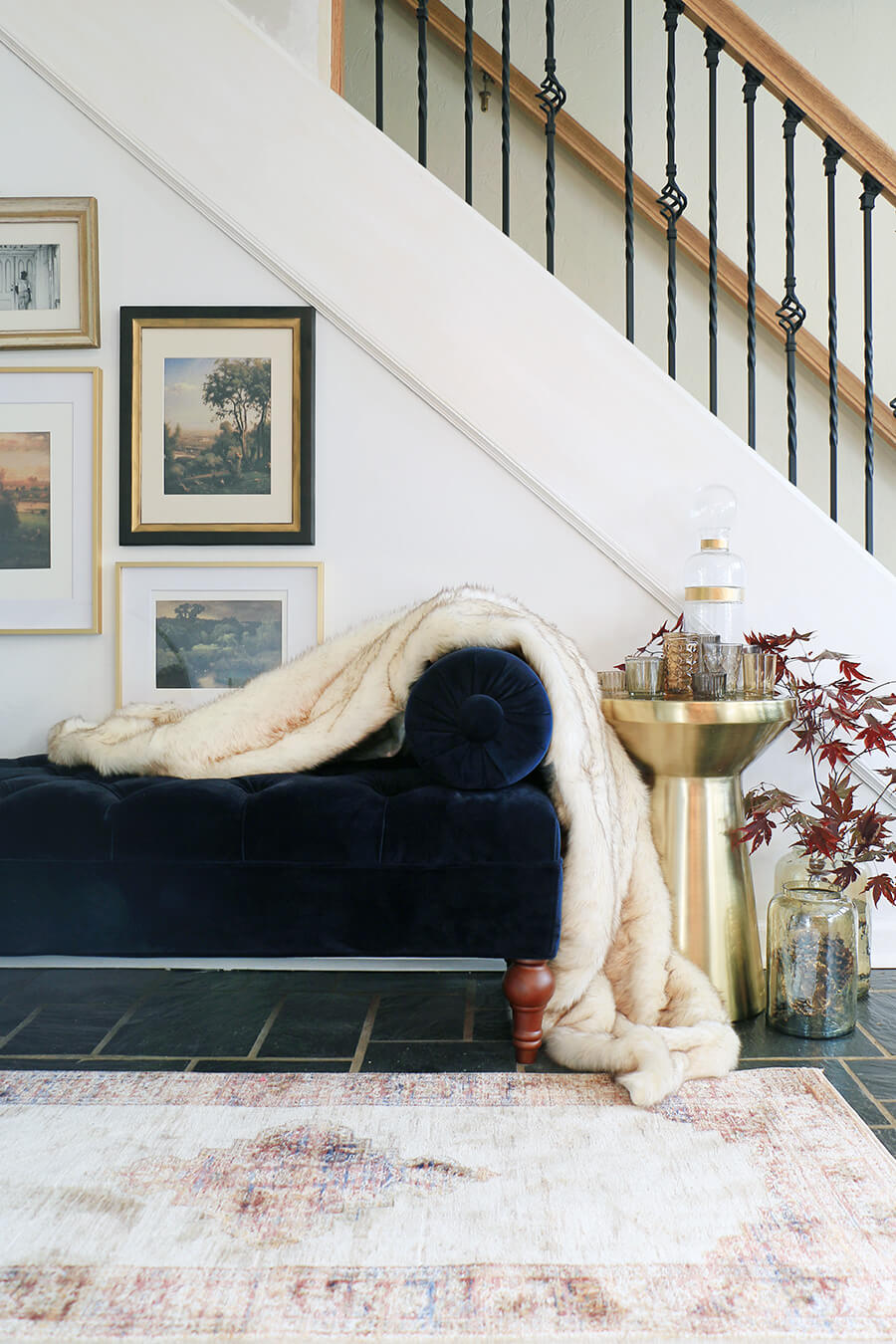 4.The Right Large Scale Furniture
Although you use your furniture year round, it is best to choose pieces that work for all seasons, then dress it up or down. Classic pieces (yes, even velvet pieces) work all year round, whereas spring colored or patterned furniture might not be so easy to transition for the fall season.
5. Throw Pillows & Covers
Throw pillows are always an inexpensive way to give a new lease on a room. You don't have to buy entirely new pillows. Buy throw pillow covers instead of pillows so you aren't storing 20 different pillows and taking up precious storage space.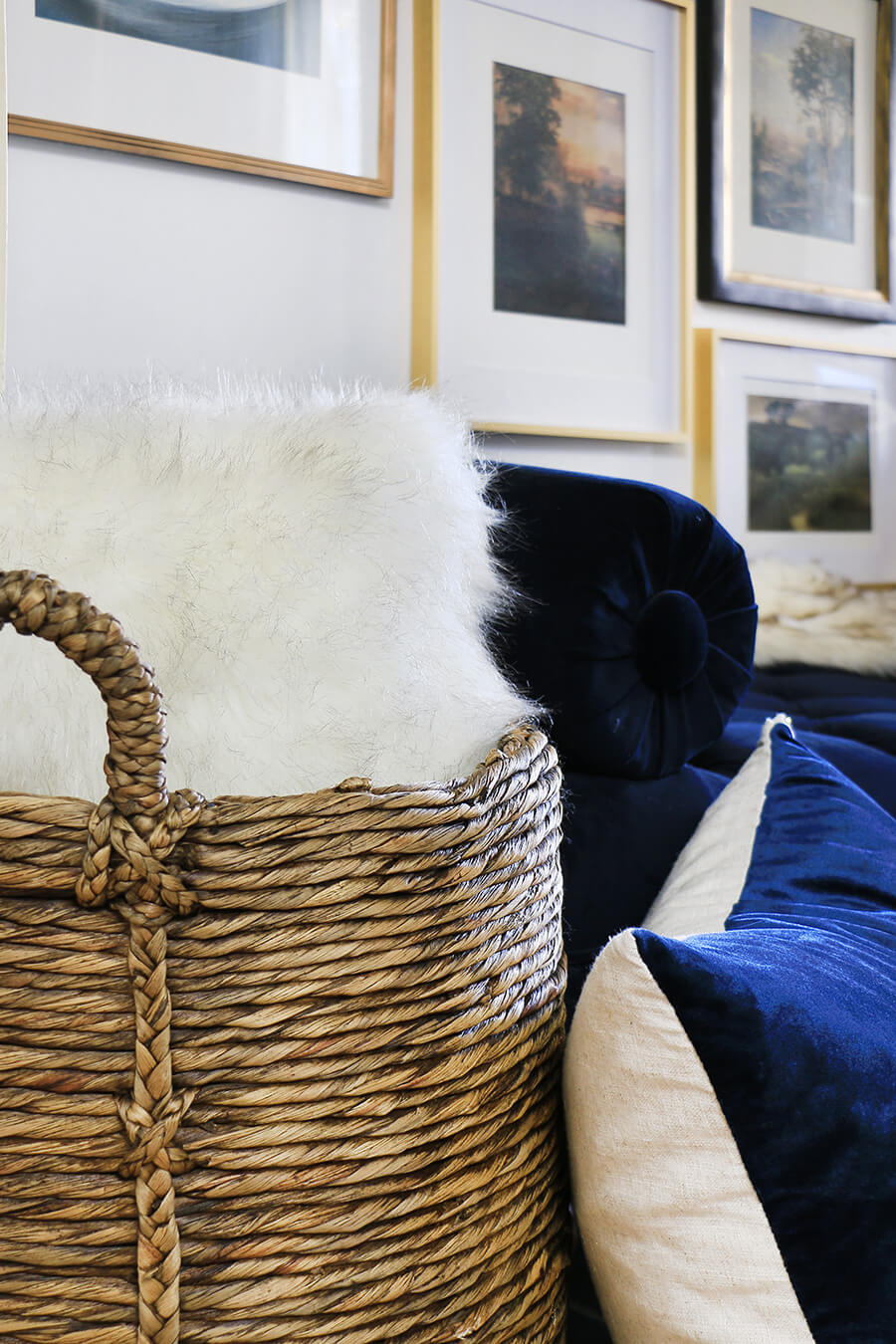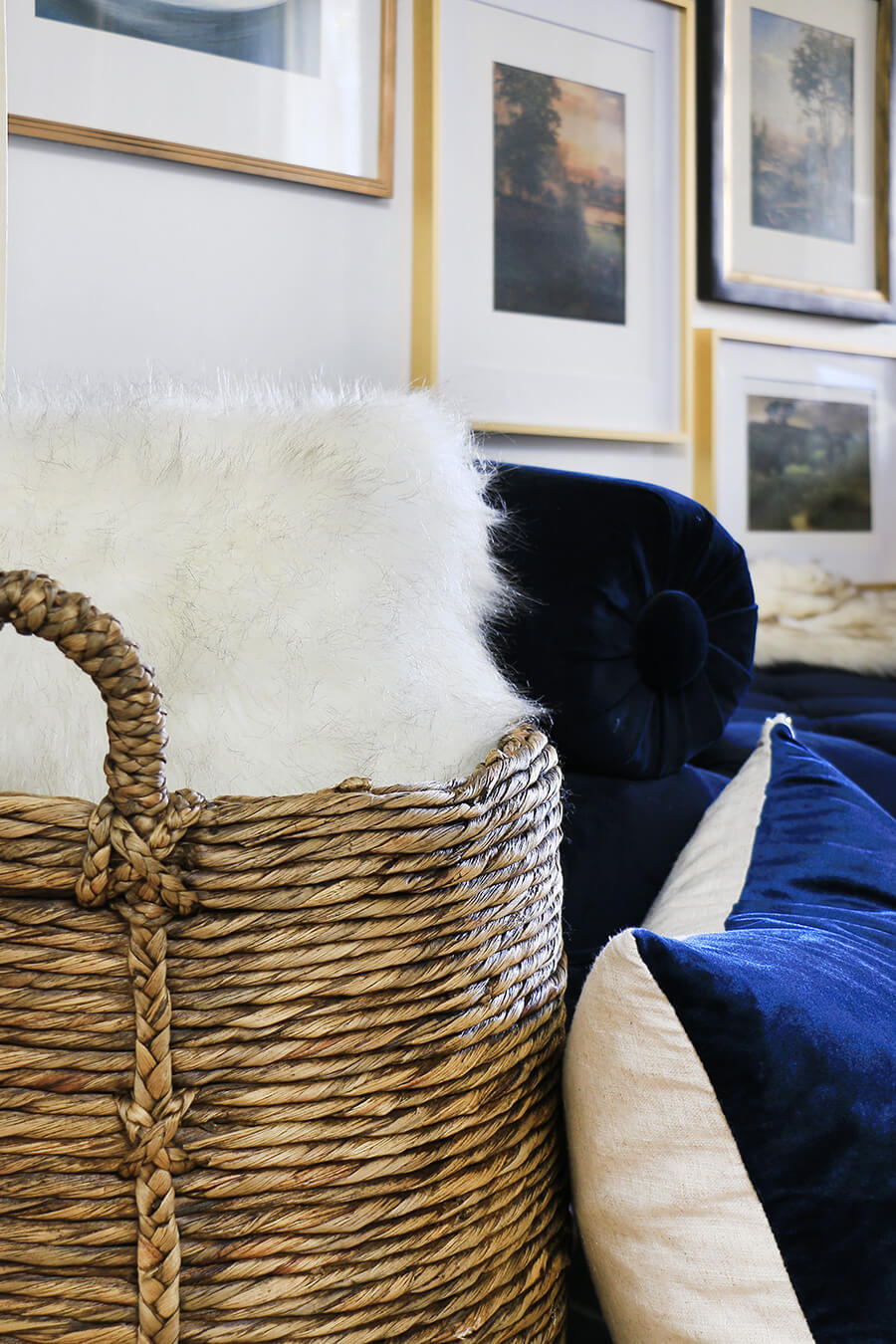 6. Flowers & Foliage
Plant cuttings are an easy way add some decor to a space, and who knows, you might just accidentally propagate a plant or two (true story)! You can go for the changing colors of leaves for the fall, and green or flowering sprigs in the spring.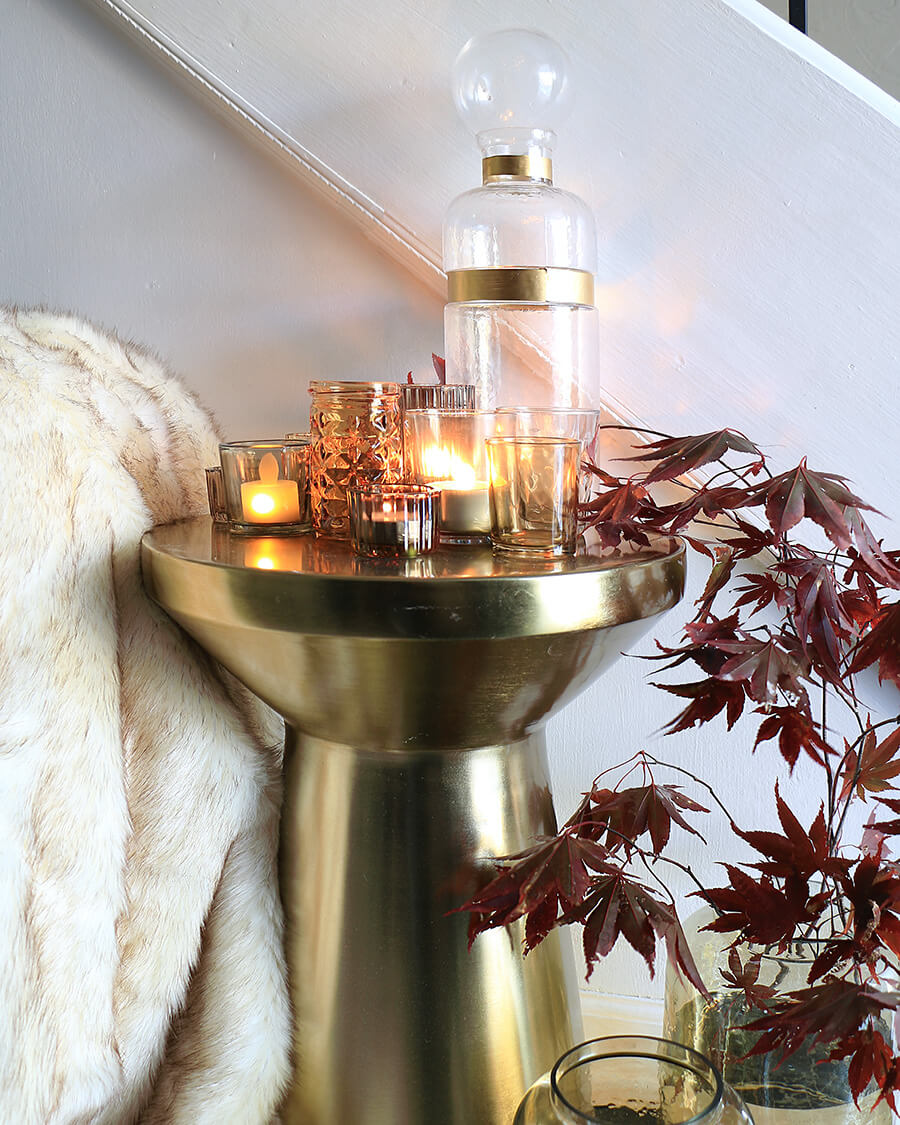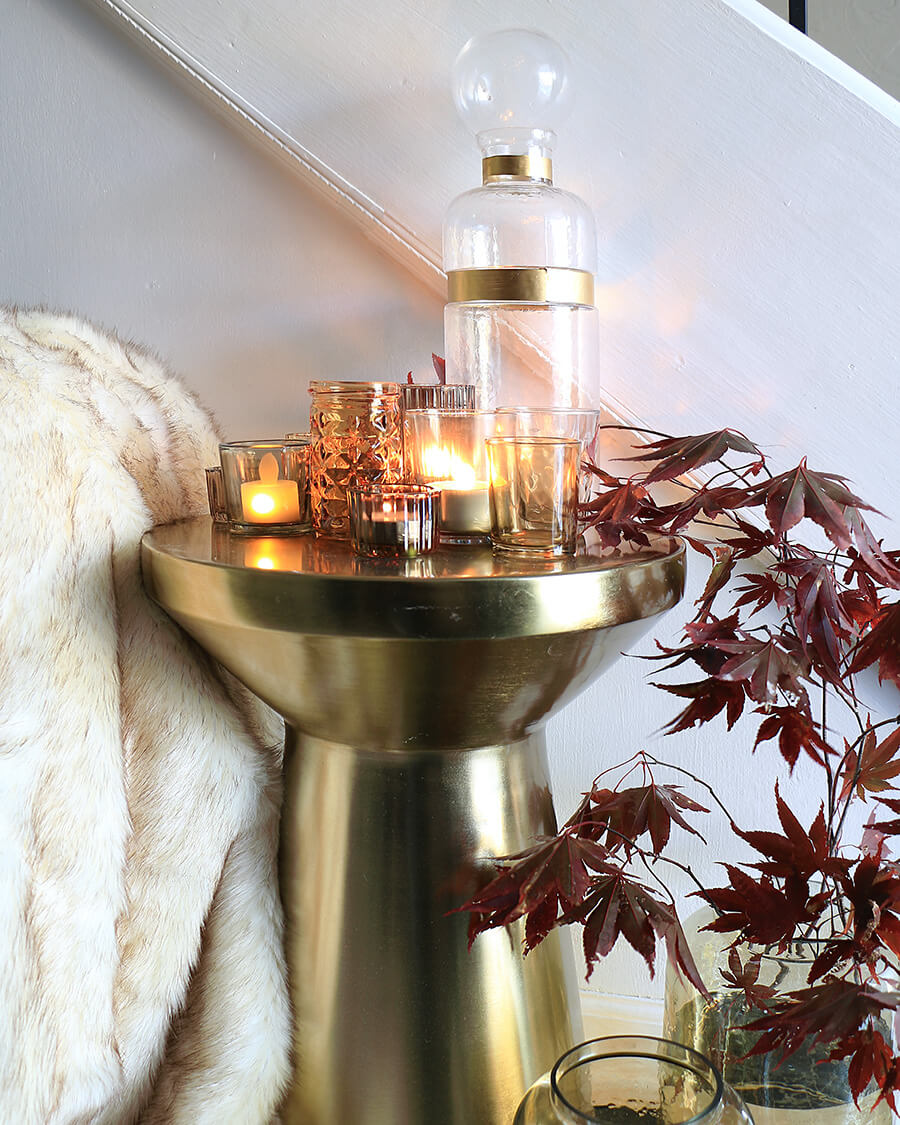 Either way, you are going to want to search for some great bottle sets/vases/glass jars to place your cuttings in and beautiful your space at the same time!
7. Replaceable Artwork
I am a big fan of gallery walls and artwork that is easily replaceable. Go for frames with an easy open backing (ones you buy that have to be filled yourself), and buy a couple art books to clip and fill with your favorite artwork. Use command strips to adhere to the wall so you can easily take it down and insert artwork appropriate to the season. Colors that mimic the seasonal colors around you are usually the best go-to.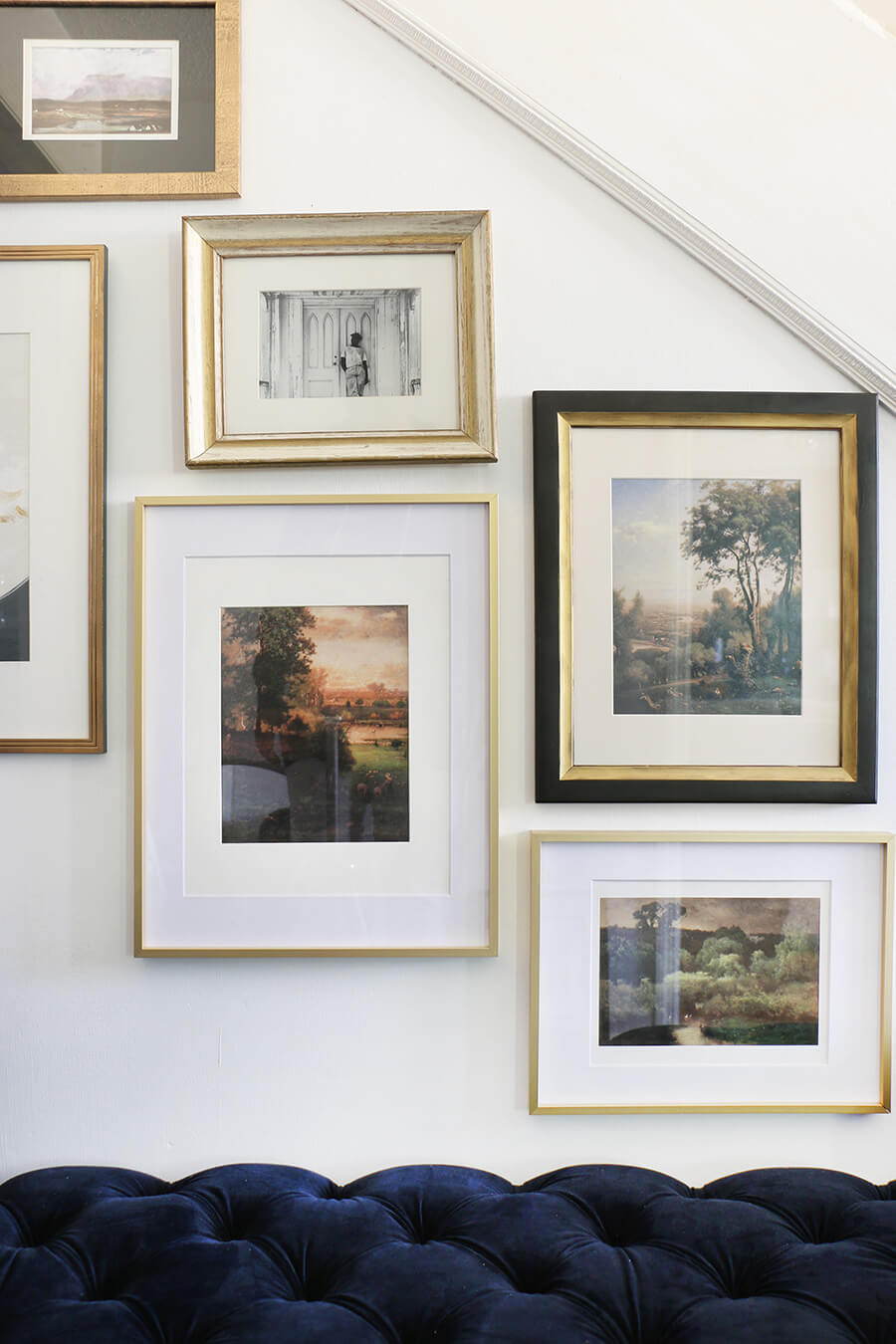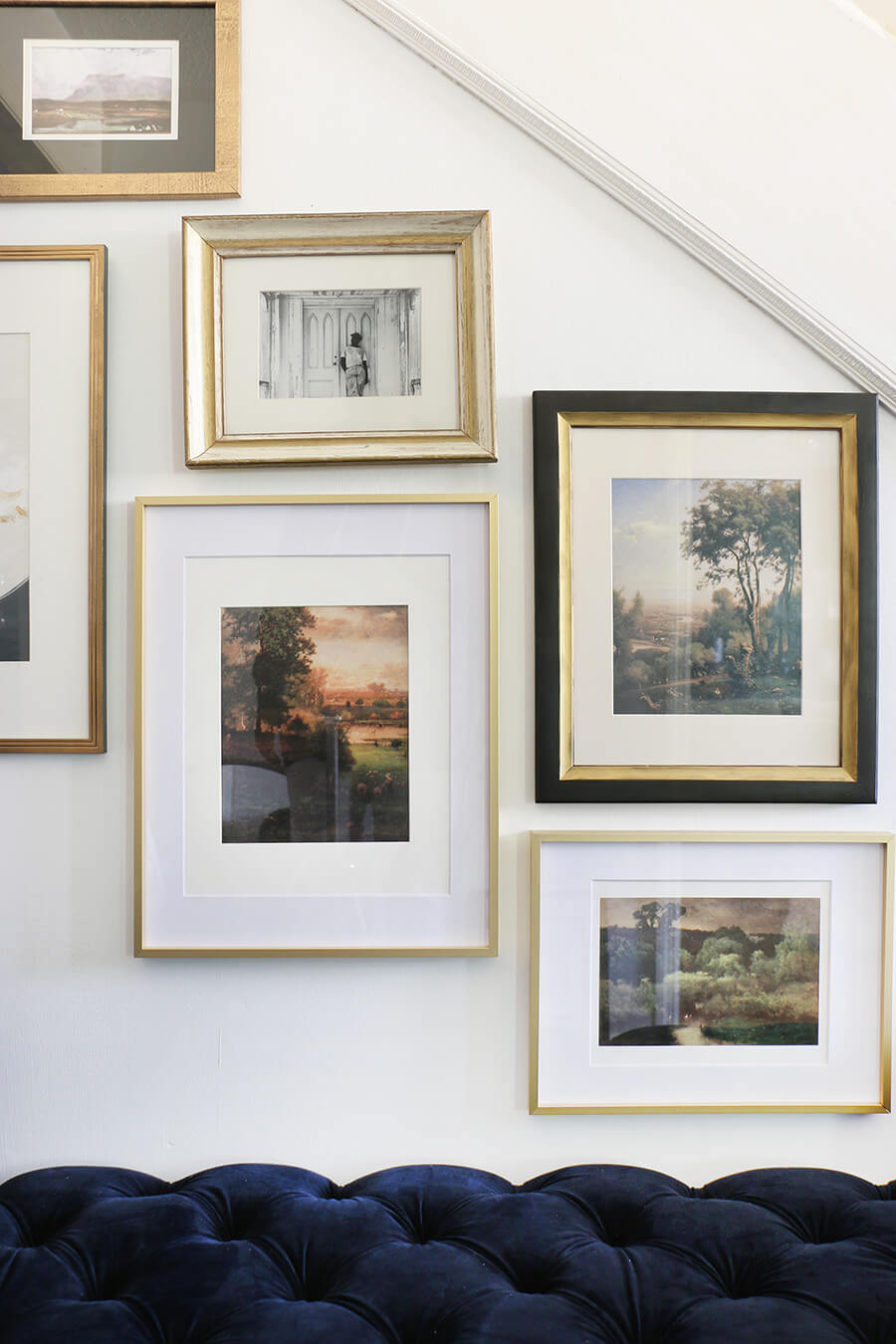 8. DIY Paint Projects
We say painting is the easiest and most inexpensive way to change a room when re-decorating. I couldn't agree more. But don't just think the big projects…
Paint is also the easiest way to alter accessories within the room! Spray paint some color blocking designs across art, glass jars, baskets, etc. You can give that item a mini makeover of it's own and add a new fall friendly color scheme to the space all at the same time!
9. Candles & Votives
One of the easiest fall additions to a home is that of candles and votives. They don't cost a lot, but the coziness and warmth they bring to a room makes all the difference!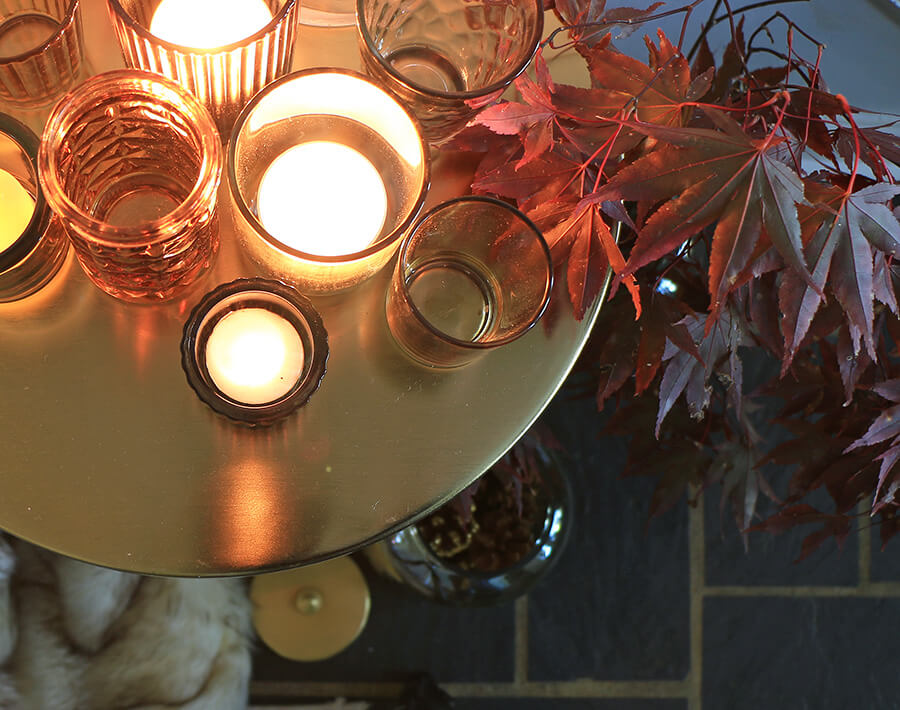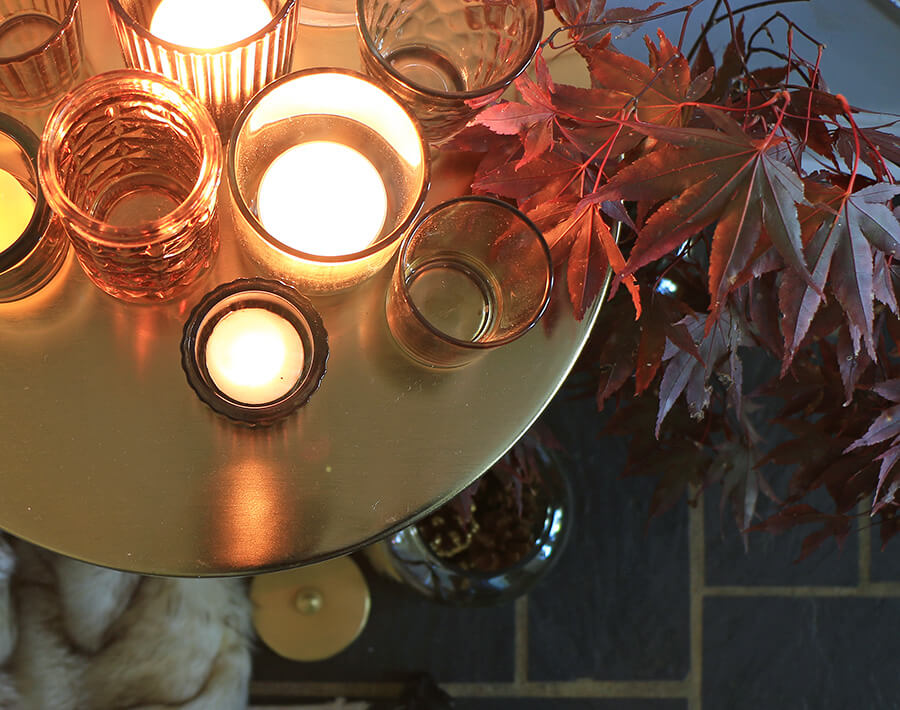 10. Baskets & Bins
Baskets make for great storage year round, but becomes even more important when decorating for fall. They are practical catch-all's for extra pillows, throws, or even those umbrellas by the entry!
Now that you have 10 great (inexpensive) ways to decorate for fall, go out there and get your décorista on!
*Special thank you to Joss & Main for sponsoring this post just in time for my fall decorating. Shop online at Joss & Main for all your fall (or year-round) needs. Follow them on Instagram, Facebook, and Pinterest for more great products.
[line]


[go_portfolio id="fall_projectst_gallery"]