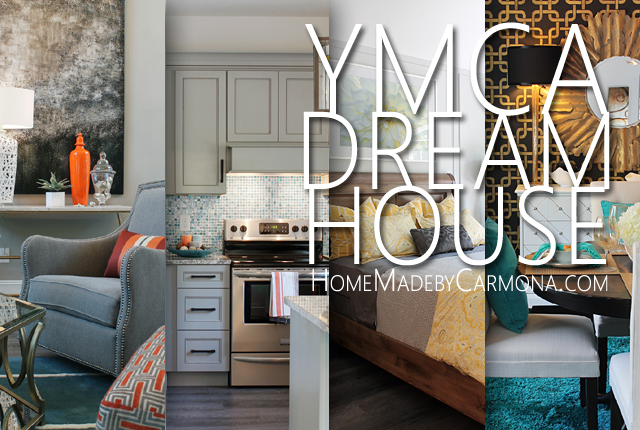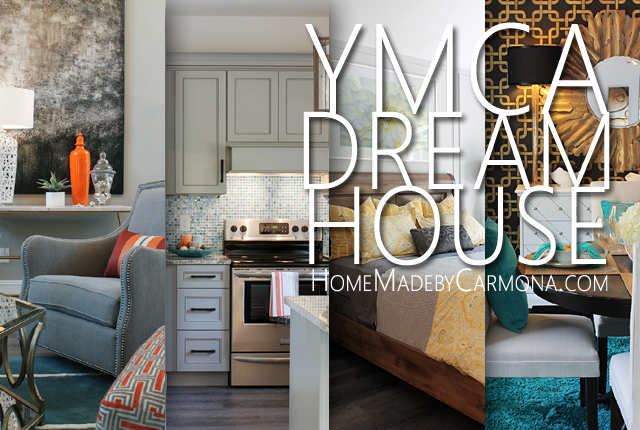 It's that time of year again, when the YMCA Dream House makes it's debut!
There is something so satisfying about touring a beautiful home in person. You get a whole new sense of appreciation for the little details of the space; how it feels to be in it, how it functions, and more. My favorite part is how you experience the colors and lighting in a space…pictures just don't do that part justice. So you can imagine how thrilled I am every year when the YMCA Dream House is complete. I get a whole new sense of inspiration and motivation to turn my own house into the space of my dreams. It is also a fantastic way to learn about talented local designers, builders, furniture warehouses,
[left]For those readers local to Northeast Ohio, you can experience this dream house in person, and potentially win it as your very own! Tours are being held June 20th – August 9th, 2015, and you can purchase tickets or learn more about it here. For everyone else, you'll just have to settle for this tour sneak peek and let your imagination fill in the blanks! I suggest you look up your own local summer home tours or parade of homes and get a little bit of inspiration of your own![/left]
[right][pullquote width="250″ float="left"]For those local to Northeast Ohio…Tours are being held June 20th – August 9th, 2015, and you can purchase tickets or learn more about it here.[/pullquote][/right]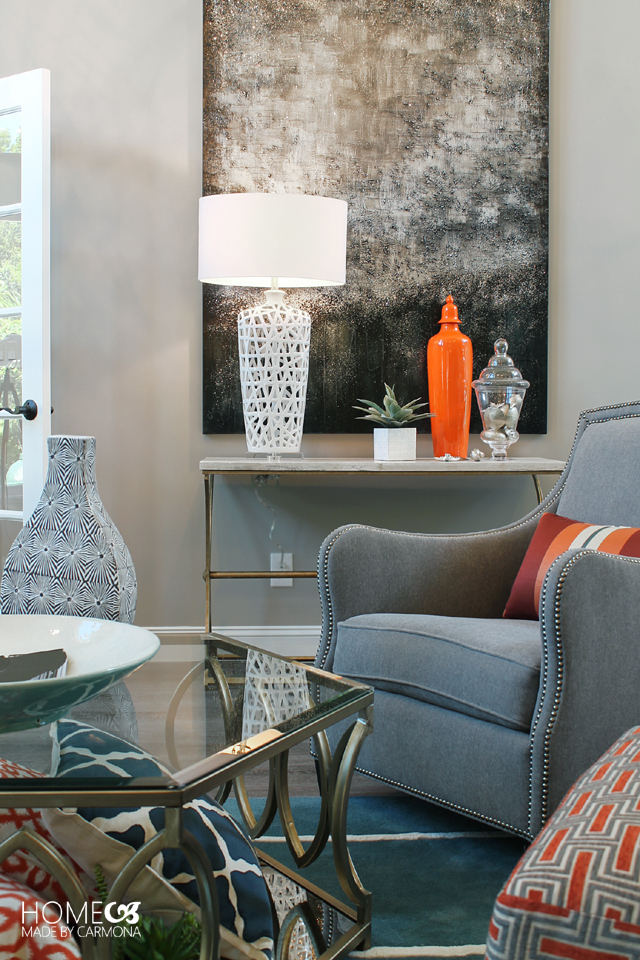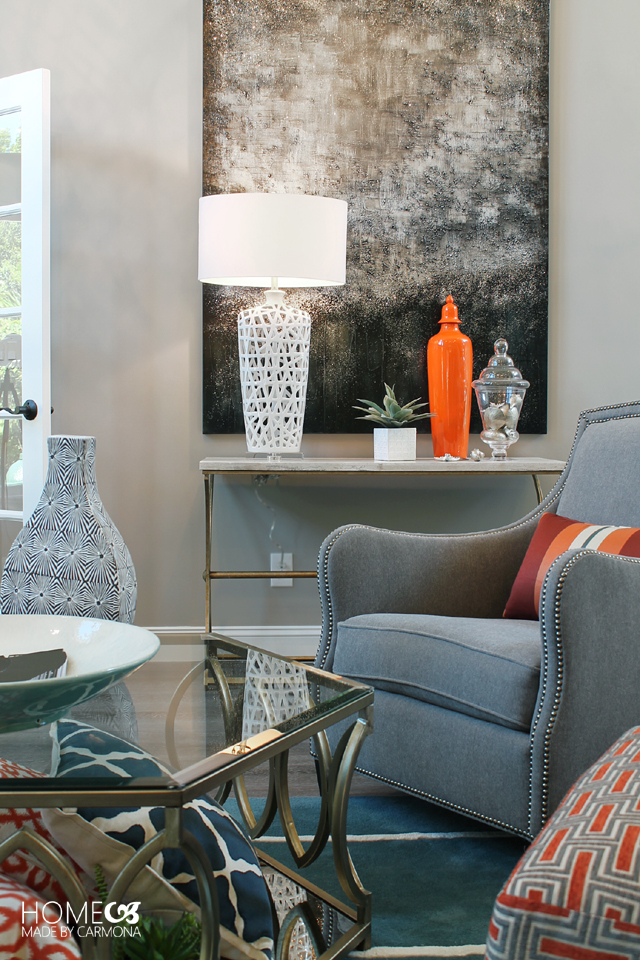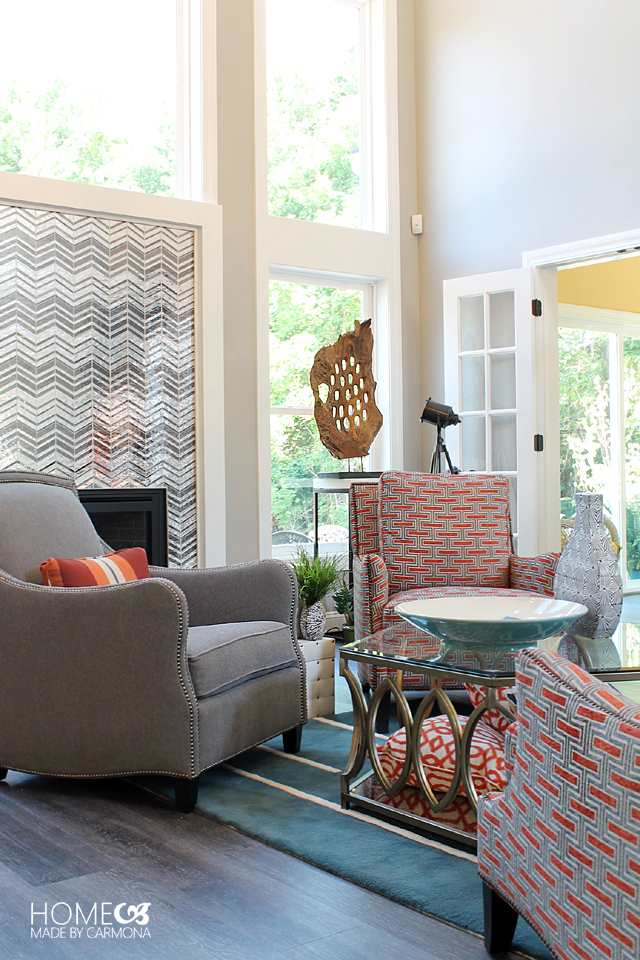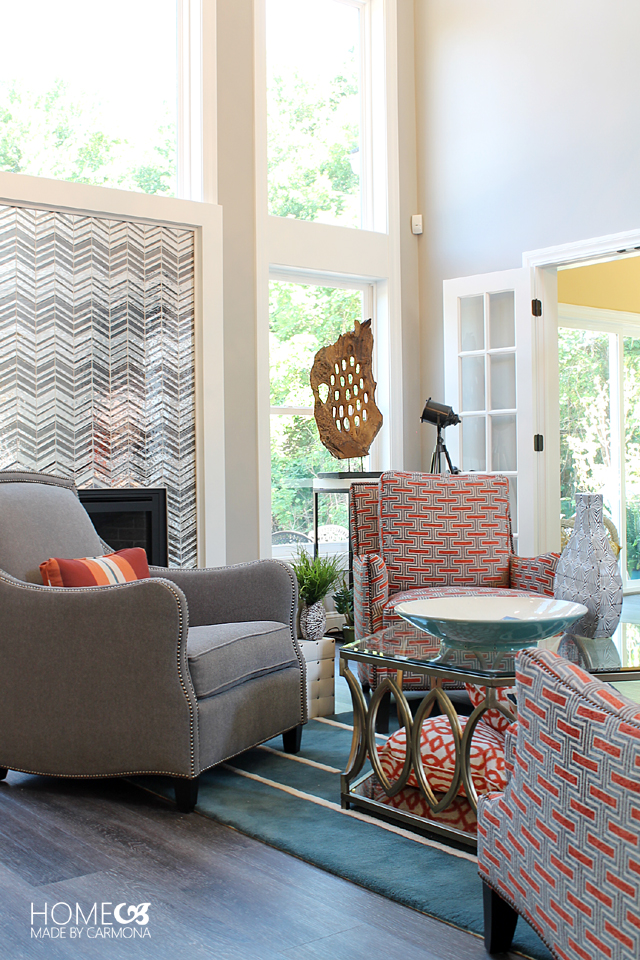 [left]
The Great Room in the dream house is incredible! It has glamour, sparkle, and lots of personality. The designers really did a great job giving this space some pizzazz and it really works. Never before have I seen a fireplace quite as beautiful, or a wall of windows surrounding it!
Here is what the designers had to say about the space:
[/left]
[right]
[pullquote width="250″ float="left"]
We wanted to do something out of the box… So the fireplace is not the traditional mantle, rather it is glass tiles! We have no window treatments — just sculptures in front of the window. No sofa and loveseat, rather we have four chairs in the middle of the room for conversation.
[/pullquote]
[/right]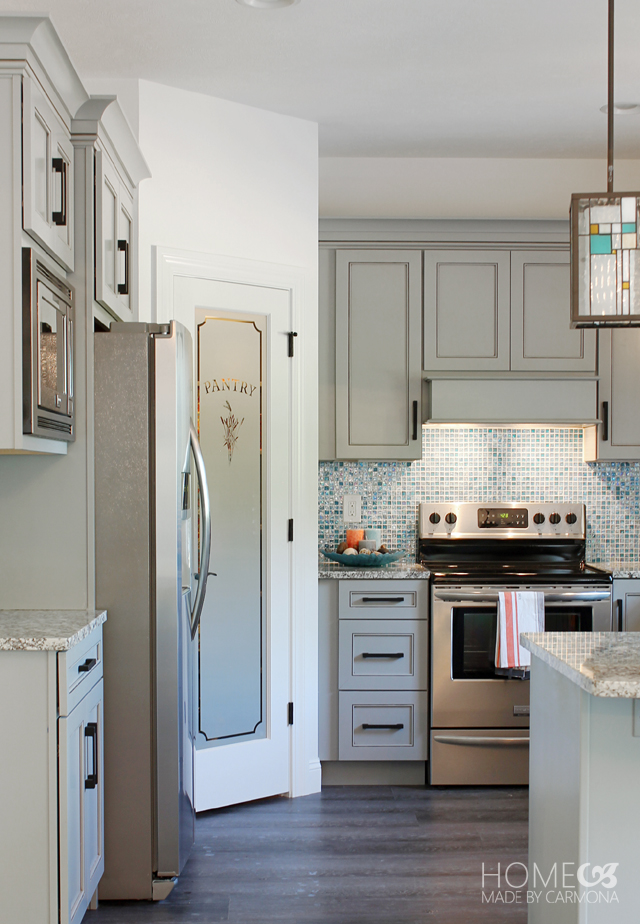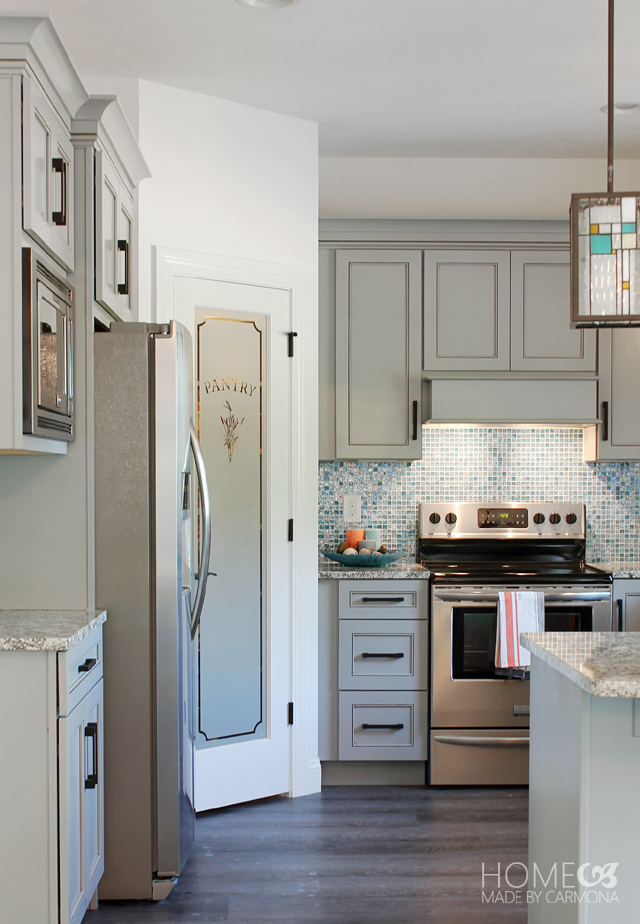 This great kitchen design goes to show that you don't have to have an enormous kitchen to make it functional, stylish, and everything you could desire in a kitchen. The pantry was a great unexpected use of space for a small kitchen, just what every kitchen needs! I love all the carefully thought out touches, from the frosted pantry door, to the glass tile back splash, to the stain glass light fixtures.
[left]The designer worked hard to bring both style and practical solutions together for a great space! Here's what she had to say: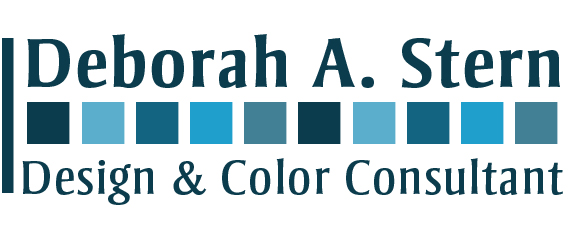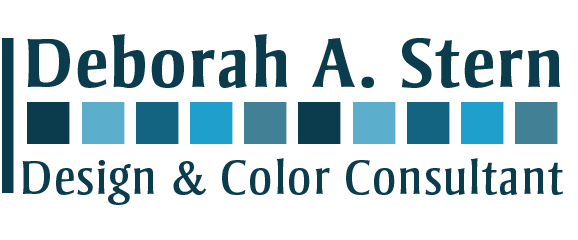 [/left]
[right]
[pullquote width="250″ float="left"]
My inspiration for the space was to make it as user friendly for the people as possible, and still make it beautiful!
[/pullquote]
[/right]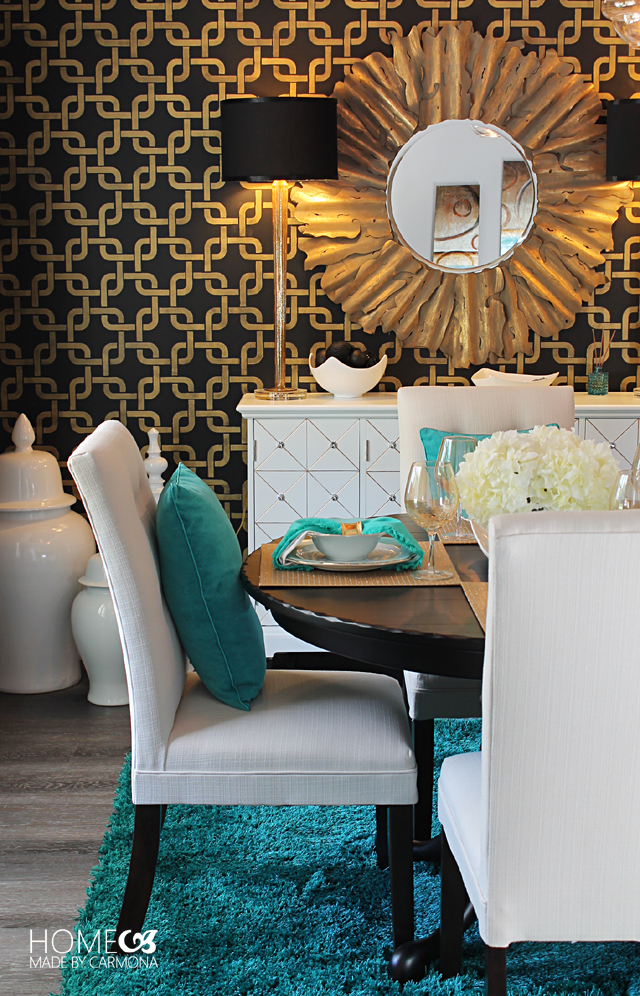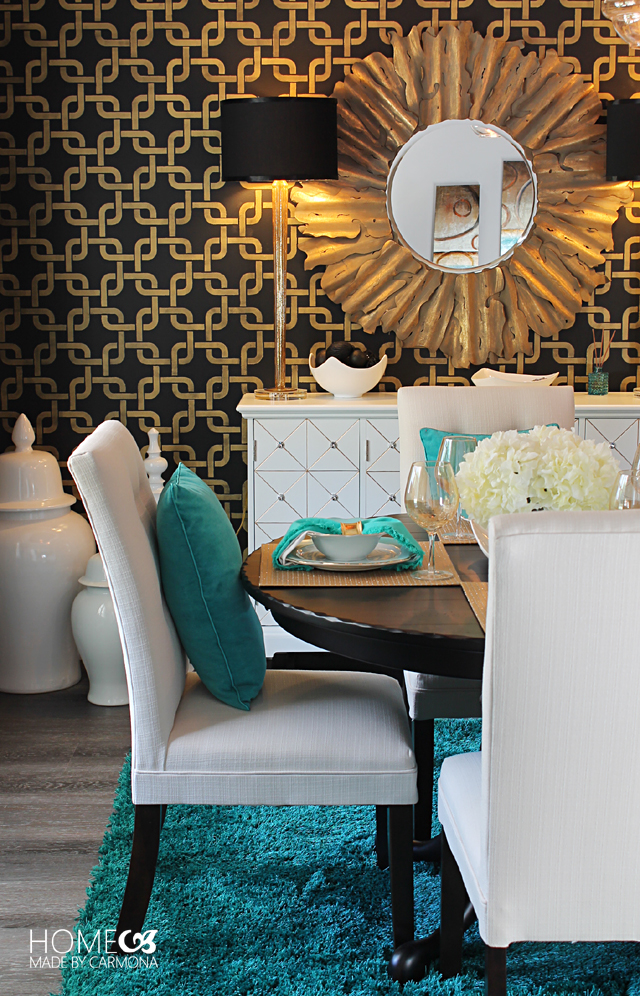 This dining room is dramatic, moody, and simply brilliant. I love the edgy accent color, and adore the gold. But wait till you turn the lights down, then the gold really pops!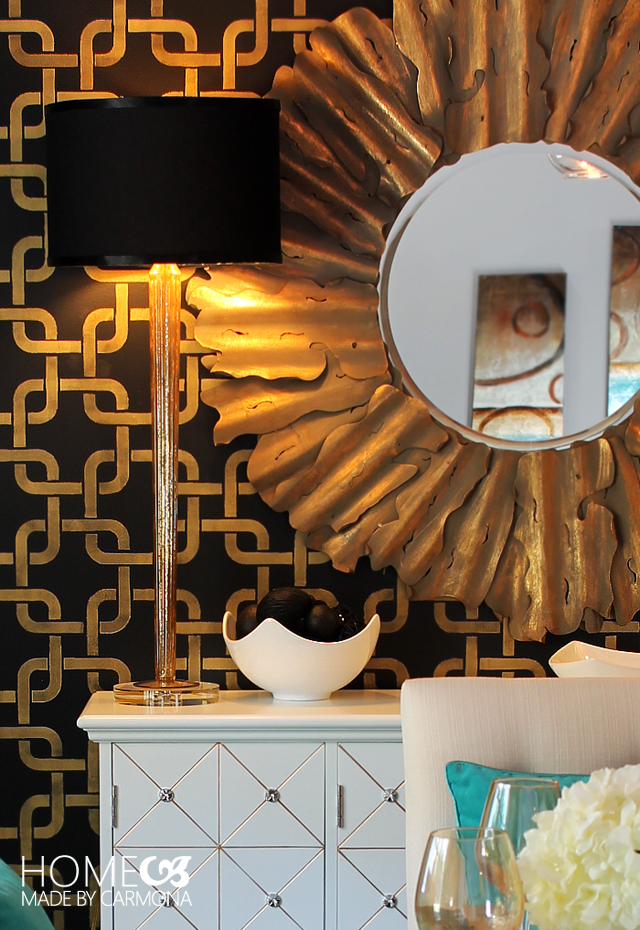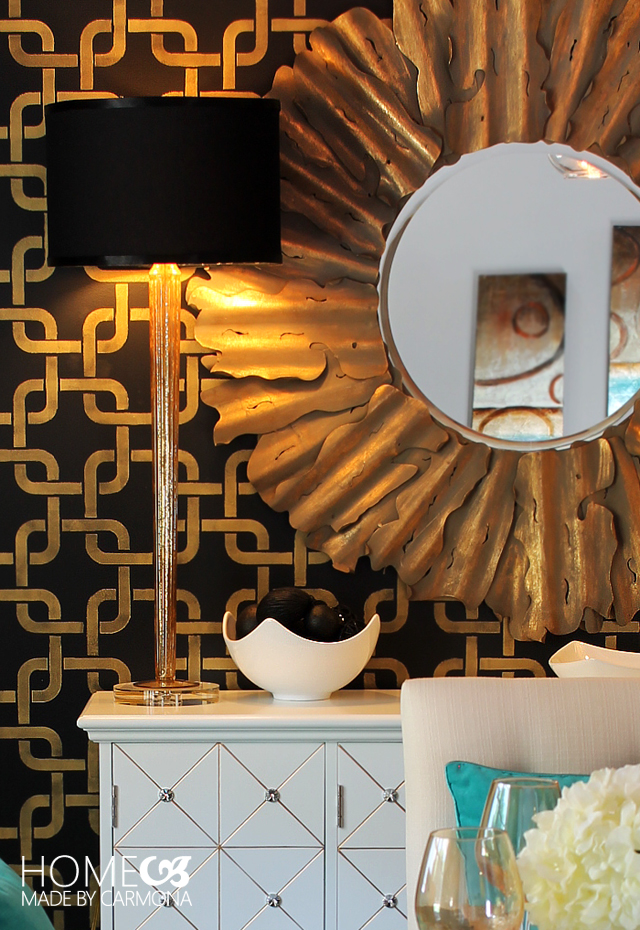 Perhaps it is my obsession with all the gold touches, but I could definitely see myself entertaining guest, and having family dinners in this gorgeous space! This would be like having a movie set dining room in your very own home. I gave you a sneak peek into this space, but there is more to it that you have to see! Here is what the designer had to say about it:
[/left]
[right]
[pullquote width="250″ float="left"]
Since the dining was the first room you saw when you entered the house. I wanted the room to be a WOW room! I wanted the room to feel romantic, glamorous, warm, comfortable and somewhere you could just sit down and have a glass of wine!
[/pullquote][/right]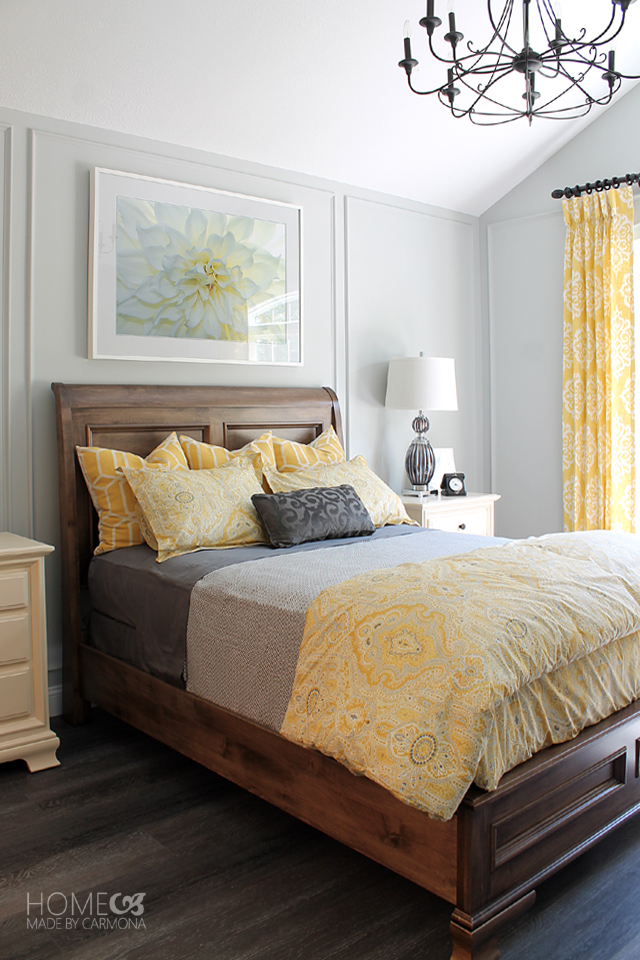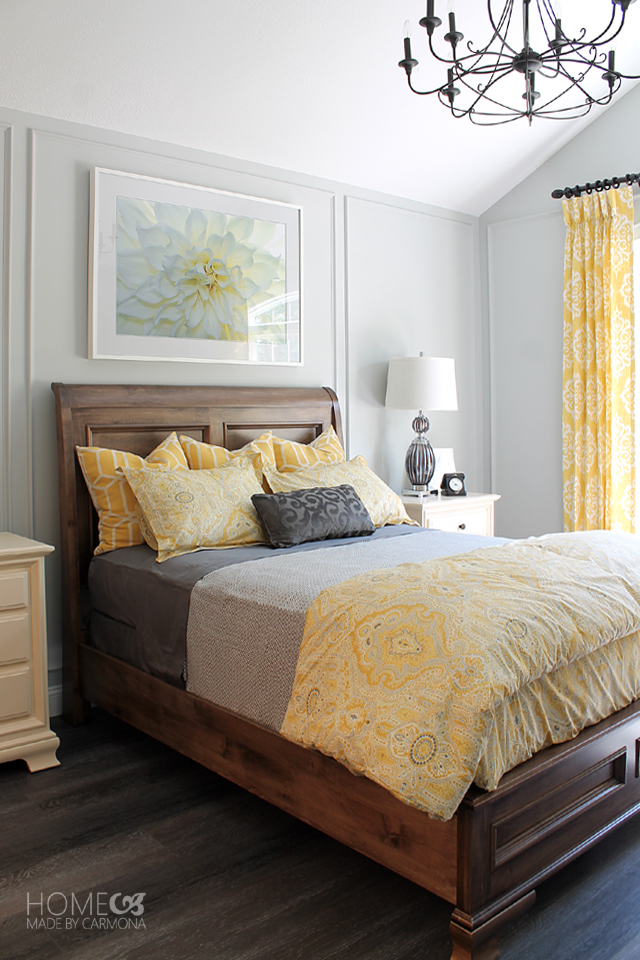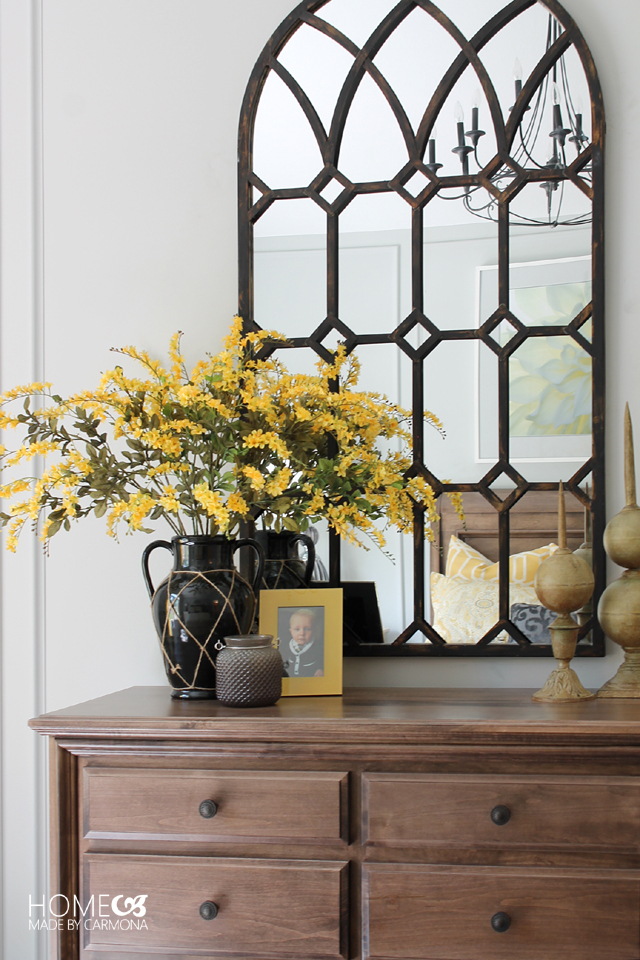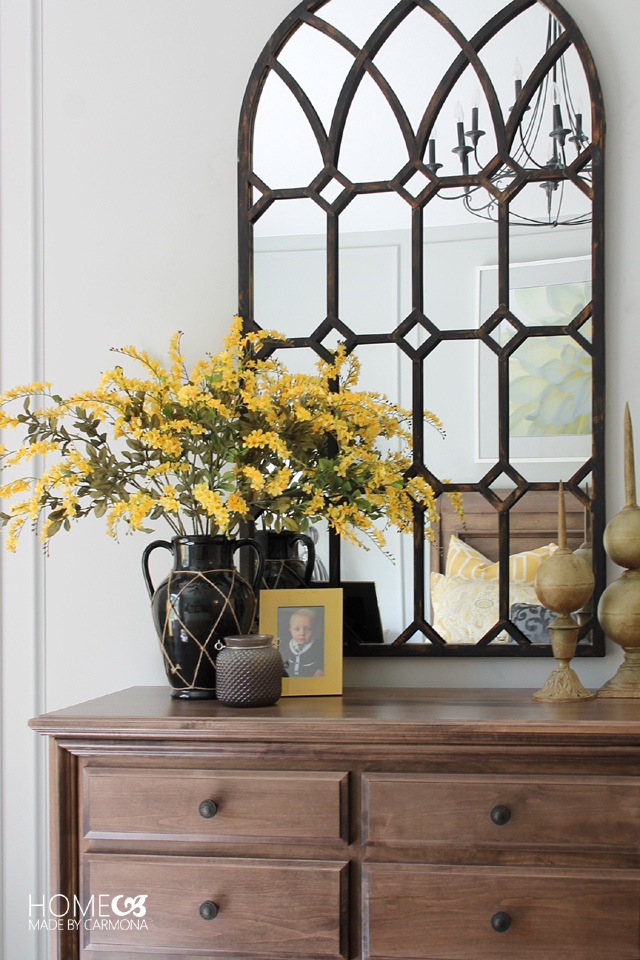 The master bedroom is so fresh and bright! Some of the pieces have a very Restoration Hardware feel to them, which I love! The space was decorated with a very simple elegance. It was very well executed to allow every piece to stand alone and be appreciated for what it was.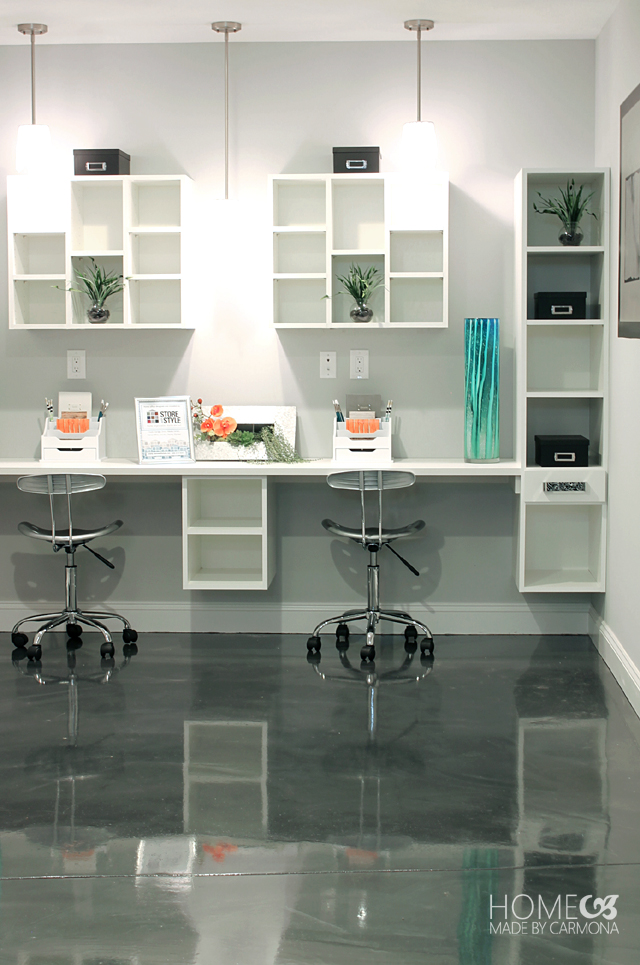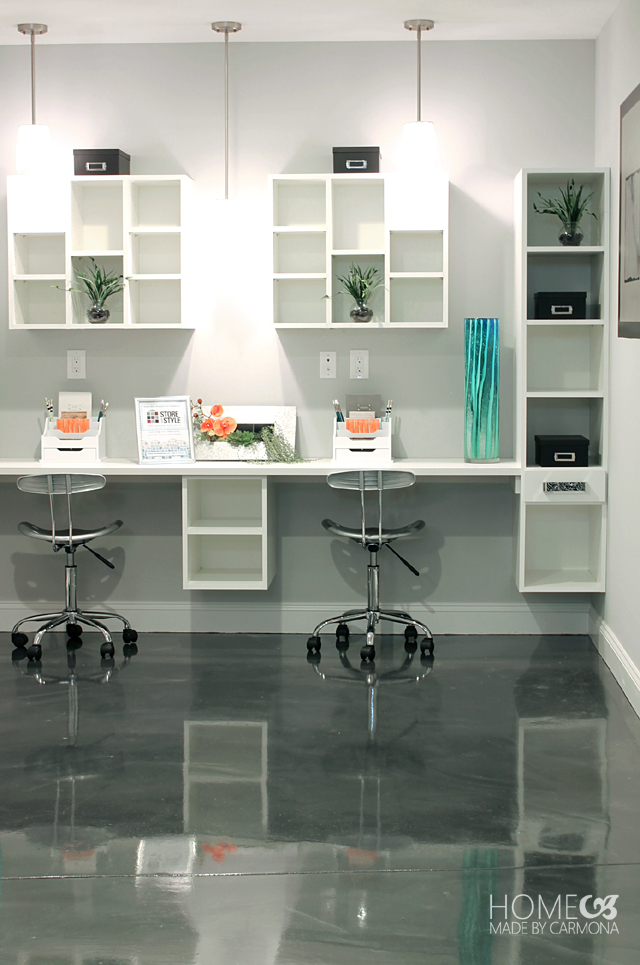 This is only one wall among the extensive home office. There is the above workspace, an additional craft table, a sitting area to lounge, and not far around the corner a bar! Yes, you heard me right! This is the home office (or for me a craft space) dreams are made of. Check out that flooring…I could let my kids loose to craft down there in full faith knowing nothing would happen that couldn't be easily cleaned up!
[left]
The fantastic team from Store With Style provided all the storage units you see.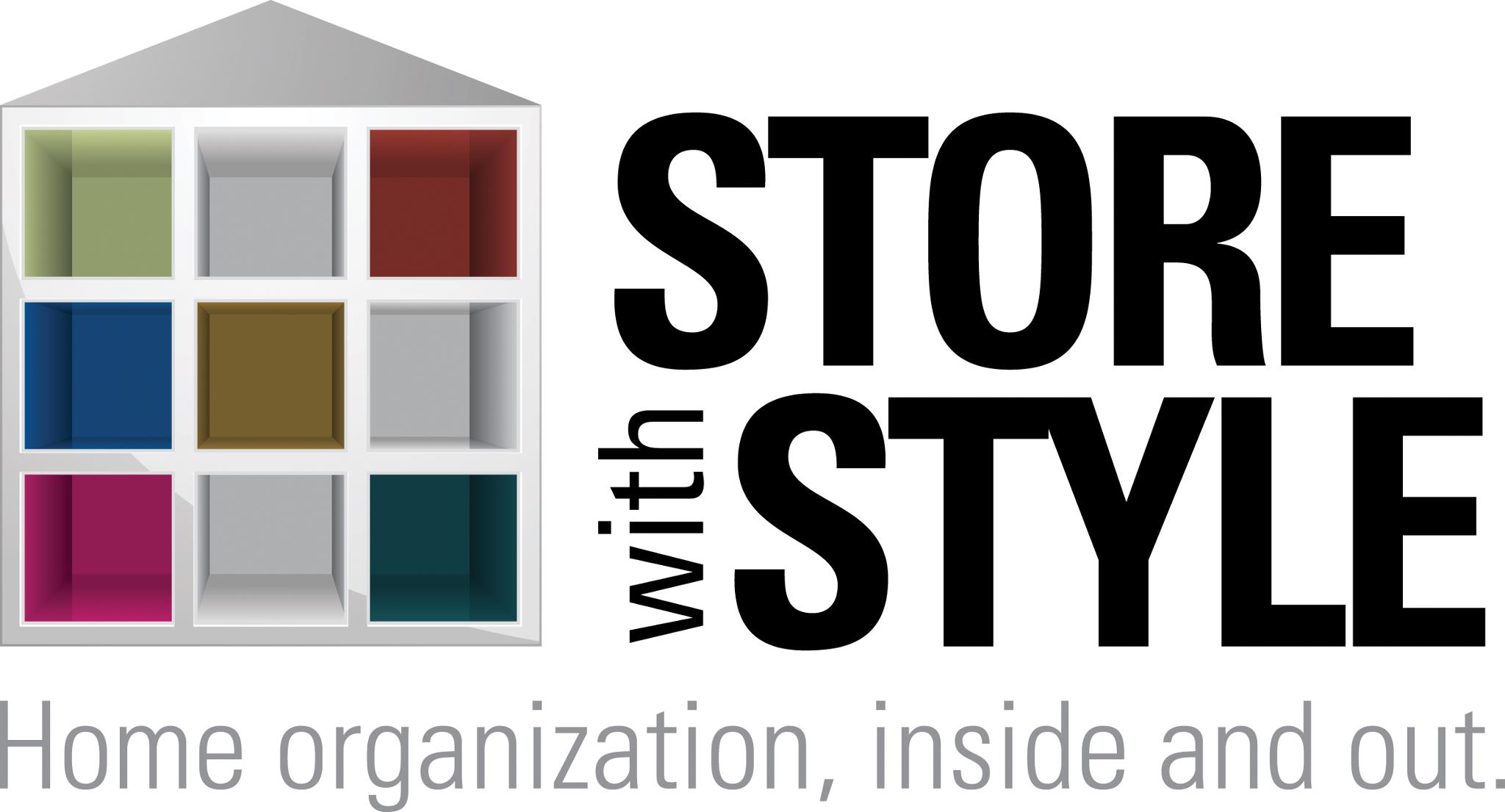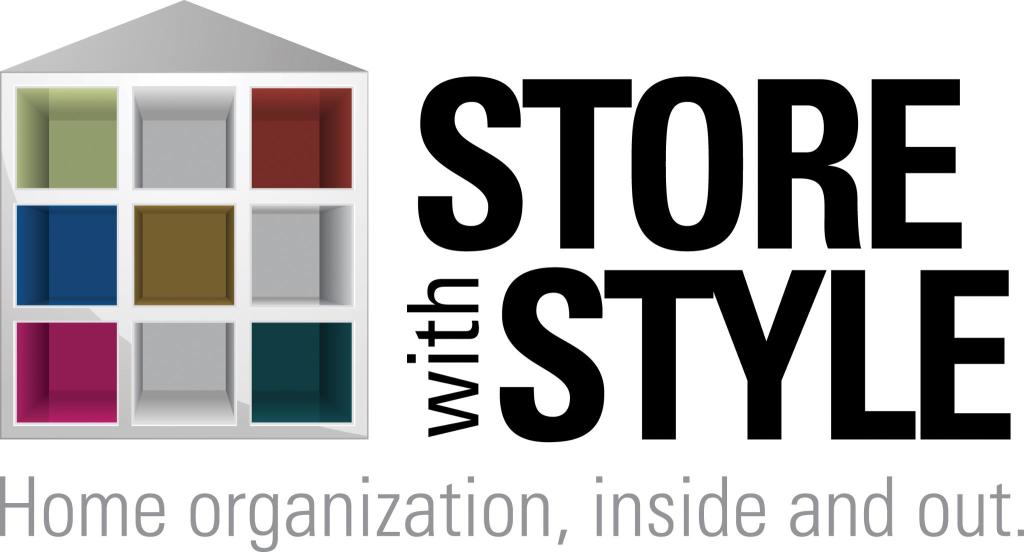 [/left]
[right][pullquote width="250″ float="left"]The floating cube design gives this functional home office a contemporary flair. Clean white lines allow the design to blend with a nearly endless pallet of accent colors.
~Store With Style[/pullquote]
[/right]
I hope you enjoyed this YMCA Dream House sneak peek! If you have the good fortune to go visit, let me know which spaces you love most. Just a hint, the boys bedroom is loads of fun, the sunroom is a great bonus space, and let me know how you like the other bedroom off the jack and jill bath!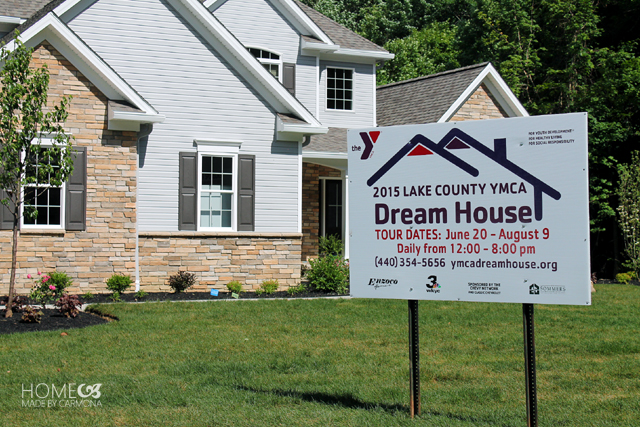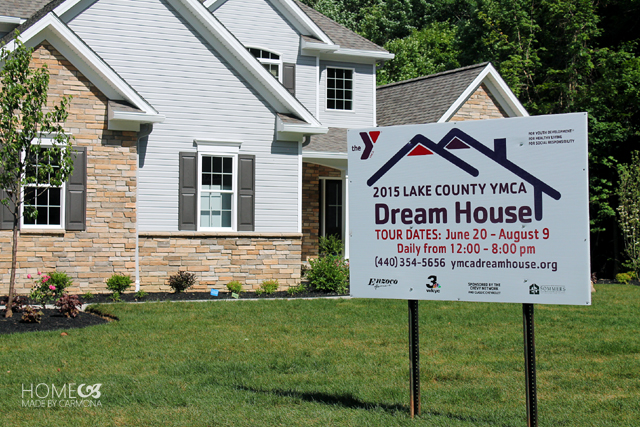 [go_portfolio id="decorate_landing_page"]