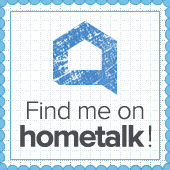 Oh Hometalk, where have you been all my life?? Maybe a more accurate question would be "where have I been all my life"? *grin*
Ok, so I'm guessing most of you have not only heard about, but have been enjoying the Hometalk community for a while now… well then I have a question for you – how, HOW could you leave me in the dark?? *mock weeping*. No but seriously, I only re-discoverd the wonderful world wide web after 3 babies grew old enough to fend for themselves….some of you know exactly what I'm talking about.
For those of you who haven't joined the Hometalk community, you should! It is a great way to browse inspiration and tutorials, follow your favorite blogs & professionals, clip posts you love, be a part of great discussions, post questions, and so much more.
You can follow me here on Hometalk.

Entryway Organization Board
Last night I had a fantastic time browsing and clipping inspiration for Entryway Organization on Hometalk. And what better time to help curate this board? Giving my coat closet a much needed makeover makes me realize that I need to extend that organization into the foyer space surrounding my closet. The Entryway and Coat Closet work together to streamline function from the moment you enter or exit your home. It is the command center that greets your guests and makes that first impression. Make it count! Click on the graphic below to see my Entryway Organization board in it's entirety.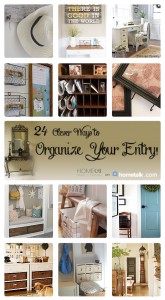 Notice my DIY Key Organizer among the entry organization tips? *grin* It is just the type of project that would work great in the entry or in the coat closet!
Thanks to Hometalk for allowing me to curate such a fun board!

Happy clipping!