Yes, I use Herbs and Seeds.
I'm sure you're looking at my collection wondering what kind of crazy mountain lady I am! Hehehe! Well there are a few herbs used for what ails, but most of my herbs are for cooking! Dried parsley, cilantro, marjoram, and basil to name a few. I confess that I am a fan of the occasional herbal tea for health, as well as poultice use.
I also have some seeds I keep around. Wondering what the deal is with the seeds? I love sprouts in my sandwiches and add them to salads for health, but it is so much cheaper to sprout your own than buy them in the grocery store. Plus you can get a larger (tastier) variety! Then there are those seeds such as sesame that go great on homemade bagels, or in Asian dishes!

Herb & Seed Storage Before
Formerly stored in what I call the "shoe box" plastic container, my dried herbs and seeds got tucked into the cobweb corner of the cabinet and wasn't being used to it's fullest potential. The ziploc bags that held each herb had been labeled with its uses and benefits, which was the right idea, but not in easy access or in plain sight, which was the wrong idea. The storage method wasn't terrible, but truth be told I was rarely willing to go through all the "effort" to pull out the shoe box and sort through my herbs. Strange, it wasn't that much more of an effort (lazy butt), but out of sight out of mind I suppose (or some kind of legit sounding excuse). It was definitely time to experiment with a new storage technique, one that caters to my personality quirks.

The Solution That Currently Fits Me
After a bit of thought, and poking around my kitchen to see what I already had, I dug up these fantastic freebies. You know those nifty containers you get from ordering soup take-out from most Asian restaurants? I had been holding on to them for years waiting for the perfect use. It always made me feel like somehow I was closer to getting my money's worth when I got good containers with my take-out. I occasionally request one extra empty container when I order from a more expensive place (confession time!). After 5 years of rare soup orders I've finally gotten a nice little stash.
I have to say, I am thrilled that they came in two sizes, and I am positively over the moon that my herbs fill the containers perfectly!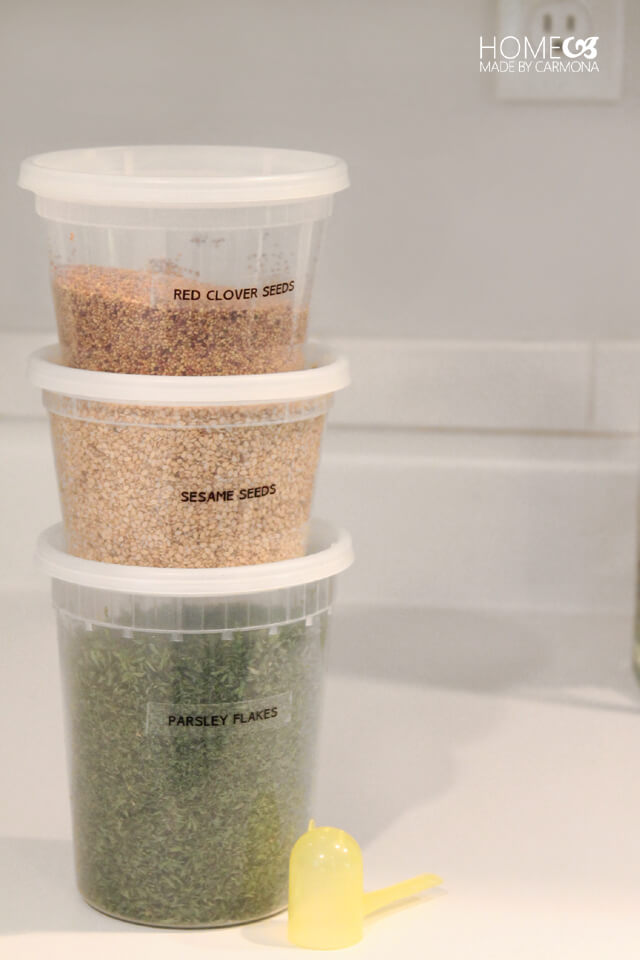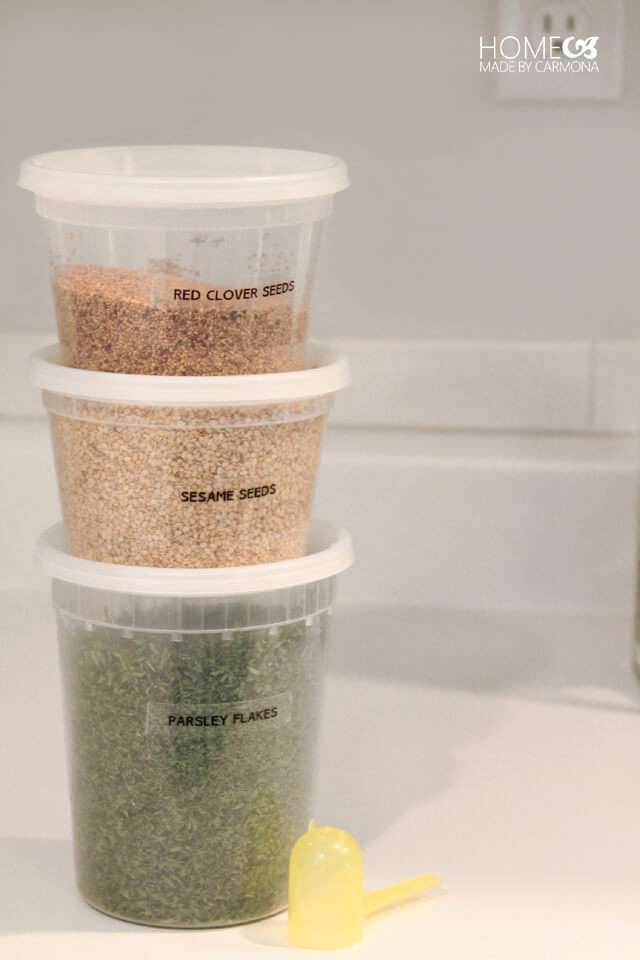 An excuse to use my label maker, and make everything uniform and easily seen? This makes for a great 15 minute organizing task!
Granted, it isn't the beautiful rectangular storage containers I desire, but this will suffice until I can afford to spring for great containers.
 Yep, definitely not the stunning storage solution I typically go for, but this solution allows me to keep my money in my wallet, and helps me use my herbs more frequently since I now have better access. That is a win in my book!


[go_portfolio id="organize_landing_page"]