Have you ever had that room that just baffled and vexed you? As if something about it is never "quite right" no matter what you try to do? Unfortunately for me, that is my living room space. Figures, the one room where I entertain my company and spend the most time in is my decorating kryptonite. Well I've been slowly chipping away at all the ugly, and a big part of that was finally being able to paint the space a color I would love.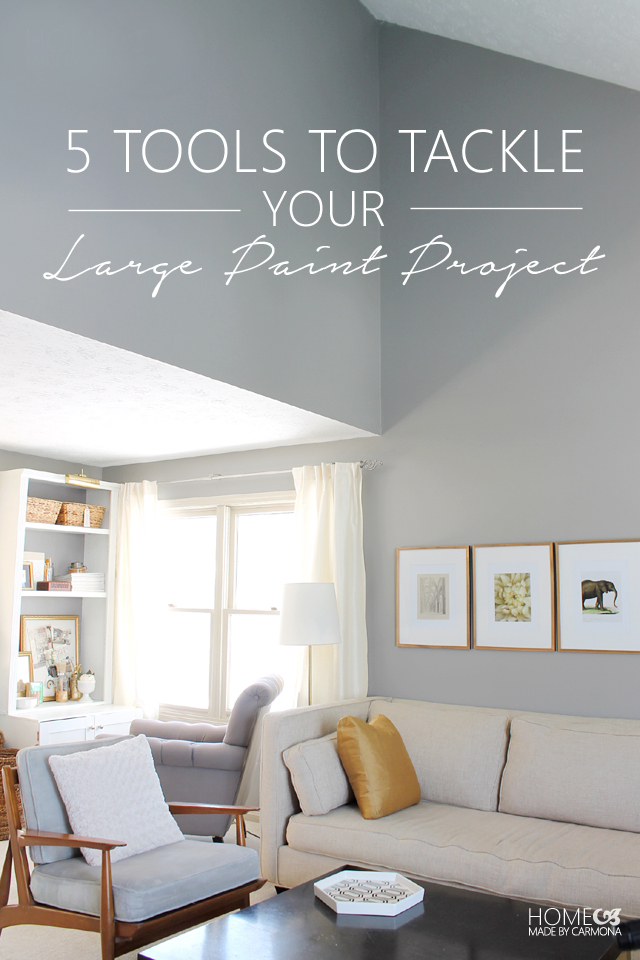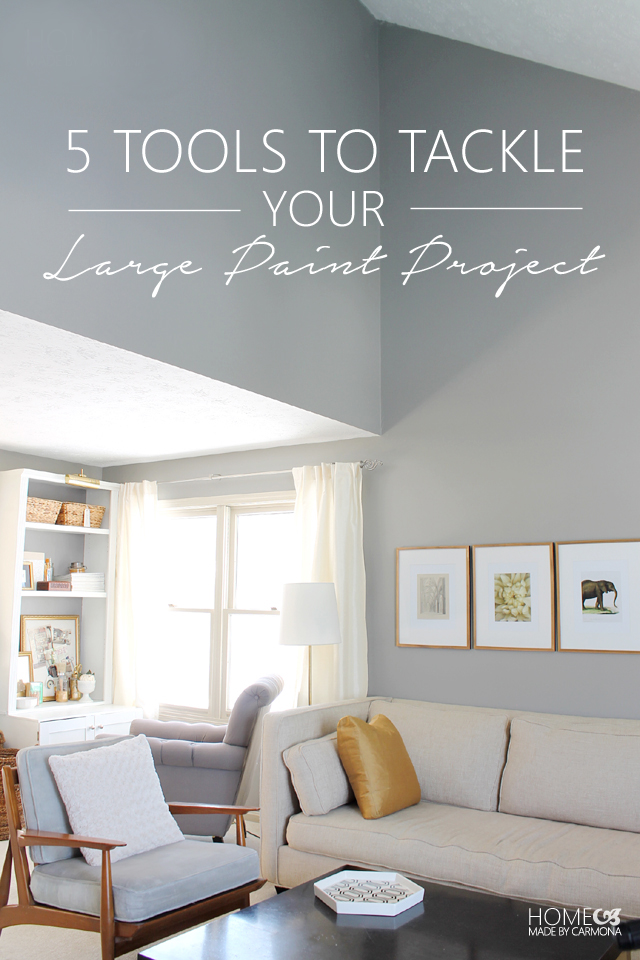 Nothing was terribly wrong with the color before, it just wasn't…me. This was a BIG job (well, more like a tall job), and I wasn't convinced I would be able to do it on my own. Desperation and wistfulness finally led to determination, and with the right tools I was finally able to paint my space! Let me remind you of what it looked like when we first moved in with all our raggedy things.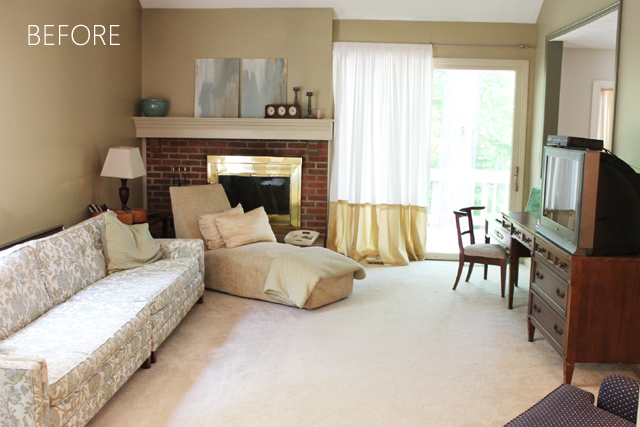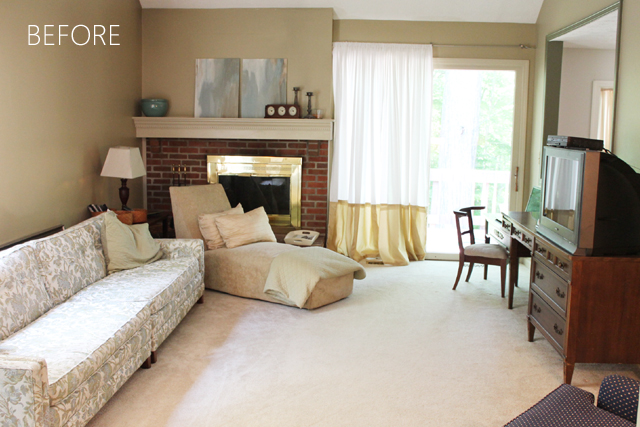 A couple of those raggedy pieces remained, but as you can see some got a happy little makeover to make them more tolerable. 😀 Let's call this DURING…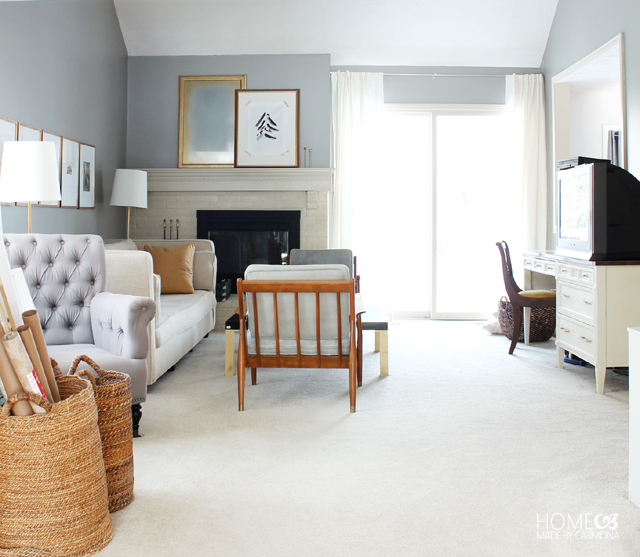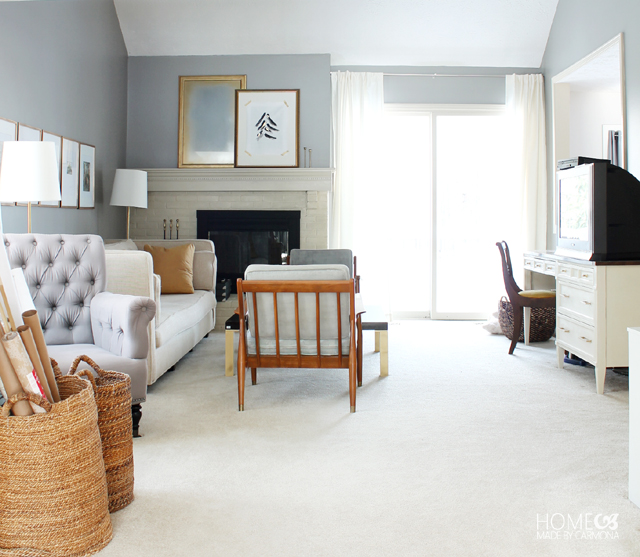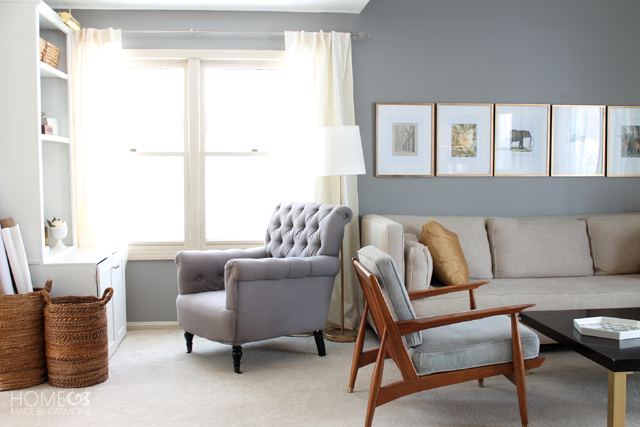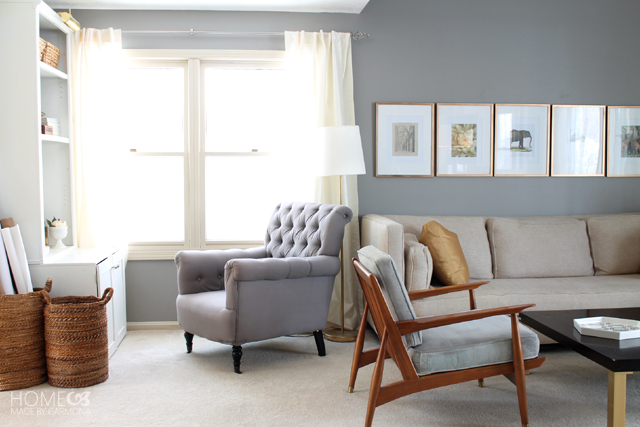 See in the picture below how tall that ceiling is? Talk about a challenge to paint! And I wasn't particularly fond of the idea of a scaffold…not worth the $$$ for what will hopefully be a one time job.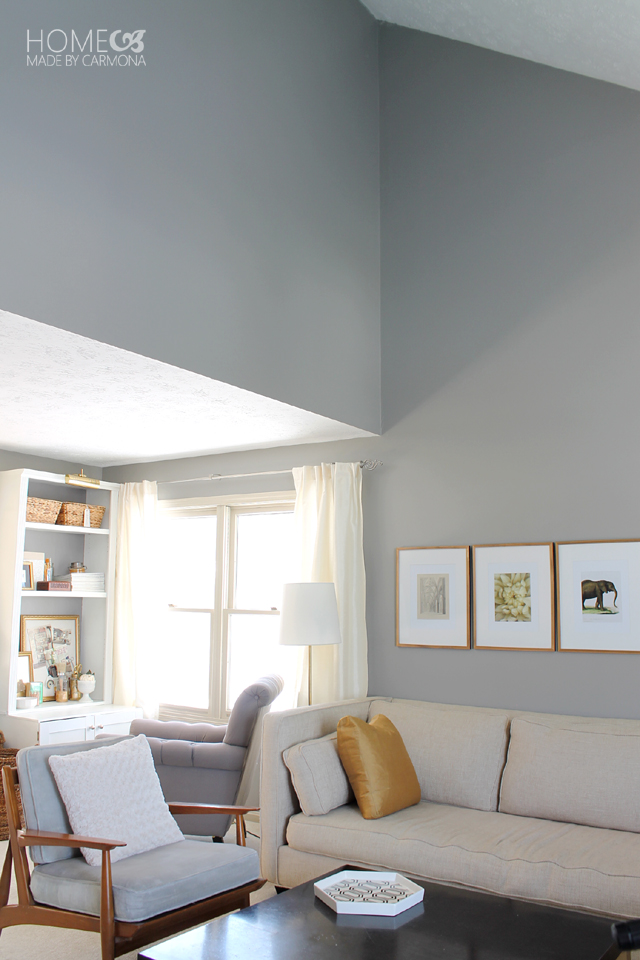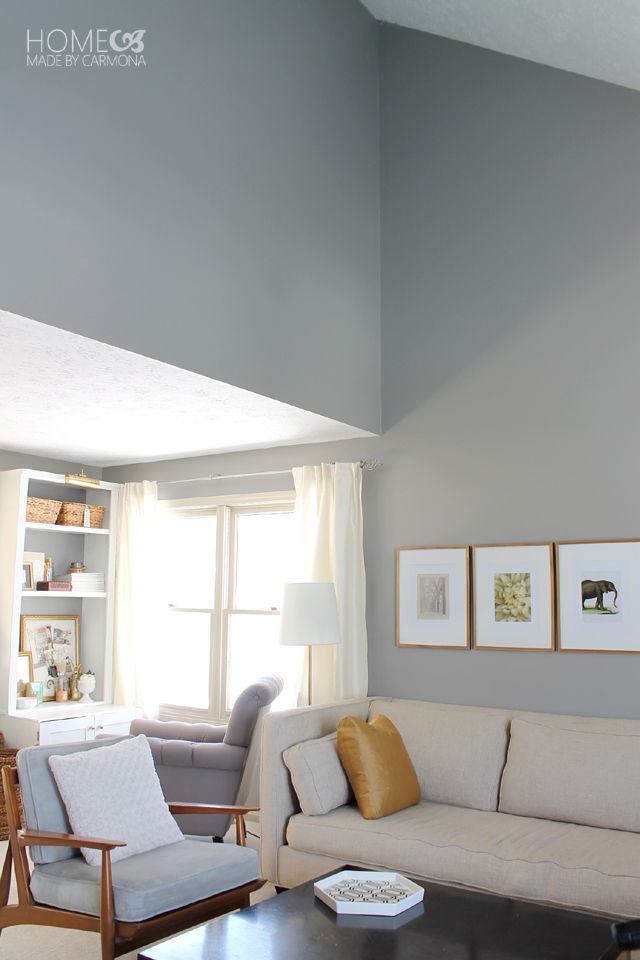 So how did I tackle this great big job? It required 4 important tools
The right size and ladder type
Extension pole
Ceiling and trim edger paint tool
Corner paint tool
Paint pad
Let's talk a little bit about those tools, because they made a huge difference!
The Right Ladder
I thought perhaps I could do this task with the existing ladder I owned… yeah right! Having the right ladder for the right job is very important for safety. Before purchasing I carefully measured for the minimum height required to do the job. My height, plus a couple extra feet of extension pole and a comfortable (and safe) rung of the ladder should result in easily reaching the furthest corner.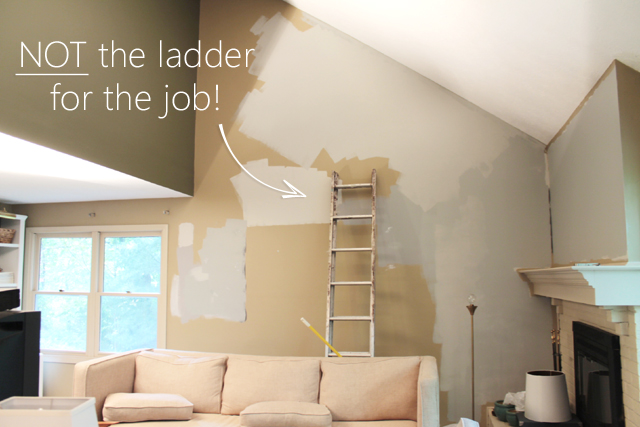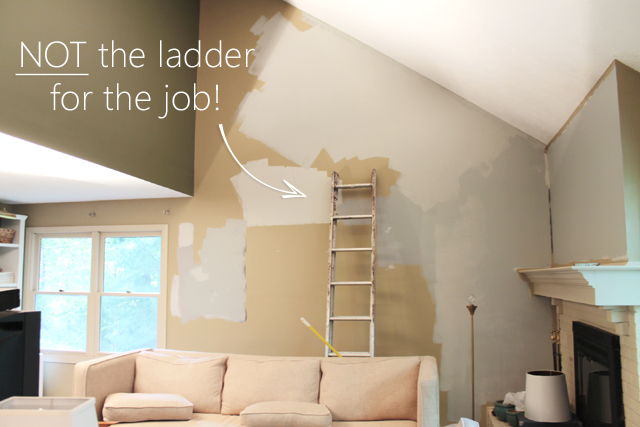 Extension Pole
You can purchase an extension pole from the hardware store, OR (my favorite solution) you can borrow one from your broom. Yep, just unscrew the sweeper head and use the pole for all your painting needs! It turns out that most extension poles longer than a simple broom handle are quite the $$, and not always worth shelling out for it. Remember that the further away the pole is from your body, the harder it will be to apply necessary pressure with something like a roller attached. So there are two things to consider: #1 A paint pad will be easier to manage on an extra-long extension pole, and #2 it might be better to invest an extra $20-$30 toward a good ladder that reaches your necessary height requirements than to put that same $ into a pole that will only give you a few extra feet past what a broom handle would. At least the ladder will be used for more than painting!
Ceiling And Trim Edger Tool
Want to paint your walls but not your ceiling or your trim? Forget painters tape, an edger is the new easy paint solution to a quick painting job with pristine lines. If you have a slanted ceiling you will want to look for an edger with a pivot head, otherwise a straight forward edger will be just fine for most spaces. Another great benefit of having the edger was being able to pull the furniture away from the walls just enough to reach my extension pole and edger tool back behind the furniture and paint. We have some huge heavy pieces, and rather than strain ourselves moving them, we simply "walked" our furniture pieces about a foot or less from the wall and use the edger and paint pad to do the job where my body wouldn't fit. Quali-Tech Manufacturing gifted me this edger tool (found here for purchase), and it really saved my back! I was able to paint my walls without any "oops" paint on my ceiling or on my trim!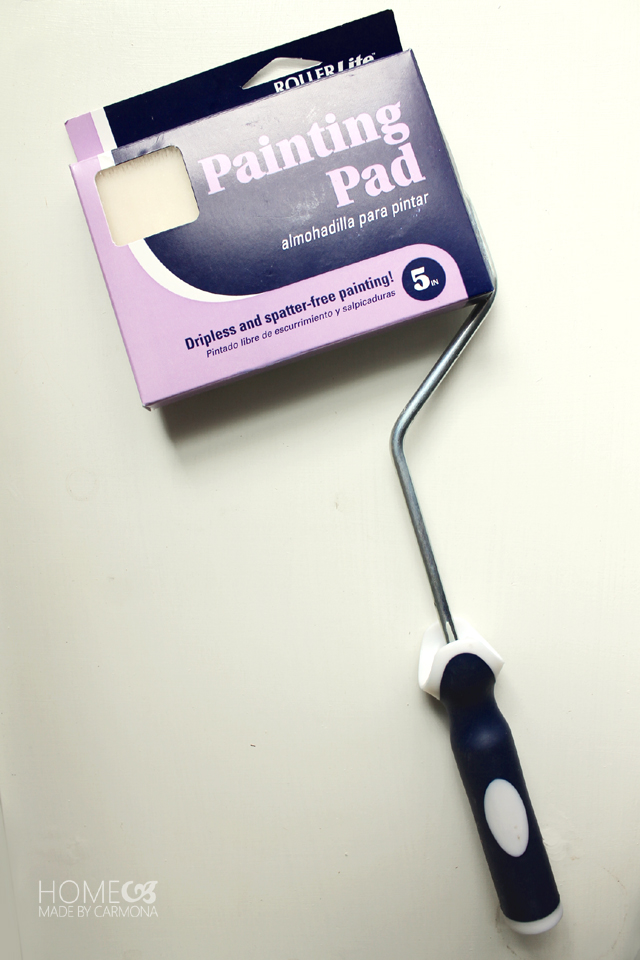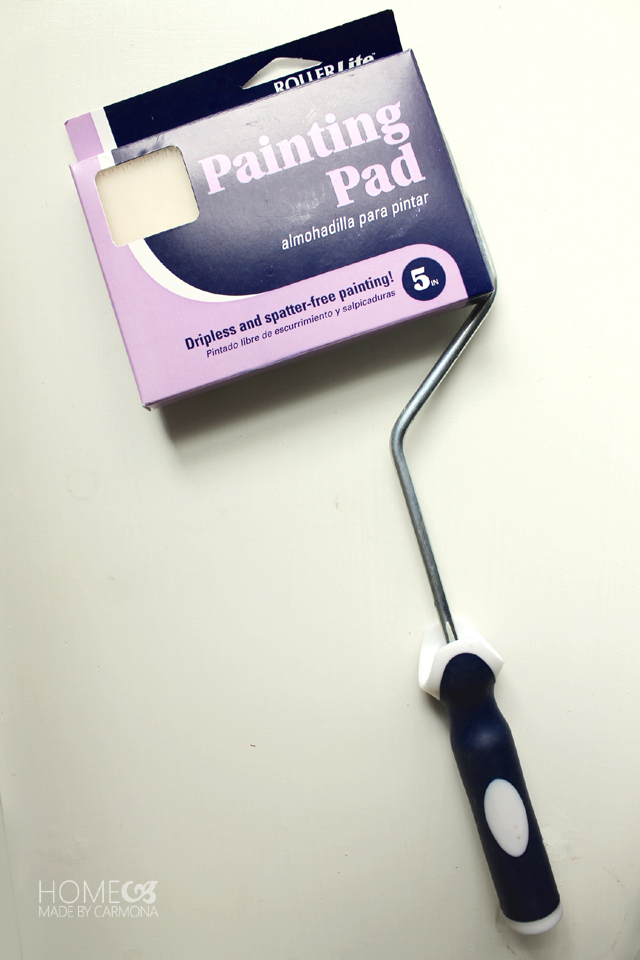 Corner Paint Tool
Another great tool from I got from Quali-Tech manufacturing is this fantastic corner pad (found for purchase here)! When there is no way you'll reach the furthest inside corner up close and personal, then the corner pad is the perfect tool to reach those tall spaces where the walls meet. Ironically the problem of painting right up to the tightest part of the corner was exactly what prevented me from tackling this job in the previous years… in my experience with painting it is often the smallest details that make the difference between a professional job and a shoddy job…and there was no way I was going to mess this one up!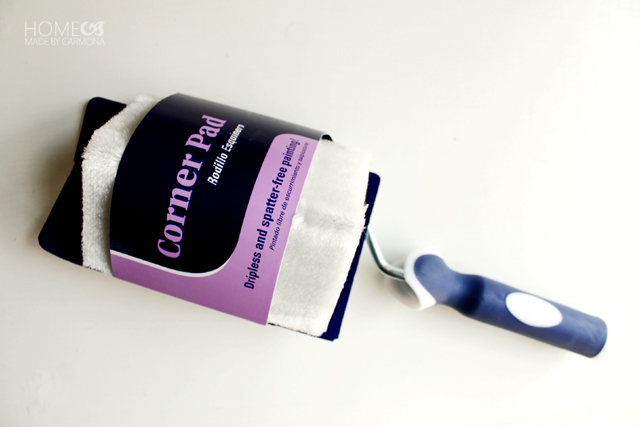 Paint Pad
Paint pads are much easier to work with while attached to an extension pole than a roller. Somehow it just flows better with the movement and pressure placed with an extension pole. You'll know when you've got a good quality paint pad by how well it holds the paint, whether it lays down the paint evenly or if voids occur.  Additionally using an extension pole and paint pad to squeeze behind the furniture it fantastic!
Paint Tip From A Serial Mind Changer
Ok, one final tip for you… don't make the mistake I always make. I often resort to painting the space over again because after seeing it on an entire wall in different lighting realize I hate it. Haha! Buy a sampler, shucks, buy a bunch of samplers in the variation you are looking to paint. Paint a large swatch on EVERY wall of the room so that you can see it in every light. Live with it for a month if you need to. 😉 Trust me, it's better than going back and doing the task again in a couple months because you hate it.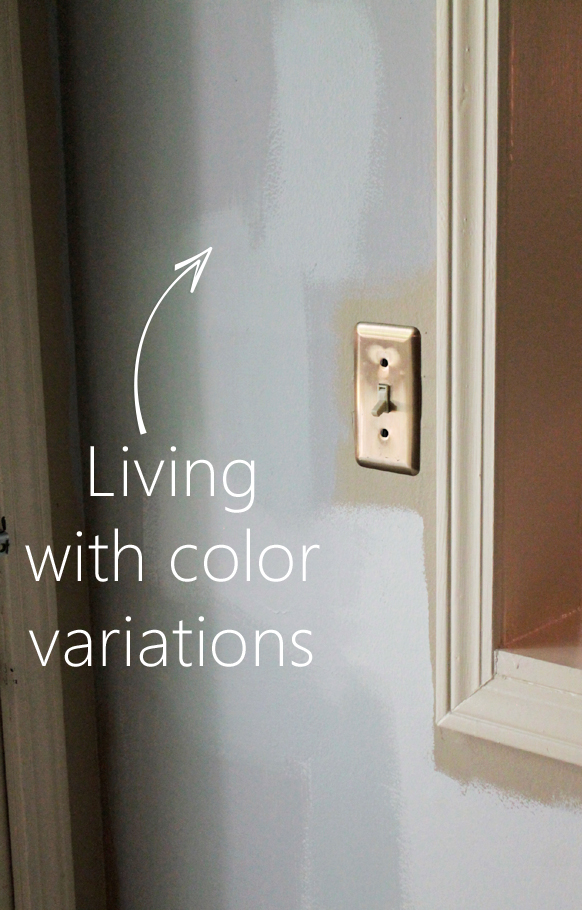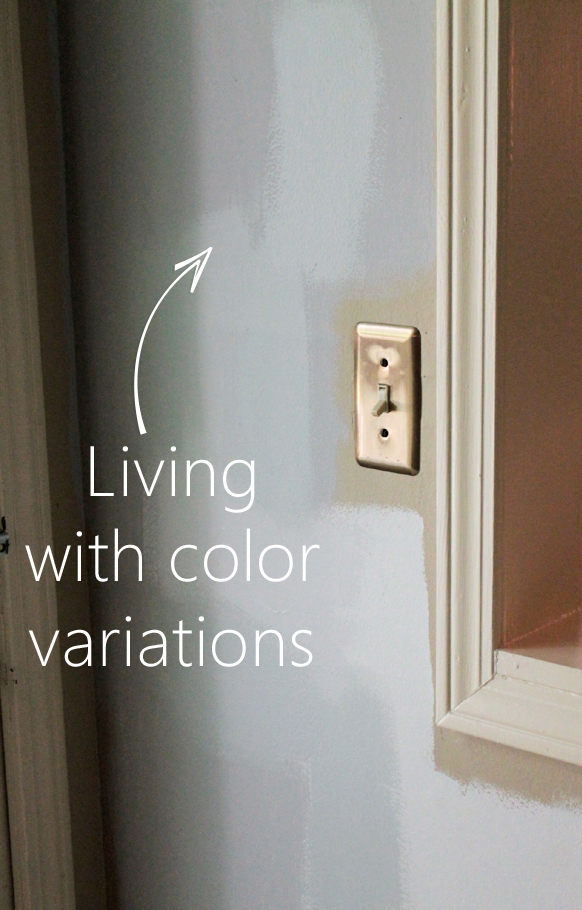 With these tools I managed to tackle my big paint project and soon I had a new living room canvas to work with! I can't wait to finally start dressing this living space…I have lots of ideas, but we'll see what works and what doesn't. 😉
*I was not paid for this post, it is not a sponsored post. But Quali-Tech Manufacturing did graciously gift me the tools to accomplish this big job! Thanks!