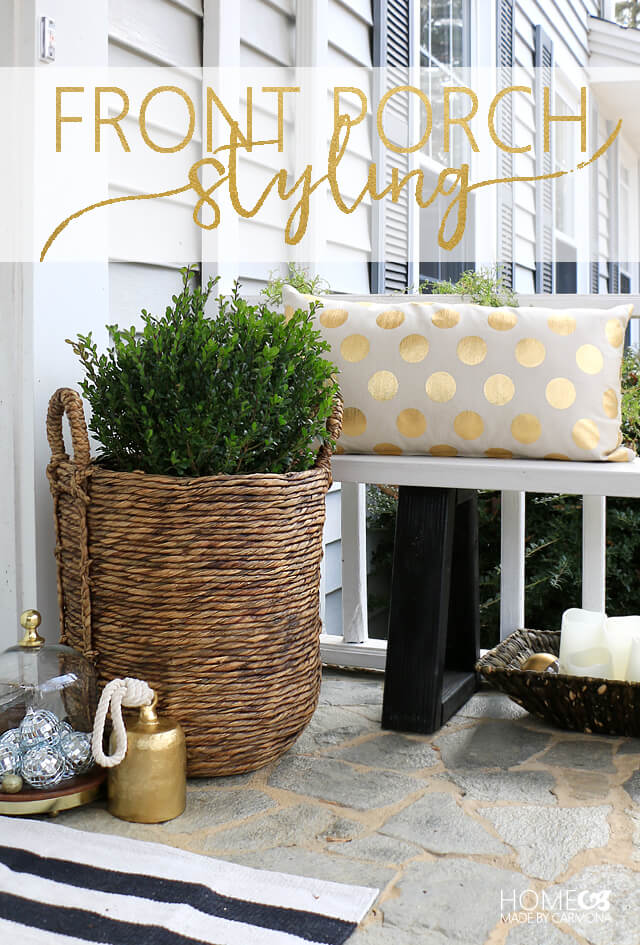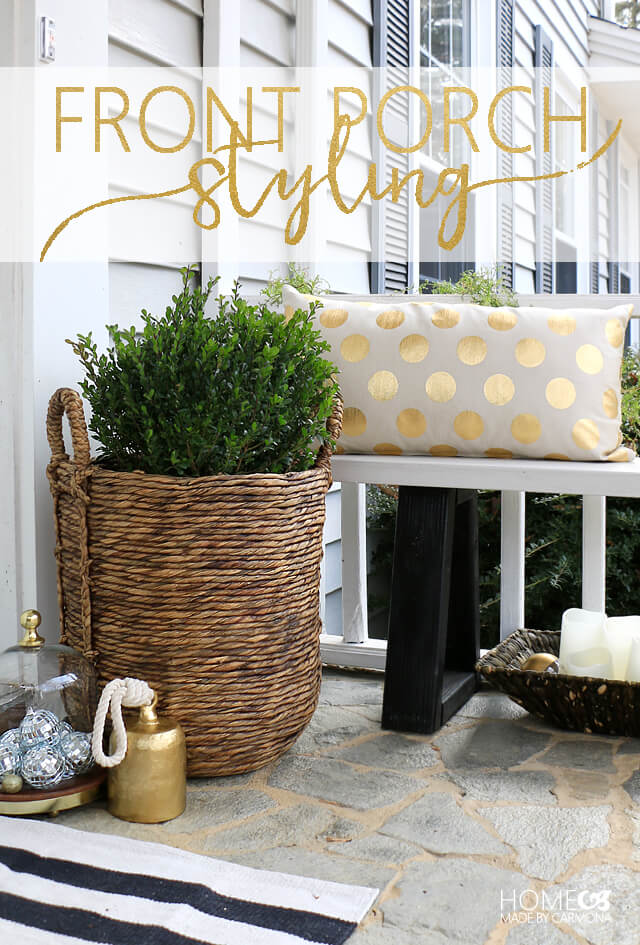 I have lived in my new house all of 4 months now, and just barely gotten out of boxes. Which means my entire house is a hot mess, and I haven't even begun any real decorating…just minor things, like painting walls and setting up furniture.
…nothing says welcome home like a beautiful front porch!
So when the amazing and talented Chris from Just a Girl invited me to join her for a "Welcome Home" porch tour series, I was honored and super excited! After all, nothing says welcome home like a beautiful front porch. By the way, if you are popping in from Beneath My Heart blog (or any of these other awesome participating blogs), then welcome!
I never feel quite like I'm home until a space starts to look like my style…and this boring front door does NOT feel like home yet.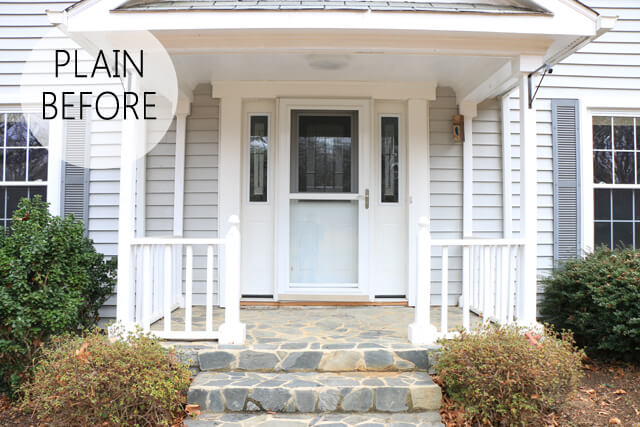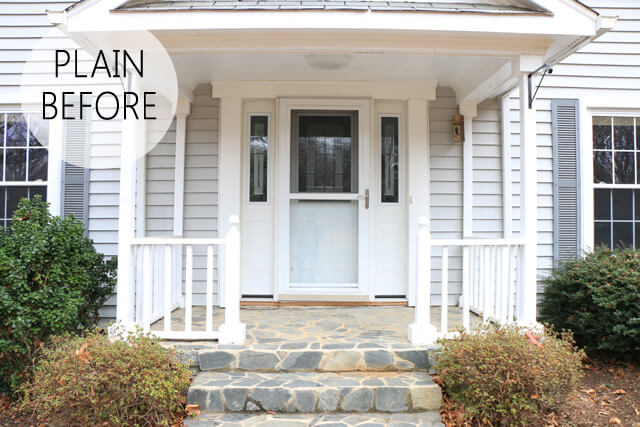 The first thing I did was spray paint some floating address letters gold and put them up. You know me and gold…once I have a bit of it in a space, I feel a lot better. #Imightbegoldobsessed
It's funny, putting house numbers up feel like some kind of symbolic step to staking my claim to this house. Weird.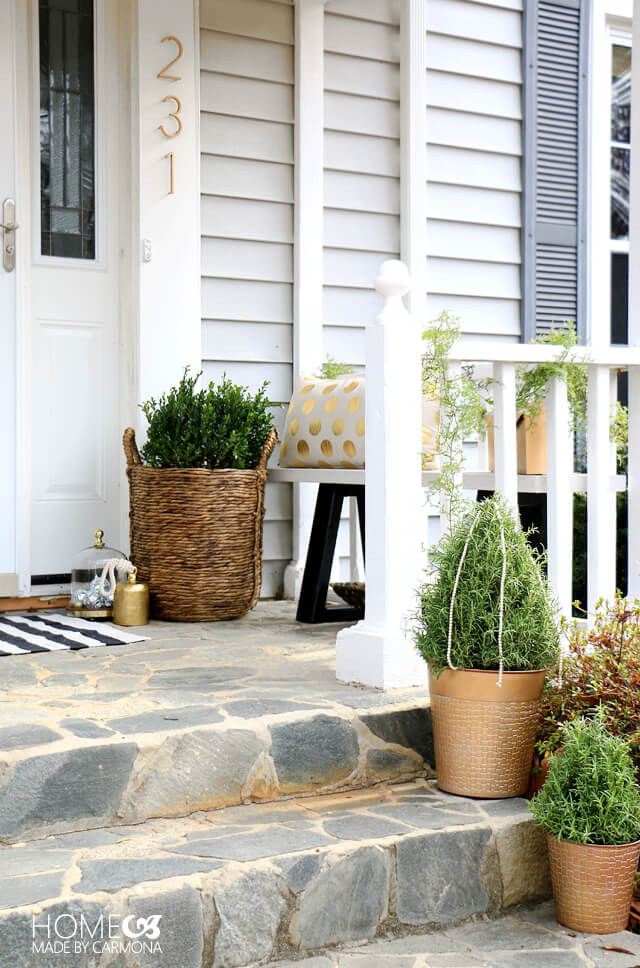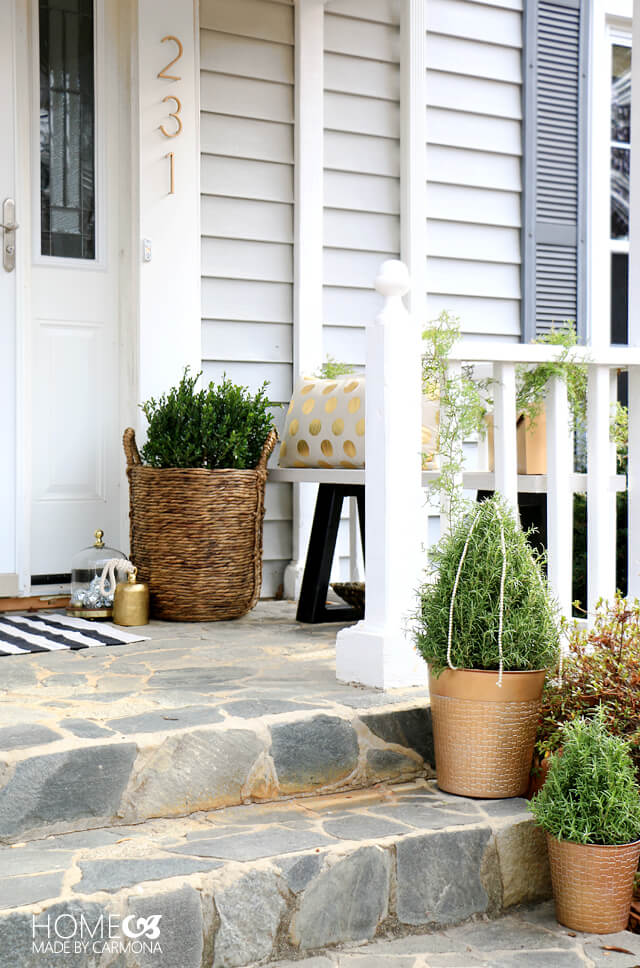 Every space needs a little sparkle, indoors or out! I'm in love with these disco ball ornaments, and particularly like mixing natural fibers alongside metal ones and all things sparkly.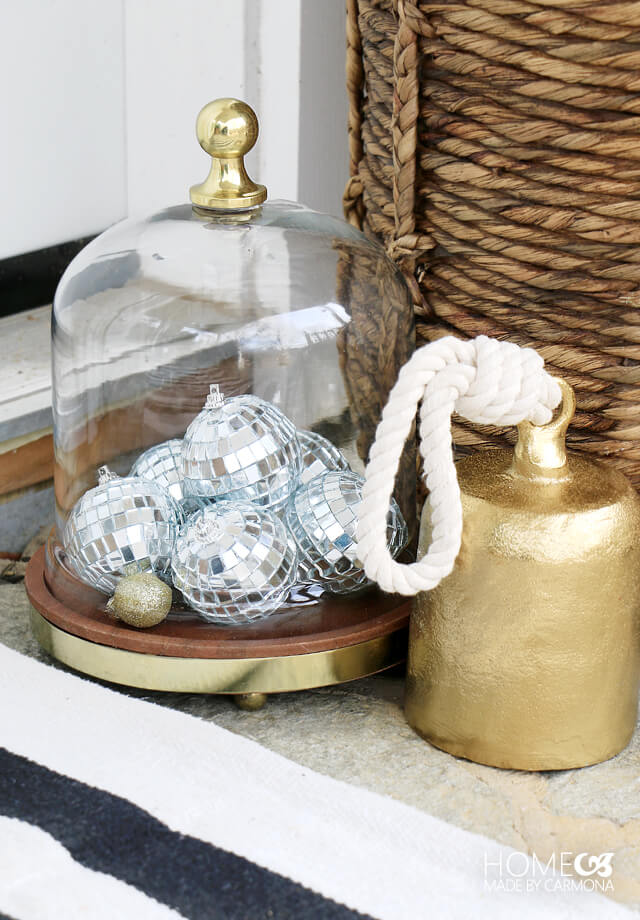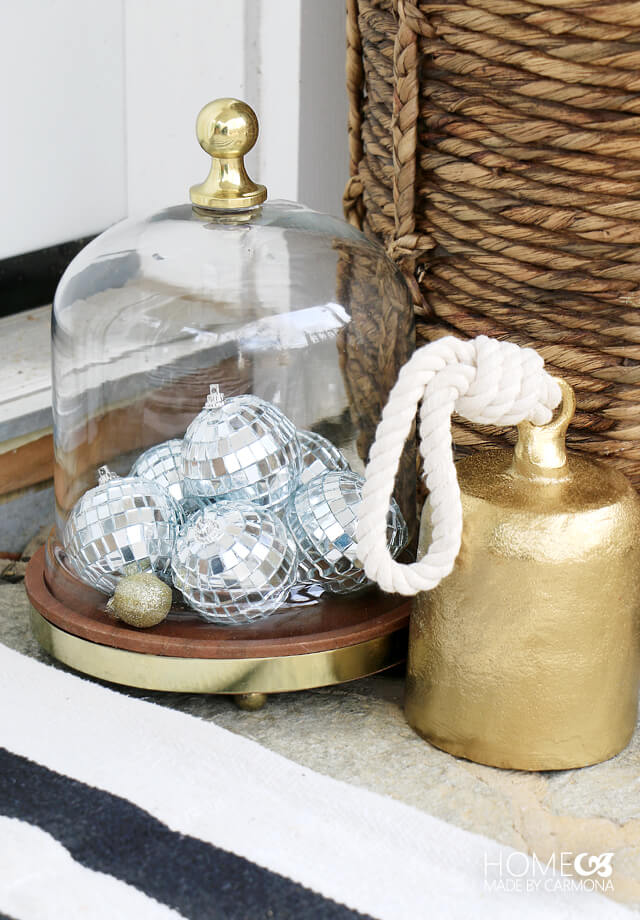 Speaking of sparkle, isn't this polka dot pillow adorable? It isn't an outdoor pillow, but since my porch has a nice portico to protect from the elements, I'm thinking some sprayed on water sealant should do the trick.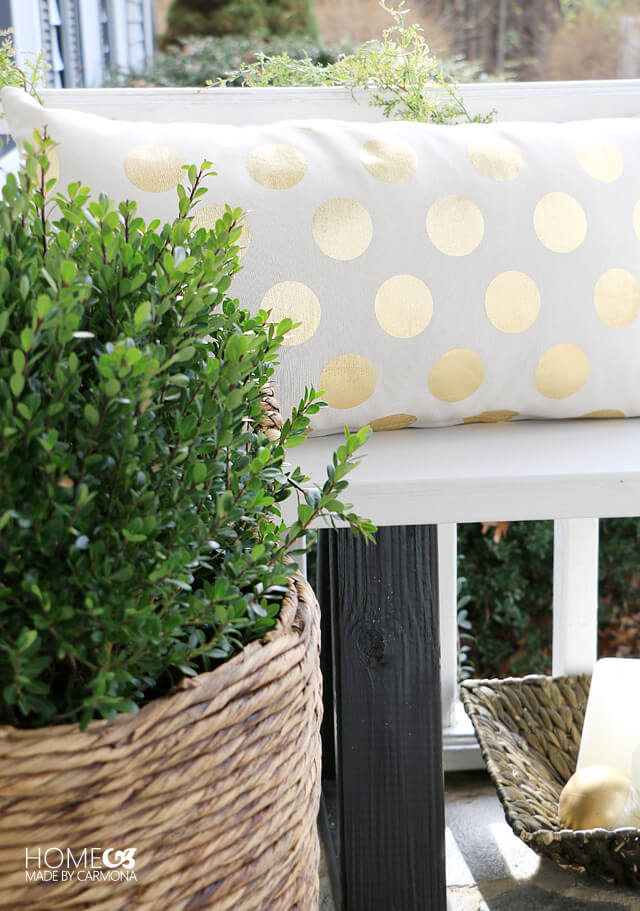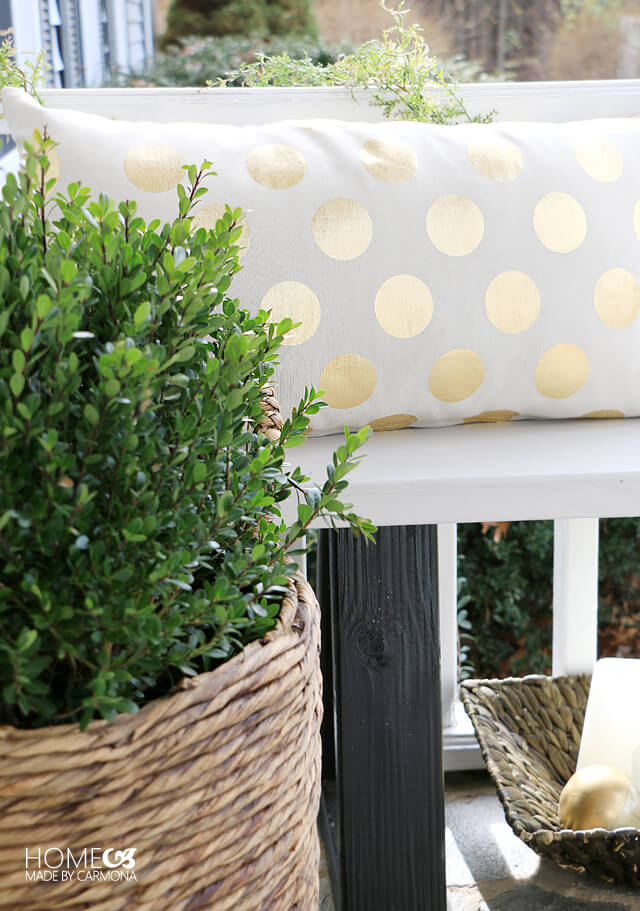 I know it isn't traditional to pot plants in baskets, but after spraying it with the same Thompson's water sealer I used on my pillow, and adding a plastic liner, I think they are better than your traditional planter!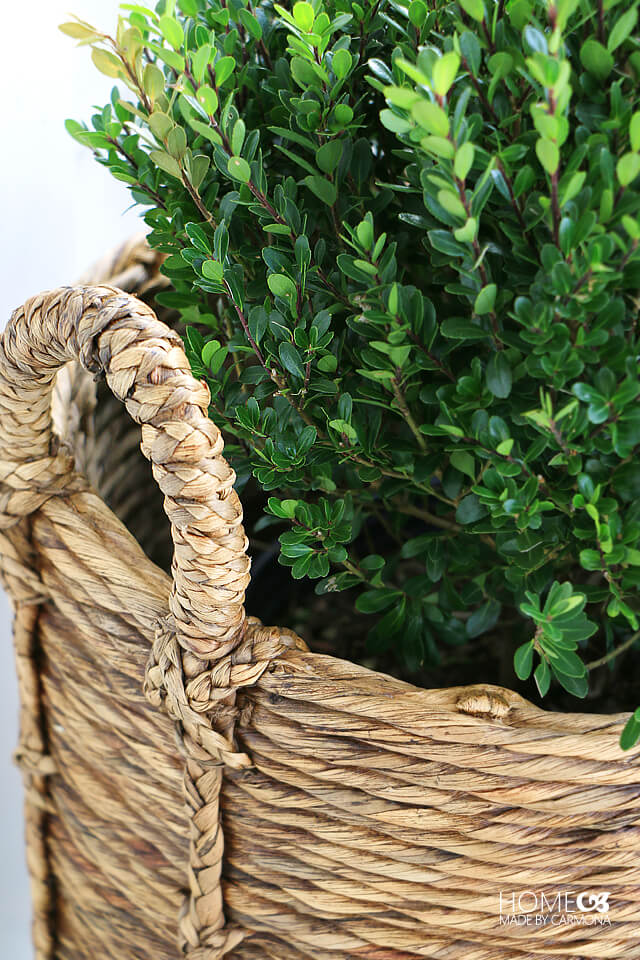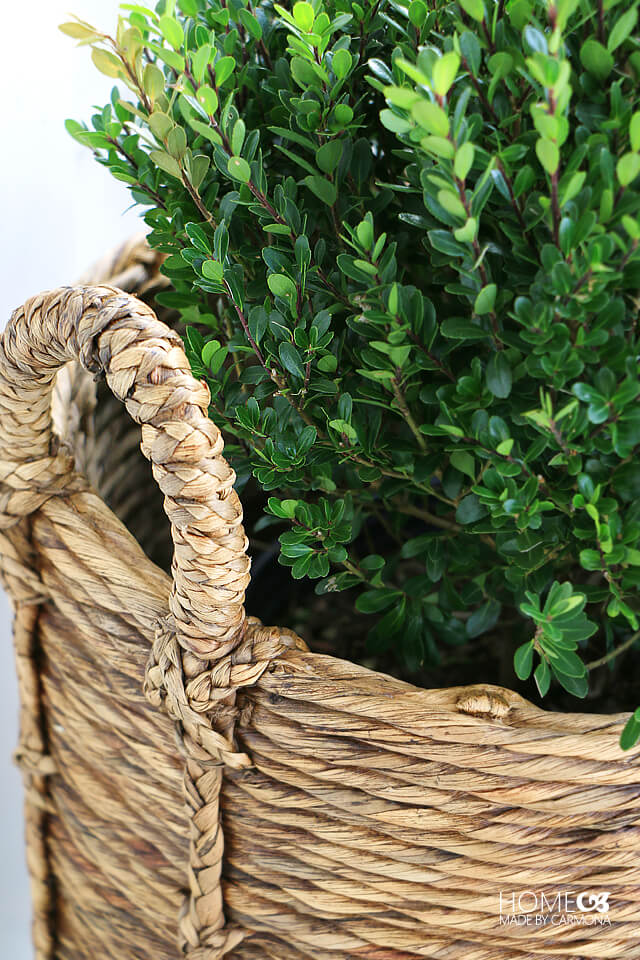 As always, I can't resist adding a few candles to the space. These flameless candles won't melt in the sun, or freeze in the cold.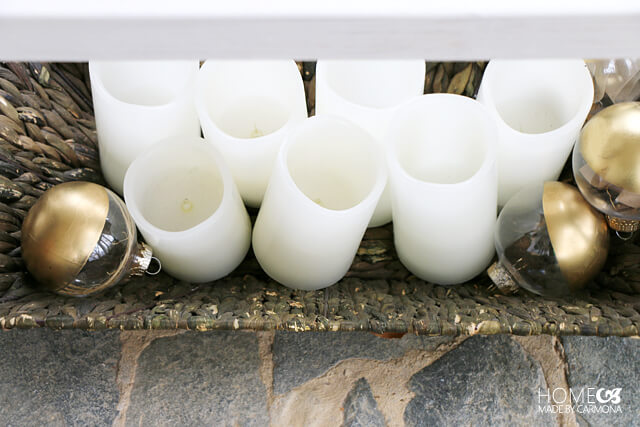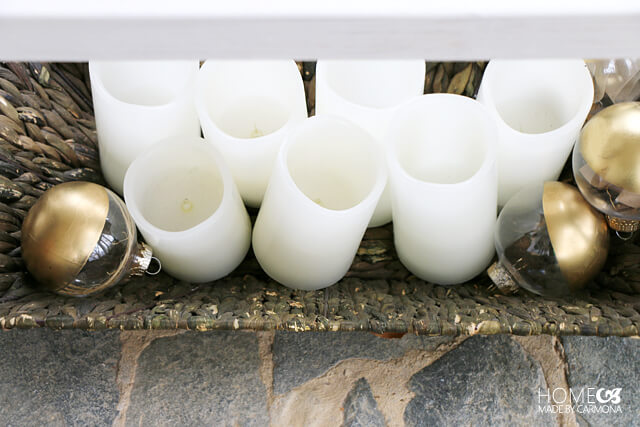 My new home is surrounded by woods (16 acres of them!), but I still feel potted plants, shrubs, and evergreens make a space. As the leaves are falling and everything is turning brown (can you believe there is still greenery and warm weather here in the south! Where I use to live in Ohio I would have been buried in snow by now!), those potted plants bring life to your yard and home.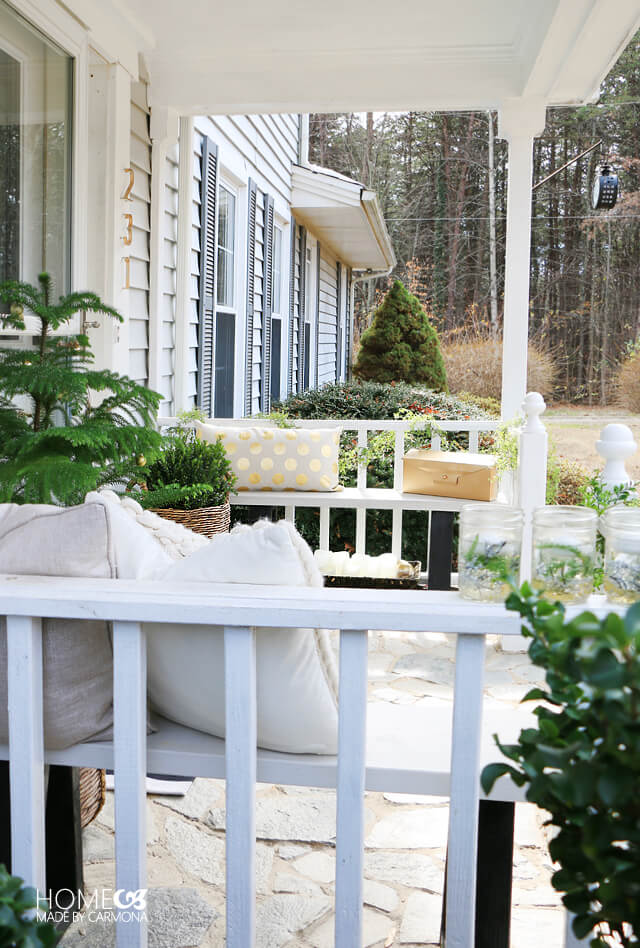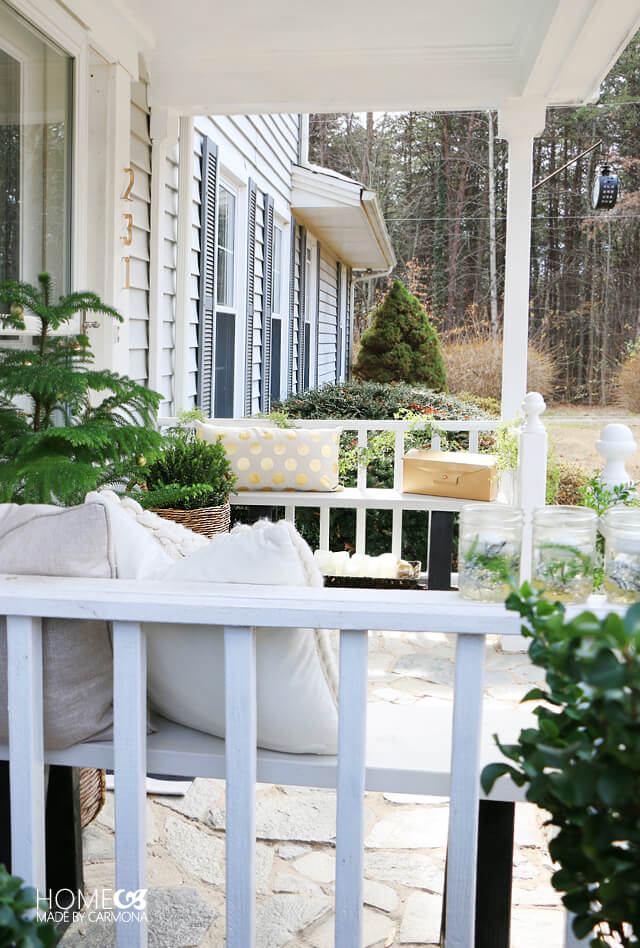 I got this cute little mailbox from The Home Depot and spray painted it my favorite shade of Krylon gold. I actually need to mount it, but I'm not sure whether to put it in the back of the house or the front. We use the back door most frequently… where do you think it should go? It isn't actually going to be used by our mailman, but by friends and family who need to leave us a note while we're gone.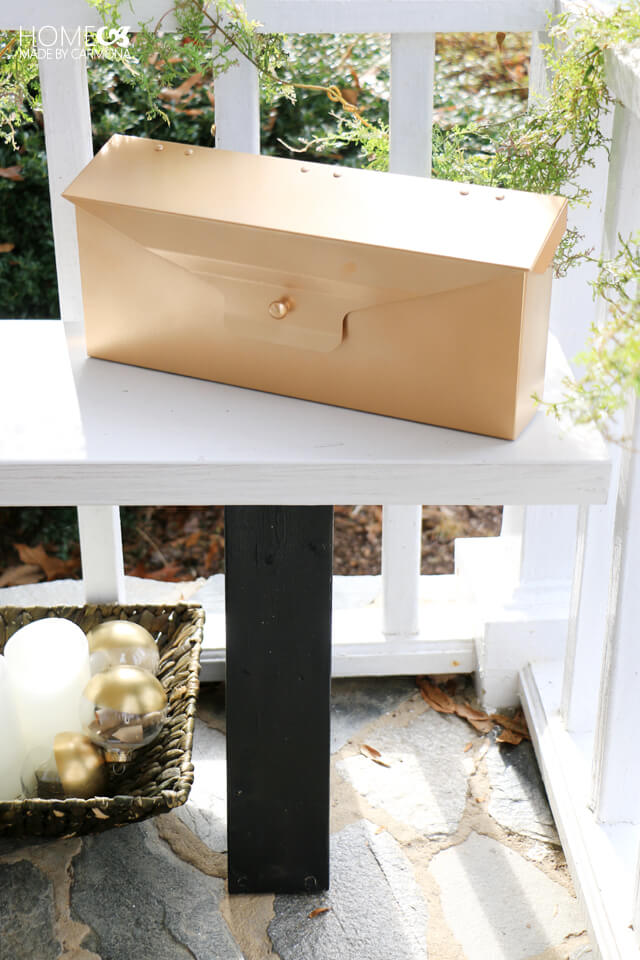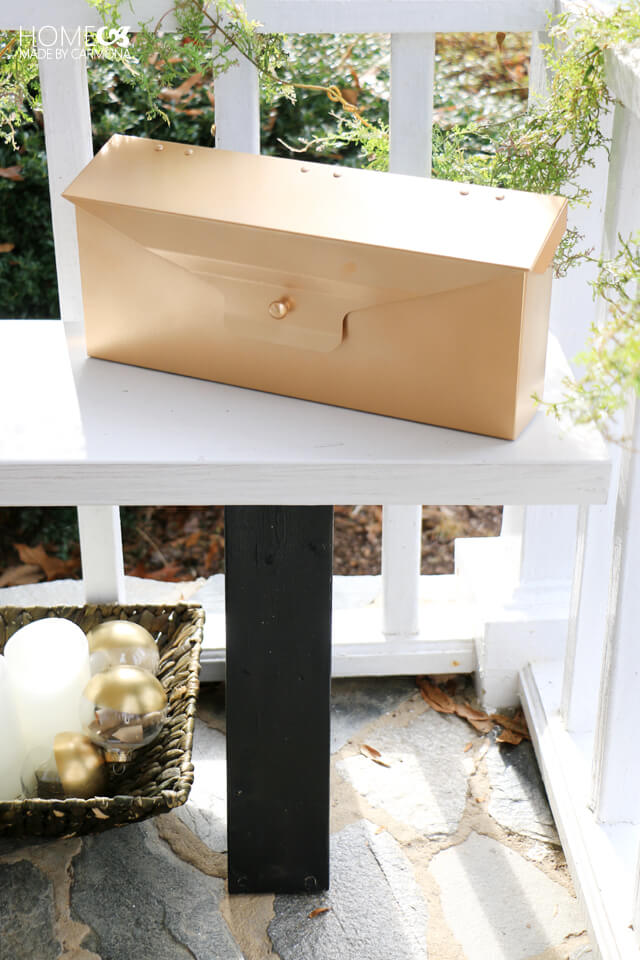 I'm keeping things simple when decorating my front porch since there is still so much to do to make a liveable home. Hey, these days "simple" looks amazing when all I've seen for months has been stack upon stack of boxes.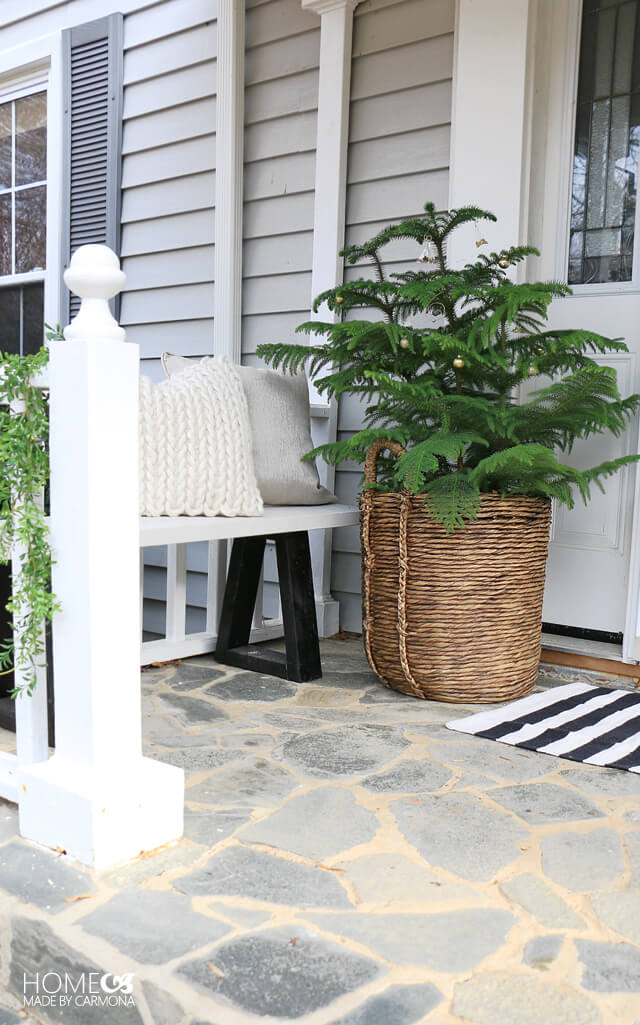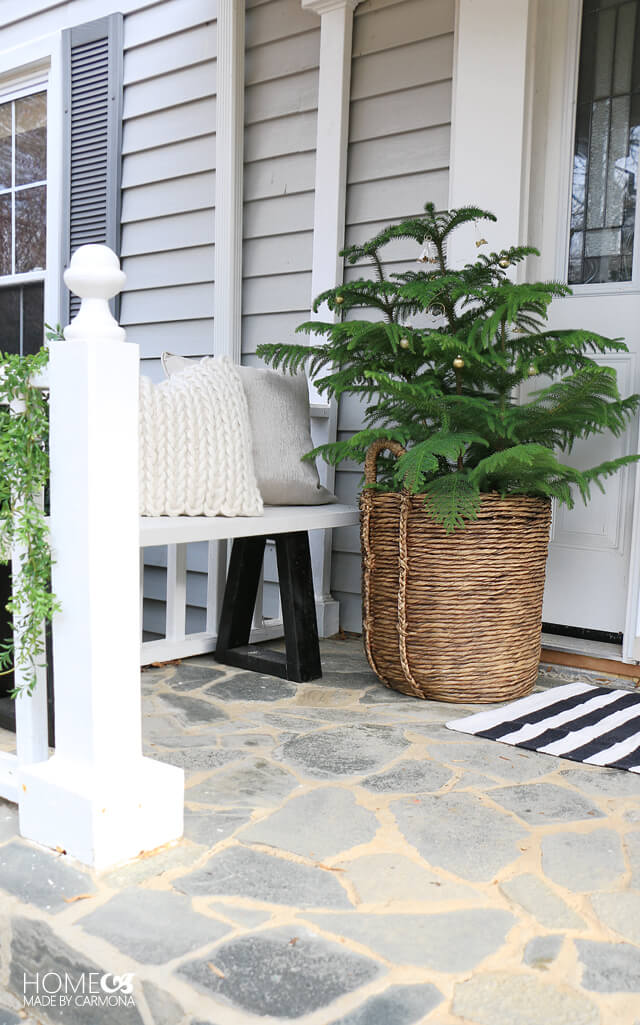 The same goes for holiday decorating. A few homemade ornaments on an outdoor tree will do just fine. We like to keep things stress free when unpacking a house. 😀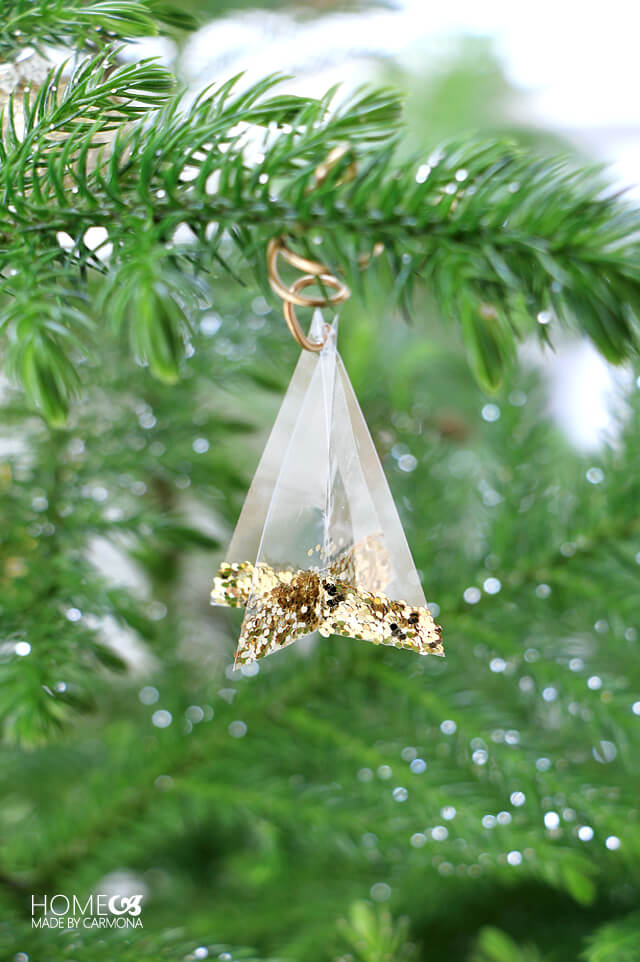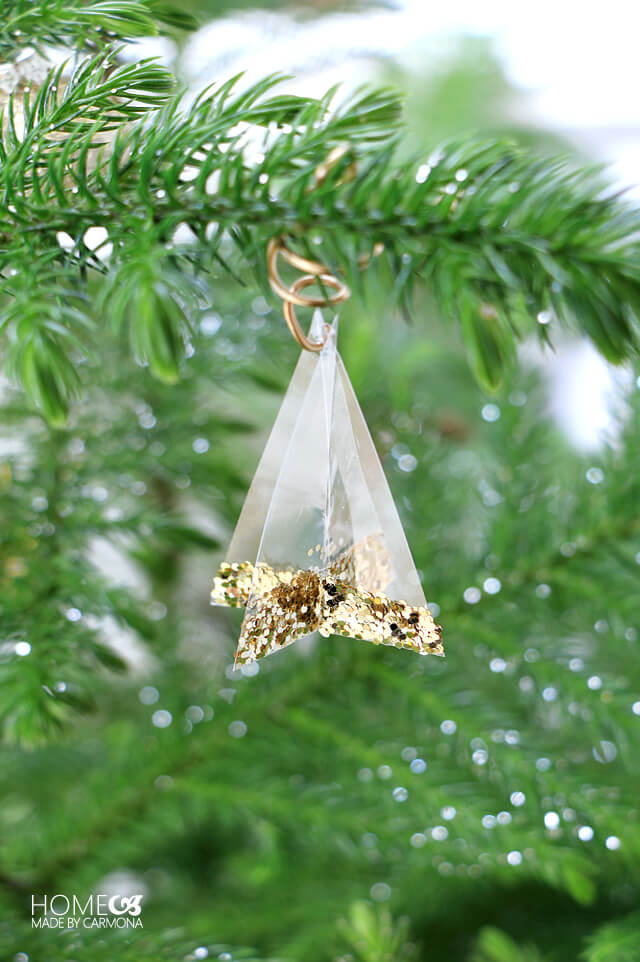 A few homemade gel candles to light up the evening makes this space pretty even in the dark! Although, now that I think about it, some simple Christmas/yard lights might be just the thing for the porch. Hm, maybe I'll put some up next week (if I can ever find our lights).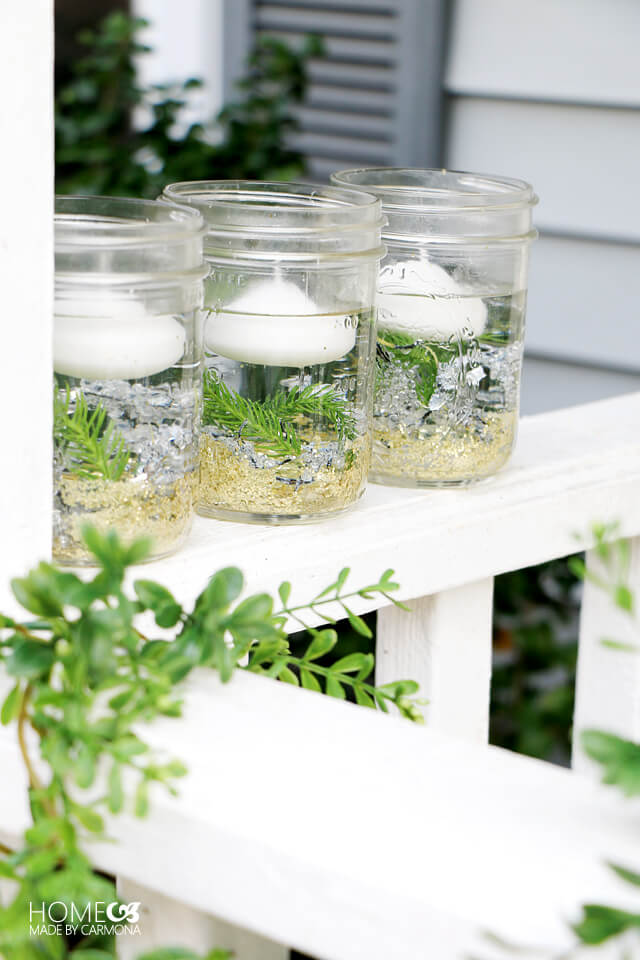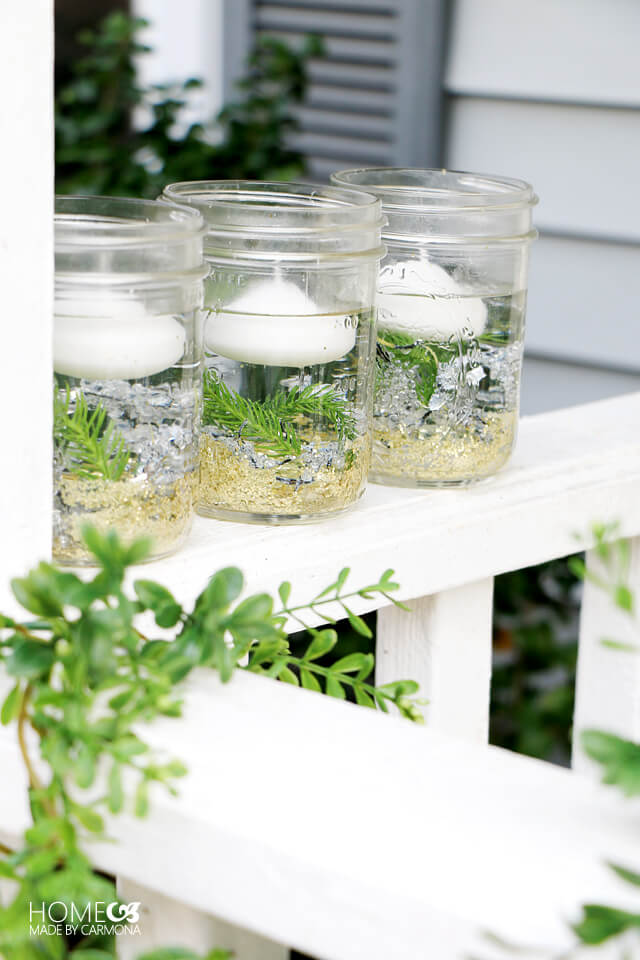 It's the fun little accessories that make all the difference!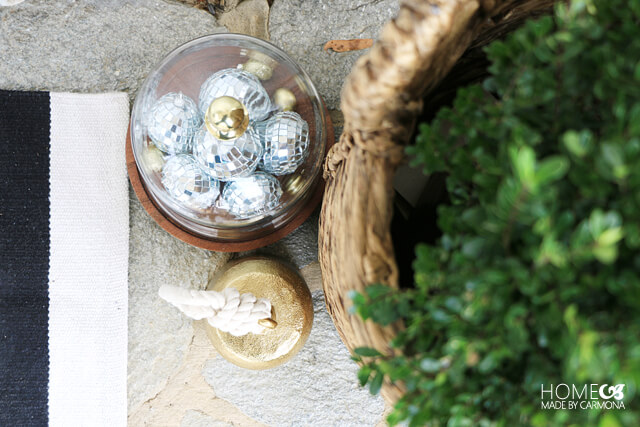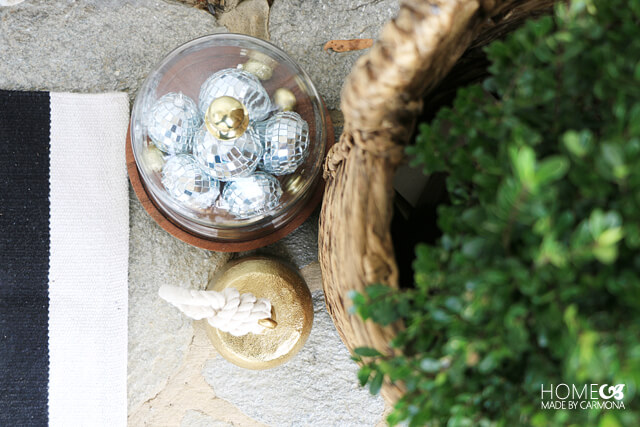 Or maybe it is just the crisp air, a hot cup of peppermint tea, and the view that makes all the difference.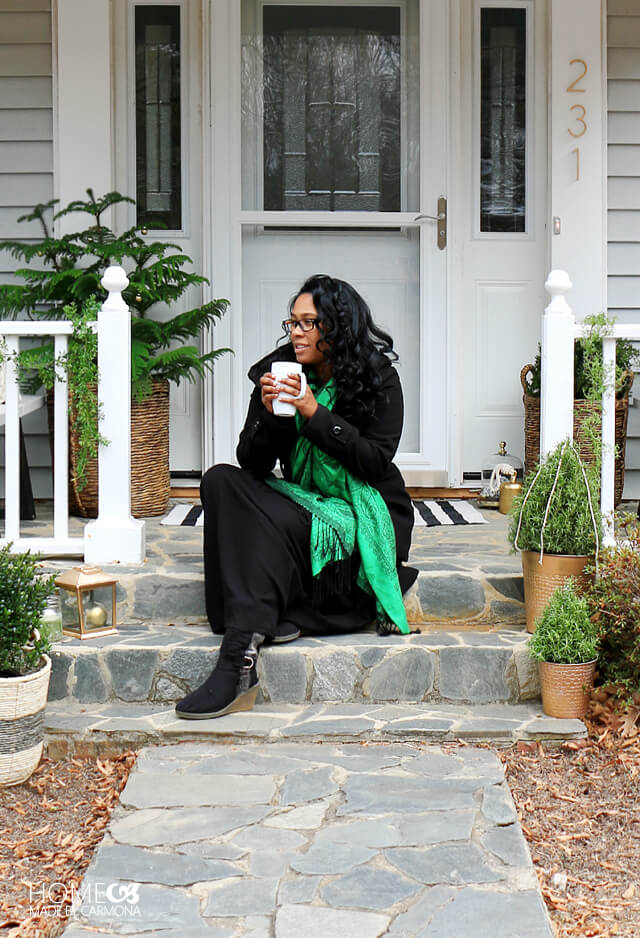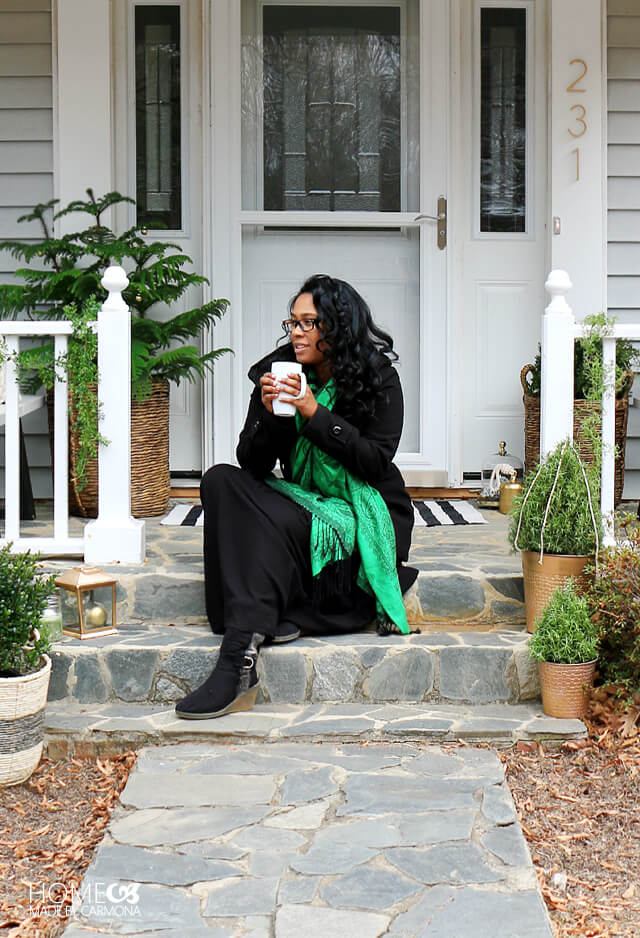 I mean, look at that view! Many of the leaves have fallen since I took this picture of the front yard, but it is just as stunning! I don't know if you can see that little bit of red showing through the leaves, but now that many of the leaves have fallen I have a much better view of the little red cottage (my art studio).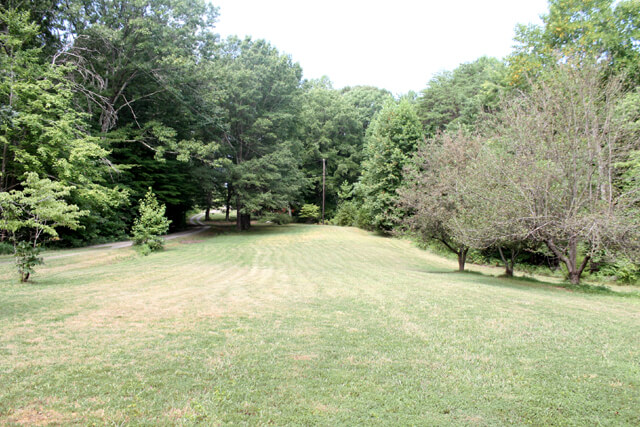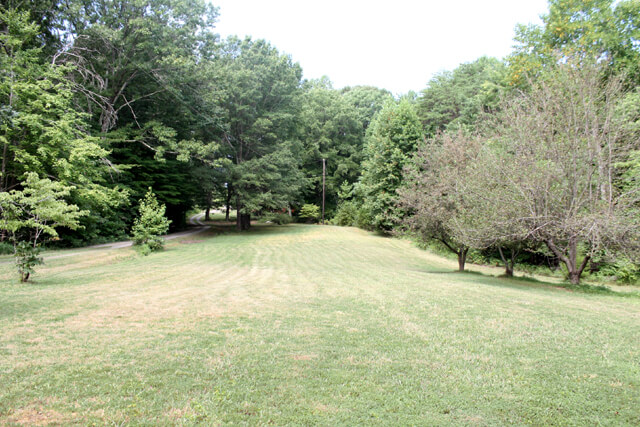 I hope you enjoyed this little tour of my front porch! Don't forget to stop by Decor Gold Designs blog which is next up on the tour! You're going to adore her festive Christmas porch! Then pop in on all the other front door features listed below!


[col1]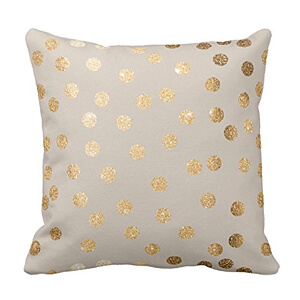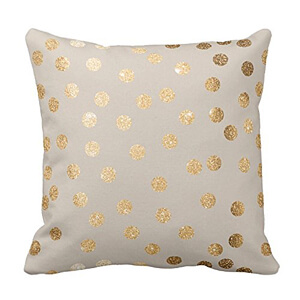 [/col1]
[col2]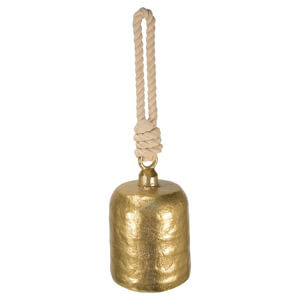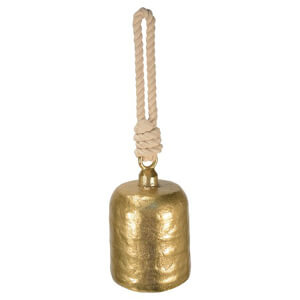 [/col2]
[col3]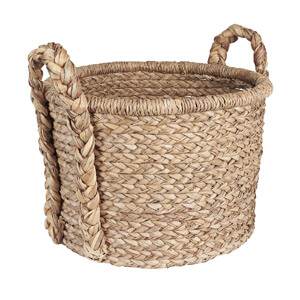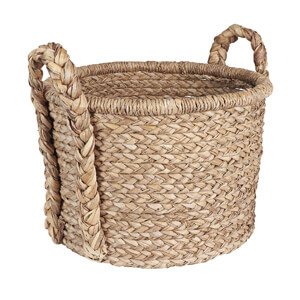 [/col3]
[col1]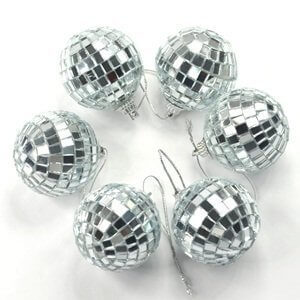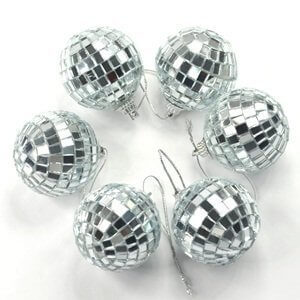 [/col1]
[col2]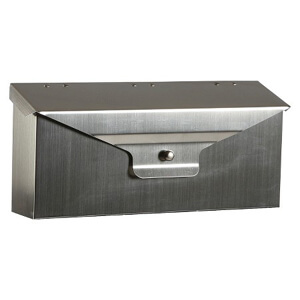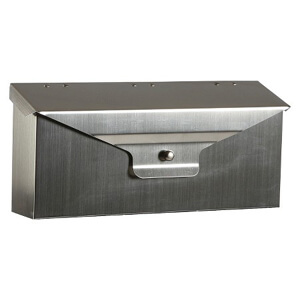 [/col2]
[col3]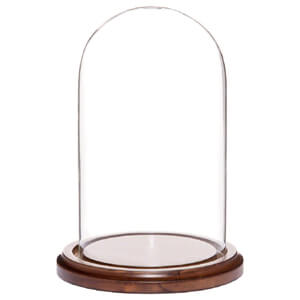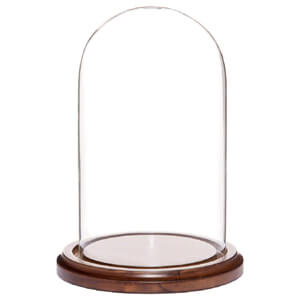 [/col3]
Check Out All The Porches In The Series!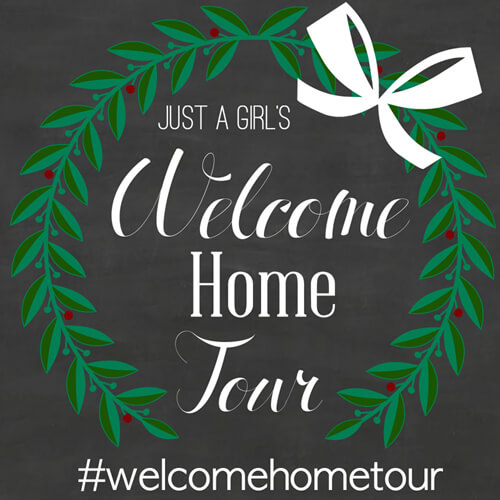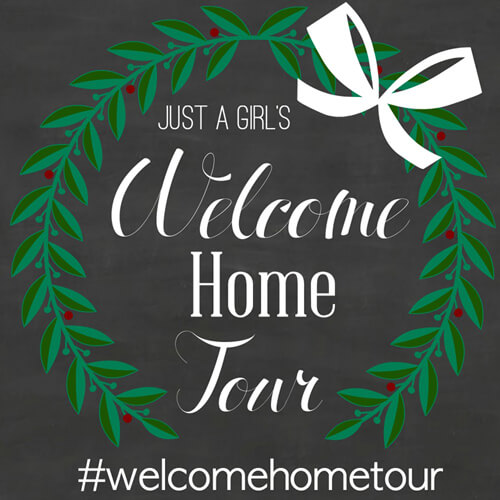 Monday
Just a Girl
A Thoughtful Place
Yellow Prairie Interiors
Haneen's Haven
Tuesday
Hi Sugarplum
Brooklyn Limestone
320 Sycamore
Southern Hospitality
Wednesday
Sunny Side Up
Marie Flanigan Interiors
The House of Silver Lining
Bower Power
Thursday
Erin Spain
Honey We're Home
Beneath My Heart
Home Made By Carmona
Decor Gold Designs
Friday
Centsational Girl
Thrifty Decor Chick
Tatertots and Jello


[go_portfolio id="decorate_landing_page"]