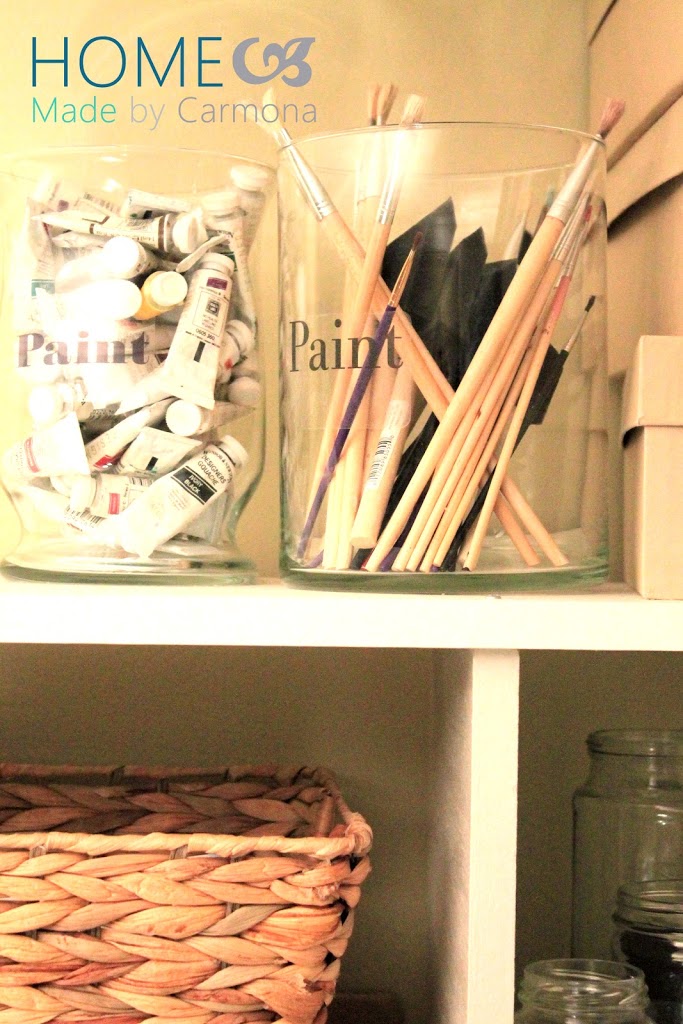 I love glass, I adore labels, why it's a match made in heaven! Break out the confetti and lets make this marriage happen baby! 
I love that I can upcycle, have a storage solution, and great decor all at once. Score!
Often we toss those empty jars without a second glance, why not put them to good use? Who says they have to look like we took the trash in? If Pinterest has shown me anything, it is a thousand different ways to pretty up, and storage up, DIY style! A little good look'in paper and string, a decal or label, black and white pics inside those jars, all fantastic solutions for loving that recycled glass a little more.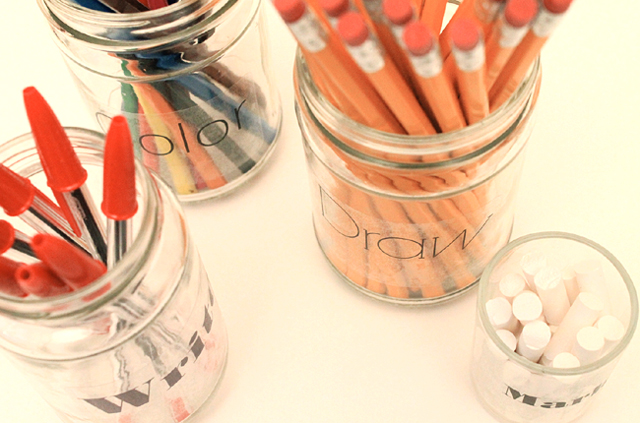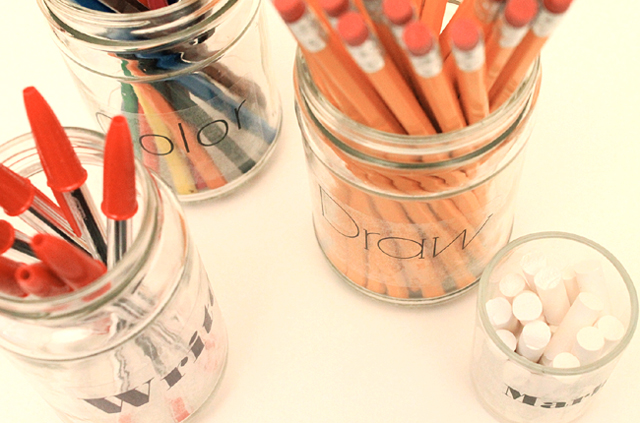 Label Love
I wanted to try decals, but sadly I couldn't get any of that  magical decal paper, it just wasn't in the cards for my pocket book. One of these days I will get my wish when it comes down to a reasonable price. In the meantime, I don't need my office jar labels to be particularly fancy or sturdy, so I thought I'd give clear labels a try. I found these Avery glossy-clear labels at Staples for $7 after rebate, not a bad price. Definitely worth a try right? If it doesn't work out, I can simply peel them off and try something else. I am one of those people who hasn't yet found a label I didn't love.


The Thing About Labels…
The upside is making the labels is easy, the downside is they do not produce the sturdy finish a waterproof decal would. You can also see the label edges, it is not as "translucent" as I'd like it to be. Does that mean it is not an option for my home? Not at all! I chose to try them in my office, where "sturdy" isn't an issue. I have decided that in the future I will use decals on my glass and kitchen items, and use these clear labels on plastic bins and other relevant projects.



Avery provides a free program online that allows you to use existing label designs, or customize your own. At first I was a little resistant to using anything other than Word to create my labels, but I soon discovered that their program can make the process a bit easier and even provided a few fonts that were new to me. For those who don't have Photoshop or an editing program, this is definitely the answer! For those who just don't feel like bothering and want what you see here, you can borrow mine. *wink*.  Print my pdf Office Jar Labels-1 (words: color, draw, write, pin, cut, use, & clip), or Office Jar Labels-2 (words: refill, adhere, electronics, mark, paint, & clip). Print onto Avery Glossy Clear 2″ x 3″ labels (Item # 22822). I purchased Avery labels at Staples for $7 after mail-in rebate, but for those who want to order it online, I have included it in my Amazon Store Finds located on the sidebar. 

I also discovered that there is a better way to use these labels to their full potential. I used them to customize hanging labels made from paint chips! You can read about that project here, I also included the printouts for you. 
You will have to figure out what type of label works best in each area of your home. Vary the type and style you sport in each room, and soon your home will be filled with personality as well as great organization!