I admit it, I am a bit DIY challenged when it comes to projects requiring the big power tools or actual skill. My poor little power tool set includes a cheap jigsaw, a hand-me-down drill, a rusty old sander, and a questionable router. In Monday's exclusive, Sarah from The Ugly Duckling House shared with us the best beginner tools to invest in… well Sarah, I'm going to need to do a bit of "investing" alright, then I'll be ready to get daring with my diy! In the meantime, my jig and I are about to become besties.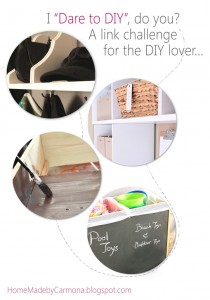 If you didn't read my exclusive with Sarah, check it out here then come back and join the "Dare to DIY" party. I want to see your daring diy's! Whether big or small we all have to start somewhere. Link up your project posts below, or tag Home Made by Carmona to your diy projects on Facebook.

Here is a sneak peak of my own diy projects…soon to be blogged about of course! Talk about conquering my electric saw! With such old hand-me-down tools (which I am grateful for!) there are often a few hiccups that slow my diy roll. All of these projects were low skill but allowed me to work up my confidence and perfect "the cut". One of these days I'll be a regular handy-girl with "big girl" tools!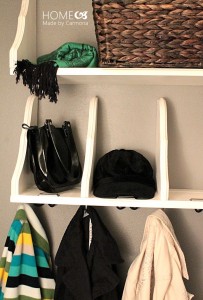 I am especially excited about my coat closet. Sarah totally inspired me to tackle this! I've been vexed by it for far too long, and with all that talk about diy and power tools, I decided to face my project head on and get it done. In spite of a few unforeseen frustrations, I think the closet came out pretty well. It got a fresh coat of paint, I used my jigsaw quite a bit and added shelves. I am in love with this take on cubbies I made to store my girls purses and coats! I can't wait to share the details with you (psst, I re-used wood from other trashed furniture)! Ok, one more quick glance at my cubbies>>>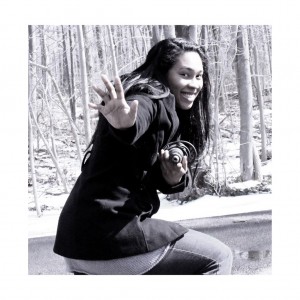 Oh! I almost forgot! I decided to give Sarah's accomplishment pose a go once I finished the closet cubbies. So,this one is for you Sarah! Lol! Yep, that's my Heisman, and why yes, yes that IS a drill in my hand! *chortle* I may have failed that pose, but as long as I rocked the closet it's aaaaall good. Ok, back to business…

I'm not the only one getting my diy on! Check out these fantastic resources, and fellow bloggers also getting their diy on!

The FamilyHandyman.com, and BobVila.com are just a couple fantastic online resources. They include how-to's, tutorials, video's, forums, and more!


Looking for a community of fellow diy'ers to keep you motivated and inspired? Join an online community to inspire and encourage you, or bookmark a couple great blogs of people at your comfort level of diy.
I just HAD to share a couple darling bloggers I recently met through a Google Plus community I joined! The Coop and Confessions of an ADD Housewife share everyday creative ways to make your house a wonderful home! I'm always being inspired by the talented bloggers of the group! A couple great online communities are DIY Meeting Place, which is a fantastic Google Plus community, and Tip Junkie a place where anyone (blogger and non-blogger alike) can save and share projects!



Want to join in the challenge? Show us your daring diy's! Whether big or small, if you chose to use a needle and thread, glue and staples, or hammer and power tools, we want to see your creative diy's! Need a little time to work on it? No worries, this link-up will be open for the entire month! So go tackle your project, blog about it, then come link up! *giggle* And I won't mind if you decide to show us your best "accomplishment pose", whether you do the Heisman and Rosie the Riveter like Sarah, or your own special pose.
After you link up, grab this special edition "I Dared to DIY" feature button. The code will disappear when the link challenge closes in a month, so link up and grab it while you can!


**See the next interview in the series "
The Incredibles: Our Fifth House"
here
**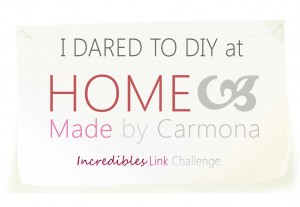 (button code no longer available)

Please remember to:
1. Link your past or present DIY projects
2. Include text link back to your blog post