My daughter has a "fairy godmother" who we'll call 'L' (that's "Aunty L" to the girls). Well, she's actually just godmother, but I'm pretty sure she made the special title of "fairy" after granting a pretty princess pink bedroom wish! One day 'L' calls me excitedly and requests to make over her god-daughters bedroom (technically we do the whole"spiritual guardian" thing, but since no one knows what that is I won't split hairs). Well I am not one to let just anybody take decorating control out of my hands, but 'L' has good taste, I know…I follow her on Pinterest. *cheeky grin* So why not just this one solitary time? I thought this would involve her giving me direction on what she wanted me to do to the room, I didn't realize that she would fund the entire process in addition to planning…what a friend!
This week 'L' took three days off, and drove 8 hours to come and do the makeover. It is typically a 5 hour drive, but she took a 3 hour detour to stop at Ikea on her way… she must really like us!

Makeover Day 1
'L' arrived late afternoon and pretty much stepped out of the car working! She sized up the bedroom in all it's messy glory, then marched out to garage to begin work. That determined chick spent the entire evening sanding and putting a coat of primer on every piece of bedroom furniture…right after an 8 hour drive! 
Here is 'L' Sanding and Priming>>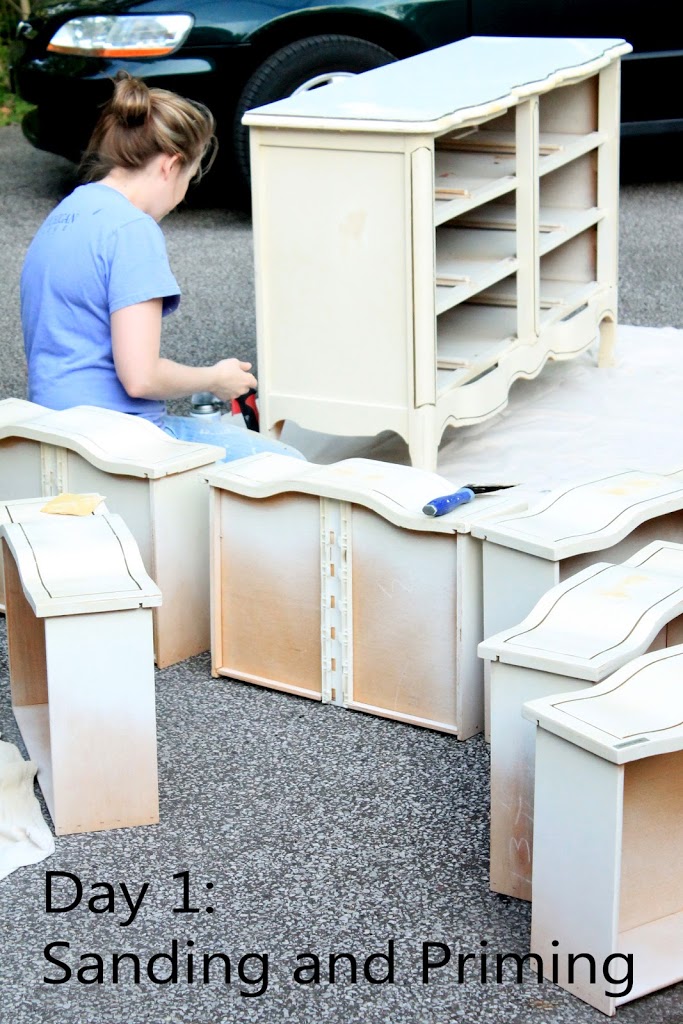 Bedroom Before: The scary sight that greets 'L' upon arrival 

Makeover Day 2
'L' is up…why is 'L' up? It's too eeeeeaaarly, why oh why did we stay up late talking?? So as 'L' makes a second run to Home Depot for the perfect white furniture paint (it's only day 2 and they already know her by name…), I pry my lids open, and rush to start the girls in (home) school.
Day 2 is pretty much us looking like chickens with our heads cut off. We have so much painting to do, we decide to divide and conquer. Her job will be to paint and distress the furniture, mine to clear and paint the bedroom. While she is outside, I "start" my job by sneaking a peek at all the goodies she has brought…well, now I'm motivated to work!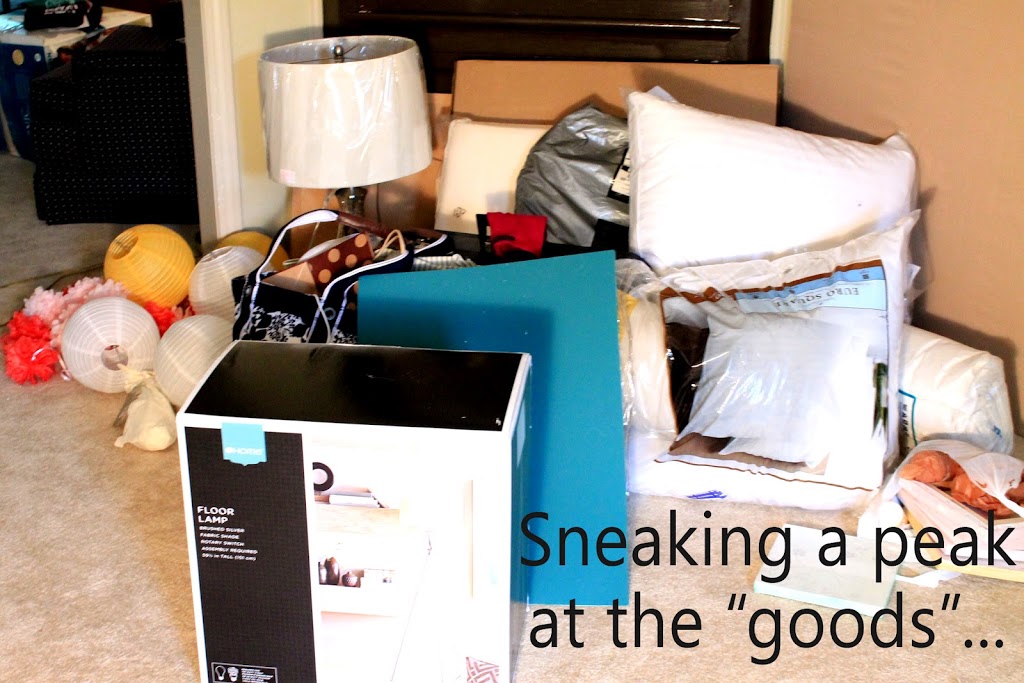 It is only 11:00am and I am starting to feel like I belong in a black and white film with piano bar music, and people running around in double pace! I paint a little, then I'm called away to correct a child's school work, then I dash back up the stairs to paint a little more, then the little one calls me to check her chore so I throw my hands up and run back down the stairs, then back up the stairs again… you get the idea. Oh, and of course I must still cook meals in between all of this madness!
It is finally the end of the day, and I can no longer climb the stairs without my legs shaking. I barely saw L all day, and can tell she is ka-put as well. We're pretty sure that after this she will suffer from carpel tunnel and back problems, and I will have to be fitted for new knees and shoulder sockets. *wry tired grin* 

Makeover Day 3
L has to leave tomorrow, so today has to be the reveal day! We don't know how those people on HGTV do it! Ooooh wait, that's right, they have teams. We knew we'd forgotten to do something… become rich (or at least tv personalities) and hire people to do the hard stuff. Oh well.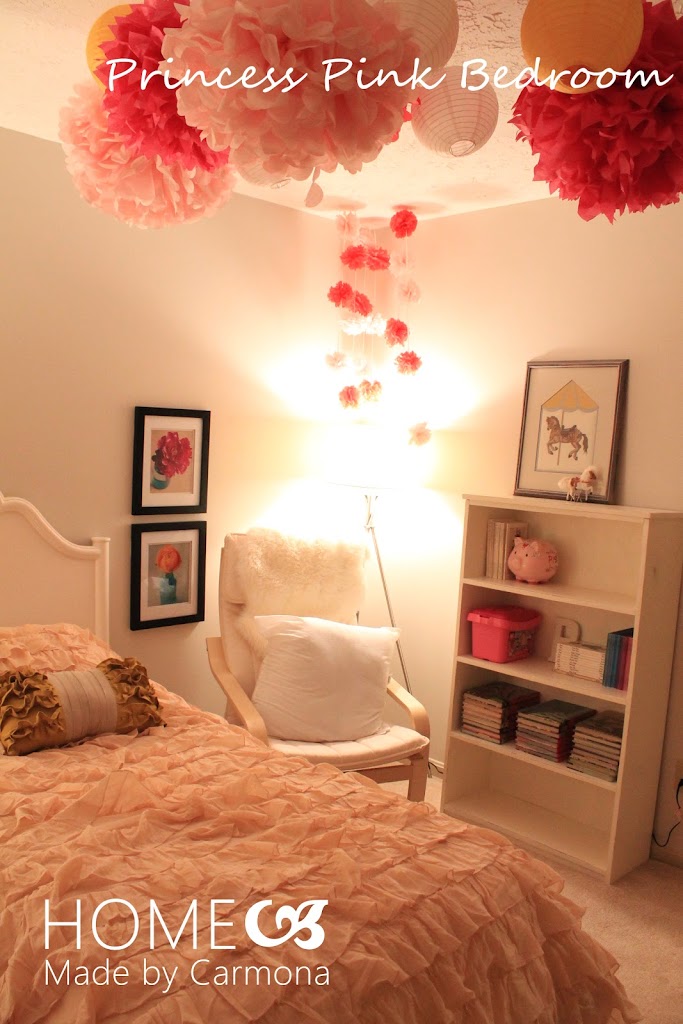 We only have to varnish the furniture, saw to size then put on new hardware, assemble a couple of Ikea pieces, move everything back in, make the bed, put up the pictures, oh wait L has to go out and purchase frames and a couple extra curtains, dye the curtains, make the bed (wait did I already say that?), create a couple other pieces of artwork using pretty paper on canvas and glue, varnish the headboard, assemble the ceiling puffs… and ta da! We'll have a reveal for the girls!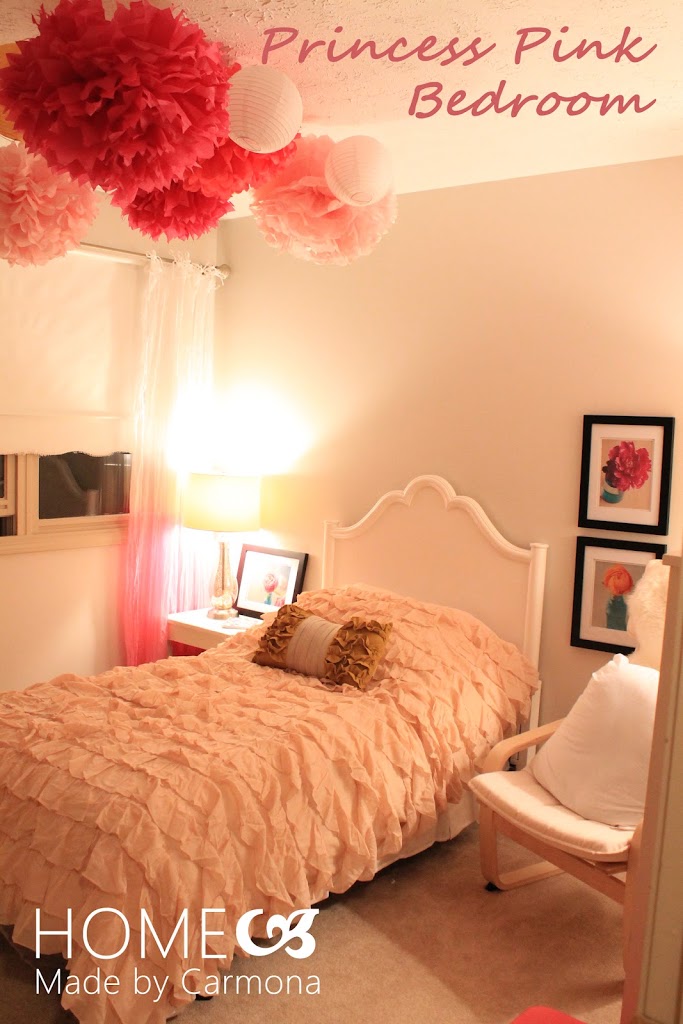 Ok we did not quite get it all accomplished. But we still had our "aaaah" moment. We crashed on the floor and have been admiring our work ever since. 'L' is super proud of her vision, she has been pulling ideas from her favorite blogs for months planning this room! Not to mention her Pinterest board dedicated to "spoiling" her goddaughter! Well, my middle munchkin is one happy little girl who adores her super-princessy, pretty pink bedroom!