My family hates traveling. Does that make us weird? Well who can blame us with our bad luck in travel! We've gotten separated due to over-filled flights, we've lost bags, thrown away items because of over-weight bags, we've been searched and prodded, we've endured disgusting vegan versions of airport food (could airport food get worst? YES!), and gotten to our destination only to feel frustration over living out of suitcases. What can I say, it's just not our cup of tea. And yet, as summer vacation season rolls around, we're anxiously awaiting our upcoming flight to visit family. Thankfully, I have a few amazing organizing solutions to make travel as painless as possible this time around!
Thankfully, I have a few amazing organizing solutions to make travel as painless as possible this time around!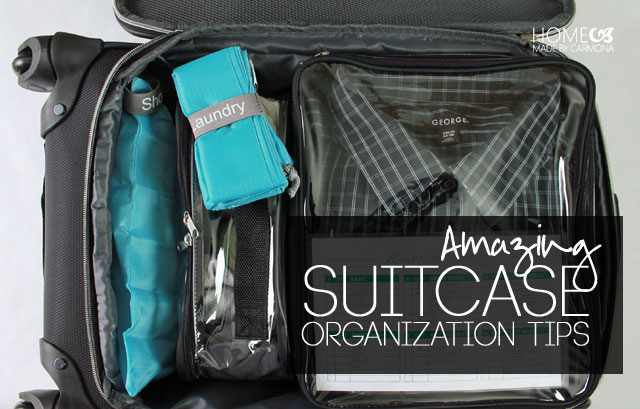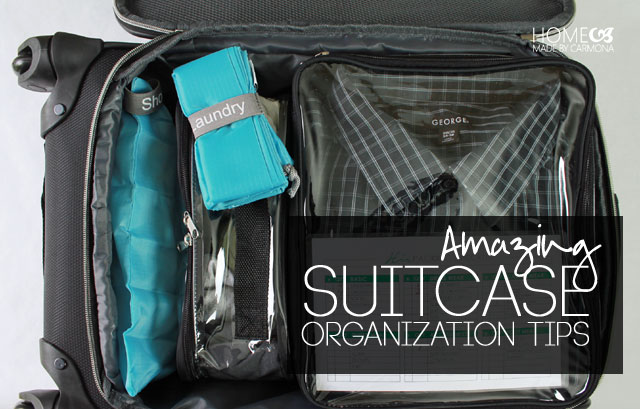 First I want to introduce you to a nifty company called EzPacking that makes the most fantastic suitcase organizing kits. When I first heard about them and their packing sets, I did a little happy dance. Well you know me, I get ridiculously excited when I can sort and organize things in a way that works for me. So when they offered to let me try out their Complete Bundle packing set, I confess I kind of leaped at the chance. I don't often share entire product lines… and I don't ever share with you guys a product I don't love and use myself, so when I say that this product makes my heart sing… well honey!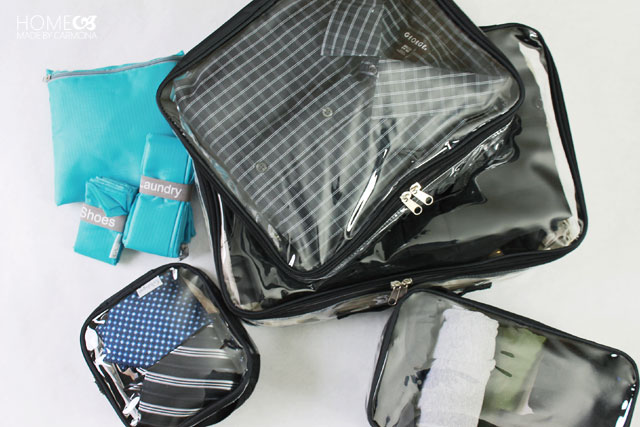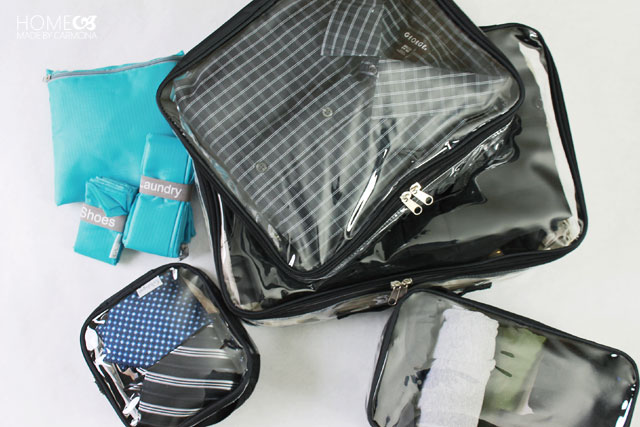 The one thing that makes my family crazy, especially my kids, is having to all live out of the same suitcase. Inevitably one child is going to rake through the entire thing looking for her nightgown and leave our nicely folded clothes in a messy pile, partially hanging out of the suitcase. Then when one of us comes in search of a particular item of clothing, we will be frustrated sorting through the mess to find that one thing, or mad that "my one clean shirt was left on the floor"…it's not pretty. Then there is the whine of "mooooom, I don't want her touching my clothes". Seriously?? Sigh. Enter the EzPacking cubes.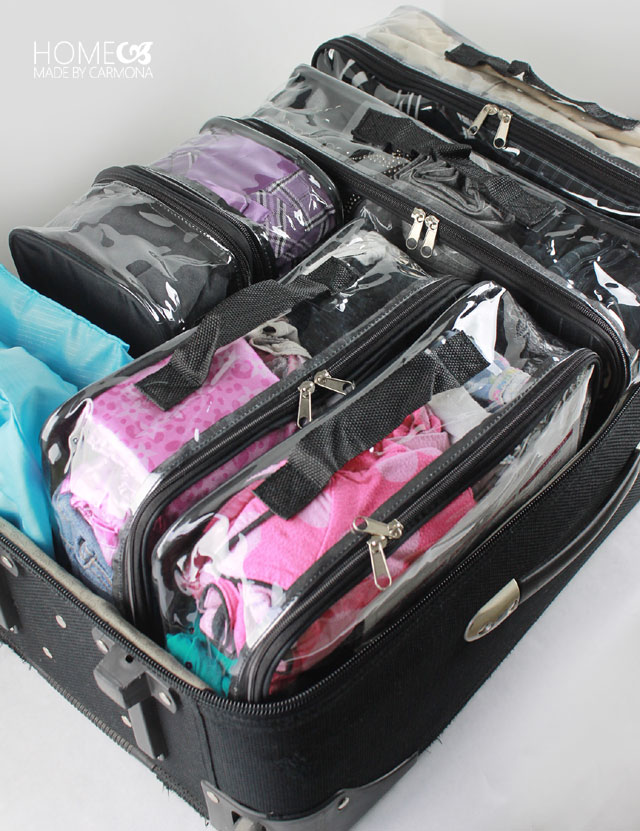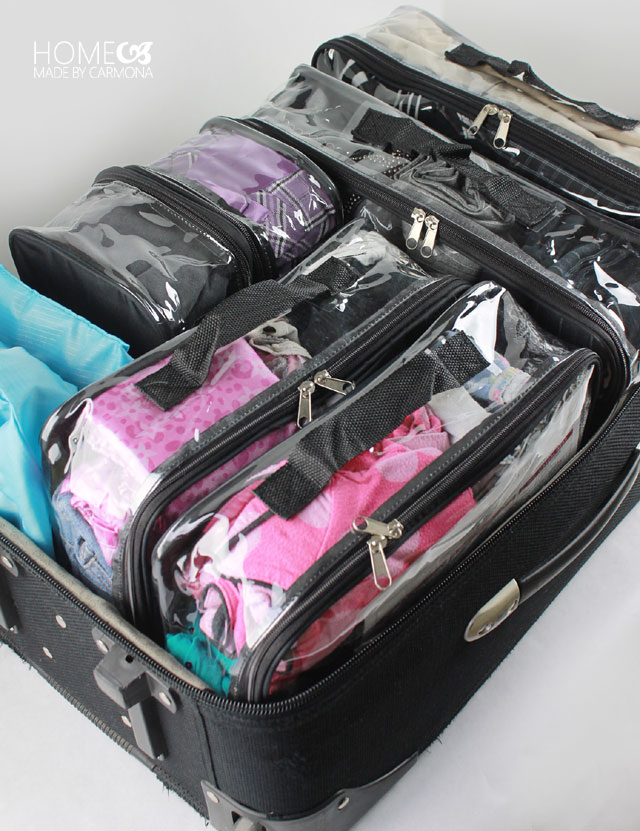 Each kid can have their own cube within our family suitcase. Then when we reach our destination, they can take their organizing cube to the room they are staying in and keep everything orderly (or not) without affecting the rest of us. (Hallelujah!)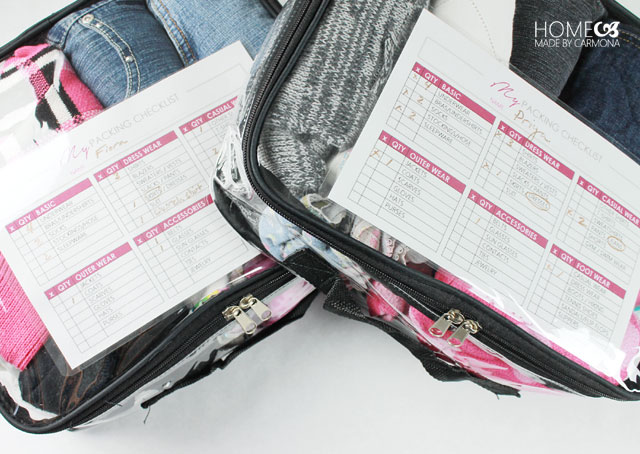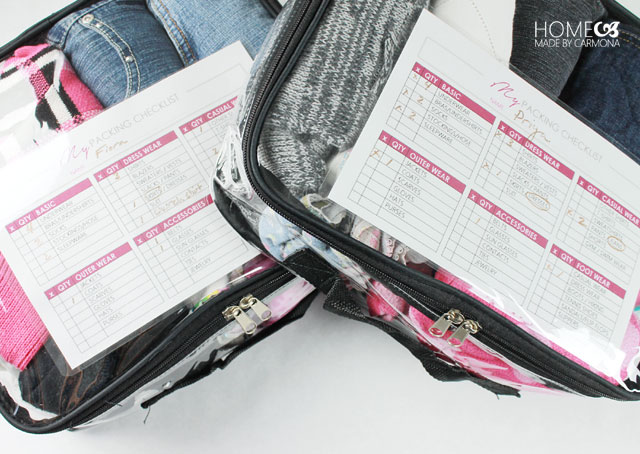 You could even consider purchasing an EzPacking Starter Set in a different color for each member of the family, just so there is no mistaking whose cube is whose. Or if you prefer to keep it all the same color for other organizing uses, I've created a free printable packing checklist for you! I made a My Packing Checklist that each member of the family can have and write their names on, and I've also created a His Packing Checklist and Her Packing Checklist as well.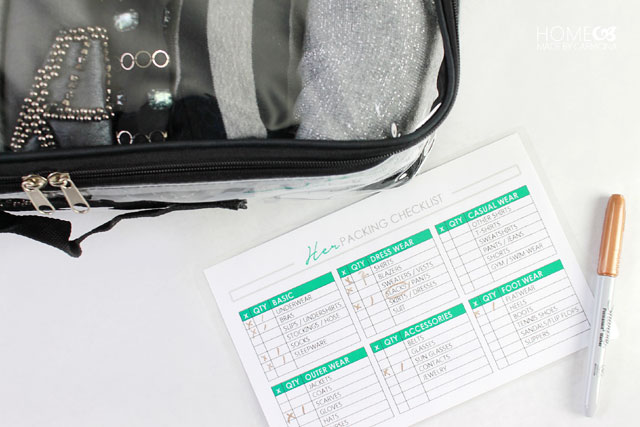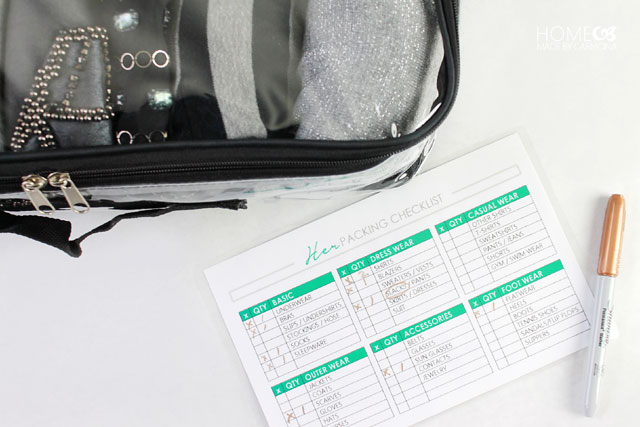 Free Printable Checklists & Instructions
Print your desired packing checklist, fold in half to create a half sized checklist with a front and back. Laminate (you can laminate two to a sheet). Cut to size, and trim the edges so they are rounded out. Finally use a permanent sharpie to write your name and mark it. You can erase by using a little rubbing alcohol to remove the sharpie marks! Fantastic right?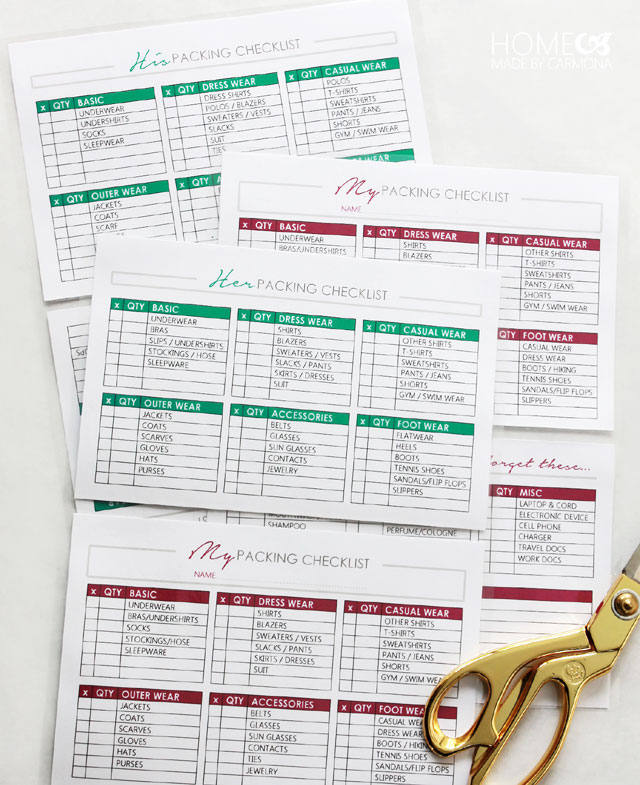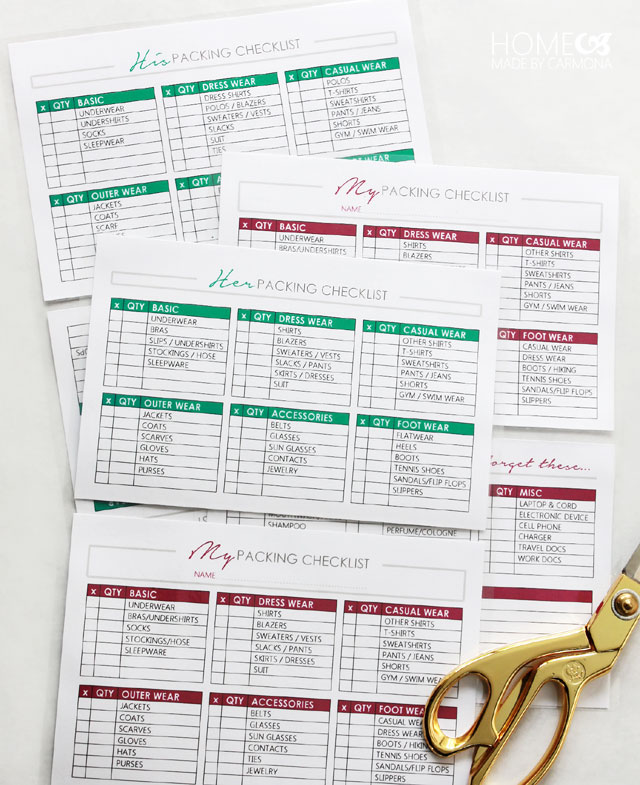 Click the the packing checklist below you desire to print.
[col1]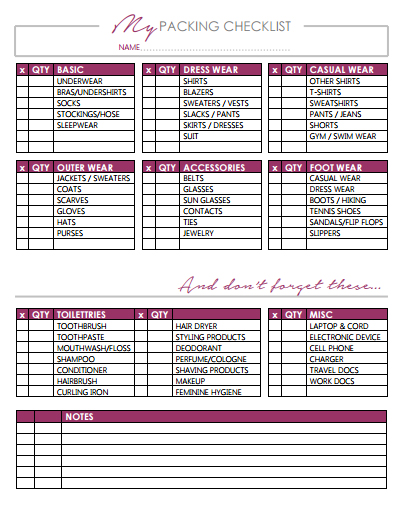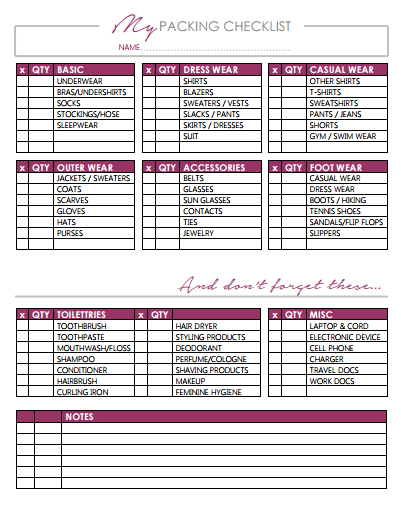 [/col1]
[col2]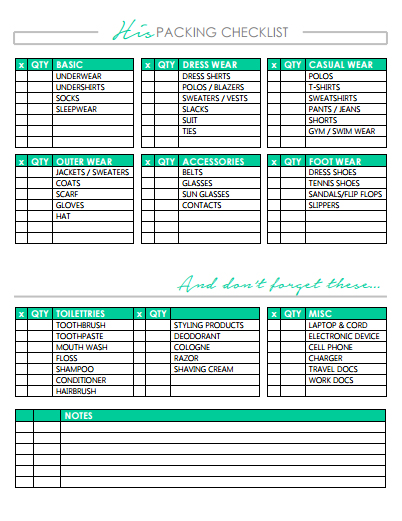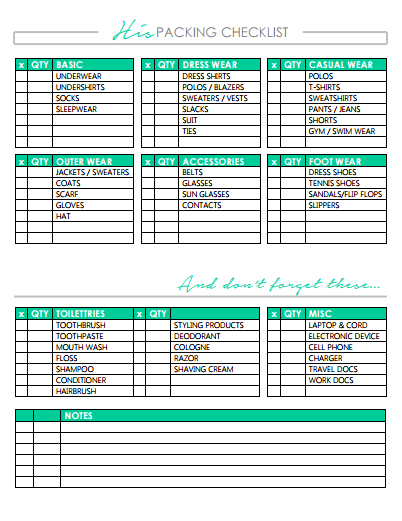 [/col2]
[col3]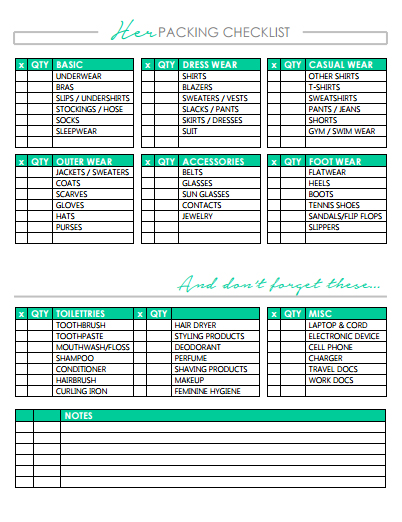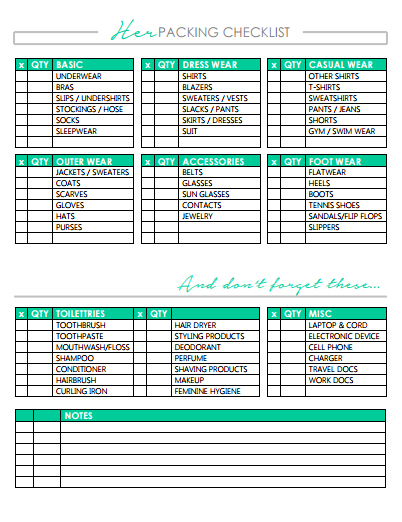 [/col3]
Let me leave you with a few Amazing Suitcase Organizing Tips:


SORT & SEPARATE LIKE ITEMS
This is the number one rule of organizing, so you hear me say it often here on the blog. This is true even when it comes to luggage organization! You'll never have to search, or second guess what you have if you follow this cardinal rule. The different size cubes will help you accomplish that goal perfectly. Assign each cube a clothing type when traveling solo, assign a different color to each individual when travelling together. Of course having transparent cubes makes searching items a breeze!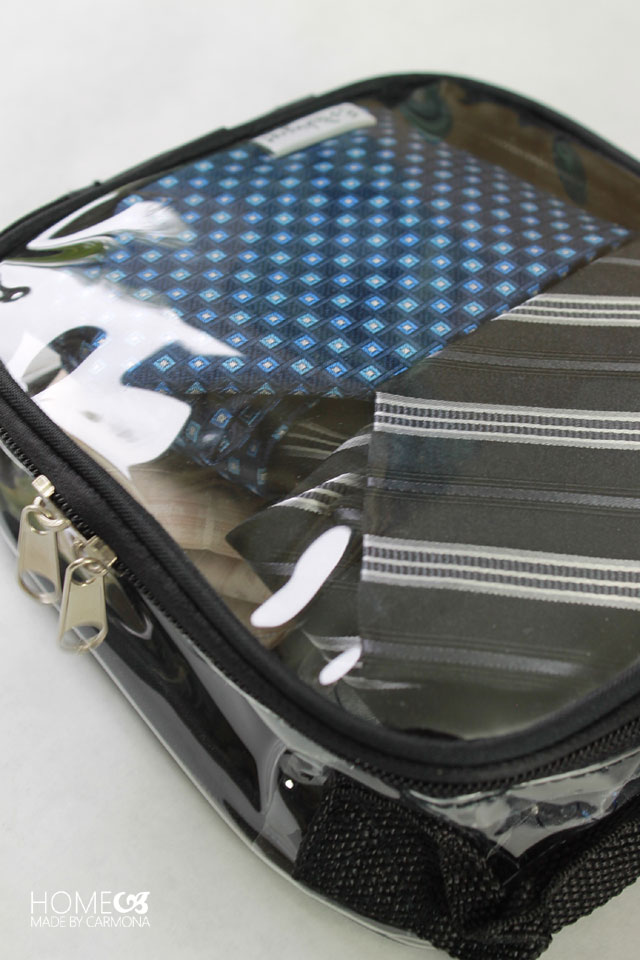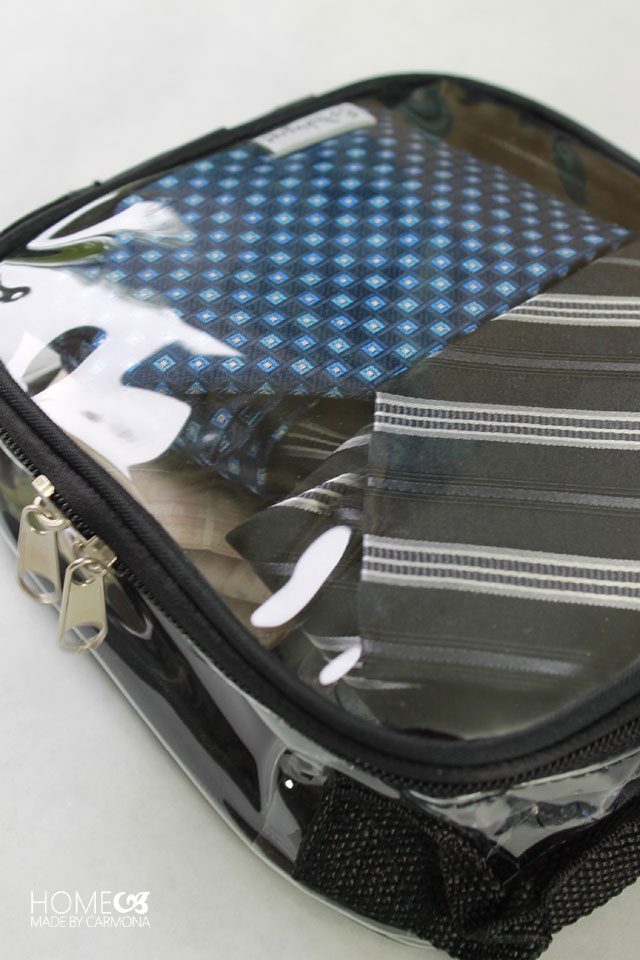 MAKE A LIST, CHECK IT TWICE
If you are anything like me, you'll be left with that nagging feeling there is something you forgot. And you'll be right. Beat that feeling by keeping my free printable packing checklist  handy. Peace of mind baby. Peace of mind.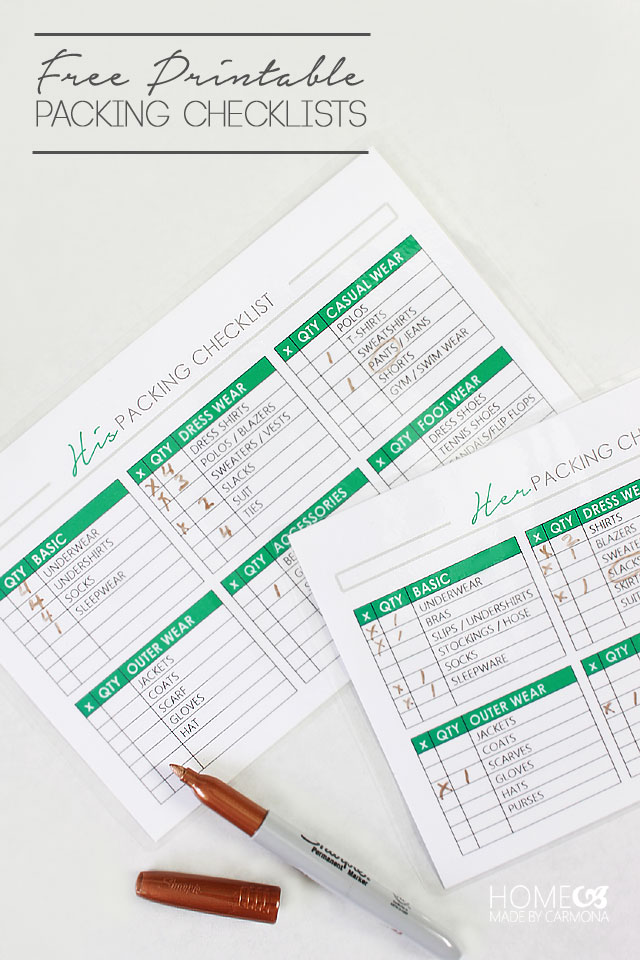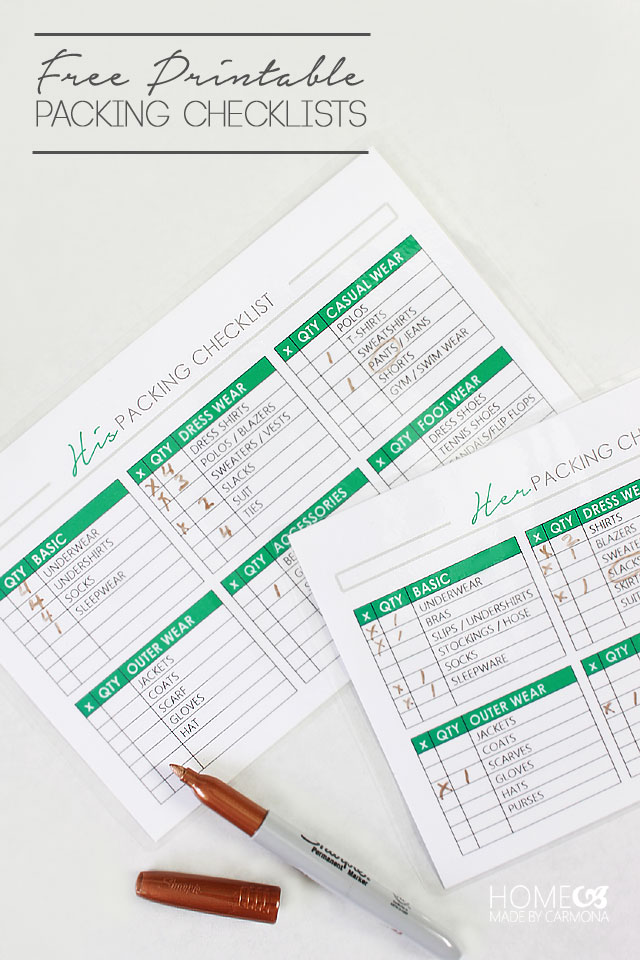 KEEP DIRTY LAUNDRY & SHOES SEPARATE
Nothing is more disgusting than when your family member tosses a piece of dirty laundry, or worst their filthy shoes in with the clean clothes in the suitcase. The rest of you sit look at each other like it's the end of the world, and all you want to do is put the whole load to wash. Having a laundry bag, and shoe bags will keep your tidy whiteys clean, and the dirty things at bay.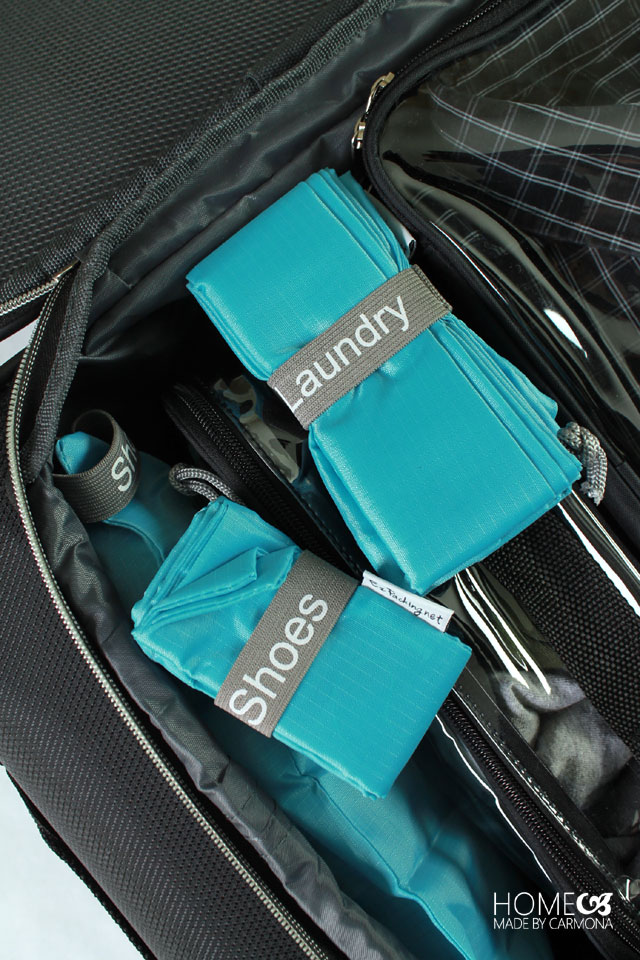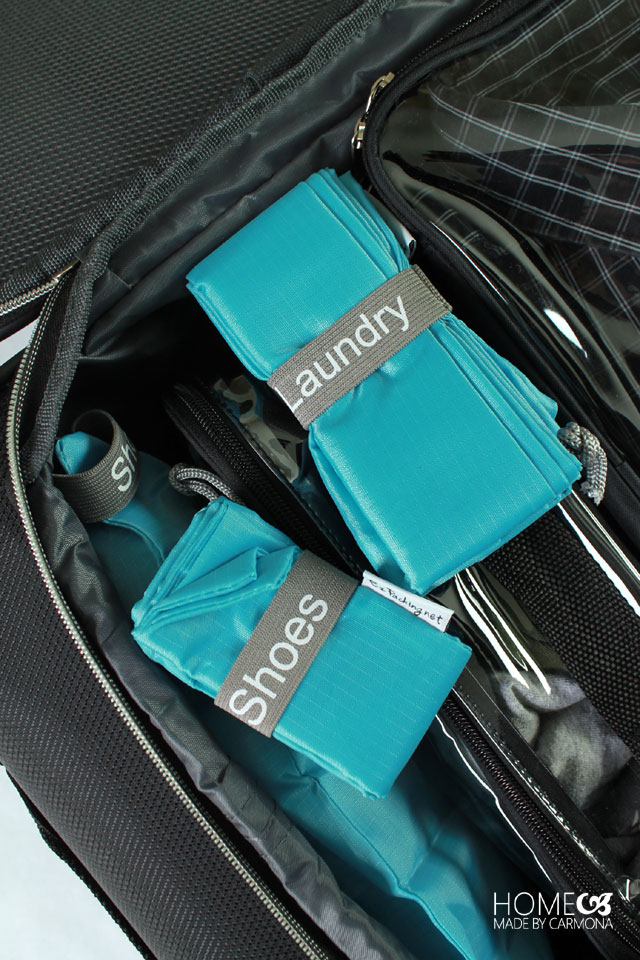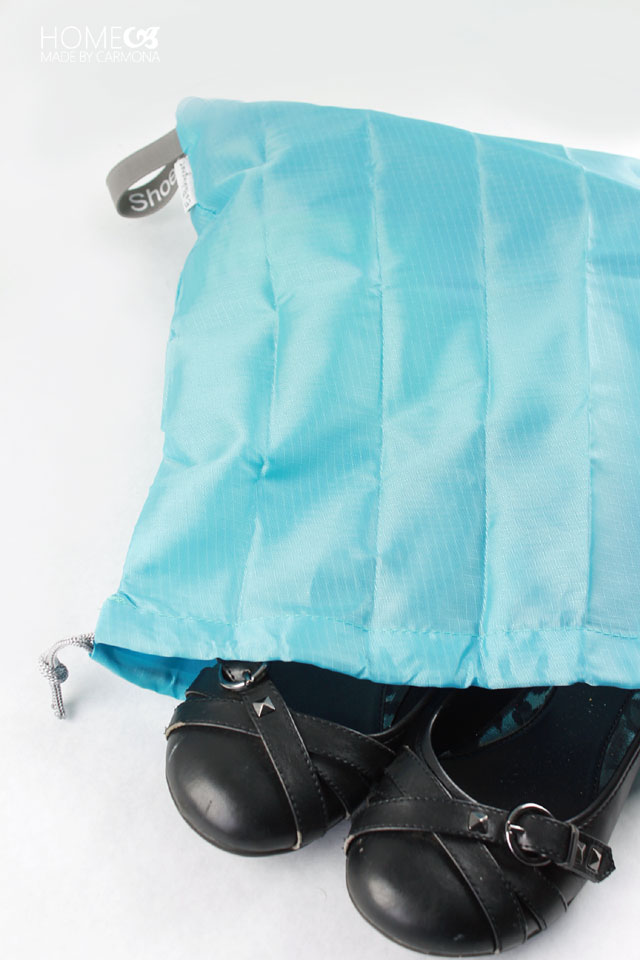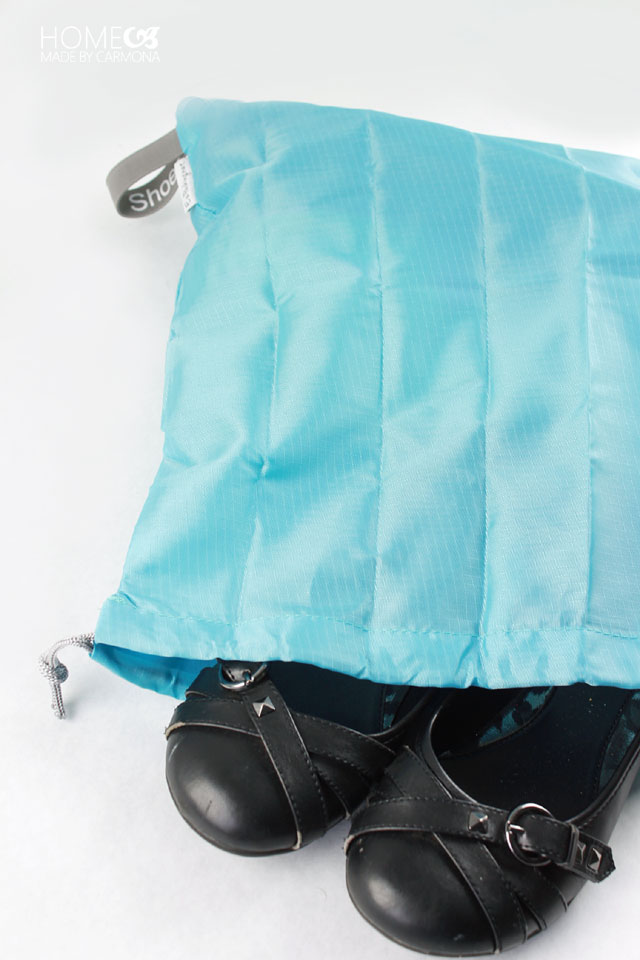 KEEP A SECOND EMERGENCY BAG HANDY
It is small and flat, and hopefully you'll never have to use it, but including a foldable duffle is a genius move on the part of EzPacking! I've been on those trips where I wished I brought an extra bag to bring back the many goodies I picked up on my travels. I have also been on that trip where I threw away a bunch of stuff because my bag was overweight. Having the emergency duffle on hand might just be a lifesaver!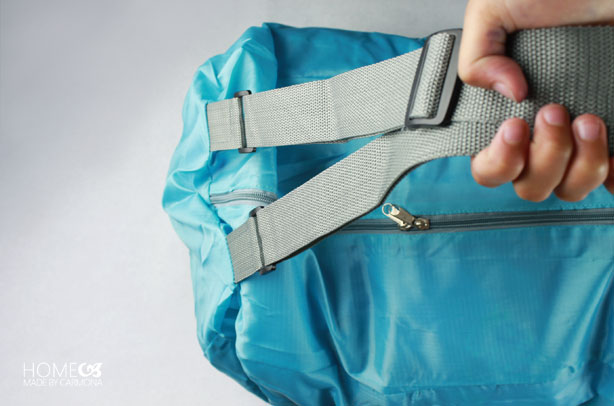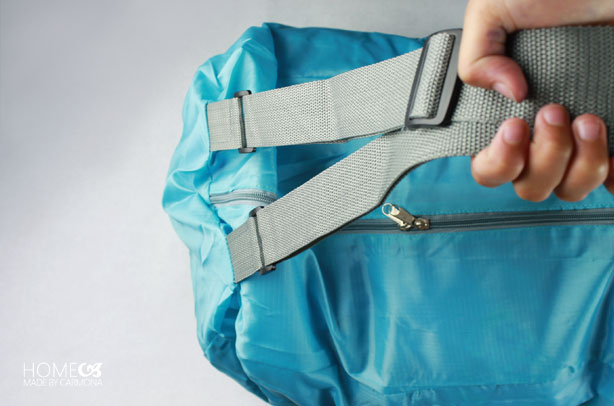 PACK FOR SPACE
When space is a factor, fold each piece tightly with the final fold being more like a "roll" than a fold. You'll create tons of free space, and use every nook and cranny of your organizing cubes. The best thing about these cubes is their square modular make up, it uses the space in an optimized manner. The cubes are thin enough that they don't take up any room, but still allow you to contain each set of "rolled" clothes in an ideal fashion that saves space.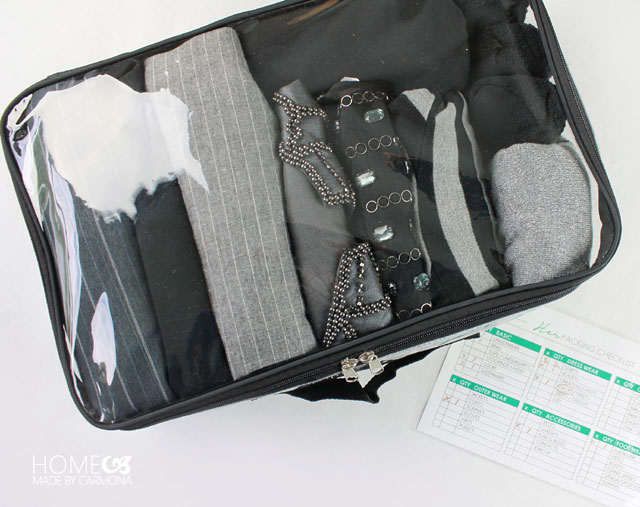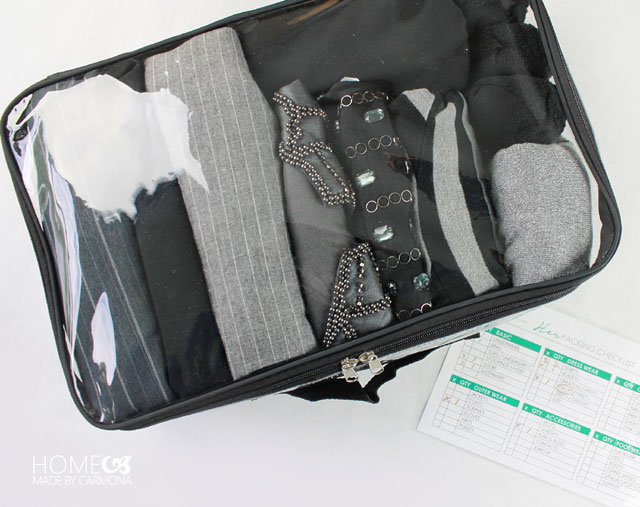 PACK FOR WRINKLE FREE CLOTHES
My husband loves the EzPacking folding kit. He say's it is because he knows his clothes will be folded to the exact size for each cube and prevent wrinkling. I think it is because he knows I'll fuss at him if he doesn't fold the shirts I've ironed before putting them in the suitcase, and I'm fairly sure men can't fold. 😀 Well this one can't, and he refuses to iron his clothes when he get's to point B. I'm often afraid of what he must look like at these important business trips… Thankfully now the cubes help keep his clothes neatly organized to maintain their wrinkle free state, and my husband is right, the folding kits are SO helpful to that end!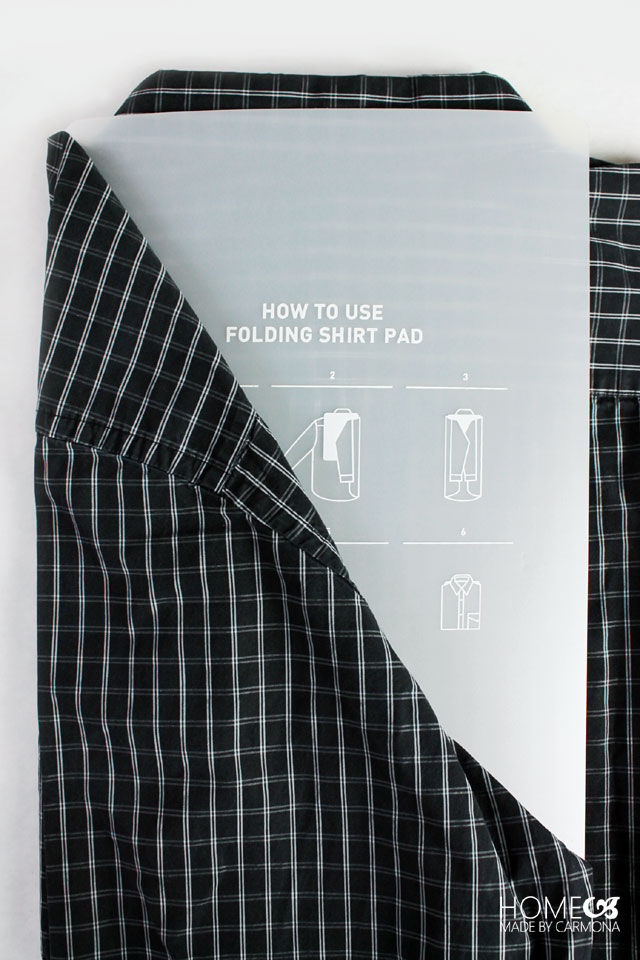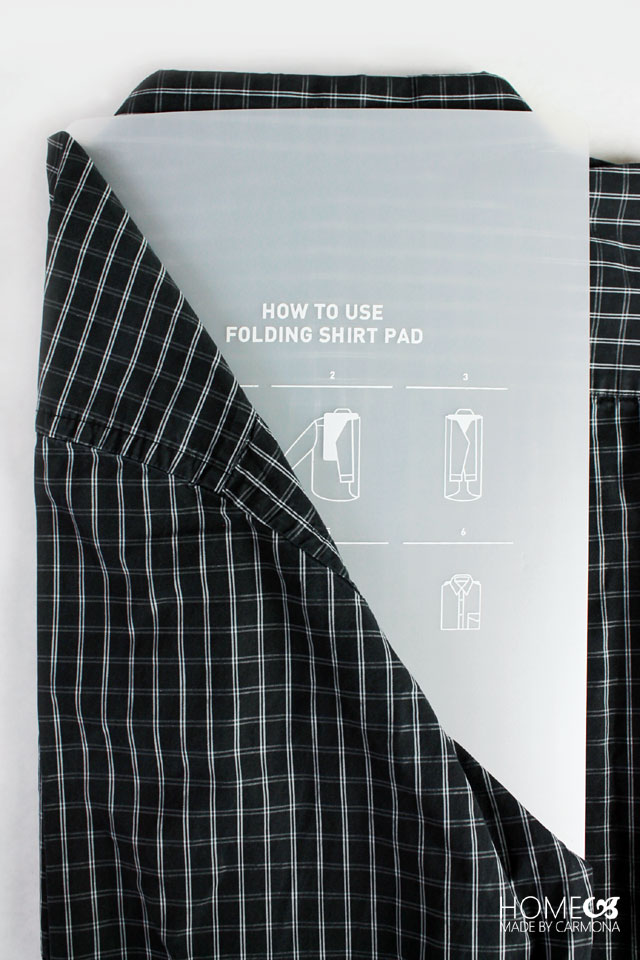 LIVE OUT OF YOUR CUBES
Not at a family member's home where you have to live out of the suitcase? Yes, the nice thing about being in a hotel is having drawers to sort your items into. The great thing about the cubes is that they are already organized for you…no refolding, resorting, it's all done. If you like, just toss the entire cube into the drawer. Of course, don't forget to hang up your day clothes, but other than that, your work is already done. If, on the other hand, you ARE drawer-less, then having the cubes is just like having drawer space…all your items will stay nicely organized and separated.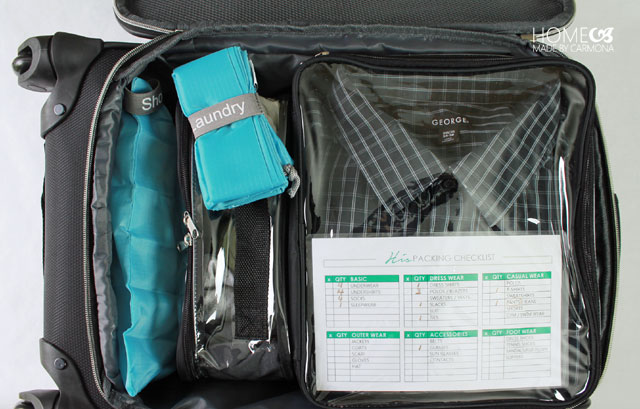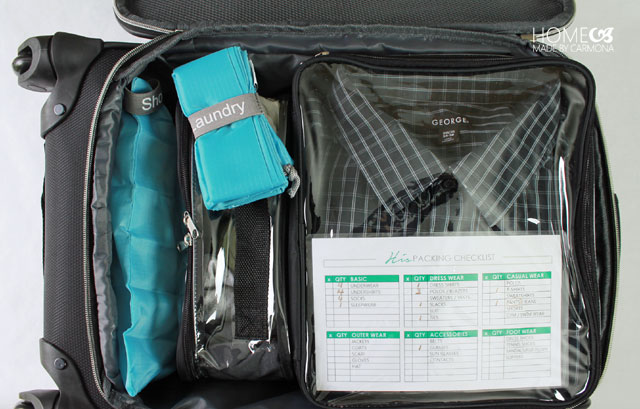 I hope these tips work as well for you as they did for me! I might be able to start seeing a future for happy travels in my family. 😉
*A special thank you to EzPacking for graciously gifting me these fantastic products and totally making my day! 
Follow EzPacking @ Instagram, Facebook, and Pinterest for more great packing tips! For my international readers, EzPacking does ship internationally, but you'll want to contact them at contact@ezpacking.net for a custom quote on international shipping.


 [go_portfolio id="organize_landing_page"]