It turns out that being vegan doesn't mean you always make the healthy choices. My horrid sweet tooth and natural affinity for all things fried means I have to work just that much harder to make the right choices. For me, being a healthy cook requires decisive effort. I know that I must be intentional and purpose in my heart to make the right choices for my family, and so begins the struggle… Eating lots of fresh fruits and vegetables are vital to great nutrition, so I knew it was important to create positive habits and organize this part of my life in a way that encourages us to make the nutritious choices. Here are the healthy habits I employ, they are helping my family enormously, and I hope they help yours too!
It seems the effort of making the salad each day is slowing my health roll. Am I seriously that lazy? My poor kids usually end up eating whole carrots, celery, breaking off their own broccoli pieces, and even getting fistfuls of spinach on their own! (sometimes this blog is like a confessional *hang my head in shame*)
My answer to this problem was simple. After my weekly shopping trip the girls become a salad making assembly! One washes, one chops, and my little one distributes. We pull out lunch sized containers and make a salad for each day. We stack them in the refrigerator, and voila, the hubby has his salad for each day's lunchbox, and we have our daily salad for home.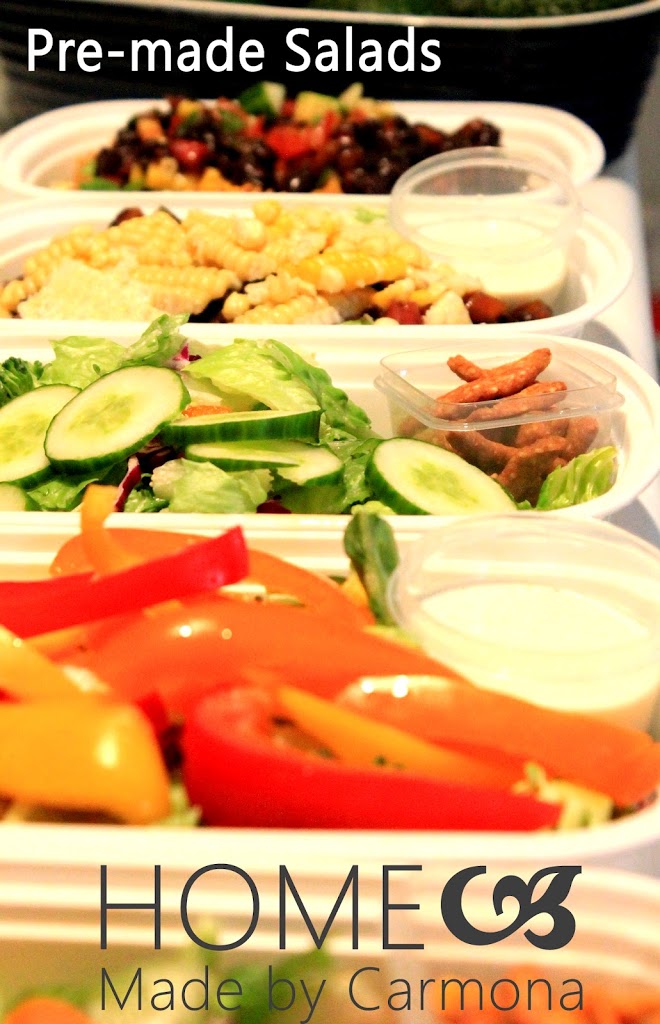 Healthy Habit #2: Diversify Your Salads
I never had much of a love for salads, I just ate them out of duty. Then I met this fantastic family that made the most amazing vegan salads!! There were so many options of what to put on and in it, it revolutionized salad for me. The possibilities are endless; Greek salads, Asian salads, bean salads, sprouted salads…the list goes on and on! Even when you pre-make your salads, make each one just a little different to keep it exciting and new.
Think of your salads as a meal, add a few lightly sauteed or grilled vegetables to the top for even greater diversity! Give one an Italian twist with herb seasoned rotini, or a make a black bean salsa for a Mexicana fiesta twist. You are only limited by your imagination.


Healthy Habit #3: Dress Your Salad
Salad Dressing: They say "dress for success", why can't it apply to my salad? I know quite a few people who eat their salad without dressings, which is fantastic! That is not me. I love what a great dressing can do to spice up a salad. Oh and don't write off your fruit salad dressings, nothing is tastier than a sweet coconut cream or reduction atop a fruit salad!
Salad Toppings: Another trick I have recently employed is making our own "toppings bar". I keep the various toppings in jars near where we eat, easily visible and accessible. Being able to choose a topping and dressing of choice each day somehow makes it even more exciting for the kiddos (who am I kidding, for me too)! I like to switch up the types of toppings I buy, and always include a few items that can go on both fruit or vegetable salads.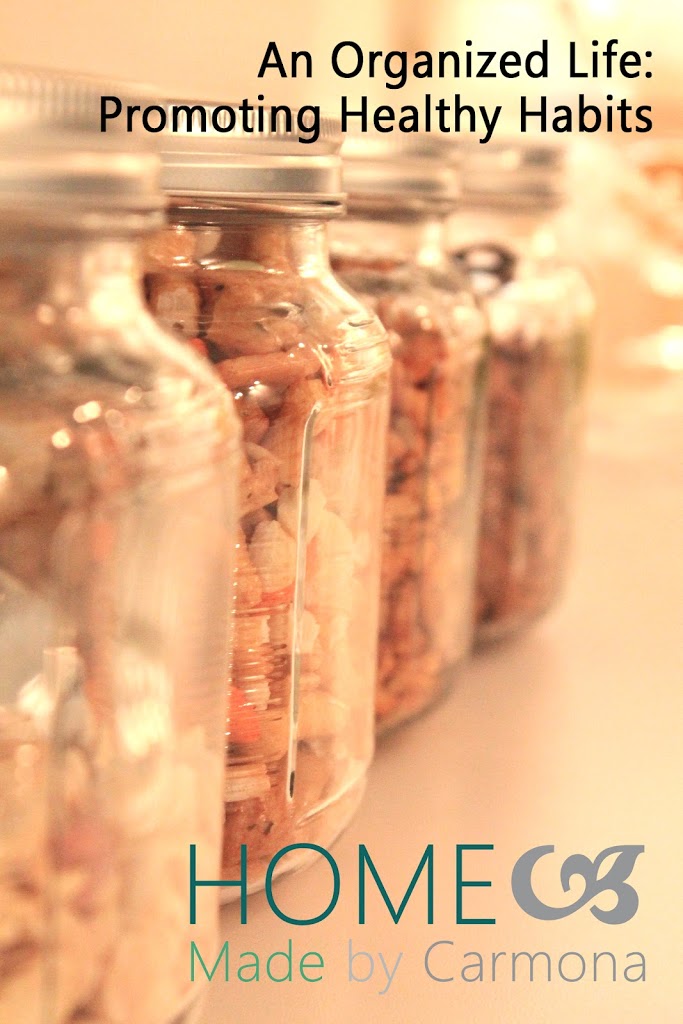 Topping Ideas:

Nuts (raw, roasted, or candied)

Cranberries, or raisins

Trail mix varieties

French fried onions

Sesame sticks

Sun dried tomatoes

Oyster crackers

Chow Mein noodles

Croutons
Healthy Habit #4:

Use Tools To Be Temperate:
Toppings and dressings are fantastic, and we try to choose carefully to make the healthiest choices, but these tend to be the "fats" of our salads so temperance is definitely called for!
Try to find tricks to help you "ration" your portions. I'll highlight a few small tricks I use that make a big difference in my family!
Dressing Containers:
Dressings can be high in calories, so first I recommend making your own if you can. I purchased condiment containers to store my dressings, the long thin spout helps prevent those accidental squeezes that result in more dressing than salad. Yay, now the girls can pour their own dressing without incident! I also use small containers for lunchboxes, but I'll tell you more about that in a moment…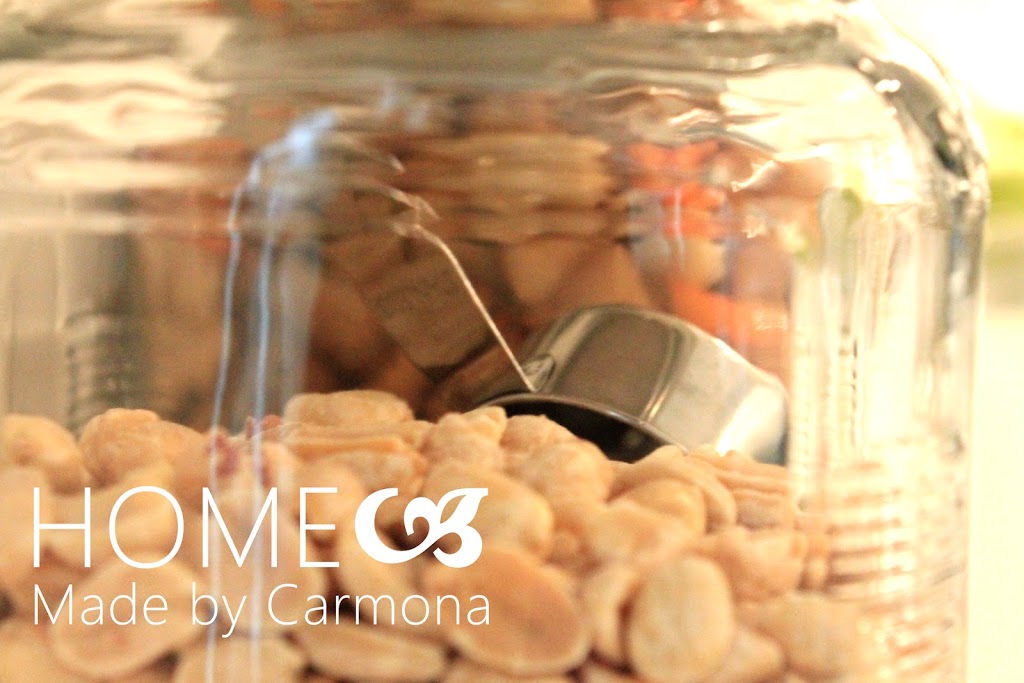 Salad Topping Scoops: I looked high and low for extra-small sized scoops, but finally settled on small coffee scoops from Walmart to help regulate the amount of topping the kids are allowed to take. The rule is a one scoop max, even if they decide to mix!

Lunchbox Containers: I also found these nifty itty bitty containers at the dollar store, a pack of 6 for one dollar! They are perfect for regulating the amount of dressing and toppings, and most importantly to keeping the toppings separate from the salad for the hubbies lunch box. Nobody likes wet runny icky salads with soggy toppings, blegh!
Healthy

Habit #5:

Commit:
All the tools and tricks in the world aren't going to make you do what what is right. So finally, be purposeful in your commitment to eat more fresh fruits and vegetables. Get the whole family on board to help hold you accountable. Nothing keeps me on track like my 4 year old calling me out…"Mom, we didn't have our salads today, you know you need all the colors of the rainbow to be healthy…" *sighhhhh* I'm a proud mama.
Well, good luck in your endeavors (and to me too, I need it)!